The Thirsty West: 10 Percent of California's Water Goes to Almond Farming
That's nuts.
While I was in the Central Valley, I attended the Citrus Showcase in Visalia, an annual trade meeting sponsored by California Citrus Mutual. One farmer I spoke with there, Arlen Miller, seemed to almost take this year's drought in stride. "There's always been droughts, there always will be, and we're preparing as best we can." When I asked him whether he was concerned that the practice of drilling new wells during a drought might diminish the future supply of groundwater, he was matter-of-fact: "It's something that we can't control. Worry doesn't fix a whole lot."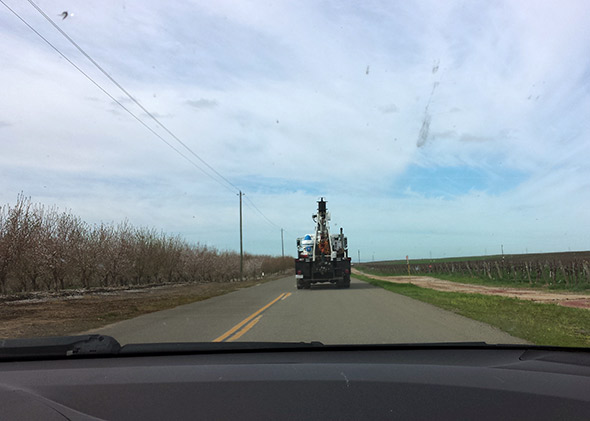 A spokeswoman for California Citrus Mutual, Alyssa Houtby, confirmed that this year's drought has changed the way orange growers do business. "Now more than ever we rely on groundwater. That would not be a good situation if they start telling us how much we can pump. We're in a very dire situation. It's definitely a critical year. It's a turning point."
Miller brought the debate over increased water regulation to a personal level. "It's like someone cut in front of you in line at the In-N-Out. Some of my neighboring farmers that don't have groundwater will have to let their groves die. Ag is told to live without water and cities haven't been told that. Tell me, how many meals can you skip?"
In this corner of the valley, one farm is trying a different path. The outspoken family patriarch, Ward Burroughs, has been a leading advocate for the organic agriculture movement in California. His granddaughter is even featured on the Organic Valley milk carton.
At first glance, this may seem like any other water-intensive large-scale farm. The Burroughs family operates hundreds of acres of almond orchards and three large dairies. While its choice of crops is firmly planted in the present, it's challenging the status quo with an eye to the future.
My wife and I met Burroughs' daughter Benina Montes at the farm gate early in the morning. The day before we visited, a brief late winter rainstorm had pushed through, and the grass between the almond trees was a brilliant green. The almond trees were in bloom, and honeybee hives were scattered throughout the orchard to help with pollination. It was idyllic. We climbed into Montes' truck for a tour of the farm.
"Five of our six wells are run by solar, which supplies 80 percent of our energy needs," Montes explained. The farm covers a series of rolling hills, so it's logistically impossible to use diverted river water for irrigation. In this water-short year, they're cutting back on their cow herd and planting more almonds, a move that will help them use less water in the long term, though deciding between dairy and almonds is basically a lesser of two evils.
The farm is one of the few in the valley that produces almonds organically. In the rush to cash in on the almond craze, virtually all farms have sacrificed quality for quantity. Of the 2 billion pounds of almonds produced each year in California, only a few million are certified organic, as they are at the Burroughs family's farm. Since almonds are already expensive, there's not much of an additional price premium for producing them in a more environmentally friendly manner. "People think we're crazy. Like, literally, we're leaving a lot of money on the table. Our production is down, but we're doing it the way we want to," Montes said.
The organic certification process doesn't require farmers to curtail water use, but the Burroughs decided to install the most efficient irrigation system they could anyway.
Burroughs said some of his neighbors, also almond growers, were too quick to expand their plantations and now, because of the drought, are having to plow some of them under. He told me that one farmer he knows just leveled 1,000 acres. But Burroughs thinks they're getting what's coming to them. "Those guys have dug their hole—they never did have enough water. I don't have any sympathy for those guys."
When Burroughs—whose long white beard brings to mind a modern-day John Muir, the founder of the Sierra Club—told me his life story, it seemed to me to be a preview of the next few decades of California agriculture.
"I was born and raised in the Delta area, where saltwater intrusion is a huge issue," he said. "We had a big drought back in 75-76-77, so we moved the farm here. The water got too salty. You can't be in agriculture if you have saltwater." The memories of past droughts have pushed Burroughs to become an environmental leader. "You go organic because it's the best thing for the whole world. Ten years ago I wouldn't have said that, but that's what it's come down to. We all go through an evolution. I'm not apologizing for it anymore."
He added, "What even makes it more important is, somehow, you got to figure out how to make the whole deal work. When you're irrigating in the desert, it doesn't make any sense. We're doing this in the wrong place."
But Burroughs doesn't reserve his criticisms only for industrial-scale agriculture. He thinks Californians have outgrown their state. "The water system [in California] was set up for 20 million people. Now, you've got 39 million going to 50! Those guys down there in the city, they just want to live the good life. But more people equals more votes. You've got no political power where the water is, so you've just got to live with it. The biggest benefit of having this drought is that in order to get things fixed, you have to have things go a little haywire."
Burroughs isn't alone in this feeling. In my next Thirsty West, I'll examine the tense urban-rural divide when it comes to California water politics, which is coming to a head during this year of extreme drought.





























1
2
3
4
5
6
7
8
9
10
11
12
Tucson, Ariz.
Tucson, Ariz.
Nogales, Ariz.
Las Vegas, Nev.
Death Valley
Sequoia National Forest
Hanford, Calif.
Denair, Calif.
Tulare, Calif.
Oakland, Calif.
Oakland, Calif.
Sheridan, Ore.