The Thirsty West: Where's the Snow?
The mild California winter will exacerbate the terrible drought.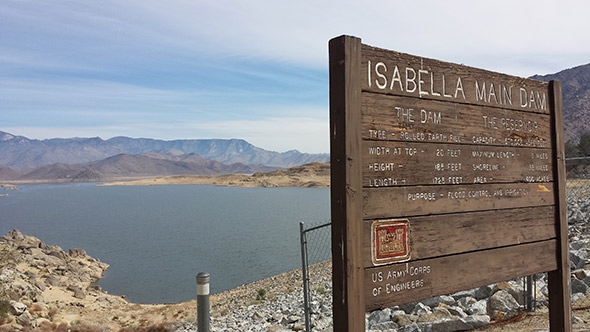 SEQUOIA NATIONAL PARK, Calif.—Any story of California's convoluted water system must start where the water does: with snow in the mountains.
And this year, in many places, there just isn't any.
New data show that California will be starting the summer dry season with a snowpack around the lowest levels since recordkeeping began nearly a century ago. The data were collected by hand over the last week as part of California's annual snowpack survey across the vast Sierra Nevada, an update to the automated numbers released a week ago.
Snow depth is monitored throughout the winter by automated remote sensors that communicate with each other by bouncing radio signals off meteors (no joke). Then, these measurements are confirmed by hand around April 1—the time of year that traditionally defines peak snowpack. Snowfall measurements taken this time of year form an especially critical piece in the state's water resource allocation decisions throughout the dry season, which runs from about now until next winter. According to the USGS, the Western U.S. gets as much as 75 percent of its water supply via snowmelt.
For cities and farms across California, the latest numbers show this is shaping up to be a summer like none other.
Nearly one-quarter of the latest measurements (56 of the 233, to be exact) show a snowpack that is less than 10 percent of what it usually is this time of year. At least a dozen had no snow at all, even above 7,000 feet elevation. Averaging all the measurements statewide, the state is starting off the dry season with about 25 percent of the typical April 1 snowpack—which is where it started back in 1977, the year with the least snow ever measured in California.
As you might guess, a warming world also means a world with less snow. After an exceptionally warm and dry winter, this year's snowpack was only 9 percent of average on slopes below 6,000 feet in elevation. Scientists expect these lower-elevation mountainsides to be the first to lose their snow as the climate warms.
As part of our drought-themed road trip, my wife and I wanted to see the dwindling snowpack firsthand. During a stopover in Bakersfield, while I worked to plan the rest of our trip, my wife drove our dog, Charlie, up to see the Trail of 100 Giants near Sequoia National Park. She was able to drive our Civic right up to the trailhead, elevation 6,400 feet, in March, essentially unimpeded except for a few icy patches on the road.
According to National Weather Service meteorologist Paul Iniguez, such a feat is almost unheard of this time of year. "The fact you can drive up there in February and March and have no problem accessing the Sequoias ... that's not usual."
And it's not just the Sequoias that have been short on snow this year, Iniguez explains. "We have a weather service observer [station] up at 7,800 feet elevation, in Lodgepole, California. In past years they put a chain-link fence to protect their cabin from the snow. They normally get around 35 feet of snow in a season. They've gotten just 5 feet this winter. I mean, Philly's had more snow than that!"