The Citizen's Guide to the Future
How to Not Back Up Your Naked Selfies to the Cloud
Are you automatically backing up your smartphone photos to the cloud?
Are you sure?
Advertisement

If you answered "yes" and "yes," you might want to read on. And if you answered anything else—including "I have no idea"—you should stop reading right now and find out the answer before you go any farther.
(On an iPhone, go to "Settings -> iCloud -> Photos." If "My Photo Stream" is on, you've been backing up your photos to the cloud. On an Android phone, open the Photos app and select "Settings." If "Auto Backup" is on, your photos are on the cloud.)
It's still not fully clear exactly how all the celebrity photos published this weekend were leaked and assembled. One theory is that at least some were obtained by hackers using a "brute-force" attack on the victims' Apple iCloud accounts. That means they used specially designed software to guess hundreds, thousands, or even millions of common passwords for each targeted celebrity, and eventually the software guessed right. If accurate, this suggests some serious negligence on the part of Apple's security team. It also implies that millions of other Apple customers would have been vulnerable to similar attacks, had someone decided to target them.
Another possibility is that the hackers somehow sussed out the celebrities' passwords or security questions themselves, perhaps through individually tailored phishing schemes. Either way, once they were in, the hackers would have had access to all the files that were stored on those accounts.
The most disturbing part is that, in many cases, the victims probably didn't even realize they had racy photos stored on remote servers. I think this quote from a May red-carpet interview with Lawrence is typical of how a lot of Apple users relate to the company's iCloud service.
JLaw: "My iCloud keeps telling me to back it up, and I'm like, I don't know how to back you up. Do it yourself." http://t.co/kIsOsy8VOs

-- nilay patel (@reckless) May 13, 2014
These companies want us to feel confident storing all our files on their remote servers so that we can use them on all our different devices. "Seamless" is a favorite word of tech PR types. That's why Apple backs up your files to iCloud by default. It wants you to be able to see the same photos on your MacBook that you see on your iPhone, and it doesn't want you to have to worry about it. "You barely have to do a thing," Apple brags.
This weekend's hacks are a reminder that you should worry about it, at least a little. Think of it this way, suggests security blogger Graham Cluley: When you're backing something up to the cloud, you're essentially backing it up to someone else' computer.
In general, it's true that Apple and the other above-named tech companies work hard to secure the data that we store in the cloud. Security breaches are bad for their business. But it's also bad for their business when their users get confused, or have to do more work than they're accustomed to in order to gain access to their own data. For instance, two-factor authentication—which requires you to type in a second special code along with your password whenever you log in from a new device—can be a hassle. And so there's a temptation to err on the side of convenience rather than security.
I'm not saying you should never back up your photos to the cloud. Cloud storage is an incredibly handy tool for all sorts of purposes, including backing up files you don't want to lose. To be clear, I'm also not blaming the victims in this case—they did nothing to deserve this illegal privacy invasion.
What I am saying is that we should all think twice before allowing any service to back up our photos to the cloud automatically on an ongoing basis. Once you've allowed that, it's very easy to forget that you've done it, and upload something you'd really rather keep private. Auto-backup is a one-size-fits-all solution, and not all data is created equal.
Rather, storing something to the cloud should be an intentional act, like attaching it to an email or posting on Facebook. Choose certain types of files and photos to live in the cloud and make sure you choose the appropriate level of encryption for each. Two-factor authentication is a must for any account that includes potentially sensitive data. And try to be aware when you're using a cloud-based service like Gmail or Dropbox that, despite those companies' best efforts, anything you store there is potentially vulnerable, not only to far-away hackers but to any friends, colleagues, and loved-ones who might have or guess your password.
Storing everything locally isn't foolproof either, since your phone or computer could always be lost or stolen. But at least if that happens, at least you'll know you've lost it and can take steps to defend yourself.
How to Control Your iPhone With Your Head
There are a bunch of neat hidden features on your iPhone. The coolest thing, though, is that you can control your iPhone with a simple tilt of your head.
Advertisement

Employers: Tech Skills Aren't the Be-All and End-All
Labor Day offers an opportunity for politicians and economists to offer their two cents on the state of labor. It's a good bet that some of that commentary will focus on the so-called "skills gap"—the notion that millions of jobs in highly technical fields remain unfilled while millions of Americans without those skills remain unemployed.
Advertisement

The solution according to the pundits? Education and training that focus on technical skills like computer engineering, or on crucial but scarce skills like welding. Match these newly trained employees with open jobs that require those skills and, voila, the skills gap is gone—and the labor market is steadied.
If only it were so simple.
Yes, more American workers need to learn skills that are underrepresented in the labor market. And yes, those technology titans who advocate for more challenging school curricula, for greater funding for science and engineering education, and for immigration reforms to bring more skilled workers are responding to a real problem. But that's not all there is to it. The problem with the skills gap argument is that it accounts for only one set of skills that employers consider important.
I work at Books@Work, a nonprofit organization that brings university professors to the workplace to lead literature seminars with employees. The employers with whom we work want to provide professional development opportunities for all members of their organizations, and—we like to think—are more creative in their approach to doing so than most. Yet even this group of employers has few ways of helping their employees to develop skills that aren't about content or subject matter—skills like communication, critical thinking, creativity, empathy, and understanding of diversity.
Such skills cut across sector, hierarchy and function—and are, according to employers, crucial to the success of their companies. According to research conducted by the Association of American Colleges and Universities, 93 percent of business and nonprofit leaders who were surveyed consider critical thinking and communication skills to be more important than a person's undergraduate major when it comes to hiring.
That's bad news because, while many public programs try to bridge gaps in the knowledge of future workers, there are few programs to address the gap in skills that are more difficult to measure, like creativity and critical thinking. My colleagues and I often hear from hiring managers who are hungry for programs that will encourage their employees (at all levels of the organization) to think more creatively, communicate more effectively and become more adept at reacting to changing circumstances.
The gap in these "soft" skills is very real. Professionalism/work ethic, teamwork/collaboration, and oral communication rank among the top five skills valued by employers hiring candidates at any educational level, according to one study. Yet employers rank significant portions of those entering the workforce deficient on all these dimensions. The problem is particularly acute among those without a college degree. Employers rate those entering the workforce with a high school degree deficient on professionalism/work ethic, critical thinking/problem solving, and oral communication. Meanwhile, employers do not regard a majority of college graduates deficient in any of these areas.
The introduction at the K-12 level of the Common Core, which is supposed to emphasize critical thinking and problem solving, may produce changes in these figures in the years to come. But for now, those without access to a university education—and even some workers with college degrees—enter the workforce lacking the interpersonal, reasoning and thinking skills necessary for success. Unlike direct knowledge areas—like computer basics—that can be taught through employer training sessions, there is no set curriculum for critical thinking or applied reasoning.
There is no silver bullet for addressing this gap, though our approach at Books@Work, having employees read literature and reflect on it, is one example of an attempt to disseminate some of the benefits of a liberal arts education beyond the confines of the traditional university setting. We need many more such efforts. In discussing Macbeth or Frankenstein, workers explore complex (and timeless) interpersonal dynamics—an opportunity that a training on the latest operating system or review of safety regulations is unlikely to provide.
We've found that reading literature with colleagues can offer a new perspective on the practice of work itself, leading to greater professionalism and new ways of doing things. Themes of empathy in a powerful novella by May Sarton, As We Are Now, which is about a woman in a terrible nursing home, led workers in one hospitality company to reconsider their approach toward customers, resulting in a renewed awareness of customer needs and expectations. A conversation about the racial tension in the postwar Northwest in David Guterson's Snow Falling on Cedars became a platform to discuss personal integration issues in a company growing rapidly through acquisition and organizational acculturation.
Programs like Books@Work are not an adequate substitute for public policy solutions to the gap in thinking and interpersonal skills. We do not address disparities in such skills among job applicants—only among those who are hired. And they place the burden for addressing the problem squarely with employers. But programs that address the significant divide in soft skills are a first step toward realizing that solving the so-called skills gap requires more than teaching kids to code, retraining the unemployed as welders or encouraging college dropouts to complete technical degrees. We all need to continue to improve the most important skill of them all—our thinking.
The First Images From the World's Most Powerful Commercial Satellite
This month, a company called DigitalGlobe launched what was billed as the world's sharpest commercial Earth-imaging satellite. Called WorldView-3, the $500 million gadget can snap images of the ground at a 30-centimeter resolution. That's sharp enough to see "not only a car, but the windshield and the direction the car is going," the company boasted in a press release—as well as home plate on a baseball diamond, or the health of agricultural crops or even individual trees.
In fact, it's so sharp that the company isn't allowed to show the satellite's full-resolution images to the public yet. The U.S. government recently eased its restrictions on high-resolution commercial satellite imagery, but the change won't take full effect until February 2015. Still, the 40-centimeter versions you'll see below rank among the sharpest yet seen by non-classified eyes.
Advertisement

First, here's a gif of the WorldView-3 satellite's Aug. 13 launch, as viewed by one of the company's other satellites: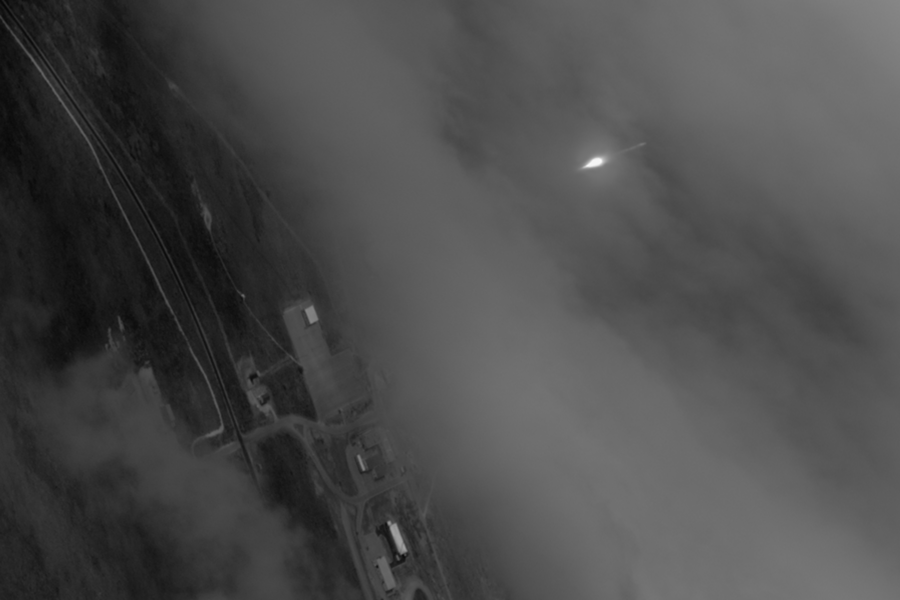 And here is a Web-optimized version of one the first images DigitalGlobe has released since the launch. It shows the Madrid Airport in Spain along with the surrounding neighborhood: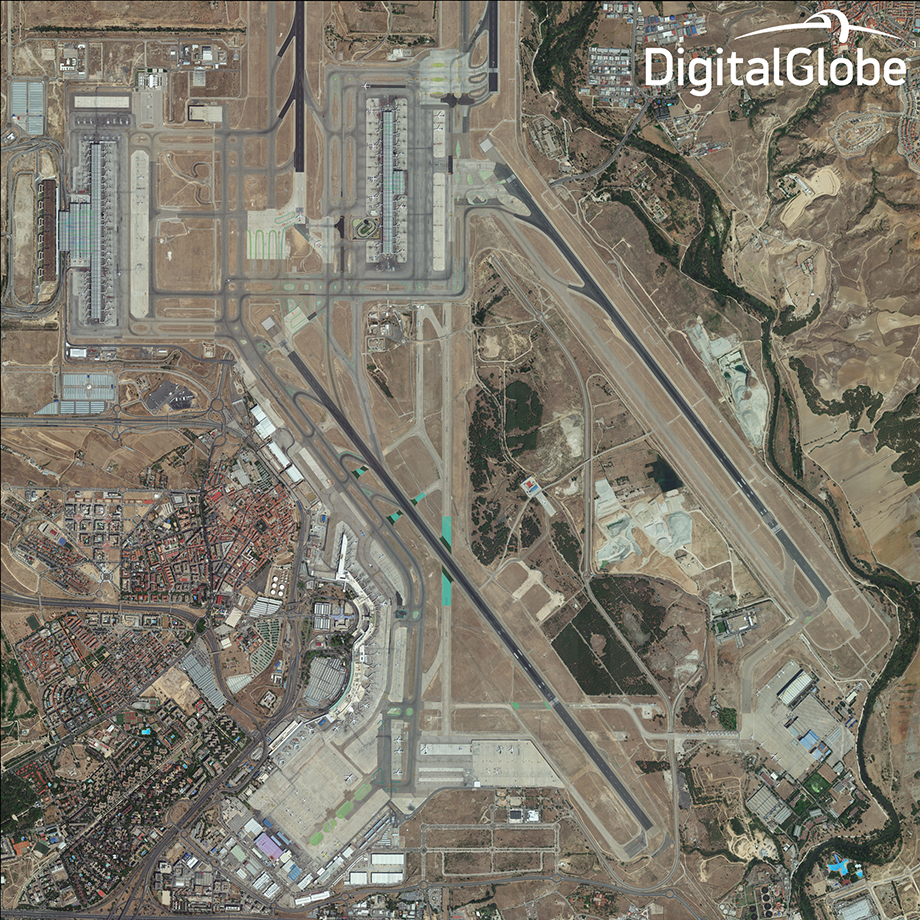 Here's a zoomed-in view of the airport, taken from the full image above: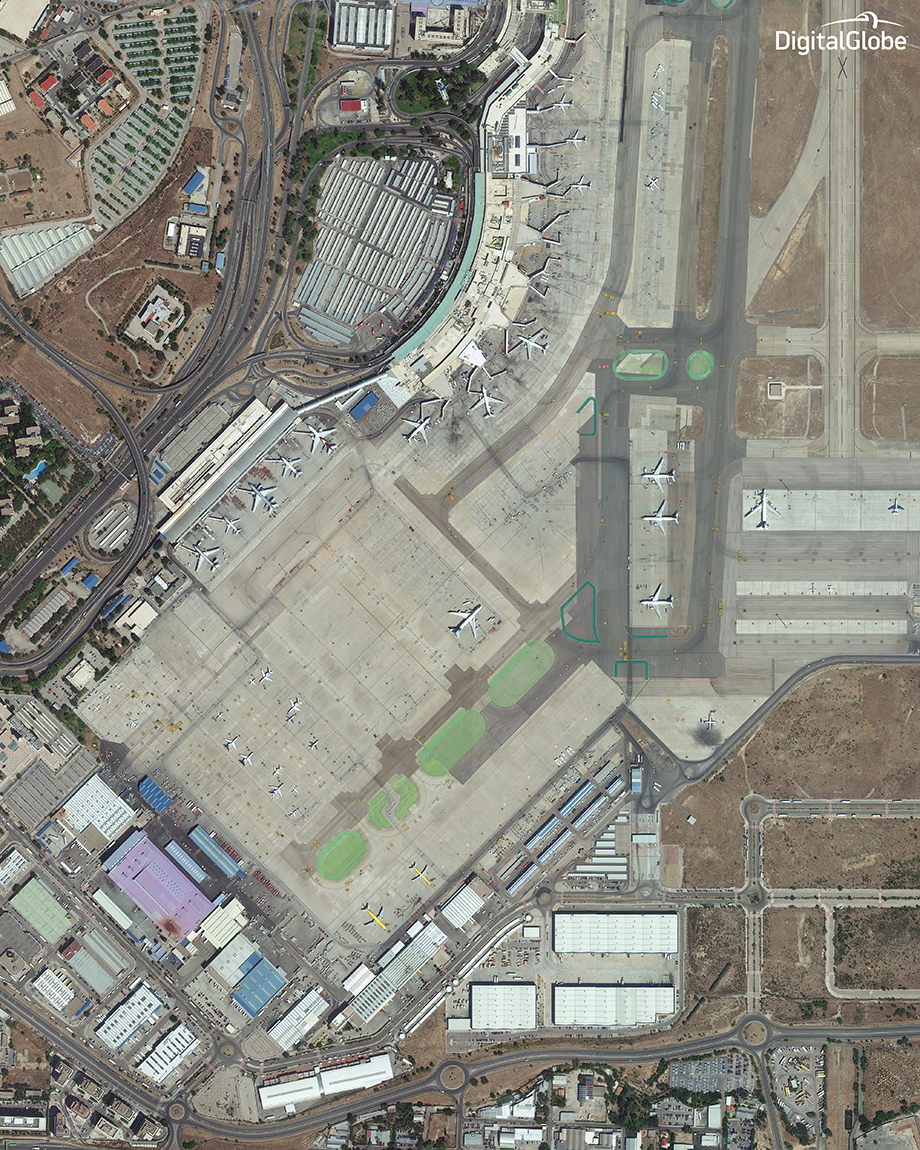 Ditto for some of the nearby homes: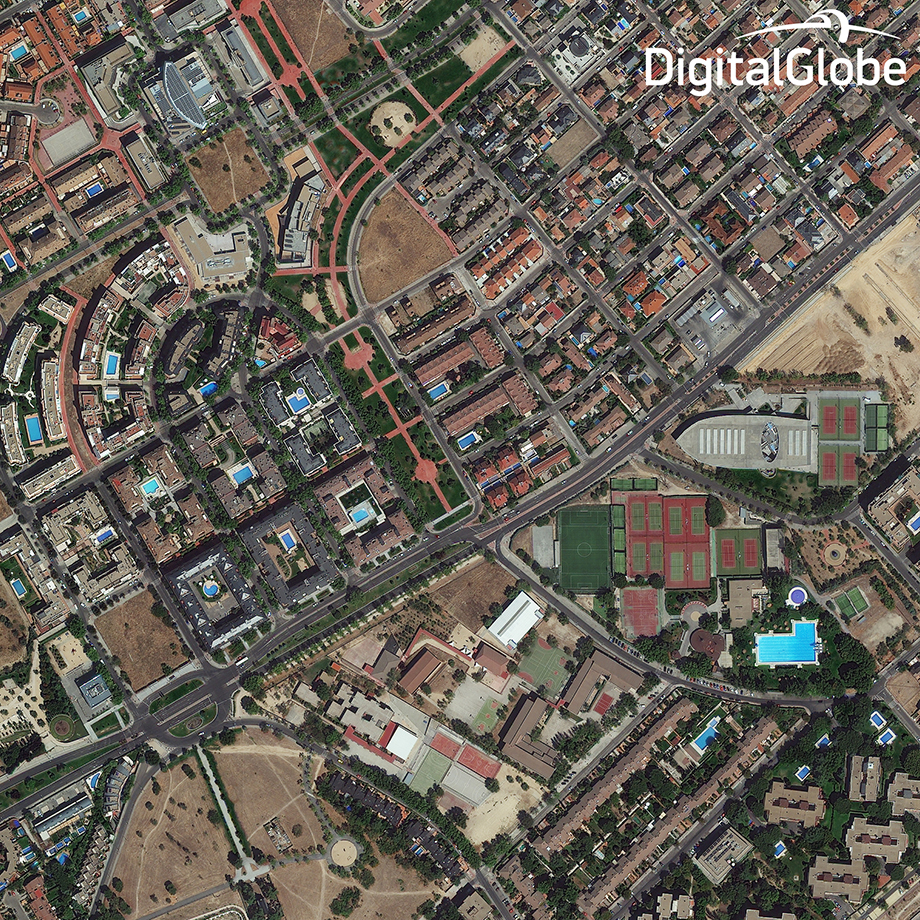 And here's an ever closer crop on an individual swimming pool at what appears to be a little water park: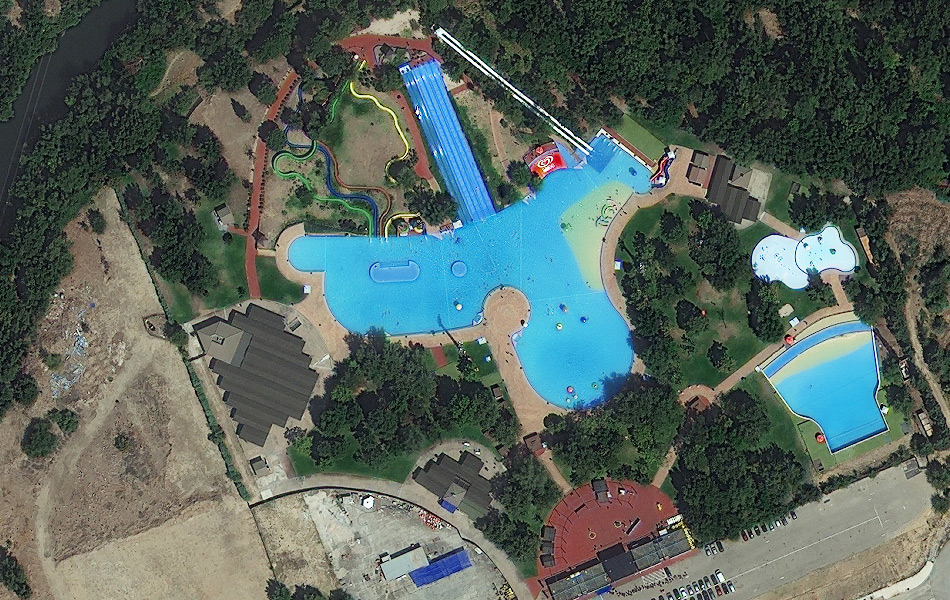 You can read DigitalGlobe's blog post about the new images and view full-resolution versions here.
Why does high-resolution commercial satellite imagery matter? As I explained when Google bought SkyBox, a rival Earth-imaging startup, its immediate applications range from mapping to corporate logistics to academic research, but there may be long-term uses that no one has yet foreseen.
Military satellites with even higher resolution are already in operation, but the commercialization of the technology means that spies won't be the only ones keeping a close eye on us from above. Until now, images approaching this resolution could be captured only by aircraft, which is far more expensive (for now, at least).
Americans Want Smart Homes Because They're Lazy
Lowe's asked more than 2,000 Americans about their thoughts on the smart home, and while just over half said a smart home was somewhat important to them, 70 percent said that they wished they could control a feature of their home without getting out of bed. Whether it's to adjust the thermostat, turn the lights on, start the coffee, or let the dog out using only a smartphone or tablet—all chores people told Lowe's they'd like the smart home to do—it seems we all just want to push a button, without emerging from under the comforter (or the embarrassment of owning the Clapper).
Advertisement

Americans clearly wouldn't mind letting technology do the busy work around the home—when asked by Lowe's which element of the Jetsons' futuristic home they'd most like to own, 36 percent said they'd like Rosie the Robot.
Although companies like Nest, which was recently acquired by Google, talk a lot about using the connected home to predict the everyday habits of their users, the Lowe's survey suggests that these startups may need to do more work to convince the average consumer of the usefulness of their service. As Stacey Higginbotham noted on GigaOM, even the much-talked-up potential for increased energy efficiency was not a top priority—according to those surveyed, energy saving was the third benefit of owning a smart home, with 40 percent saying it would be a significant perk, after increased home security (50 percent) and the ability to monitor activity around their house when they were away (46 percent).
Alex Hawkinson, the founder of SmartThings (which was itself recently bought by Samsung), a digital platform that connects devices around the home, might be excited about a customer who used their system and "trained his speakers to play an angelic chorus as he approaches his majestically lit scotch collection," as he told Time, but it seems people still hope the smart home will serve some pretty basic functions.
So, if Google/Nest, Apple's Home Kit, Iris, and the rest can make a house a fortress that requires Americans only to lift a finger to tap a phone or tablet, complete with robot maid, then maybe the public can be convinced to buy into the smart-home dream.
Google Is Building Self-Flying Planes
Google has been privately working for two years to build self-flying vehicles, the company revealed Thursday evening. Or, to use a less crazy-sounding name: drones.
Called "project wing," the self-flying vehicles program is the latest project from Google X, the secretive skunkworks responsible for the company's self-driving cars, wi-fi balloons, and Google Glass, among other things. There have been rumors that Google might have something like this in mind since around the time that Amazon announced its own plan for delivery drones last fall. But this is the first confirmation from the company, and it's even more ambitious than a lot of us suspected.
Advertisement

"Self-flying vehicles could open up entirely new approaches to moving things around—including options that are faster, cheaper, less wasteful, and more environmentally sensitive than the way we do things today," spokesman Raymond Gobberg said in an emailed statement. After two years of tinkering, he added, the company has hired a new team lead—drone pioneer David Vos—"to take us from research to product."
Earlier this month, the team took its research prototypes to Queensland, Australia, for their first test flights, delivering candy bars, dog treats, cattle vaccines, water, radios, and other items to a pair of Australian farmers. (Australia's government has fewer restrictions than the United States on unmanned commercial aircraft.) Here's a video of what they look like so far:
Google's project is reminiscent of Amazon's stated ambition to build delivery drones that could deliver small products (up to five pounds) to customers within half an hour of their orders. But it could also be more than that. Google X's press release mentioned future applications ranging from larger cargo routes to emergency-relief deliveries to the ability for people to rent certain items—like, say, a power drill—for only the few minutes that they need them before sending them on their way to the next user.
It's hard to say at this point which company is further ahead, as both are probably at least a few years away from putting their plans into commercial operation. There remain hurdles both technological and regulatory, along with some obvious safety concerns.
That said, there do seem to be a few differences in the basic design approach even at this early stage. Whereas Amazon has talked of using "octocopters," which hover via an array of spinning blades, Google's prototypes are a little more plane-like, with a set of wings designed for "fast forward flight" in addition to rotors for vertical takeoffs and landings.
Below is another image of the prototype drone making a delivery, which come with the caveat that this is "more of a research vehicle than an indication of a final decision or direction," according to Google X spokesman Ray Gobberg. "As we figure out exactly what our service will deliver and where and why, we will look at a variety of vehicle options (both home-made and off-the-shelf)."
And here's Amazon's official delivery-drone video, for comparison's sake:
For more on Google's delivery drones, read this in-depth story by The Atlantic's Alexis Madrigal, who was offered an early look at the drones by Google officials. Madrigal concludes that Google's drones may be about more than just quickly delivering small products. In the long run, Google may be aiming to help shape the future of transportation, both on the ground and in the sky. Madrigal writes: "Taken with the company's other robotics investments, Google's corporate posture has become even more ambitious. Google doesn't just want to organize all the world's information. Google wants to organize all the world."
This Story About a Wounded Veteran's Prosthetic Hand Is Too Crazy to Be True
A U.S. Army staff sergeant named Ben Eberle lost his right hand and two legs when he was hit by a makeshift explosive in Afghanistan a few years ago. Through one of the miracles of modern technology, he was able to regain dexterity with a prosthetic hand, which he controlled with the help of an iPod Touch app called i-Limb. But in another terrible misfortune, Eberle lost control of that hand again on Aug. 22 when a thief broke into his pickup and swiped his iPod. Here's the kicker, as explained by the Express-News's Alia Malik (italics mine):
While the latest model iPod Touch normally costs about $240, the thief or thieves in this case, if caught, could be charged with felony theft between $20,000 and $100,000, police said.
That's because Eberle's prosthetic hand is programmed to only work with the stolen iPod, and vice versa. Now that the iPod is gone, he said he has to get a new hand and get it reprogrammed with his prosthesis. "That takes a long time," Eberle said. "It's tedious and it's a lot of work with the hand itself."
The money will come from the government, but a new hand is worth $75,000, authorities said.
Advertisement

The story, if true, would be galling and poignant on a personal level—a careless thief robbing a brave veteran of his hand for a second time. But it would be even more troubling on a technological level, which is why the story has circulated far beyond San Antonio to outlets like Fox News, the Daily Mail, the Houston Chronicle, Military.com, and the influential tech-news hub Slashdot.
Why on Earth would Touch Bionics' $75,000 prosthetic limb be locked to a single mobile device? And does that mean that people all over the world with prosthetics are at risk of losing everything they've worked for years to gain if they drop their phone in the toilet or leave it in the back seat of a taxi cab? Here's how an incredulous Slashdot member with the handle "kdataman" reacted to the story:
I see three possibilities: 1) The article is wrong, possibly to guilt the thief into returning the Ipod. 2) This is an incredibly bad design by Touch Bionics. Why would you make a $70,000 piece of equipment permanently dependent on a specific iPod Touch? iPods do fail or go missing. 3) This is an intentionally bad design to generate revenue. Maybe GM should do this with car keys? "Oops, lost the keys to the corvette. Better buy a new one."
As it turns out, the first possibility appears to be the correct one. Somehow, it seems that hardly any of the dozens of national and international outlets that have run with this story bothered to confirm it with Touch Bionics. At least, that's what Touch Bionics told me when I contacted them this week.
"I'm afraid the information noted in the San Antonio Express-News is not correct," said Karen Hakenson, Touch Bionics' director of global marketing. "If an iPod is lost or stolen, a user does not lose control of their i-Limb hand or require buying a new prosthesis. We offer the my i-Limb app for free on the App Store, which can be downloaded to several compatible devices to help program and change settings within the hand's firmware—all of which can be accessed again upon reconnecting to the app, as it recognizes the hand based on its unique serial number."
Phew. This makes perfect sense, and should reassure people considering high-tech prosthetic devices of their own. Eberle himself explained in a Facebook post this week that "I do not need a new hand. … It's not that big of a deal." He added, apparently referring to either the police or the media, "They just wanted another story about a wounded warrior."
That doesn't mean replacing the app won't be an annoyance. While he can keep the same hand, it's possible that he'll have to reprogram some specific settings on his new device, said a spokesman for the Brooke Army Medical Center in San Antonio, where Eberle is a patient. Hakenson said Touch Bionics was very sorry to hear that it was lost and plans to send Eberle a replacement iPod Touch for free.
How did almost everyone get this story wrong? When I called the Express-News reporter, Malik, she was on deadline with other breaking stories but said her recollection was that it was Eberle who thought at the time of the crime that he would need a new prosthetic. Perhaps Eberle himself misunderstood the ramifications of losing his device or was understandably caught up in the frustration of the theft. (I have not been able to reach Eberle for further comment.) Malik told me she recently got an email from Touch Bionics requesting a correction and plans to look into that as soon as she has time.
Regardless, that's less important to me than the fact that so many other national and international outlets picked up such a fishy-sounding anecdote without bothering to check it out. (The Daily Mail, in a rare instance of actual reporting, did at least take note of Eberle's Facebook post.) I suspect it's because the truth takes time to uncover, and often ends up being less conducive to sensational headlines. In an age when Internet media are often criticized for their breathless reporting and uncritical aggregation, it's a reminder that just because is first reported by a good old-fashioned print newspaper doesn't mean the facts are ironclad.
Singularity or Transhumanism: What Word Should We Use to Discuss the Future?
Singularity. Posthuman. Techno-Optimism, Cyborgism. Humanity+. Immortalist. Machine intelligence. Biohacker. Robotopia. Life extension. Transhumanism.
These are all terms thrown around trying to describe a future in which mind uploading, indefinite lifespans, artificial intelligence, and bionic augmentation may (and I think will) help us to become far more than just human. They are words you hear in a MIT robotics laboratory, or on a launch site of SpaceX, or on Reddit's Futurology channel.
Advertisement

This word war is a clash of intellectual ideals. It goes something like this: The singularity people (many at Singularity University) don't like the term transhumanism. Transhumanists don't like posthumanism. Posthumanists don't like cyborgism. And cyborgism advocates don't like the life extension tag. If you arrange the groups in any order, the same enmity occurs. All sides are wary of others, fearing they might lose ground in bringing the future closer in precisely their way.
While there is overlap, each name represents a unique camp of thought, strategy, and possible historical outcome for the people pushing their vision of the future. Whatever wins out will be the buzzword that both the public and history will embrace as we continue to move into a future rife with uncertainty and risk, one where for the first time in history, the human being may no longer be classified as a mammal.
For much of the last 30 years, the battle of the best futurist buzzword was fought in science fiction literature and television. Star Trek popularized borg—which helped give commonly used cyborg its meaning. Various short stories and novels tell tales of posthuman civilizations.
The last 15 years marked a shift toward nonfiction work and following of celebrity scientists. Ray Kurzweil's classic The Singularity Is Near put the term singularity prominently on the word battle map. Biogerontologist Aubrey de Grey's many public appearances touting medical discoveries to conquer human death did the same for life extension science (also called longevity research).
The word transhumanism has also long been in use, pushed by philosophers like Max More, David Pearce, and Nick Bostrom. However, until recently, it remained mostly a cult word, used by smaller futurist associations, tech blogs, and older male academics interested in describing radical technology revolutionizing the human experience. Two years ago, a Google search of the word transhumanism—which literally means beyond human—brought up about 100,000 pages. What a difference a few years makes. Today, the word transhumanism now returns almost 2 million pages on Google. And dozens of large social media groups on Facebook and Google+—consisting of every type of race, age group, sexual orientation, heritage, religion, and nationality—have transhuman in their titles. It's also the term that I'm backing, even though I'm not sure it will win out.
Why did this happen so quickly? As with the evolution of most movements and their names, there were numerous moving parts. Dan Brown's international best-seller novel The Inferno introduced millions of people to transhumanism. So have media celebrities as diverse as Joe Rogan, Glenn Beck, and Jason Silva, host of National Geographic's Brain Games—all three have discussed transhumanism in their work. A larger reason probably was that both the public and media were ready for an impactful, straightforward word to describe the general flavor of technological existence sweeping over the human race. In case you haven't noticed, the dead live via saline-cooling suspended animation, the handicapped walk via exoskeleton technology, and the deaf hear via brain microchip implants. The age of frequent, life-altering science is now upon us, and transhumanism is the most functional word to describe it.
Even though the words singularity, cyborg, and life extension generate far more hits on Google than transhumanism, they just don't feel right describing an ideal and accurate vision of the future. Few people are willing to call themselves a Singularitarian—someone who advocates for a technological event that involves a helpful superintelligence. And Cyborgism is just weird, since the public isn't ready to be merged with machines yet. Life extension isn't bad, but it's generally limited only to living longer.
Almost by default, transhumanism has become the overwhelming leader of the name rivalry. Around the world, a quickly growing number of people know what transhumanism is and also subscribe to some of it. It has become the go-to futurist term to express how science and technology are upending the human playing field.
Of Mice and Mind: Scientists Find They Can Manipulate Mouse Memory
Neuroscientists at the Massachusetts Institute of Technology have found that they can manipulate the emotional connotation of the memories of mice. Is this, as the New York Times tweeted, "Eternal Sunshine of a Spotless (Mouse) Mind?"
Not exactly. Unlike in the film, the scientists weren't erasing the negative memories—they were turning them into positive ones.
Advertisement

Here's how it worked: After labeling neurons in the brains of mice with a light-sensitive protein, scientists identified patterns of neurons activated when mice created a negative or positive memory. The negative memory was created when mice received an electric shock to their feet. A positive one was formed when the male mice got to spend time with a female mouse. (Mice have a lot in common with students at an all-boys boarding school in this way.)
Next, the mice that had first received the electric shock got to spend time with the coveted female mice as scientists used light to activate the earlier negative memory. The result? The negative memory became less negative—the mice were less afraid in the place where they had been shocked. The reverse happened for the mice that first got to spend time around females—they then received a shock "while scientists activated the neurons associated with this positive memory." And the positive memory became less positive. (The scientists concluded this as the mice "froze more and sniffed less.")
Scientists are excited by the potential impact these findings could have on, for example, treatment of post-traumatic stress disorder. For now, they only apply to mice, both because conclusions about the human brain cannot necessarily be drawn from experiments on rodents, and also because the techniques used on the mice cannot be performed on people, as they "involve inserting fiber optic wires and injecting a virus containing a protein into the brain." But scientists are already exploring noninvasive techniques, that humans, too, may experience eternal sunshine of the spotted mind.