The Citizen's Guide to the Future
People Say They Care About Cyber Security, but They Don't Act Like It
Have you ever clicked a link to a fantastic-looking website, only to have that buzzkill browser message pop up, telling you the site might have malware? Be honest: How often do you listen, and how often do you scoff and continue anyway?
Ask people how careful they are about cyber security and malware, and they'll probably say they're pretty cautious. But their actual behavior doesn't always correlate—in fact, a new study recently published in a special issue of the Journal of the Association for Information Systems found people can be surprisingly cavalier. Unless cyber security has been brought to the forefront of our minds, our behavior is often inconsistent with how much we say we care.
Advertisement

Bonnie Anderson, Brock Kirwan and Anthony Vance, who are researchers at Brigham Young University, conducted their experiment with 62 participants. First, everyone took a pre-test and reported, among other things, how concerned they were about malware and cyber security. Weeks later, they performed the Iowa Gambling Task—an exercise frequently used to gauge decision-making and risk aversion. Kirwan measured the subjects' brain responses to risk during the gambling task using EEG.
Finally, participants logged on to a website to classify images of Batman as either animations or photographs. They were told they were testing an algorithm's accuracy in doing the same thing—but in reality, they were being tested. As they navigated from page to page, malware warnings intermittently popped up. If a participant ignored seven threats, a scary page popped up saying an Algerian hacker had broken in: "Say goodbye to your computer" appeared under a timer counting down from 10 seconds, complete with cackling skull and crossbones and an ominous Guy Fawkes mask.
To make sure the students had "skin in the game," Vance said they were asked to use their own laptops. Unsurprisingly, the users who thought they were hacked were sufficiently freaked out. The study press release noted several participants alerted researchers that something bad had happened. Even participants who said they took cyber security seriously often cruised through malware warnings. Those who had the scare were more cautious afterwards—at which point their behavior matched their self-reported levels of concern.
Interestingly, subjects' risk aversion, as calculated from the Iowa Gambling Task and EEG results, was a better predictor of their online cautiousness than their self-reported concern. Vance said EEG, which is recording of electrical activity along the scalp, is used routinely in research. But "EEG does not reliably measure emotions or intellectual activities," said Selim Benbadis, a professor and director of the University of South Florida's Comprehensive Epilepsy Program. Benbadis, whose research and clinical interests include EEG, said the technology is "used routinely in neurology to help assess various neurologic diseases," but says it can't monitor brain responses to risk, or the Iowa Gambling Task.
But the EEG use seems peripheral to the study's main finding: that regardless of how security-conscious subjects claimed they were, their behavior often disagreed.
It's easy to forget about online security and other mundane hazards. With scare-giants like mass shootings and Ebola, who has the time or emotional bandwidth to worry about malware and other small nuisances? The problem, of course, is that your computer is far more likely to contract malware than you are to contract Ebola. And the good news is that most browsers are already programmed to prevent us from exposing our computers to catastrophe—all we have to do is actually listen.
The BBC Is Working With a Transparency Group to Bring Uncensored News Into China
People are always looking for creative ways to get uncensored information in and out of China, and now transparency group GreatFire.org is working with the BBC to deliver the news organization's Chinese-language reporting to people inside the country's Great Firewall.
The Chinese government has been censoring BBC China content for years and also began blocking most of the English-language version last month during pro-democracy rallies in Hong Kong. But working with GreatFire.org should increase the availability of BBC content in China. The group uses a method it calls "collateral freedom" to serve content through a content delivery network (CDN) of mirror sites that the group claims is "unblockable."

Advertisement

The idea is to host the mirror sites through services that are so ubiquitous that it would be difficult, even for China, to justify blocking the entire domain. This technique has gained traction because China's main mechanism for executing its censorship is using DNS spoofing to intentionally send users to the wrong IP addresses. GreatFire.org uses hosting options like Amazon Web Services to keep its mirror sites going.
In a blog post published Monday, GreatFire.org explained that its partership with the BBC is specifically pegged to elections in Taiwan on Nov. 29. The goal is to present diverse information that's written in Chinese for Chinese audiences. As GreatFire.org points out, a lot of English speakers in China already use VPNs and other workarounds to access foreign media, but if they don't know how to do this or speak only Chinese, these backdoors don't help much.
GreatFire.org's mirroring apprach may not be a stable solution long-term. As Gigaom notes, the group reported censorship attempts on some of its mirror sites just last week. But for now it's a clever workaround to try to get information into the country.

Future Tense Happy Hour: The Many Faces of Anonymous
At 6:30 p.m. on Thursday, Dec. 11, Coleman will discuss her book with Christopher Soghoian, principal technologist at the ACLU, at a free happy hour event at the ASU Washington Center in Washington, D.C. Coleman and Soghoian will talk about what the darker corners of the Internet tell us about how we live online, and the future of digital activism.
Advertisement

Totally Trippy Perfomance Art
Reprinted from

Microfiche, crossword puzzles, and Morse Code don't sound like the makings of a compelling live performance, but in the hands of Japanese maestro Ryoji Ikeda, these mundane materials become the core of a dynamic audio-visual spectacle called Superposition.
Advertisement

The hour-long performance is something like a high-tech rave with a year's worth of high school science class schizophrenically drawn upon as its raw material. Twenty small monitors sit on the front of a stage with one theater-sized screen stretching behind two performers. What plays out is a little bit like a frenetic, abstract version of the Eames film Powers of Ten. Imagery flips rapidly between star maps and models of subatomic particles. Words spelled out in a 1950s split-flap style and the occasional full-color image of the Earth from above only enhance the connection to the midcentury classic.
Ikeda is best known for his experimental musical compositions with cryptic titles like +/-. To make the visual component that complements Superposition's chorus of electronic sounds, the Paris-based composer worked with a team of three programmers to fill the screens with monochromatic, generative visuals.
Though it's driven by software, Superposition is meant to be a human experience. A pair of performers, Stéphane Garin and Amélie Grould, are charged with interpreting the work. The duo acts like a variable in the software, tasked with merging the skill sets of DJs, Abstract Expressionist painters, and office drones.
Garin and Grould control Ikeda's work through custom-made "instruments." A Morse Code key is played in much the same way a concert pianist would play on a Steinway, except the result is an electronic staccato, with waveforms that criss-cross the screen like a game of pong. The noises sound random, but the performers are working off a prepared script, essentially sheet music, which dictates the messages sent to one another.
Superposition artfully combines human and machine capabilities. In one section, marbles are scattered on a platform, with their position interpreted into an image of a horizon presented in stroboscopic flashes. In his artist's statement, Ikeda writes that Superposition was crafted to visualize the way we "understand the reality of nature on an atomic scale" and was "inspired by the mathematical notions of quantum mechanics." You don't need to worry about that though; just sit back and let the spectacle wash over you.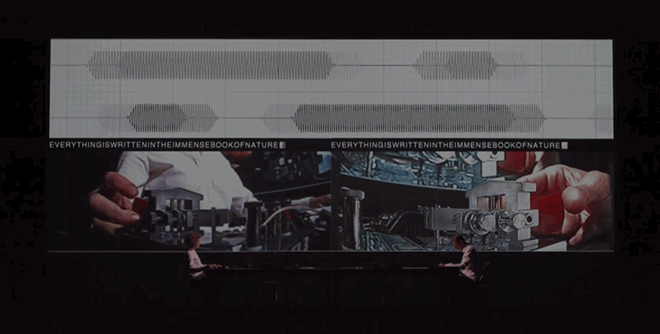 Superposition has been touring the world in a variety of formats for the past two years and is slated to appear at the Automne en Normandie festival in France on December 2nd 2014.
If You're Protesting Today, or Any Day, You Should Know Your Cellphone Rights
Regardless of what you're protesting, if you head out to exercise your First Amendment rights, you will probably have a cellphone with you. You might be planning to take photos/videos with it or use it to contact people. But you might also have it just because you always have it. And if you have a cellphone with you at a protest, it's good to know where you stand if law enforcement agents make demands related to the device.
The question of whether police could search a cellphone without a warrant during an arrest used to be somewhat ambiguous. But in June the Supreme Court ruled unanimously in Riley v. California that police do need a warrant. This is good news for protesters, but in a heated moment law enforcement could still bend these rules.
Advertisement

As the Electronic Frontier Foundation points out, "Increasingly, we keep our most sensitive communications and personal information on our cell phones," and bringing one to a protest should be a carefully considered decision. EFF suggests bringing a temporary device to rallies if possible, so you still have access to all the tools you want without exposing your digital footprint.
If this isn't an option, though, or you realize too late that you've brought your device without first making a plan, you can add a key code/password to your phone and set your phone's home screen to lock very quickly when no one is using it. Don't forget that a fingerprint lock alone may not be enough to secure your phone, because you could be compelled to use your finger to unlock it. Also, messaging with friends on a service that uses end-to-end encryption (like Wickr or now WhatsApp) can help keep the content of messages away from prying eyes.
While at the protest, you are allowed to photograph or take video so long as you are in a public space. On private property, rules may be slightly different, but in general law enforcement can't view or delete media on your smartphone without your permission. Uploading media to a cloud service, live stream, or social network as you capture it is one measure you can take to make sure what you're recording gets out there, and isn't tampered with by law enforcement or anyone else.
If you are arrested, you have the right to remain silent and request your attorney. If police ask to view the contents of your phone without a warrant, you can decline, and you can refuse to provide your passcode. EFF notes, though, that, "just because the police cannot compel you to give up your password, that doesn't mean that they can't pressure you." Having a temporary device and uploading everything as you capture it can make these situations a little less tense.
As the American Civil Liberties Union points out, Riley v. California addresses cellphones specifically, so it's possible that other devices like standalone cameras could be held to a different standard. The ACLU says its interpretation is that "the constitution broadly prevents warrantless searches of your digital data," though.
Protesting is a valuable expression of free speech in a democracy, but digital devices complicate it in a number of ways. Having a cellphone at a rally shouldn't expose you to additional risk of privacy invasion, though. And if you give careful thought to protecting yourself, you can minimize this risk.
What to Expect From the Coming Thanksgiving Nor'easter
Winter weather watches and warnings have already been posted from North Carolina to Maine, and the National Weather Service is calling for "significant impacts which will disrupt travel." Heck, they're even sending the Hurricane Hunters out into this storm:
Hurricane Hunters to fly tomorrow, gathering data ahead of impending WINTER storm. Quite early for a winter storm mission.

— Michael Lowry (@MichaelRLowry) November 24, 2014
Advertisement

The airlines have already announced a plan to waive change fees, and with the snowstorm expected to peak during Wednesday afternoon and evening, I'm expecting airline delays will be measured in hours, not minutes. Low visibility and clouds hovering near the ground—exactly the conditions that are expected in this snowstorm—can force airports to restrict the rate of aircraft arrivals in half.
But, as always, most of us will be traveling by car. AAA estimates 41 million of the more than 46 million travelers this weekend will be going by road, the most in nearly a decade. As we saw last week in Buffalo, intense snowfall rates can quickly overwhelm highway crews, and you don't want to be spending your holiday in a snowdrift. (But to be fair, 1 foot of snow is much different than 7.)
The brunt of this storm will be felt north of Philadelphia. If you're in New York City and don't have to travel: congratulations! You've got a nice long weekend of snowball fights and hot beverages ahead of you. If you're in central Massachusetts (basically anywhere west of Cambridge), well, you may not be going anywhere for a while.
What follows is a breakdown of what to expect from this storm throughout the Northeast. I'll also be running a live blog all day Wednesday to keep track of latest developments.
The storm starts as rain in the Boston area on Wednesday morning, quickly changing over into snow and peaking Wednesday evening, with snow continuing until Thursday morning. Snowfall rates could reach two inches per hour at the peak.
There should be significant banding and even localized brief whiteout conditions with this storm in the interior. At the coast and on the Cape, this will be a strong rainstorm. Expect coastal wind gusts in excess of 60 mph. The city of Boston, and I-95 in general, forms an approximate boundary between the two, with most of Boston on the snowy side.
If you're in New England and don't have to travel, don't.
As it turns out, this storm is taking an ideal track for heavy snow in New York City—with the center passing over the 40°N/70°W benchmark.
The storm will likely be a mostly snow event for New York City, starting by daybreak Wednesday morning, peaking Wednesday afternoon, and continuing until early Thursday morning. Some sleet may mix in at times.* There will be less snow on Long Island, because temperatures will be just 1 or 2 degrees warmer. The result will be mostly slush from JFK to Montauk. The latest models have shown a potential for banding and heightened totals directly over the city, so there's still a bit of a wild card in play. Anything from 4 inches to a foot is possible in Manhattan.
The storm starts as rain in the Philadelphia area on Tuesday night, with accumulating snow starting by Wednesday morning and continuing until Wednesday evening. Timing may keep snow totals from getting too high in Philadelphia: The heaviest snow is expected during the daylight hours on Wednesday, and those 2 or 3 degrees of additional warming may be enough to melt much of it before it reaches the ground. The result may be, according to the local National Weather Service office, "sloppy, wet snow that could cling to trees and wires and obscure road signs." Power outages are a concern should snow totals come in just a bit above the current forecast—and the NWS says 3 to 6 inches in Philadelphia is definitely possible.
SUGGEST TRAVEL INTO EASTERN PENNSYLVANIA AND NORTHWEST NEW JERSEY BE COMPLETED NO LATER THAN 7 AM WEDNESDAY, OR WAIT TIL AFTER 7 PM WEDNESDAY NIGHT (IE...AFTER ROADS ARE CLEANED UP/CLEARED OF SLUSHY SNOW). ITS THAT 12 HOUR WINDOW DURING THE DAY WEDNESDAY THAT IS GOING TO BECOME A SIGNIFICANT TRAVEL PROBLEM, ESPECIALLY THE HILLY AREAS.
Washington, D.C., and Baltimore
The storm starts as rain early Wednesday morning in Washington and Baltimore and will likely morph into a slushy snow by midafternoon. There could be some nice big snowflakes as the storm winds down, but don't expect them to accumulate much on the ground. You'll probably have to go to higher elevations to build a snow fort. Keep in mind, Washington hit a record high of 74 degrees on Monday.
Even if you're not on the East Coast, it's likely that this storm will impact your journey to Grandma's house if you're going by plane. Airlines run a tight schedule around the holidays, and this is just the kind of storm that could cause cascading delays coast to coast.
One place where snow won't cause travel delays is Alaska. At the Alyeska ski resort just outside of Anchorage, there hasn't been enough snow for a traditional Thanksgiving Day opening. What's more, it's been too warm even to make snow. According to KTUU in Anchorage, this weekend local ski shops are planning to promote mountain biking instead.
Update, Nov. 25, 4:15 p.m.: This post was updated to include new snow maps for Philadelphia, New York City, and the Washington, D.C., area. It was also updated to include new travel advice for eastern Pennsylvania/northwest New Jersey and to note that the latest forecasts call for New York City to receive mostly snow; previous forecasts suggested it would be a snow-only event.

You Might Need a Pilot's License to Fly Commercial Drones Under Rumored FAA Proposal
The Federal Aviation Administration has needed to set drone regulations for, ahem, years, and now it seems like it's finally on their way. But drone advocates may not be happy.
On Monday the Wall Street Journal published a report about the direction the FAA proposal seems to be going in. Sources told the Journal that the agency will require drone operators to have a license, to fly drones during the day below 400 feet, and to keep the drones in the operators' sights at all times. Drones will also be put in broad weight categories, so, for example, a 2-pound drone and a 50-pound drone would be regulated the same way.
Advertisement

Sources said that the licenses would probably require people to spend hours learning to fly normal planes. The Journal points out that drone advocates have been lobbying against a traditional pilot training requirement for people who only want to fly drones. The FAA already required pilot's licenses when, earlier this year, it granted exemptions to six film companies, allowing them to use drones on set.
But the FAA has a lot to manage and seems tentative about issuing loose rules. The agency told the Journal in a statement that it is working to "integrate unmanned aircraft into the busiest, most complex airspace system in the world—and to do so while we maintain our mission—protecting the safety of the American people in the air and on the ground. That is why we are taking a staged approach to the integration of these new airspace users."
On the other hand, many drones have real-time, first-person viewing tech that allows operators to have accurate and intuitive information about exactly where the drone is going and what it's doing. Drone advocates say that all the different tracking and sensor technologies available make a pilot's license unnecessary for flying a drone. Proponents also note that only being able to fly drones during the day in an operator's line of site pretty heavily limits the usefulness of drones for things like large-scale surveying of land or structures.
Drone advocate Michael Drobac, who is the executive director of the Small UAV Coalition, is struggling to stay positive. "I feel like there's a colossal mess coming," he said.

Politicians, Please Stop Blaming Meteorologists for Inept Storm Response
During a weekend press conference in Buffalo, New York Gov. Andrew Cuomo shot a dagger through the heart of meteorologists:
Cuomo said that "no one had an idea" that Buffalo was in for such a wallop and that the National Weather Service "was off" on its forecasts.
Advertisement

Well, Mr. Governor, the National Weather Service wasn't off. In fact, if you look back at official forecasts in the days and hours leading up to the first flakes, it was pretty much spot-on—nailing the 5-inch-an-hour superstorm of snow the city received in the initial stages of a double-whammy snowstorm that produced up to 88 inches. Instead, highways were left open and commuters traveled to work—only to be frozen in place for most of the rest of the day.
One trapped motorist wrote a farewell note to her daughters after being trapped for 13 hours in a Chevy Cobalt. At least one person was reported dead after caught in a similar situation. Given the forecast, those roads should have been closed on Tuesday morning.
Although the National Weather Service continually updated its forecast as the storm peaked Tuesday, the New York Post reported that state planners stuck with a plowing strategy that was based on Monday's initial call of just (just!) 3 feet of accumulation—with clear wording showing more was possible. The first round ended up producing about twice that in the hardest-hit locations, and a second round later in the week brought an additional 2 feet. The post-storm regret was echoed by local officials, who said their plows couldn't keep up.
Moderate flooding was reported Monday as temperatures soared to near record highs and high winds battered storm-weary trees and houses in the Buffalo area, but the firestorm of words continued from meteorologists, aimed squarely at Cuomo.
Shame on Cuomo for throwing @NWS under the plow. They were brilliant. We don't tell you how to run a state. Don't tell us how to forecast.

— Kevin O'Neill (@KevinBuffalo) November 23, 2014
Governor Cuomo's claim the Natl Weather Service didn't issue a good forecast in advance of this storm is unfair and Dead WRONG.

— Don Paul (@4warnweather) November 23, 2014
The Weather Channel, too, pointed out that Monday's forecast from the National Weather Service mentioned "historic" snow falling at rates that "far exceed the ability to keep roads clear."
TWC continued its criticism on air, led by Tom Niziol, who headed the Buffalo office of the National Weather Service before joining the Weather Channel: "If you're going to imply that the office is responsible for at least 13 deaths last week because of a bad forecast, then we here at the Weather Channel feel a responsibility to correct your mistake."
On Sunday, Cuomo appeared to walk back his criticism, saying: "It is not that the National Weather Service failed us … they perform the best they can with the information they have."
The 125 weather stations the governor plans to build across New York state will do a great job telling him what storms are actually doing (if they happen to pass over one of them—it's a big state, after all), but won't do much to predict the weather. For that, you need supercomputers, weather balloons, and meteorologists—exactly the meteorologists he pissed off this week.
New York politicians have a knack for passing the blame during major weather events. Most famously, then-New York City Mayor Michael Bloomberg, in the hours before Hurricane Sandy's 2012 landfall, inexplicably said the storm wouldn't produce "a tropical storm or hurricane-type surge." A botched blizzard response earlier in his term also cost him severely; Bloomberg was rumored to be in Bermuda at the time.
A humble recommendation for those pursuing a career in political science: a few meteorology lessons.
When Making Babies Goes High Tech: A Future Tense Event Recap
In vitro fertilization was originally intended to help a very specific young, married, and female demographic to conceive. But a lot has changed since Louise Brown, the first test tube baby, was born in 1978. The explosion of single mothers and same-sex parents using the procedure has attracted a lot of attention, but society also needs to grapple with the questions of control, regulation, and access that other emerging reproductive technologies could raise. From pre-implantation genetic screening to exo-wombs, these changes could even evolve our most basic notions of family and society.
A first step may be agreeing to talk about this possible future at all. The highly personal nature of reproductive science and technology makes it a difficult topic to discuss and legislate, according to speakers at a Future Tense event on the future of reproduction in Washington, D.C., last week. After all, we're not talking about hip replacement surgery; this is our future children and grandchildren. As Dieter Egli, a senior research fellow at the New York Stem Cell Foundation, put it: "When we touch the egg, we feel like we are doing something to the human species."
Advertisement

This money can also muddy the ethical waters. Marcy Darnovsky, executive director of the Center for Genetics and Society, suggested that a conflict of interest exists when a doctor takes an egg (a complicated and often risky medical procedure) from a healthy young woman for a paying client. Apple and Facebook's announcement earlier this year that they would cover egg freezing procedures for their female employees is another potentially fraught development for the industry. "Egg freezing is a whole new market for the fertility industry, and commercial pressures do come to bear," Darnovsky added.
High prices also mean that reproductive technology is an area particularly prone to inequities. Though "infertility crosses all lines," as Spar characterized it, the cost of IVF and other methods can make them prohibitive for less affluent infertile families.
Despite the industry's ethical and commercial issues, it's still not clear just how involved the government should be. Many panelists expressed concern about the lack of regulation of new reproductive technologies, while others suggested that the government should stay out of decisions between families and their doctors. Still, all agreed that the United States regulates the industry far less than other Western countries. "Here, for whatever reason, and I think it's political and religious, the government took a back seat in the field of assisted reproduction," Evan Snyder, director of the Sanford-Burnham Medical Research Institute's Program in Stem Cell and Regenerative Biology, said. "And it stood them into good stead until the stem cell debate."
It's also difficult to pinpoint who, exactly, would take up the mantle in the fight for regulation. "The industry doesn't want it. … The parents who are successful [with IVF] don't want to see themselves as infertile," Spar said. "There's no natural constituency."
Ultimately, these technologies, their regulation (or lack thereof), and their effect on society cannot be considered in a vacuum. After all, as Christine Rosen, senior editor at the New Atlantis, pointed out, the history of eugenics in America is tragic, and not particularly distant. California prisons were reportedly sterilizing female inmates without approval as recently as 2010, for example. We need to be vigilant and aware of mission creep, she suggested, especially for technologies that begin to stray into genetic selection. Consider a controversial new procedure, not yet approved by the FDA, which uses the reproductive material of three people to prevent the inheritance of mitochondrial disease. Every parent wants their children to be healthy, but there are still concerns about the slippery slope of beginning to alter people's inherited characteristics. "They are very powerful technologies. They have implications for us personally, they have implications for our families," Darnovsy said. "And larger implications of social justice and human rights."
In the end, it seems emerging reproductive technologies will continue to bring unpredictable social change and challenging ethical questions. Only one thing is certain—we'll struggle to keep up. As Spar put it, "Technology will always move faster than social norms, and both will move faster than the law."