The Wedding
Will and Erwynn met at church and fell in love. But they had a big problem—"don't ask, don't tell." The unlikely story of the first gay military union.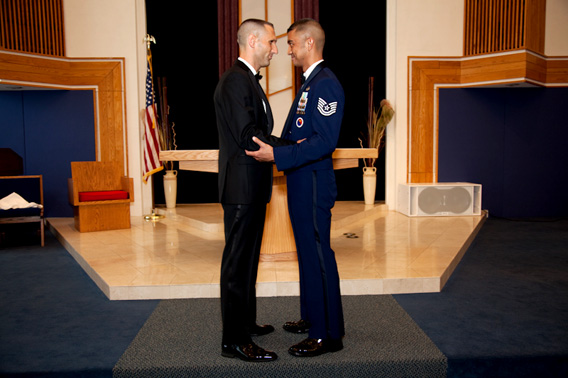 It's almost Christmas, and I'm eating lunch with Tech Sgt. Erwynn Umali and his fiance Will Behrens at a Cracker Barrel in New Jersey. Erwynn, 34, is an active-duty serviceman in the Air Force. Will, 35, is a branch manager for a financial firm. There are six months to go until Will and Erwynn get married at McGuire-Dix-Lakehurst, a joint military base in Wrightstown, N.J. It will be the first publicly announced gay civil union or wedding ever to take place on an American military installation. But today is about family, not planning for the big day. With us are Will's children from a previous marriage, his 11-year-old daughter and 9-year-old son. When the country fried steak and chicken and dumplings arrive, everyone joins hands in prayer. Will thanks God for our food and prays that I'll make it home safely. We say amen and eat.
Little about the couple's biographies would suggest that they would become gay rights trailblazers or find themselves on the progressive side of a culture war. Will was born outside of Chicago in 1976. His mother was a teacher. His father, a Marine-turned-fundamentalist-minister, spent most of the year on the road through his work with Fairhaven Baptist church in Chesterton, Ind. Will's father was its youth pastor and vice president of the church's small Christian college.
Fairhaven Baptist was founded by Dr. Roger Voegtlin, a firm believer in corporal punishment. Will recalls Dr. Voegtlin giving spanking demonstrations and instructions during church. Will's parents followed Dr. Voegtlin's example, imposing strict discipline on Will and his three siblings. Will ran away from home twice, in fifth and sixth grade, because he was so fearful of punishment from his father.
Will attended Fairhaven Baptist Academy, the K-12 extension of Fairhaven Church. Last year on Anderson Cooper 360, former students of the academy alleged that they were subjected to a host of abuses, including violent public beatings and humiliation for minor infractions at the hands of teachers and school administrators. In the CNN interview, Dr. Voegtlin admitted that public paddlings meant to humiliate children had taken place, but he denied knowledge of other incidents of abuse that the students alleged. Will describes Fairhaven as "not a place I want to remember," and says he'd never send his own children to school there.
As a kid, Will was passionate about music, particularly orchestra and piano. But the community preferred sports as a hobby for boys. Will wrestled and eventually became co-captain of the soccer team in high school. He couldn't allow himself to ask, even in his own mind, whether he might be gay. He believed, as he later explained to me, that "God knows your thoughts, and if you even think something like that, God could strike you dead and send you to hell." He also feared what might happen to him if people suspected he was gay. "Kids got shipped off to homes," Will recalls. "There was a girls home and a boys home. If a girl got pregnant in high school, or someone suspected you were gay, they sent you away." His sister, Jo Ann Trout, says that to Will's parents, being gay was "like never being born to the family." (Will's parents did not respond to repeated requests for comment on this article.)
Will stayed true to the teachings of his parents and his church. He attended Fairhaven Baptist College, earning a degree in pastoral theology and music. He married his wife, a childhood friend and college classmate in 1998. Then they moved to New Jersey so Will could pursue a career in business. They had two children.
Around that time, Will's parents left the Fairhaven community. According to Will, they had become disillusioned with Dr. Voegtlin's harsh teachings and methods. They moved to a different fundamentalist Baptist church in Pennsylvania. Will and his wife found a new congregation, too. They joined Solid Rock Baptist church, where Will became the choir director. Anti-gay sermons were common at Solid Rock, but Will never dared speak up. You "could never disagree with what the church taught," he says.
Will's future husband, Erwynn Umali, was born in the Philippines in 1977. When he was 5, his family immigrated to a suburb of San Diego. His parents gave their three sons and a daughter rhyming names: Alwynn, Erwynn, Jerwynn, and Sherwynn. They raised the children as strict Catholics with traditional Filipino family values.
Erwynn's family never discussed homosexuality, but the kids knew that it was forbidden in the Bible. Erwynn was macho and the most vocally homophobic member of the family. He made fun of gay men, imitating limp wrists and a lisp. But he knew, even in elementary school, that he was one of them.
Like Will, Erwynn wrestled in high school. He played on the varsity volleyball team. His sister, Sherwynn Umali, says he fit in easily at school but doted on his extended family of "aunties." He went to community college and San Diego State. In 1998, the year Will got married, Erwynn entered the Air Force. Erwynn loved the camaraderie and the knowledge that he was serving his country. Two years later, he married his wife, a fellow airman. They had two sons.