The Wedding
Will and Erwynn met at church and fell in love. But they had a big problem—"don't ask, don't tell." The unlikely story of the first gay military union.
At church, Will and Erwynn lead me to a windowless back-room chapel that has been converted from a gym. This is the Sojourn service, a more informal worship than the one taking place in the main hall. They worry that other members of the church might not be comfortable with their presence in the regular service. The morning begins with a band playing Christian soft rock. There are no Bibles here, only thin handouts. Pastor Rick Court's sermon, leavened with jokes and audience interaction, focuses on loving God and loving your neighbor as the most important lessons of Christianity. "You can see why we like this place," Erwynn whispers to me. "This is exactly what we are trying to teach our kids." But when I tell them I'd like to interview Pastor Rick, they pause. "Well," says Will, "I guess that means we'll have to come out to him."
The day before the wedding, I meet up with Pastor Rick at the Red Lion Diner in South Jersey. He was ordained by the conservative Evangelical Church Alliance. He has lived in this area all of his life. Will and Erwynn are the first congregants he's had whom he knew were gay, but he has heard that there are others at Hope. "I sensed that they were a gay couple right away," he chuckles, "although they think that they hide it pretty well."
Bald, with a goatee and a youthful grin at 47, at first impression, Rick seems more like a red state, all-American suburban dad than a theological progressive, but Rick acknowledges the Bible's contradictions. He's comfortable with the idea that he must constantly learn in order to truly know God. And Hope's policy has always been to accept and welcome everyone. But Will and Erwynn's attendance has tested him. "It's been challenging for me," he admits. "Now I have friends who are gay. And how will I react? How do I incorporate my faith and our faith into that?"
Between bites of scrapple and eggs, Rick ponders these questions. "Jesus hung out with those on the outskirts," he observes. "There is no story of Jesus hanging out with a homosexual in the New Testament. But if the New Testament was written in the 21st century I'm sure there would be." Rick says he's been talking lately with some of his preacher friends who single out gays. They claim to love the sinner but hate the sin. He asks them: "Do you say that to all the divorced people in your church?"
Legally, Will and Erwynn's ceremony at McGuire-Dix will have to be a civil union, since New Jersey doesn't recognize same-sex marriage. But to them, it's a wedding, and they plan to get legally married in New York after the ceremony. When I met them in December, they pled ignorance about how to plan a reception. Each of them had been married, but like many other grooms, they had relinquished the planning to their brides. (Will says his only job back then was to pick up his suit before the ceremony.) Neither of them has attended a same-sex wedding before. But by April, both men were on a first-name basis with the saleswomen at the crafts store where they purchased supplies for their homemade centerpieces. By Friday, June 22, their house has become wedding command central. Their kids, who hadn't seen one another for a year, are in the basement playing games and singing and dancing to pop songs. Will is captain of the checklists, keeping track of everything and bagging stuff up to take over to the base.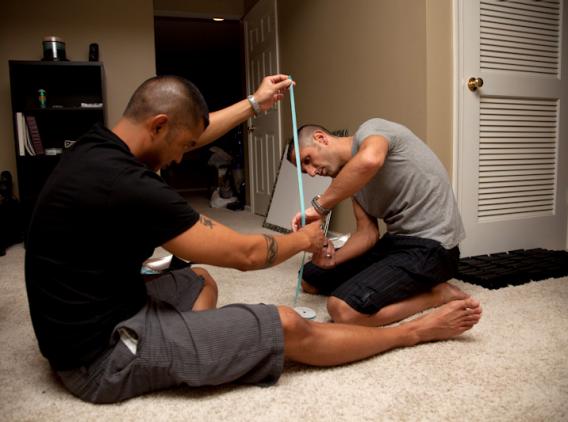 For the first time, I meet some of Will and Erwynn's family who will attend the wedding. Erwynn's parents aren't coming. They have met Will and hosted them in their home, but they are still struggling to accept that Erwynn is gay. A few weeks before the wedding, I spoke with Erwynn's mother, Joy Umali, on the phone. She told me she loves her son very much. She thinks she may be able to accept their relationship eventually, but she finds it a shock, because "we didn't raise him that way." She's still adjusting. She also says she didn't think she could get time off from her job. (She works in a factory.) Erwynn's younger sister, Sherwynn, who's representing the Umali side at the wedding, points out that her parents live in California, and she thinks the cost of the trip influenced their decision not to come. But Sherwynn is unconflicted in her delight. "I'm really proud that my brother is so comfortable and open that he can do this," she says.
Will has had little contact with his parents since his divorce. He didn't invite them to the wedding, knowing how strongly they disapprove of his relationship with Erwynn. Will's three aunts—his father's sisters—and three of their grown children, along with spouses, are representing the Behrens side. Will saw them once a year when he was growing up, but he had mostly lost touch with them in adulthood. His parents never told his extended family about Will's divorce. But last September, on the day DADT was repealed, Will and Erwynn celebrated by coming out on Facebook. They posted pictures together and declared that they were engaged. The news immediately sparked a wave of surprise through the Behrens family. His aunts reached out to him. Since Will isn't on speaking terms with his parents, he had assumed that no one in the family wanted anything to do with him. Facebook allowed him to reconnect with his father's family.
Will's aunts, a gregarious trio of middle-aged women, all live in small towns near Harrisburg, Pa. Along with Will's father, they were raised in a very strict household and were saved as Baptists when they were teenagers. "We just love Will and Erwynn," one of the aunts, Patty Garver, tells me. "We don't condone what they are doing. They know that. But we are here because they are family, and you don't turn your back on family." Another aunt, Nancy Wolf, agrees with Patty that homosexuality is a sin, but so is divorce. "And we're both divorced," Nancy points out. Patty has been impressed by what a good father Erwynn is to Will's children as well as his own.
Patty and Nancy used to support DADT. But they have changed their minds after learning how hard it was for Will and Erwynn. It's "not a lifestyle I would choose," Nancy tells me. She and her other sister, Wanda Jones, suspected Will might be gay even when he was a preteen. The more time they've spent with Will and Erwynn, says Nancy, the more she's thought that perhaps gay people are born that way.
The first time Will and Erwynn came to visit Patty, she freaked out about having them sleep together in the bedroom next to hers. She's generally not comfortable with unmarried couples sleeping in the same room in her house. But this time, she had extra angst. "I was still really adjusting," she says. "They really had no place else to stay except go to a motel. And I hated for them to do that." She called Nancy to ask whether she should put them on the sofa bed instead of a bedroom. Nancy urged her to get over it and let them sleep in the guest room.
Patty wonders whether Will and Erwynn will kiss at the ceremony in front of the children. "I just have this problem" with two men kissing, she says. But the aunts don't let their discomfort get in the way of risqué humor. They pepper the conversation with unprintable wisecracks and anecdotes about Will and Erwynn. "Do you know when they are going to open presents?" Nancy says with a wicked grin. "I have a gift for them, but they can't open it in front of the kids."