The Wedding
Will and Erwynn met at church and fell in love. But they had a big problem—"don't ask, don't tell." The unlikely story of the first gay military union.
When it became clear that Will was not coming back to his family, his parents stopped talking to him. He heard nothing from his immediate or extended family. He felt disowned. He had never been without a church. He felt he couldn't seek out new friends or share with anyone at work what he was going through because that could cast suspicion on Erwynn.
Will struggled through a difficult divorce and custody disputes. He cried himself to sleep over losing his kids and alienating his community. Having followed Baptist teachings his whole life, he began to explore what it meant to form opinions on his own. He volunteered as a pianist for McGuire-Dix functions and got to know more of Erwynn's colleagues as his "friend."
On Dec. 15, 2010, the U.S. House of Representatives passed a bill repealing DADT. Three days later, the Senate concurred. President Obama signed the bill into law on Dec. 22, 2010. The repeal's implementation was delayed, but in the summer of 2011, knowing that the end of hiding was only a few months away, Will got down on one knee and proposed to Erwynn.
When I go to visit Will and Erwynn the Sunday after Easter in 2012, much has changed since the fearful days of 2010. Gay and lesbian service members are able to be open about their orientation. Will and Erwynn moved out of their one-bedroom apartment and now live in an immaculately tidy three-bedroom townhouse decorated with dark wood furniture sets and brown and teal accents. They live 20 minutes from McGuire-Dix, in a subdivision where the houses look identical and the streets have floral names. Many military families live here, but it's easy to pick out Will and Erwynn's house: It has the most American flags.
Two of the three bedrooms are permanent kids' rooms: one for the three boys, the other for Will's daughter. All four children primarily live with their mothers out of state, but it's clear Will and Erwynn live for their kids, sharing stories about what they are up to and activities the family does together when the kids are visiting. Every vacation day they have is spent with the children. Erwynn's kids have taken to calling Will's cellphone to chat with him. Erwynn's ex-wife raves about how much Will loves his kids, and hers.
Will and Erwynn prop open the computer on the dining room table while Skyping with Will's children in the evenings, so it's like they are all having a family dinner. Family photos line the walls, alongside the American flag Erwynn took with him on every Air Force mission. Will had it framed for him. The two men have the same haircut and often wear virtually matching outfits. They even like to talk to people together on the phone. They seem a little giddy about finally being able to be themselves, together, before the whole world.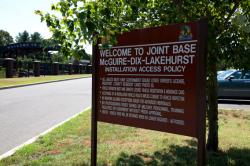 Coming out on base was much easier than Erwynn expected. Right after the repeal of DADT, his squadron held a farewell luncheon for him before he began a special duty assignment. In front of 40 of his fellow airmen, Erwynn announced that he wanted to thank a particular person for support and encouragement in helping him succeed. Everyone assumed he was referring to a colleague. Instead, he announced that this person was his partner and fiance, Will Behrens. Two beats of dead silence were followed by a standing ovation.
Erwynn is now a leadership school instructor, running five-week courses airmen must complete in order to become staff sergeants. As part of the lesson he teaches on stereotypes and diversity—a standard part of the curriculum—he has come out to his students. Initially, they were shocked, but like other young people, they have been largely supportive. Even older, career officers have accepted him. The only military people who seem taken aback by his orientation are much older, retired servicemen. But as Erwynn points out, people in the military are very good at following orders, including the repeal of DADT.
Coming out as gay Christians has been harder. For most of their lives, Will and Erwynn have been in faith environments that condemned homosexuality as a sin. Despite their exile from Solid Rock, they are still deeply religious, and Will keeps returning to the idea in the Bible that God loves you no matter what. He and Erwynn know that not all Christians disapprove of gay people. But the area they live in—an expanse of farmland, strip malls, chain restaurants, and big box retailers—is very conservative. "There's no gay-borhood in South Jersey," Will jokes.
Last year, Sarina DiBianca, a co-worker of Will's, invited him to her church for Easter. She'd met him after his divorce and noticed that he wasn't in touch with his family and seemed very alone. Suspecting he was gay, she let him know that she didn't judge people. Through her, Will began to believe that he could be made whole again—that in his words, "I could be gay and still have a relationship with God, and still have the love that God wants." Will and Erwynn began to attend Hope Church every Sunday. They felt at home. They introduced each other as "friends and roommates," since at that time, the DADT repeal wasn't fully in effect. But they were also unsure how they would be received if they were open about their relationship from the start. "We keep waiting for them to say something about gay marriage being wrong," says Erwynn. So far, that hasn't happened.