The Wedding
Will and Erwynn met at church and fell in love. But they had a big problem—"don't ask, don't tell." The unlikely story of the first gay military union.
Then they take vows to each other's children. Will promises Erwynn's sons, "If, God forbid, anything ever happened to your dad, I would always be there for you and love you." Erwynn assures Will's daughter that she now has five bodyguards. And in deference to Will's son, who uses "I like you" as code for "I love you," Erwynn tells the smiling 9-year-old, "I like you very much."
Will and Erwynn are pronounced husband and husband. They kiss and light the family unity candles. The kids give white roses to the family members in attendance. Then the couple intones, "Umali-Behrens family: ATTENTION!" The kids snap to attention. Together, they yell, "Cordon POST!" The honor guard—a ceremonial unit that can be requested by members of the military for special occasions—enters the chapel, takes its position, and raises swords in an arch over the aisle. The Black Eyed Peas' "Tonight's Gonna Be a Good Night" starts to play. The boys don aviator shades, and each kid takes a turn dancing down the aisle. The grooms go last.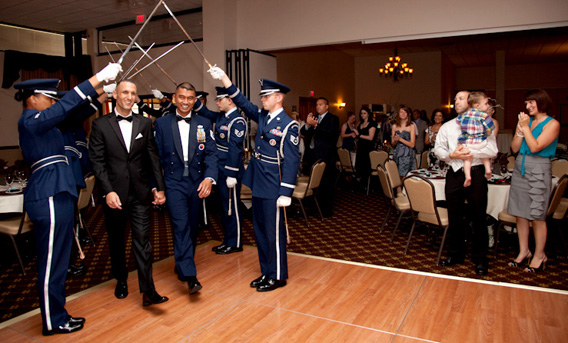 At the reception, I meet Will and Erwynn's community. Their initial guest count was 80. But by June it had almost doubled, as they got more yeses than they expected and invited friends who they discovered, to their surprise, were supportive of their union. The crowd is mostly straight couples under 40. Several have brought their young children along. There are a few old friends of Will and Erwynn's, but mostly it's co-workers and friends they've made in the last two years, including a handful of people they met through Outserve, an organization for active-duty gay and lesbian service members. By Will's estimate, 80 to 85 percent of the couple's friends are straight. Pastor Rick is there, along with his wife. I ask more than 20 guests whether this is their first same-sex ceremony. Every single straight person says yes.
Will gives his thank-you speech. "As some of you know, we don't have a lot of family here," he says. "But you all being here shows us that friends are our true family." After they hold each other close for their first dance, Erwynn remarks with amazement, "I never thought I'd be able dance with a man like this on a military installation."
It isn't just the military that's changing. After the guests work the buffet line and the cake is cut, I catch up with Will's aunts. All three of them are floored by how moving they found the experience. "I can't believe Will's parents missed this," Nancy tells me. Wanda says, "It was more emotional for me than seeing my own children get married, because it was so monumental, and because we know what they've been through." The aunts' favorite part was the grooms' vows to each other and to the children. "Seeing the love in Erwynn's eyes was so powerful," says Wanda. Patty confesses that her husband, seated next to her, "cried the whole time."
"We still don't agree with it," Patty adds. But with a maternal smile, she admits that when the grooms kissed, "I didn't look away. I just went ahead and watched them kiss."
The reception winds down. The couple and their four kids change into matching Team Umali-Behrens T-shirts. They're off to Disney World for a weeklong "familymoon." I can't get over the aunts tearing it up on the dance floor with Will and Erwynn to the '80s hit "It's Raining Men." As the new family of six heads out to catch their flight to Orlando, Fla., the aunts stay behind to clean up. They'll save the "Love" sign in the reception hall to give to Will and Erwynn when they get back.