"Just Call Me 'Bean Bag'!"
The first late-night show ever was insane. Why have we never heard of it?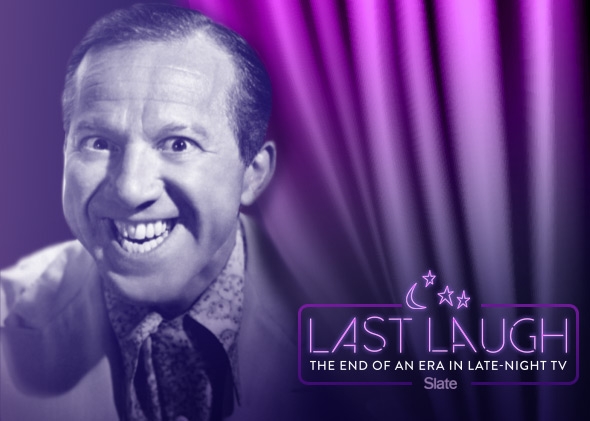 Every late-night variety program has some sort of signature bit, a catchphrase or conceit or character that sticks in the public imagination. David Letterman's top ten lists; Arsenio Hall's woofing, fist-pumping audience; Johnny Carson's Carnac the Magnificent: These are the elements that end up serving as shorthand for a show's governing sensibility. Jerry Lester, the late-night host who preceded them all, liked to talk about bean bags.
"Just call me 'Bean Bag'!" Lester would croon at the beginning of Broadway Open House, television's first late-night variety program, as the band played the show's theme music—called, appropriately, "The Bean Bag Song." Lester wore ties festooned with tiny bean bags. He used the word as a term of approbation, like hip or cool. He received bean bags in the mail from enthusiastic fans: "crocheted bean-bags, cast-iron bean-bags, chromium-plated bean-bags, and just plain bean-bags." He founded an organization called the Bean Bag Club, and within months it boasted 750,000 members. For a few months in 1950 and 1951, everyone in America wanted to be a bean bag. I have no idea why.
Lester's inexplicable bean bag fixation, as much as anything else, indicates the manic nonlinearity of Broadway Open House, the shambolic, short-lived show that pioneered the late-night comedic variety format and remains the most peculiar program to ever fill that slot. From its launch in May 1950 to its demise in August 1951, Broadway Open House filled the national airwaves five nights a week with strange jokes, catchphrases, novelty songs, innuendos, and improvisations.
By now the late-night variety format is so familiar as to seem almost genetic: monologue, sketches, guests, music, credits. Broadway Open House deserves some credit for developing that template, and giving subsequent variety shows a model to follow. Its most enduring contribution to the genre, though, was its sense of spontaneity. Broadway Open House established late-night television as a space where anything could happen. Almost entirely unscripted, produced and performed with no model to follow for audiences with no expectations to fulfill, Broadway Open House was an inherently weird and wonderful program: the sort of weirdness that comes from having no model to follow and thus no one to tell you that you're doing it wrong.
Late-night television began, as most great things do, as a scheme to sell beer bottles. In the spring of 1950, a glassware company called Anchor Hocking wanted to improve its relationship with beer breweries and hopefully dissuade them from packaging their beverages in plastic containers or aluminum cans. The company devised a novel strategy: It would sponsor a nightly television program on NBC and redistribute advertising time on the program to its brewery clients, offering them "local cut-in announcements plugging the beers according to the appropriate distribution," Billboard reported. By this scheme, Anchor Hocking would lure the brewers, and the brewers would lure the layabout drunks who had nowhere to be in the mornings. The rest, as they say, is television history.
"Program is to be a low budget revue, produced by NBC," wrote Billboard, featuring music, dancing, comedy sketches, the occasional celebrity guest, and a quick-witted host to hold everything together. The show would air every weeknight from 11 p.m. to midnight—which at the time was uncharted territory for network television. Broadway Open House, as the show was called, was set to debut in May 1950.
Its host was to be a manic prop comic and pianist named Don "Creesh" Hornsby, whose live performances, which occasionally lasted for five hours at a time, combined aggressive absurdism with extreme overcaffeination. Accounts of Hornsby's act place it firmly in "you had to be there" territory. As Ben Alba wrote in his Inventing Late Night: Steve Allen and the Original Tonight Show, "Hornsby would swing from a trapeze bar while engaging in nonstop patter, or he would run around the stage yelling 'Creesh! Creesh!' He would point a high-beam railroad yard flashlight at startled audience members and engage them in comical banter." Take that, Steve Allen!
Unfortunately—or fortunately, I suppose, depending on your tolerance for being blinded by high-beam flashlights—Hornsby contracted polio and died one week before Broadway Open House was to debut. Scrambling to find a replacement host after Hornsby's untimely death, NBC eventually found two: the comic Morey Amsterdam—who would later find fame as a supporting player on The Dick Van Dyke Show—and Jerry Lester, a peripatetic comedian, dancer, juggler, and tightrope walker who, after two decades in the entertainment business, had yet to find an outlet suitable for his unique talents.
The network decided that Amsterdam would host the show on Mondays and Wednesdays while Lester took control on Tuesdays, Thursdays, and Fridays. This was a terrible idea: It put the shows in competition with each other, and it inhibited performative consistency. Amsterdam was fired in November 1950 by an unsatisfied Anchor Hocking, to be replaced by a succession of guest hosts. Lester remained.
I recently went to the invaluable Paley Center for Media to view a couple episodes of Lester's Broadway Open House. (As far as I know, there are no extant tapes of the Amsterdam episodes.) I can say without exaggeration that it is one of the most exhausting and confusing shows I've ever seen. The show's individual elements are all familiar yet slightly off, like a clumsy outsider-art rendition of a late-night television program. Broadway Open House is a show broadcast live from the uncanny valley.
For one thing, there's Lester, who is quick-witted in the standard late-night manner yet unpredictable in a way that would never be possible today. In his wonderfully titled autobiography, A Lifetime Spent Doing What I Loved to Do!, Thomas Hamm—who performed on the show as a member of the Mello-Larks vocal group—recalled how Lester "might go into the audience and sit down and chat with somebody, or say to the cast 'I've got to leave the stage for a few minutes, so you guys take over.' " The program from Dec. 8, 1950, for instance, began with Lester spending literally 10 minutes in the audience asking random audience members to recite their high school fight cheers.
The supporting cast is filled with semi-familiar archetypes. Instead of a sidekick, there's an obnoxious tap-dancer named Ray Malone who screeches like Jerry Lewis whenever he speaks, which, thankfully, he does not do often. The bandleader is not the smooth Paul Shaffer, but the meek Milton Delugg, who not only plays the accordion but carries it around with him too. Instead of musical guests, Broadway Open House features the vocal group Mello-Larks, a jazz pianist and comic foil named Fletcher Peck, and a handsome tenor named Dave Street "with a fair-to-middling voice," as Tom Clemons of the Sunday Star put it in December 1950. Though sources indicate that Broadway Open House occasionally featured guest stars, the episodes I watched only had one: a stooped, mustachioed furrier named Eddie Weinstein, who brought fur coats for people to try on.
The show's breakout star was the uncharismatic and monotonous Dagmar, née Jennie Lewis, née Virginia Ruth Egnor, a tall, blonde West Virginian whose job was to sit on stage for the entire show, wear a low-cut dress, and occasionally come on stage and be leered at. Dagmar was billed as the singer for the Broadway Open House band, but the running joke was that she never sang. (Dagmar would later record a novelty duet with Frank Sinatra called "Mama Will Bark," which has been called the worst thing Sinatra ever recorded.) Instead she purveyed deadpan malapropisms that inevitably set Lester off in spasms of sexual innuendo. "This is Prince Glockenspiel. He is one of my sweaters," said Dagmar in one bit from Jan. 30, 1951. "Suitors," Lester responded, before turning to the audience and saying " 'Course, sweaters isn't bad either, you know?" Every single Dagmar segment is sort of like that: gleefully sexist and unfunny, yet somehow redeemed by Dagmar's odd, icy sense of dignity. ("I thank you" was her standard closing line.)
With the exception of Dagmar's bits, which she read directly off sheets of paper, the show was almost completely improvised. In a 2011 interview with the comedy historian Kliph Nesteroff, Milton Delugg recalled the scripts as examples of comic minimalism. "It was like—'Jerry opens door. Delugg walks out wearing accordion and says something,' " he recalled. "You know?"
This imprecision was key to the program's success. The written material was usually reliant on trite comic scenarios: Lester and announcer Wayne Howell compete for the favor of a female singer; Lester must retake a primary-school exam in order to obtain his high school diploma. The real magic came in the spontaneous moments. Something was always going wrong on Broadway Open House, to Lester's unfailing delight. In one sketch Lester comes out with a plaid shirt, a coonskin cap, and a meat cleaver. "This was supposed to be an axe in the prop list," he informed the audience. "What are you gonna do?"
The variety show format fit Lester very well. Lester wasn't very handsome or a very good actor or singer; he wasn't the sort who could carry a movie or a scripted television show. But he was winning, and he was the first person to realize that, in the late-night world, being likable was more important than being talented. "If they like you, you don't have to worry whether every gag goes over big or if every sketch is the best thing they've ever seen," Lester said in 1950.
Lester liked his audiences, and they, in turn, liked him. But other conflicts got in the way. Midway through 1951, Lester left Broadway Open House, reportedly upset that Dagmar's popularity was eclipsing his own. Broadway Open House went off the air permanently in August 1951. Three years later in 1954, NBC tried the late-night format again. They called it The Tonight Show.
Broadway Open House has now been wholly forgotten, and its obscurity is not unjustified. The show was great, but it was never very good. In his autobiography, longtime Tonight Show sidekick Ed McMahon wrote of watching Broadway Open House as a fledgling, frustrated broadcaster in Philadelphia. "I wonder if this show will ever be replaced by a professional one," McMahon remembered thinking. It was, of course. And that's probably for the best. Still, we've never seen anything like it. Today's late-night shows can be weird in their own way—with masturbating bears and fat suits and lip-sync battles—but nothing has ever been as joyfully messy and confused as Broadway Open House, where there was always time to fill and no preconceived ideas for how to fill it.