Everyone Misunderstood Arsenio Hall
He could have brought some much-needed diversity to late night. Here's why his comeback failed.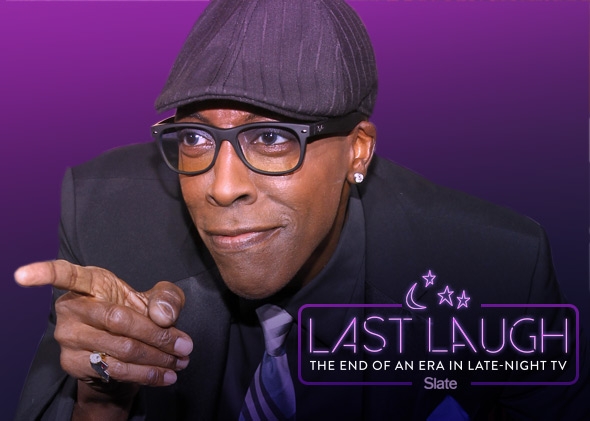 In 2012, there was a collective cheer when it was announced that Arsenio Hall would make a long-awaited return to the late-night lineup. Not only would he be adding some much-needed diversity to the landscape, but his legendary interviewing style—totally chill, with sharp and smart questions—would offer a pleasant alternative to the stiffness of David Letterman and the man-child antics of Jimmy Fallon. The show premiered in the fall of 2013 to great ratings and fanfare, beating out all competitors in the 18-to-49 demo the first night.
And then, as quickly as ratings ascended, they began to fall off. It was renewed in February 2014, but by May, The Arsenio Hall Show was once again a thing of the past. Critics outlined the reasons the show failed, throwing out mostly technical and logistical hurdles like the loss of its showrunner less than a month into the run and the generally crowded late-night terrain. ("Back in his heyday, Hall was a hip, urban-friendly alternative to Johnny Carson," Variety wrote. "This time around, he was one of many alternatives in late night.") But none of these reasons fully explains exactly what went wrong: What was hardest to watch about Arsenio 2.0 is that Hall was pushed to fit some broader cultural idea of what a late-night host should be.
As late-night hosts go, Arsenio is a total original. He's schmoozy without being smarmy, laid back but lively, charismatic without sucking up all the air in the room. He is also a uniquely gifted interviewer. As I wrote in Slate around the time of the premiere of Arsenio 2.0, he is equally adept at asking tough, confrontational questions of guests (see Ike Turner) and shooting the breeze in a fun, effortless way (see the Madonna­–Rosie O'Donnell interview around the time of A League of Their Own). It helped that—unlike pretty much every other late-night host before him right on up to the present day—he had no use for a desk that would cut him off from his guests and audience. And his deskless-ness gave off the impression, no matter how inaccurate, that they were all on the same plane. He is also an extremely good listener; no matter how banal or self-serving the story he's being told is, his attentiveness has a way of making the storyteller seem riveting.
When Hall returned nearly 20 years later, all that remained the same. He was still an engaging interviewer, even when talking to those who didn't give him much to work with. Take this interview with Wiz Khalifa, rightfully described by Chris Molanphy in Slate as the kind of rapper who tends to fade into the background of even his biggest hits. Khalifa's no different when sitting on the late-night couch (in fact, he's even more withdrawn), forcing Hall to effusively make up for his total lack of charisma.
Now celebrity interviews, Hall's strength, are no longer the primary draw of late-night television. Fallon, Seth Meyers, and Jimmy Kimmel rarely get revelatory interviews; instead of hoping for each celebrity who appears on their shows to be naturally charismatic, interesting, or forthcoming with details about their personal lives, they're content to have them come on their shows and goof off. Then producers are left to try to capture some of that goofiness to bottle and put on the Web.
Arsenio was never built for virality. His few feints in that direction on Arsenio 2.0 fell flat and were far from buzzworthy, as when he and a female stand-up comedian named Zainab interviewed random women in Los Angeles for an unfunny segment about female stereotypes, or he cooked weed s'mores with the aforementioned, bland Wiz Khalifa.
And in un-Arsenio-ish fashion, he seemed to be trying very hard to make jokes. In the female stereotypes bit, Arsenio discusses the myth that women have to be emotionally invested in order to have sex, while men can "kind of just have sex." Zainab quips, "See, I know a lot of hos"—to which Arsenio replies, "I stand—[wait for it]—horeccted!" (Face, meet palm.) He was never particularly great as a setup–punch line kind of guy, but this too often found its way into Arsenio 2.0.
The later show no longer featured must-see interviews with controversial or outspoken cultural figures like N.W.A. or Louis Farrakhan, even if this was perhaps a symptom of the way culture has evolved—it's hard to be truly shocked by pop stars anymore—and of the fact that all of Hall's friends have understandably grown less revolutionary with age. (Ice Cube, who never appeared on the original show, has obviously evolved since the days of "They asked me did I like Arsenio?/ About as much as the bicentennial.") The closest he came to having an "edgy" personality on his new show was probably professional provocateur Tyler the Creator. But even that interview proved tame—Tyler offered only vague answers to Arsenio's questions about his loaded music video for "Glowing" and Barack Obama. The old Arsenio would have been more persistent in getting real, deep answers—but this Arsenio let Tyler off the hook.
The huge success of the original Arsenio 1.0 was partly a case of lightning striking at just the right moment, a time when pop culture was still very much segregated between black and white. Hall booked the stars, many of them black, who would never be booked on the other shows—he nourished a hungry, particularly young audience by bringing on the likes of Tupac and 2 Live Crew. His guests were hip, and so was he. But the show also capitalized perfectly on his specific talent for peeling away the public personas of stars.
In his new show, nostalgia for the old one frequently ruled. When Toni Braxton and Babyface appeared on an episode of Arsenio 2.0, Hall reminisced about bringing the latter's then-up-and-coming artists on his old show. "See, we didn't have email or Twitter," Hall told the audience, with the air of an elder statesman. "He would fax me photos and then talk to me on the phone about a photo. You sent me a photo of three ladies who turned out to be TLC." It was a quirky enough anecdote, but if anything, it just reminded us of what a groundbreaking show 1.0 had been, and what a pale imitation 2.0 was. Babyface admiringly responded that, back then, "You weren't anybody until you got on Arsenio."
Arsenio 2.0 wasn't an absolute flop—his 2014 episode fully devoted to all things Prince was undoubtedly the high point of its short-lived run, one that combined a very game and always relevant Purple One with Hall's impressive knack for riffing. (Prince also helped an audience member break up with his girlfriend over the phone.) And although Hall's guests may not have been plugged into viral-ready segments, his commitment to artists of color like Community's Yvette Nicole Brown and Ken Jeong, and New Girl's Lamorne Morris, typically ignored by the bigger late-night shows, was admirable and necessary. Still, the short run of the show was a frustrating reminder of what the current late-night landscape lacks.
The overwhelming sameness of late night doesn't just apply to race and gender; it's also a matter of style and skill. In the soon-to-be post-Letterman age, we currently have a crop of hosts, from the Jimmys to James Corden, who not only look alike but also engage with their guests and their audiences in similar ways—through silly bits and elaborately produced stunts. But Arsenio filled a real niche in the late-night landscape: In his mild, unthreatening way, he could disarm stars' self-promotional defenses. This gave his first interviews an air of unpredictability that most of his competitors were never able to hone. And if he'd been given a show that played up his interviewing skills instead of ratcheting up his shtick, he might still be on the air. So it's a particular shame that his return to the air failed because he was remade in the image of everyone else on late-night TV.