Dispatches From New York's Fashion Week
Day 4 Slide Show: The talented fashion duo Proenza Schouler at New York's fashion week.
At Wednesday's Proenza Schouler show, the fashion world saw something it rarely does: the smile of Vogue's famously sphinxlike editor in chief, Anna Wintour, beaming from the front row. While it's possible that her glee registered her relief at a rather dull Fashion Week coming to an end, it's a pretty safe bet that she was pleased by this young duo's delightful collection. And what a delight it was to see individual style presented with such confidence and grace.
Jack McCollough and Lazaro Hernandez (the label's name derives from their mothers' maiden names) presented a collection of the great American sportswear that Seventh Avenue used to be known for. Long before European talents like John Galliano and Alexander McQueen defined fashion's current vernacular of ethereal, bias-cut dresses and intricately detailed tailoring, New York designers like Anne Klein and Perry Ellis made everyday basics like raincoats or skirt-and-blouse combos glamorous. They understood that women buy clothes in pieces—a great jacket, a well-fit pair of pants, a pretty top—and not in the pre-set looks of a more formal, salon style of dressing. But they also understood women did not want to sacrifice exuberance or sex appeal for the convenience of sportswear separates.
McCollough and Hernandez understand this very American idea to a degree that belies their age: Both designers are only 24 years old. Yet you would never sense their lack of professional experience in the clothes. While the team at Proenza Schouler certainly understand fashion's fundamentals (proportion, texture, cut) what distinguishes their work are nuances of personal style: the fine strands of pearls or updated spectator shoes that add texture to their vision of the way young women want to look today. Tight-fitting, shrunken patent-leather raincoats are juxtaposed with softly full skirts. Cashmere, cotton, and sequins are played off one another unexpectedly. Welted seaming gives added shape to pants. Few young designers have such a natural understanding of the draper's craft. If the coats are a bit clumsy and the cashmere sweaters a touch too thick, no matter. The overall look has a brainy sexuality that makes these missteps negligible.
Just over a year ago, their senior thesis from the fashion program at Parsons School of Design (a joint effort; the school bent a few rules for the movie-star handsome pair) was bought by Barneys New York. Every single piece sold within days. While Julie Gilhart, vice-president of women's ready-to-wear at Barneys, is clearly smitten with the duo, she says that it's the quality and highly developed aesthetic of the clothes that keep her coming back to Proenza Schouler's Chinatown loft.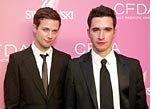 Bridget Foley, the executive editor of the influential trade paper Women's Wear Daily, sees a great future for the label. With the spring collection, Foley said, Proenza Schouler "entered the ranks of serious, grown-up designers with a polish that should not belong to designers who should still be so green." (Foley is not one to exaggerate the achievement of new talent.) So, where do the new stars see themselves in years to come? Not far from where they are today. Funding comes from a silent partner who owns one-third of the company. (The designers each have a third as well.) "We don't want to become a conglomerate. Money is not our end goal," says Hernandez. That's a far cry from a previous generation of designers, for whom success was defined by Tom Ford's megawatt stardom. But hunger for creative control over a vast array of products and glossy ad campaigns, to say nothing of personal wealth, has not yet infected the duo's dreams; their days are filled with more humbling pursuits like shipping orders to stores. "For now," Hernandez says, "we have total creative control. But it would be great to have a little help around here." After Anna Wintour's smile, how much more help will these guys need?