Dispatches From New York's Fashion Week
Day 2 Slide Show: Oscar de la Renta, Miguel Adrover, and Marc Jacobs at New York's fashion week.
Naiveté is the reigning mood at the Spring 2004 collections. Two of New York's three most disparate talents—Oscar de la Renta, Miguel Adrover, and Marc Jacobs—presented the kind of collections that cynical observers of the fashion world cite as proof that the industry thrives on the intoxication of utter self-delusion. Indeed, most designers are shutting out the rest of the world even when they think they are commenting on it. What of the record-breaking loss of jobs in America? De la Renta's collection essentially said: Let the people eat cake. Conflict in Liberia? Adrover pretentiously envisioned an Africa stylishly rife with struggle. Yet somehow when Marc Jacobs proposed that we keep on dancing through the drought, as they did in Sidney Pollack's They Shoot Horses, Don't They?, even the skeptic in me was charmed.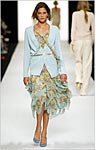 In the end, Jacobs' only aim is to define fashion's next big thing. And no other designer working in New York today has a keener sense of what will become the new season's objects of desire. You can count on his sparkling dance-hall shoes to be at the top of that list. Like Dorothy's ruby slippers, Jacobs' new shoe—surely inspired by the blissfully naive Depression-era film The Wizard of Oz—is the stuff of girls' dreams. The show evoked the hard-scrabble photographs of Walker Evans and Dorothea Lange. Prairie skirts were cut in tweed resembling a farmhand's denim coveralls, and cardigans pulled over delicately printed jumpers made the models look like sexed-up Ma Joads. But Jacobs' genius was to create a thematic framework for his work without actually getting trapped in a theme. The handkerchief-hemmed dresses were balanced by wardrobe basics like tanks and a new, deeply pleated pant that women will surely want in their wardrobes.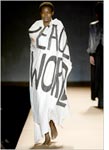 Miguel Adrover, alas, had headier things on his mind. That was unfortunate for the audience, which bolted from the tent before the designer came out for his bow. His somber collection used Africa as a backdrop for the themes that have always consumed him: displacement from home, and class struggle. In a show called "thesurrealrealworld" he played with the universes of "the oppressor" and "the oppressed" in what were essentially two collections woven together by some ambiguous cri de coeur about needing to learn to live together in a complicated social landscape. While some retailers praised the strength of the plainly tailored blouses and crisp pants, these clothes evoked nothing to me so much as the complacency and style of shoppers in Talbots. The banal wardrobe basics were played off clothes from an imagined diaspora. Here were burkas, safari jackets, and the long coats and babushkas of Ellis Island-era immigrants. One model was wrapped in a canvas protest banner that read, "Please Peace to the World."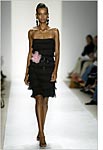 With the death of Bill Blass last year, Oscar de la Renta became the dean of American designers. Trained in Paris, the perennially dapper figure about town first came to New York to sketch for the dress salon at Elizabeth Arden. Those salon days are long gone, but the designer never strays far from the kind of clothes traditionally worn on the Upper East Side and Palm Beach. Monday's show was no different; the youthful attitude he has recently brought to his work could be found in close-fitting cashmere twin sets paired with slim, knee-grazing beaded skirts and bare cocktail dresses in black lace or taffeta. These are clothes for women who want to look like they don't have much more on their mind than what color shoes to wear with a yellow crocodile jacket. (The answer: cognac.) He lightened the load of gala evening dresses with floral printed silk chiffon and nude tulle, the same fabric ballerina's tutus are made from. The best of these dresses would look equally well on both the old guard and young social women who require party clothes. But it's hard to imagine that socialites will feel comfortable in a jacket with a deeply pleated peplum fanning out over the hips, or the bubble-back silhouettes of Balenciaga that de la Renta so baldly pays homage to. What saved the show from sinking into silliness was its utter lack of any intention other than to make women look and feel beautiful. That is, without a doubt, fashion's most noble objective.
The truth is, politics and fashion are awkward partners. At any show, the captive audience of stylists, celebrities, and fashion editors is generally more concerned with proximity to the front row than with the news on the day's front page.
There is little sense in searching for a deeper meaning behind this season's emerging trend: a revisionist light played on life between the two World Wars. Last season's Mod mania has given way to the softer silhouettes of the 1920s and '30s for reasons that have nothing to do with social commentary. The sudden fascination with the dropped waists and the flapper dresses from the era of Jacques-Henri Lartigue and the WPA photographers is a result of the whiplash turns fashion lives on. Fashion should entertain, and Jacobs knows it; there is nothing wrong with fashion that distracts from grim reality. But skeptics might be interested to know that naive clothes are not always naively produced. They are a conscious acknowledgement of political and economic tension. The thinking in retail circles and at fashion magazines goes that in hard times, clothes, especially the more expensive ones, provide a welcome distraction from crisis. When disposable income is tight and nerves are on edge, it's the pricy show-stoppers that sell first and make the prettiest pictures.