Dispatches From New York's Fashion Week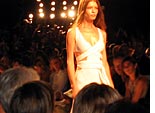 You could easily imagine that Christopher Guest's next movie might be called Fashion Week. Under fashion's big top in New York's Bryant Park lies the kind of peculiar microcosm of egomaniacs and foolish dreamers that Guest has captured so brilliantly in films like Waiting for Guffman and A Mighty Wind. Gravely serious older women in black pantsuits march around with huge black tote bags, scribbling notes. Young women with flawless bodies slink around in evening shoes with 6-inch heels at 10 a.m. Japanese businessmen gather in tight clusters, studying Women's Wear Daily with the intensity of gamblers at the track reviewing their racing forms. Twenty-somethings dressed like pop stars drink pink cocktails. Some men carry purses; others wear fedoras. Everyone looks very busy.
With the Spring 2004 shows coming to a close today, the time seems right to ask: Who are these people, and what are they doing? These are the buyers, fashion editors, licensing executives, and celebrity stylists that make fashion happen. You would find them hilariously funny: It is hard to imagine a community of people with a more specific, absurdly codified way of moving through the world. The same PR agent who kisses you once on each check in the morning would not be caught dead talking to you by the afternoon. The misuse of a fabric or the casting of runway models is dissected by onlookers with the intensity of football fans gathered around the television on Monday nights.
Unlike sports fans, this crowd gathers to conduct business. Some billions of dollars of revenue will be generated by the work being viewed on the runways here, in Milan, and then in Paris over the next several weeks. In addition, major "open-to-buy" (retail lingo for budgets) will be spent on the new accessories and cosmetics being shown for the first time. "Market Week" begins tomorrow; the black-clad buyers (from department stores and boutiques) will go to designers' showrooms to "leave paper" or write their orders for merchandise. The willowy young women from Vogue will begin "calling-in samples" or requesting runway looks from publicists to be featured in future issues. Fabric buyers will "increase rolls of goods," or buy more fabric for the styles that seem most popular, so they can meet demand. Designers will begin modifying patterns originally draped on 6-foot-tall 19-year-olds for the less extreme figures of women in the real world. By Monday, retail fashion directors and top editors will have determined the trends to be "registered" boldly for the new season. In fashion magazines, beginning in January, you will see "editorials," or photo spreads, showcasing French Riviera glamour of the 1930s variety, the return of shockingly bright colors, and what will doubtlessly be dubbed "A New Polish."
Despite the fact that all this is part of a greater and typically American effort to "move the merch," fashion engenders great hostility in some circles—and not all of it is undeserved. The Slate reader who sent a message to "The Fray" that said simply "Put fashion week out of fashion" is surely speaking for thousands who feel that fashion shows and all that surrounds them are, at the very least, a ridiculous waste of time.
There is no doubt that fashion puts people off because it is, by definition, elitist. People are either fashionable or they are not. Some understandably find outsized expenditures on this season's favorite bit of chiffon grotesque. Then there are the more serious charges leveled against the fashion industry: Accusations that clothing manufacturers exploit Third World workers should be taken seriously. And there's heartfelt concern that the fashion industry encourages anorexia with its images of brittle, unusually thin models.
Because the fashion industry's excesses make so many people angry, it's easy to forget what fashion also does: It brings people joy. Recently, an older fashion executive said to me, forlornly, that fashion used to be about clothes, not people. While I sympathize with his point—there are too many celebrities and supersized egos around and not enough design innovation—fashion is only about people. It's about how we want other people to see our best selves. Clothes give can give us confidence, make memories, and ignite romance. Can you still see the dress you were wearing when your husband first laid eyes on you? Or remember your first good suit? Today more than ever, because of stores like Target and H&M that bring fantastic style to the mass market, everyday American consumers have unprecedented access to fashionable clothes at truly affordable prices.
Ironically, the image of the fashion industry has suffered as a result of the very exposure required to keep the wheels of commerce rolling. "7th on 6th," the trade organization that manages the tents at New York's fashion week, has coordinated the shows for 10 years—a Herculean task. (Previously, the shows were pell-mell; the organization was founded after part of the ceiling collapsed in the downtown loft Michael Kors used for his shows.) But mounting the tents costs a lot of money (payment for space in the tents can be well above $25,000), and so sometimes it seems that anyone with a needle and a checkbook shows up. If the centralized venue has made the shows more convenient for the frazzled professionals attempting to see nearly 100 designers' work in one week, it has also resulted in the glut of crap that is on display and the careers of sycophants in the tents. Middling reporters asking middling designers silly questions on cable TV—Can you tell me about the influence of bondage in your spring collection?—does nothing to enhance the industry's image. What should be celebrated and exposed is the great craft of making clothes.