Dispatches From New York's Fashion Week
Day 3 Slide Show: Narciso Rodriguez; the problematic legacy of Calvin Klein and Bill Blass.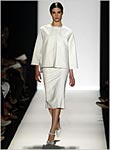 With a fiercely beautiful collection, Narciso Rodriguez made it apparent that he has several advantages over the other major designers who showed their Spring 2004 collections in New York on Tuesday. Not least among these is a freedom from legacy. The debuts of Michael Vollbracht at Bill Blass and Francisco Costa at Calvin Klein, on the other hand, were weighed down by the designers' failure to live up to the legacy of their legendary predecessors. Both Vollbracht and Costa seem to have only a tentative sense of what today's fashionable women want to look like.
Fortunately for women who love beautiful clothes, Rodriguez has no such uncertainty. He is in possession of a contemporary sense of elegance and sexuality that his peers lack, and has quickly developed a vision that is all his own. What he sees are the flat surfaces of simple fabrics like linen and canvas, distinguished by meticulous construction based on corsetry. The garments are excellently fitted: made fuller with cupped seams at the breast; indented above the high-hip, sometimes punctuated by a skin-revealing slice; and, at the curve below the buttocks, defined by lacing or a zipper. A spare black sleeveless top was made regal by the slight arc of the neckline just below the chin. Strapless dresses were as taut as the skins of the Brazilian carnivale drums whose beat propelled the models down the runway. Rodriguez' cropped pants—a trend for the season—maintained an elegance not usually associated with this length. Rodriguez also alluded to the work of the legendary Cristóbal Balenciaga and met, with great finesse, the mighty challenge of recreating Balenciaga's silhouette. His white cotton sateen suit, with a slight billow at the back of the jacket and a peg of a skirt, managed to capture the original's severity without looking comic or antique.
Other designers paying homage to Balenciaga's legacy—a popular reference point this season—fared less well. Balenciaga's strict visual vocabulary is not unlike the clean lines of Mies van der Rohe; when designers or architects meddle with either they tend only to make a mess of things. The Basque couturier's arch signatures—including hump-back dresses—are more complex than they appear; this illusion is in fact their essence. They are grandly ballooning shapes held aloft by stiff fabrics, hearkening back to an era when women rose from the bath to dress slowly, taking jewels from the bedroom vault before being driven to lunch. That lady no longer exists.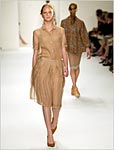 Where Rodriguez managed to make Balenciaga's lines work, Francisco Costa faltered. But this designer deserves to be given more time to make his mark at Calvin Klein. Klein, the American legend, retired from the runway and sold his company to Phillips-Van Heusen for $430 million in 2002, and in his absence it became plain that his deft touch will be hard to replace. In this rather empty first effort, Balenciaga shapes and lines were mixed with a few ideas borrowed from Prada. It's not that Costa's clothes were unattractive; many were lovely. Costa (who formerly worked at Gucci) showed some pleated skirts, nicely tailored coats, and fine sweaters that women will surely want. And the delicate colors—a cosmetic shade of pink called "foundation," barely-there yellow, a faint gray, a nutty brown—were pure Klein. Missing, though, was the gravitas that made Klein's work distinctive. Where were the subtle shifts in proportion that elevated simple sportswear to fashion? Where was the singular way Klein could make us see layering, or knitwear, or even the color black with a fresh eye? Klein's clinically spare silhouettes somehow suggested that the woman beneath the clothes was more complicated than she first appeared. Costa will find that subtle tension hard to harness.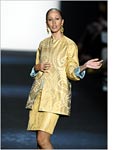 The word "burdened" came to mind at Michael Vollbracht's first collection for Bill Blass. Vollbracht is a brilliant illustrator; his exquisite ad work for Henri Bendel helped to define the retailer's glory years. He was also a friend of the late designer, which no doubt made him seem the natural replacement for Lars Nilson, the second designer to try his hand with Blass' iconic signatures. (Both he and Steven Slowik were fired by the house after brief stints.) And, wow, Blass' signatures were writ large in this collection—there was very little sense that Vollbracht was doing anything other than imitate what had come before. Men's haberdashery checked coats, column dresses with cut-out necklines, the ur-Blass little black dress: They all made an appearance. Retailers may be happy with these very salable pieces, and so will the handful of older women who depended on their Blass wardrobes. But what about a new customer? As the cabine of young models sauntered down the runway with Blass-era stars Karen Bjornson, Pat Cleveland, and Diane DeWitt, the contrast between the old and the new was almost too difficult to watch. Cleveland's quirky sparkle was compelling two decades ago; today, her Norma Desmond-like flirtation with the cameras lent the show an unwanted hint of pathos.
Cleveland, in fact, looked like she was having a ball. What was poignant had to do with one's memory of a time when fashion was defined by gutsy guys like Bill Blass and Calvin Klein who came to Seventh Avenue from humble beginnings and changed the way the most fashionable American women looked. We are lucky, then, to have Narciso Rodriguez, whose singular voice may one day be the stuff of legend. Perhaps he, like Balenciaga, will shutter his house after his final bow. Isn't that the only way for designers to maintain the legacy they have worked so hard to build?