LISTEN: Lilly Ledbetter on NPR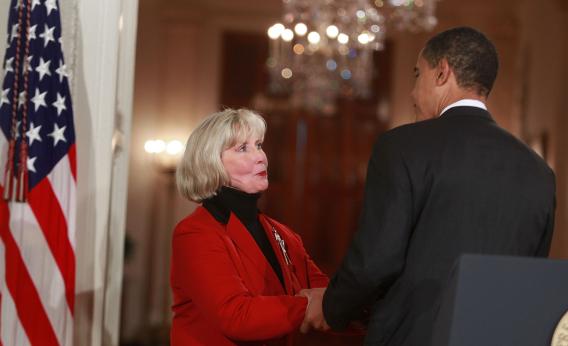 Listen to the interview here:
In my post yesterday on the Obama campaign's reinvigorated courtship of women, I mentioned in passing that one of the main accomplishments he's touting is equal pay for women, embodied primarily in the Lilly M. Ledbetter Fair Pay Act. While many readers will be familiar with the general story of the legislation's namesake (briefly: Ledbetter worked for the Goodyear tire company for many years before discovering that she was being paid less as a woman; she then took her case to court, eventually losing on a technicality in the controversial Supreme Court decision Ledbetter v. Goodyear­­), you're really missing out if you haven't heard her tell it in her own delightfully stoic Southern drawl.
Ledbetter was interviewed at length on WNYC's Leonard Lopate show this afternoon, and listening to her tale, equal parts frustrating and encouraging, reminded me just how insidious this kind of gender discrimination can be, both in corporations and even in the halls of our highest court. As Slate's own Dahlia Lithwick pointed out back during the case, women are still being penalized for unfair pay practices that, due to the secretive nature of pay scales in many companies, they have little chance of discovering. Thankfully, the Ledbetter Act helps women and other minorities by relaxing the absurd statute of limitations on these cases; however, Ledbetter herself won't ever recover the back pay she's owed. In spite of her personal loss, though, Ledbetter continues to educate and campaign for fair pay and related issues around the country.