Twitter Limits Rose McGowan's Account After Her Allegations Against Weinstein and A-Listers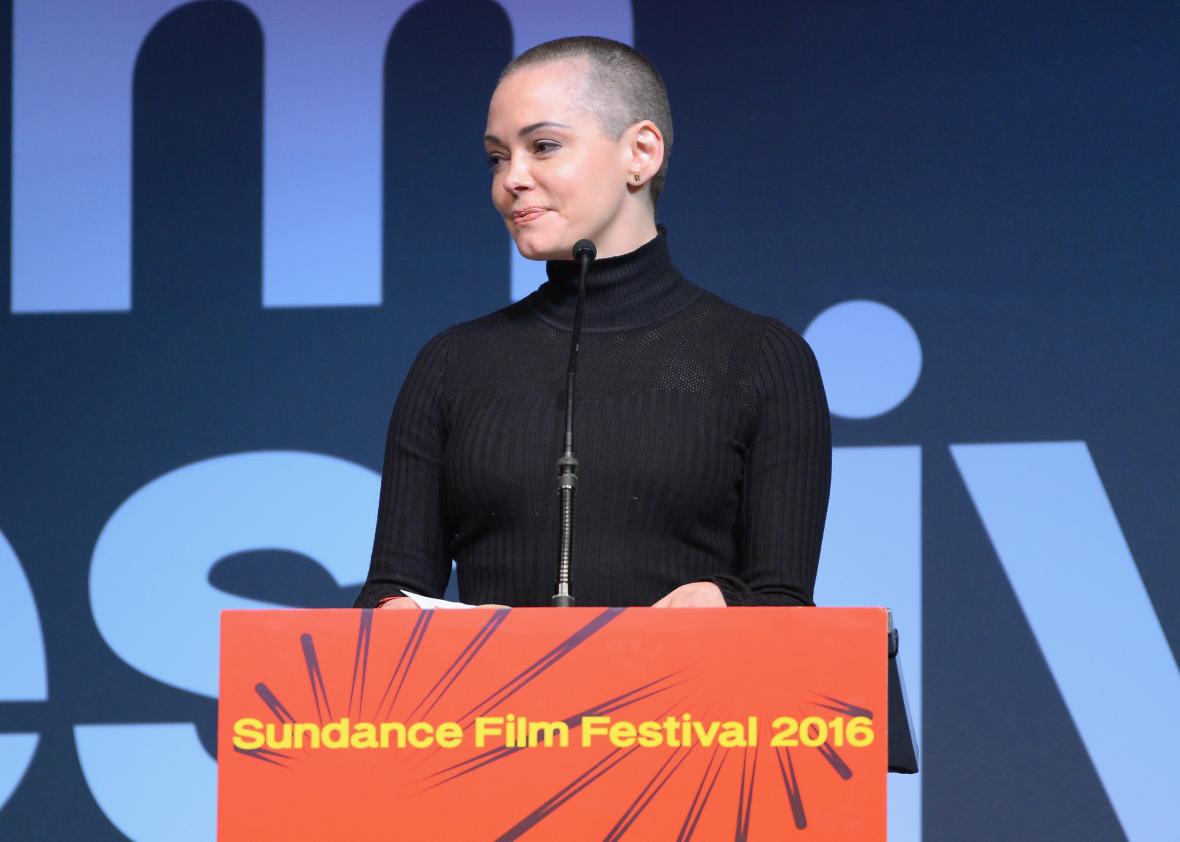 Twitter inexplicably limited Rose McGowan's account for 12 hours, the actress wrote on Instagram on Thursday. It's not clear from the screenshot she took of Twitter's notice what the social media platform found objectionable, though there is a requirement that she "Delete Tweets that violate our rules" before beginning the countdown.
While some are calling this a suspension, it's a bit different, because her account is still accessible.

McGowan has been very vocal recently about film producer Harvey Weinstein's alleged sexual misconduct. The New York Times identified her as one of the many women who have accused the movie mogul of sexual abuse and harassment. In 1997, Weinstein paid the actress a $100,000 settlement after what the Times describes as "a hotel room encounter with him during the Sundance Film Festival."
In the days since the New York Times, and then the New Yorker, published the allegations, McGowan has been using Twitter to call out people in the film industry who she claims knew about Weinstein's behavior. One of her most high-profile accusations was against Ben Affleck, who she says is lying about having no prior knowledge of the alleged abuse.
@benaffleck "GODDAMNIT! I TOLD HIM TO STOP DOING THAT" you said that to my face. The press conf I was made to go to after assault. You lie.

— rose mcgowan (@rosemcgowan) October 10, 2017
Noah Kulwin, a reporter for Vice News, says that some of the posts now deleted from McGowan's Twitter revealed two phone numbers, which could explain the suspension.
the deleted screenshot had two phone numbers in it, i remember it perfectly

— noah kulwin (@nkulw) October 12, 2017
Update, Oct. 12, 2017, at 12:15 p.m.: A spokesperson from Twitter confirms that it put limits on McGowan's account because she tweeted a phone number:
We have been in touch with Ms. McGowan's team. We want to explain that her account was temporarily locked because one of her Tweets included a private phone number, which violates of our Terms of Service. The Tweet was removed and her account has been unlocked. We will be clearer about these policies and decisions in the future.

Twitter is proud to empower and support the voices on our platform, especially those that speak truth to power. We stand with the brave women and men who use Twitter to share their stories, and will work hard every day to improve our processes to protect those voices.
Twitter has of late come under question for how it applies its content policies. In late September, Donald Trump tweeted what would appear to be a violent threat against North Korea, which violates the site's user guidelines.
Just heard Foreign Minister of North Korea speak at U.N. If he echoes thoughts of Little Rocket Man, they won't be around much longer!

— Donald J. Trump (@realDonaldTrump) September 24, 2017
However, Twitter defended the decision not to impose penalties for the tweet because of factors like "newsworthiness" and "public interest."
Future Tense is a partnership of Slate, New America, and Arizona State University.