Strongest Storm Yet for 2014 Headed for Australia Landfall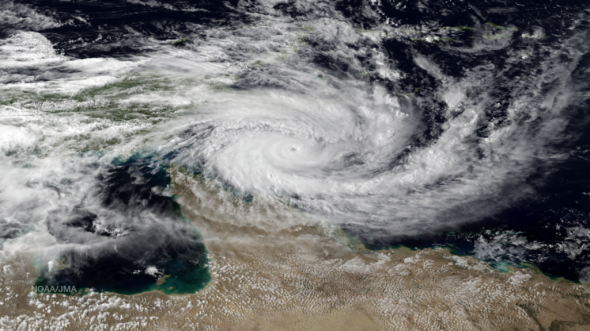 A small but fierce storm is heading for Australia with a new distinction: It's now Earth's strongest of 2014.
Over the last several hours, Severe Tropical Cyclone Ita has rapidly intensified to a Category 5 beast of a storm. Official estimates from Australia's Bureau of Meteorology have the storm slightly stronger than Cyclone Ian, which hit Tonga earlier this year and was previously the strongest storm of 2014.
Now, it's still early in the year, sure. But only a handful of tropical cyclones ever reach this strength, fewer still in the Coral Sea off Australia's tropical north coast.

Ita could also prove to be one of the worst in Australia's history, bringing storm surge, heavy rain, and strong winds to a large swath of the Queensland coastline. Flooding from both rain and rising seas are especially a concern with Ita, because it's relatively slow-moving and will arrive near the time of local high tide. Ita is one of the latest-forming Category 5 storms in Australian history, whose tropical cyclone season runs from November to April.
According to Australia's Bureau of Meteorology, it's only the second time since 1918 a storm of this magnitude has struck Queensland. The other time was three years ago, when Tropical Cyclone Yasi struck just south of Ita's anticipated landfall. Yasi was Australia's costliest tropical cyclone in its history, causing an estimated $3.6 billion in damage.
Ita is now stronger than Yasi was at its peak.
Farmers spent Thursday picking bananas like crazy in an attempt to beat the storm. From ABC (that's the Australian Broadcasting Corp., mate):
Lakeland's biggest farm, Swiss Farms, hopes to get 250 tonnes of bananas and another 1,500 banana bunches into storage and out of harm's way.
But owner Peter Inderbitzen knows that might be difficult to achieve if roads become cut and workers need to take shelter from what could be a "very, very serious blow".
"We're going to do what we can, and if everything's okay, we're going to work very late tonight and tomorrow as well.
"We're not doing much else than trying to pack. If you get 80 kilometres an hour-plus winds, well, that's the end of the bananas."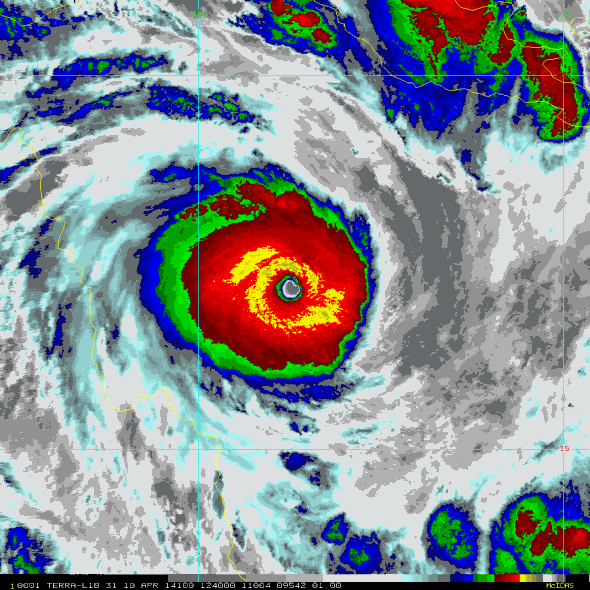 The storm will make landfall late Friday, Australia time. If it maintains its strength, as is currently forecast, it will be the strongest storm to make landfall anywhere in the world since Typhoon Haiyan devastated the Philippines last November.
The storm now packs sustained winds of 115 knots (130 mph, 215 kph) and gusts of up to 160 knots (185 mph, 295 kph) according to a government bulletin released Friday morning Australia time.
The bad news: Ita is small. That's made the storm difficult to predict.
While Sea surface temps are very warm, ocean heat content is limited to shallow depth ... but as of right now, Cyclone Ita overperforming

-- Ryan Maue (@RyanMaue) April 10, 2014
ECMWF track forecasts for Cyclone Ita were terrible ... with previous solutions taking storm into Gulf of Carpentaria

-- Ryan Maue (@RyanMaue) April 10, 2014
While the official forecast calls for landfall in a relatively sparsely populated section of northern Queensland, there's a chance the fickle storm could take a more dangerous path. Another forecasting agency, the U.S. Navy's Joint Typhoon Warning Center, predicts a more ominous track with landfall farther south, potentially straddling hundreds of miles of coastline, including the tropical resort city of Cairns. That track could greatly increase the amount of damage the storm causes.
It's worth noting that while Ita is officially Category 5 storm, the Australians use the more conservative international standard to measure tropical cyclone intensity, taking 10-minute average winds into account. The United States uses one-minute averages, which tends to give faster wind speed estimates. The storm is still a high-end Category 4 on the Saffir-Simpson scale.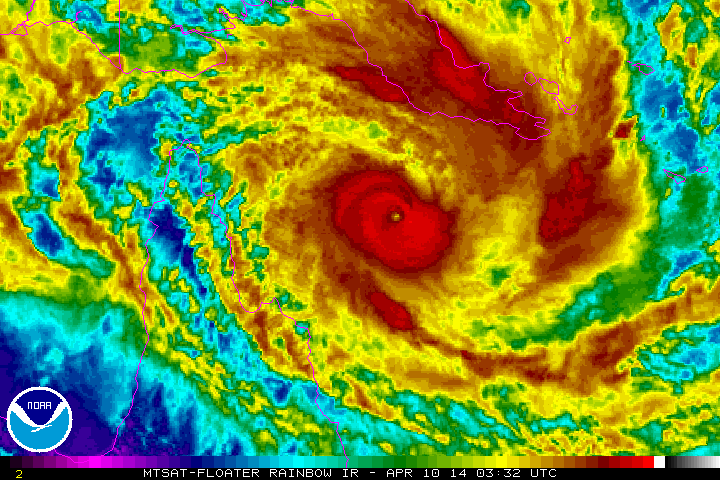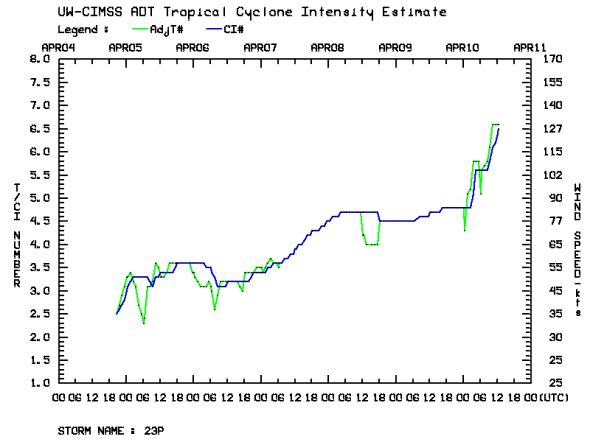 Update, April 11, 2014, 5 p.m. Eastern: The Australia Bureau of Meteorology reports that Tropical Cyclone Ita has crossed the coast near Cape Flattery between 9-10 p.m. Friday night, local time. Moderate to major river flooding could occur due to intense rainfall already totaling 8 to 12 inches (200-300 millimeters), nearly a month's worth. Those amounts could potentially double by Saturday evening, with the cyclone spending more than a full day over land, passing close by Cairns en route​. This is an ongoing situation, so refer to frequently updating official statistics for the latest.
Future Tense is a partnership of Slate, New America, and Arizona State University.