Can You Spot the Most Dangerous Storm in This GIF?

For example, see if you can pick out the strongest storm in this satellite loop of the current weather over the Pacific Ocean: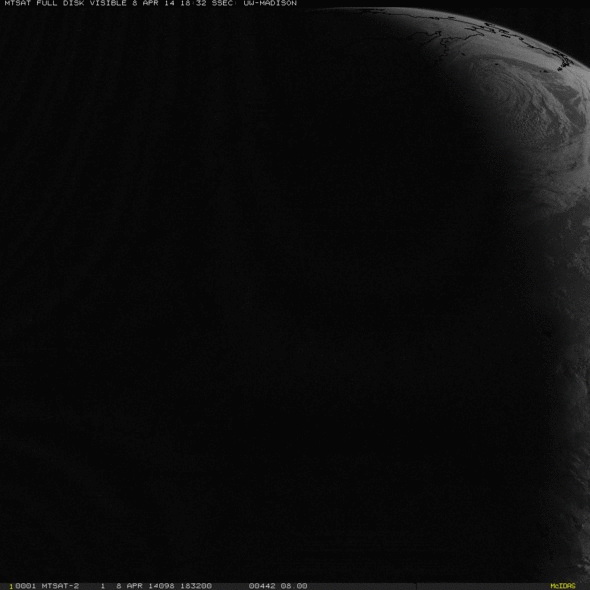 If you're like me, your eye was immediately drawn to the ginormous swirl that's heading for Alaska.
That's an extratropical cyclone that has fully "occluded"—meaning, the clashing masses of warm and cold air that led to the storm's creation have now almost completely mixed together. It's a mature storm in the process of dissipating, and it's dying a beautiful death.
As we saw with Hurricane Sandy, which began the transition to an extratropical cyclone just as it was making landfall in New Jersey, these types of storm can cover a vast territory. They do their damage by a thousand pinpricks: millions of square miles of rough seas, gusty winds, and similar forms of oceanic viciousness.
Waves with the Alaskan storm are about 25 feet tall right now and winds well offshore are near tropical storm force (40 mph or so), but that's really nothing hardy Alaskans can't deal with. Up there, storms like this happen on nearly a weekly basis this time of year.
These images come our way via the astute scientists at the Cooperative Institute for Meteorological Satellite Studies at the University of Wisconsin-Madison, who make a business of identifying strange and wonderful atmospheric phenomena like these occluding Alaskan storms.
Compare the size of Tropical Cyclone Ita approaching Australia with that monster low approaching the Aleutian Islands http://t.co/Ww7JeVuhj7

-- Scott Bachmeier (@CIMSS_Satellite) April 9, 2014
What you might have missed on your first glance at the gif was the small tropical cyclone that's currently off the northeast coast of Australia. That's Tropical Cyclone Ita.
That storm is a compact menace, packing winds about three times as strong as the giant swirl near Alaska. The Australian storm was born a few days ago in the very warm waters of the equatorial Pacific Ocean and has quickly intensified.
The U.S. Navy's Joint Typhoon Warning Center forecasts Tropical Cyclone Ita to make a direct hit somewhere north of Cairns by late Friday night or Saturday. Just before landfall, the storm will grow to the equivalent of a Category 3 hurricane or stronger, packing wind gusts of up to 150 mph. Not a good beach weekend.
Tropical storms, unlike extratropical cyclones, gain their energy from warm water (which there isn't much of, up near Alaska). They are also typically much more compact, and concentrate their force in a ring of intense thunderstorms around the center, sometimes no wider than a couple dozen miles. That frequently creates wind speeds well over a hundred miles per hour, in the strongest cases. Sandy, which began in the tropics, was the worst of both worlds: hurricane-force winds spread out in a monster the size of a continent. It was the biggest Atlantic hurricane that we've ever seen, by far.
The Australian Bureau of Meteorology will have updated forecasts of Tropical Cyclone Ita throughout the week.
Future Tense is a partnership of Slate, New America, and Arizona State University.