Join the New Future Tense Book Club to Discuss Dave Eggers' The Circle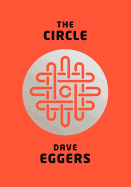 Every month, Slate's Audio Book Club invites you to eavesdrop on a smart, funny conversation about new releases and classics alike. Now it's your turn to take part in a discussion: We're launching a Future Tense Book Club in Washington, D.C.
Future Tense—which is a partnership of Slate, the New America Foundation, and Arizona State University—is dedicated to spurring conversation about the emerging technologies that change the way we live. With the Future Tense Book Club, we'll choose sci-fi and nonfiction titles that tackle how technologies affect human relationships, the regulation questions inspired by things like geoengineering and synthetic biology, and the unexpected ways breakthroughs can ripple through society. Each month, we'll choose a book that inspires new ways of thinking about technologies we take for granted—or that seem scary at first impression.
For our first book, we've chosen The Circle, by Dave Eggers, a best-seller that looks at a behemoth tech company that makes Google and Facebook look puny. At 6 p.m. on Wednesday, Dec. 4, we'll meet in D.C. to have drinks and snacks while we discuss the ways Eggers portrays surveillance, social media, human-to-human contact, and more. (Slate's Jessica Winters offers one look at what The Circle gets right—and wrong—about the tech industry.)
The Future Tense Book Club is free, but limited seating is available, so RSVP now to futuretensedc@gmail.com with your name, email address, and any affiliation you'd like to mention. You can RSVP for yourself and a guest, and we'll send you the top-secret address if you get a ticket.
Not in D.C.? We're planning to include an online discussion component in the near future. For now, leave your thoughts on The Circle in the comments below.
Future Tense is a partnership of Slate, New America, and Arizona State University.