The Year's Best Robot Video May Make You Cry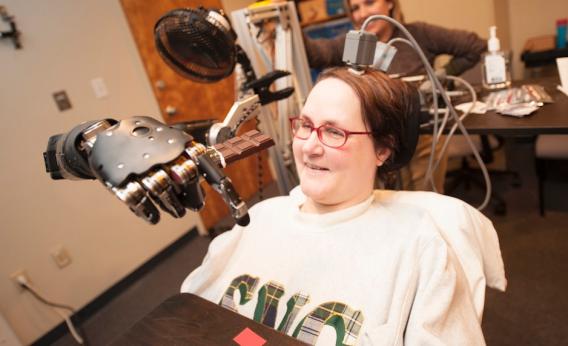 Every Friday, Future Tense rounds up the best robot videos of the week. Seen a great robot video? Tweet it to @FutureTenseNow, or email us.
This week, an amazing helper robot, a creepy-crawly drone, and a little extra help for Santa.
The Touching Bot
From the University of Pittsburgh Medical Center comes the best robot video of 2012. We've featured scores of robots on Future Tense this year—covering everything from bizarre artistic projects to military drones—and if you've ever wondered why any of it matters, this is the answer. For the last decade, Jan Scheuermann has been unable to move any part of her body below the neck. The UPMC Rehabilitation Institute worked with Scheuermann to create a robotic arm operated entirely by her brain signals, and the project's success means she fed herself chocolate for the first time in a decade. It's a remarkable feat that hangs on the cutting edge of robotics and brain science, and it perfectly captures just how powerfully robots can change lives. "This is the ride of my life," Scheuermann says. "I keep saying this is the rollercoaster, this is the skydiving. It's just fabulous and I'm enjoying every second of it." The video's a bit long, but hit play and you too will enjoy every second. (Along the same lines, don't miss the video from May of a paralyzed woman sipping coffee by herself for the first time in 15 years.)
The Buggy Bot
Here's the next generation of robot overlords to creep everyone out. From Mad Lab Industries, this device combines a helicopter drone with a six-legged crawler, giving it an impressive range of functions and the appearance of all the worst insects combined. The thing weighs in at nearly 11 pounds, so it probably can't stay aloft for long, but after just a few seconds in flight, it's easy to imagine it grabbing someone by the head and flying them off into the distance.
The Wrapping Bots
If you're dreading a weekend full of gift-wrapping, then GM's latest robotic accomplishment might come across as haughty showboating. A few of the auto company's factory robots took the day off recently to help Santa box up some model cars. GM has more than 25,000 bots in its factories, and the fact that they can be quickly and cheaply reconfigured to do the things we see here speaks volumes to America's remaining competitive advantage in manufacturing. Versatile machines like these lower the costs of altering designs, taking custom orders, and creating limited-run products—which is to say they're perfect for Santa's workshop up north.
-- We've all heard robots are gearing up to steal your job, but a research team funded by the National Science Foundation is looking into how robots can be your coworker, rather than your replacement. Read more from ExtremeTech.
-- Robot cars are on the way, but what do we really want from them? Dan Saffer explores this new relationship between man and machine at Fast Co.Design.
-- Winbot: Like Roomba, but for windows. More from NBCNews.
Future Tense is a partnership of Slate, New America, and Arizona State University.