Woody Harrelson, Weed, and Kendrick Lamar Star in SNL's Best Episode of the Season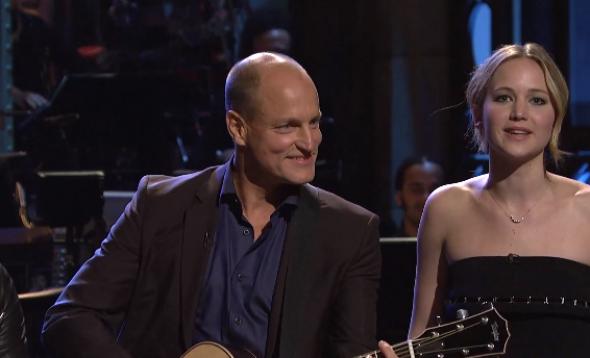 The theme of that episode? Weed. Every other sketch seemed to reference Harrelson's stoner persona, and the best was "New Marijuana Policy," a one-note but hilarious short featuring city residents' first venture outside after realizing they can carry up to 25 grams of green without being arrested. Cue a brilliant tableau of the blazed emerging from brownstones, liberated masses marching with Funyun flags, and Leslie Jones screaming "de Blasio baby!" with animal elation.
Also a highlight was the episode's iteration of the recurring "Last Call" sketch. Kate McKinnon is gross and glorious as an obnoxious drinker who "re-plasters unpopular glory holes;" Harrelson, as usual, does his best comedy at a bar. There's a sick hilarity to the duo's repulsive flirtation, but the question with these sketches is always how far they'll take it. Here they make out with Saran wrap and say things like "penetratia," so pretty far indeed.
Any night with more than two great sketches is an SNL success, but Kendrick Lamar's set could have carried the episode by itself. The rapper killed with a frantic, impassioned performance of "i," one that brimmed with upbeat energy and displayed deft command of his material. These rare nights, when the host and cast and musical performer click with an easy, effortless brilliance, are to be savored. Here's hoping the trend continues.