Chris Rock, Prince, and a Pill for Taylor Swift-Induced Vertigo Conquer SNL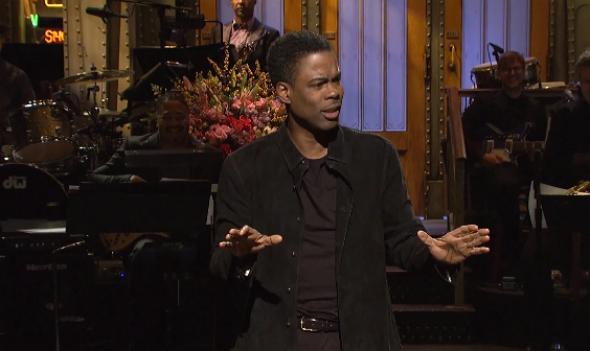 Chris Rock, Prince, and a boatload of flubbed lines starred in last night's episode of SNL, and Rock got things started with a monologue that was either edgy or unfortunate. Comedy may be tragedy plus time, but Rock didn't allow for much of the latter—he began with a wince-worthy bit on the 2013 Boston Marathon bombings. The comic's deft tackling of the touchy and taboo is one of his biggest strengths, but here there was no critique, no clever unpacking of a sensitive topic, just the raw, gimmicky shock factor of the joke itself. Past that bit, the brunt of his set riffed on 9/11 and the commercialization of holidays. The jokes were funny, but still: not exactly novel material from one of the greatest stand-up comedians alive.
The episode's comic triumph was "Swiftamine," the digital short that advertises a new solution for adults experiencing vertigo after realizing that they passionately love the music of New York City's new Global Welcome Ambassador. The fast-acting anti-histamine pill is "pink and bubbly, just like Taylor herself," and the perfect prescription for those struggling with a Swiftian assault on their frontal lobes.
Still, the sketches just felt like various and sundry sideshows for the main event. Prince owned this episode. The 56-year-old legend took the stage for a thrilling, throwback eight-minute jam, indulging in approximately 30 face-melting guitar solos and one set of tri-lensed sunglasses. On the setlist were "Clouds," "Marz," and "Another Love," all off his two new albums.