What Happens to a DADT Photo Project When DADT Ends?
For three years, photographer Jeff Sheng lived overwhelmed by secrets. He knew things that could ruin lives, so he trained himself in the art of forgetting. Rather than addressing his subjects by names, as he'd always done on previous shoots, he avoided uttering their names at all. He hoped this technique might prevent the names from burrowing their way into his memory bank and then accidentally emerging later.
He took a similar tack with other details: addresses, ranks, units, ages. He gathered them up and then quickly put them out of his mind. During media interviews and speeches, he just hoped he'd buried them deep enough that a casual question wouldn't lead to a devastating slip-up.
Sheng's responsibility to protect the identities of the 90 or so gay, lesbian, and bisexual service members who let him photograph them weighed on him. In the process of photographing and interviewing these people, he learned about their lives, the countries they'd served in, the children they raised with partners (whom they had to pretend were just friends). They had shared something with Sheng, a relative stranger, that they couldn't share with friends and colleagues for fear of losing their job.
"Their inability to tell their closest friends and co-workers," he says, and then his voice trails off. "Your heart breaks for them."
Sheng's "Don't Ask, Don't Tell" emerged from another project, "Fearless," which is currently on display at the London Olympics Pride House. In 2008, when the project—a series of portraits of young openly gay, bisexual, and transgender athletes—began to gain traction, he received an email from a gay service member. Then he got another email, and then another—and he realized what his next project should be. Back then, he had little hope that an end to "don't ask, don't tell" was on the horizon. The idea that he might continue working on the project—and carefully guarding people's identities—for decades to come was within the realm of possibility.
It was only about a year and a half into his project that the political tide began to turn and an end to the policy began to seem tangible. This fueled his photo shoots, he says, but also increased his anxiety. With each new blog post or article about his project, more and more service members reached out to him to participate. (The day after the project was profiled in the New York Times, he received between 40 and 50 email requests.) And more subjects meant more secrets.
"I became a very different person afterwards. I became very cautious about society and people and the power of photography," he says.
A misstep could ruin a life. Although he was meticulous about details, no one is perfect. Thirty minutes after leaving a military base one day, he got a call from a subject.
"You forgot to give your pass back," the service member exclaimed, furious and fearful.
Sheng drove back and returned the pass so as not to draw excessive attention to the visit.
And then it was over. On September 20, 2011, Sheng's "Don't Ask, Don't Tell" became a relic of the past. He was speaking in North Carolina that day about his project, and for the first time ever, he used a subject's real first name.
"People came to me after, people who were formerly in the military and identified as LGBT," Sheng recalls. "You could see the shock in their faces. They never thought they would see the day when these images would become historically dated."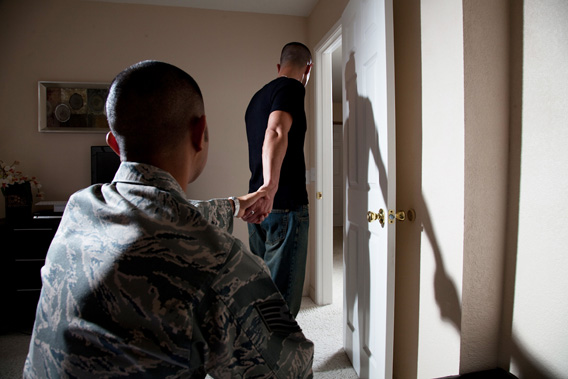 Just last month, Sheng entered a military base without the slightest hint of terror for the first time, he says. He was going there to photograph a wedding between Tech Sgt. Erwynn Umali and Will Behren, both of whom he'd originally met through his "Don't Ask, Don't Tell" project. (Sheng's photos accompanied Katherine Goldstein's article about the wedding on Slate.) When he'd said goodbye to the couple after his photo shoot a year and a half earlier, they'd left him with a friendly warning along the lines of "Please don't show our faces. We trust you not to mess up our lives," he says.
Now he was photographing them with their faces fully exposed as they made their union official on a military base.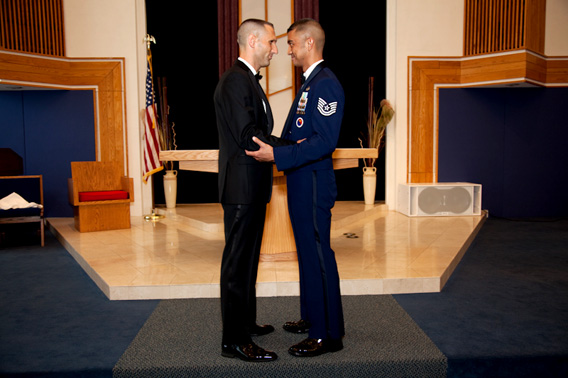 He photographed them a few days before the wedding as well, in their home. On the mantel there's a photo that Sheng took, an outtake from the original "Don't Ask, Don't Tell" shoot that shows their faces. As he did with many of his subjects, Sheng had taken extra photos at the end of the shoot and sent them to Umali and Behren before hiding the files away. In the picture displayed on their mantle, the couple looks so happy that it's strange to think about the double lives they were still living.
Sheng is now in the early stages of a project that would feature these once-dangerous outtakes. He's been reconnecting with his original subjects, re-photographing them, and interviewing them about how their lives have changed now that DADT is over. Although he's hesitant to generalize, he says that the changes are often subtle. Life looks mostly the same for many of these dedicated service members. It's just that they can move through their days, loving whom they've always loved, living how they've always lived, without fear of repercussions.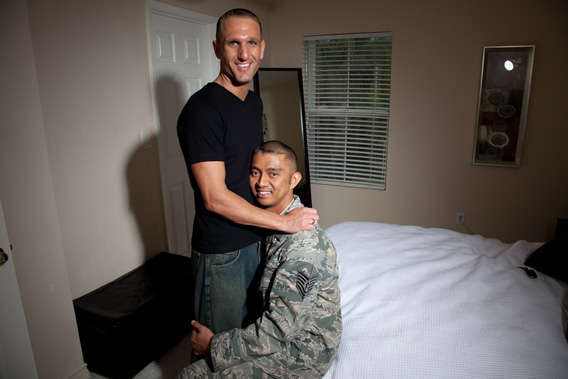 "It's not sexuality that defines them," he says. "It's not that they wanted to be gay or lesbian. It's that they wanted to be who they were."
Now, as he photographs these people in their homes, faces out of the shadow, Sheng takes in everything he can. He writes down names, dates, stories; lets his memory embrace them. These are no longer details to be feared.
The publish date for Sheng's book of portraits of now-openly gay servicemen and women is not yet set. Meanwhile, Sheng's photos of young LGBT athletes is on display as part of an audiovisual presentation at the Olympic Pride House in London.