Tracking Down a Mysterious Mountain Man from the Yellowstone Archives
A truly amazing photo archive has a way of sucking you in, holding you hostage for hours and raising more questions than it answers.
What happened to the owner of the car above?
Why does Chelsea Clinton look so annoyed below?

This last question, in particular, stayed with me after I spotted the photograph in the Yellowstone digital archive. I was looking for photos for Jessica Grose's grizzly bear investigation, published on Slate earlier this week, when I realized that five hours had passed and I'd lost myself to the online library, a collection of around 13,000 images that spans more than 140 years of park history and is maintained by the Yellowstone museum curator, her staff, and the Yellowstone photographer.
The photos are grouped in neat little folders with titles like "history" and "mammals," which in turn lead to more specific folders like "1946-1999 NPS Employees." But the site is generally unsearchable, so in order to find what you're looking for—in my case, a certain type of grizzly bear trap—you have to root through dozens of these folders and subfolders, one by one. The experience is a bit like trying to find a roll of Scotch tape while babysitting at a new house; you try to think of the logic the parents might have used when storing it. You never find it, but in the process you encounter some fascinating stuff hidden at the back of the drawers.
The fascinating stuff in this case runs the gamut, from photographs of Yellowstone's first woman ranger to bison in snow. But there is something about the photos of the 1960s and 1970s that I found particularly intriguing. You'll find some of my favorites from this period in the gallery below.

This was an era when color film and easy-to-use cameras had become more widely available. Not only did every Yellowstone staff member get handed a camera along with encouragement to photograph whatever they liked, visitors were snapping away at unprecedented rates and contributing their photos to the Yellowstone collection, according to park historian Lee Whittlesey.
And changes were under foot at the park as well. A photo of a sign telling people not to feed the bears, for instance, falls between two photos of a visitor doing just that; park rules governing interactions between people and animals were radically shifting. Though by 1973 it would be strictly prohibited, feeding the bears was still considered a key part of the Yellowstone experience in the 1960s. As a result, you see all manner of amazing photos of people in cars sidling up to panhandling cubs.
Park management was in the process of redefining Yellowstone's identity.
"Is it a resort? Is it a golf course? Is it a ski resort? Can visitors pet the animals? Should we allow hunting?" Whittlesey, who started working in Yellowstone in the late 1960s on the back of a garbage truck, says these were open questions at the time. Like many Yellowstoners, Whittlesey has never left, instead working his way through various jobs including park archivist and now park historian.

Attitudes toward nature were changing nationwide; the Leopold Report, released in 1963, was the first government report to ever make official recommendations about how wildlife should be managed in national parks. Meanwhile, many visitors were just beginning to understand that throwing their trash out the window wasn't cool.
But back to the mountain man from that photo above. Even among the unfamiliar images from this era, he seems out of place—both in the way he was photographed as well as the way he is dressed. Whereas most other images from this era are spontaneous, slightly blurry snapshots, this has the feel of a formal, carefully composed portrait. He looks at ease in his outfit; it's as if one of the original mountain men who wandered through Yellowstone in the early 19th century had time-traveled to 1975. Who is this man?
The answer was easier to find than I expected. With a tip from Whittlesey, I called the Bozeman, Mont., home of John Tyers, credited as the photographer. His wife Idessa picked up after a few rings. Sadly, John passed away just a few years back.
Tyers worked in Yellowstone from the 1950s to the early 1980s, Idessa explained. He was not a professional photographer, but took pictures as one of his duties as assistant naturalist (what the park service now calls an "interpreter"). His job was mainly to guide visitors' experiences in the park. He loved the photo part of his job, she says, and would develop the images in the dark room himself.
When I mentioned the mountain man portrait she immediately knew what I was talking about.
"Oh yes! Don Arceneaux. The man was Cajun, from Louisiana. He was kind of a wannabe mountain man anyway," she said, explaining that though he was only required to dress up that way a few hours a week for educational presentations, he wholeheartedly embraced the role. "He had a Masters from Idaho State, but he always felt he belonged in nature. He would go to the dances out on the Native American reservation. Every time he came here he would he would have a different lady-friend."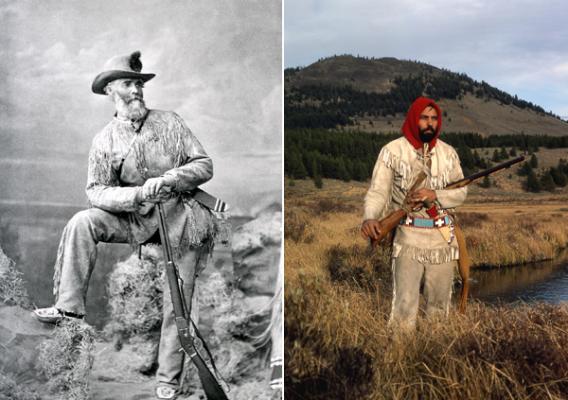 More intrigued by the mountain man than ever, I decided to take a gamble at finding him thirty years later. After my third call to a D. Arceneaux in Idaho, I found my man.
The conversation went like this:
Hello, is this Don Arceneaux?
The Don Arceneaux who used to work in Yellowstone?
Um, yes, that is true as well.
Arceneaux was understandably surprised that I was calling to inquire about his work in the park so many years ago. But it was the best summer job of his life, he explained, and he was happy to talk about it. He performed as a mountain man in Yellowstone two summers in a row. He had recently returned from serving in Vietnam, and, on his drive out to school, he fell in love with the park. Those who ran Yellowstone were rethinking they way they educated visitors about park history; when Tyers approached him about acting out a lesson about the park's early years, Arceneaux eagerly accepted.
"It was billed as 'learn about the mountain men,'" he recalls. He conducted an hour-long performance in the evenings a few time a week, in the electricity-free amphitheatre in the Indian Creek section of the park.
To prepare for the role, he read journals from the original mountain men, fur trappers like Jim Bridger and Osborne Russell who passed through the area in the early 19th century. Although Native Americans were long-established in the region, these trappers were among the first white people to inhabit the area and to write about the incredible hot springs and other thermal features that Yellowstone is known for. What they described was so incredible that many did not believe them. Arceneaux incorporated their language into his presentation, and refused to break character even for a moment.
"How did you pilgrims get here?" he recalls beginning the presentation, using a term the trappers had for outsiders.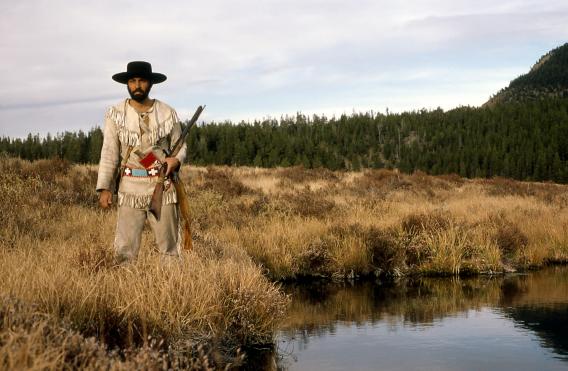 "I would call myself myself Old Joe. I would tell of the mountain man's experience traveling the country, trapping beaver—mainly some of the yarns of these fantastic places in the mountains. I made up some stories about geysers; how you could cook your food in incredible ways. It became very popular; people would come in from other parts of the park and then later other parks."
Arceneaux ended up working at Yellowstone for four summers, then joining a commune he learned about through some "alternative lifestyle people." Working for national parks was still in his blood though, and he took 11 more summers' worth of jobs at other parks, including work as a backcountry ranger in the Everglades. He might have kept working for the park service forever, he said, but ultimately he realized that he identified more with an adventure-loving fur trapper than order-loving bureaucrats; to move up in the park service was to become the latter. He now runs his own company, specializing in forest data collection.
"I don't live like a mountain man, I'm not self-sufficient, but I have maintained a simple lifestyle," he says.
At first he'd been foggy on the details of the portrait that led me to him, but toward the end of our conversation it started to come back to him. He'd been participating in a living history pageant with a soldier, an early visitor, and an explorer. Sometime in the afternoon Tyers pulled them aside and photographed them individually for a story in the Yellowstone newsletter. Tyers was convinced that this was the way to reach people who might not otherwise be interested in early park history. He was right.