Let the Games Begin
London Mayor Boris Johnson on the fire eaters, hog roasts, and spiffy cable cars teed up for the Summer Olympics.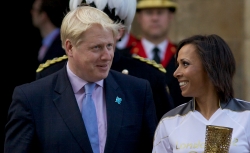 London is bracing for an influx of up to a million visitors for the Olympic Games. Predictably, the final push to Friday's opening ceremony is marked by hand-wringing and a lot of anticipatory nattering about traffic jams, possible security breaches, and even cash shortages.
London Mayor Boris Johnson says he can handle the collective whinging, though he admits he has quite a lot riding on these Games. Johnson recently sat down with Slate's Jacob Weisberg to talk about Olympic preparations and why he believes all the infrastructure work, including a new cable car that he insists is a world apart from Mayor Quimby's monorail on The Simpsons, will pay real dividends for the city. Johnson also weighs in the towering but much-maligned Anish Kapoor Olympic sculpture.
You can watch Part 1 of our conversation with Johnson, in which he discusses his passion for bicycles and mass transit. In the second segment, Johnson compares New York and London and weighs in on Mayor Michael Bloomberg's proposed soda ban. And in Part 3, Johnson explains how elitism and the posh may be a threat to Britain.