The Perils of Posh
London Mayor Boris Johnson weighs in on British elitism and answers Slate reader questions.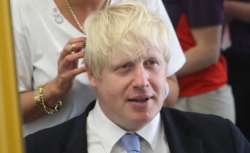 Boris Johnson knows that posh has become something of a dirty word in England, given the prevailing economic climate. London's mayor says the real worry is not that an elite upper class exists but that it may be increasingly difficult for people to access it in Britain and beyond.
Johnson recently sat down with Slate's Jacob Weisberg for a wide-ranging interview that included questions from our readers. He explains why British Prime Minister David Cameron may be getting a bum rap, which Shakespeare character he most identifies with, why he admires the U.S. government's fierce defense of its citizens, and how avoiding television helps him be more productive.
You can watch Part 1 of our conversation with Johnson in which he discusses his passion for bicycles and mass transit. In the second segment, Johnson compares New York and London and weighs in on Mayor Michael Bloomberg's proposed soda ban. In the days ahead, look for a final segment about hosting the 2012 London Olympic Games.