Big City Transit Geek
London Mayor Boris Johnson on how bicycles and smooth mass transit can make people happier.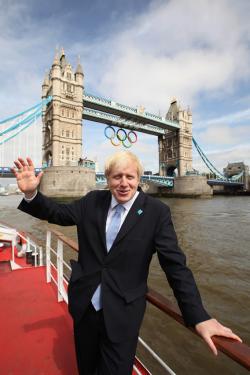 London Mayor Boris Johnson is among many things an urban transit nerd. Since taking office in 2008, he has introduced a new generation of double-decker buses, built a cable car across the River Thames, and has dreams of making improvements to the city's airports. And when it comes to getting around himself, his favorite mode of transit is the bicycle.
As London gets ready to host the summer Olympics, Johnson is preoccupied with the city's past and its future. The journalist turned politician has just written a book that traces the city's history through a series of biographical portraits from the Romans to Shakespeare to Keith Richards.
Johnson recently sat down with Slate's Jacob Weisberg to discuss how rivalry and competition have made London great, why Gandhi had it wrong about cities, and how a bike-share program might work in New York City.
In the days ahead, look for more of our interview with Boris Johnson, including what he has in common with New York Mayor Michael Bloomberg, why Brits are obsessed with the "posh," and his own view of the massive and polarizing Anish Kapoor sculpture erected for the Olympic games.