Boris Johnson's Dirty Little Secret
Libertarian-leaning London mayor admits the people do need strong government.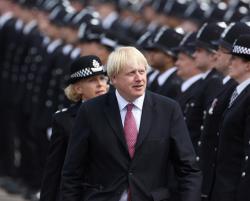 Boris Johnson says his ideal form of government would be something like "rules-based anarchy." But the libertarian-leaning mayor of London concedes that wouldn't work, because as much as he hates to admit it, people actually need strong government. Which is one of the reasons Johnson admires New York City Mayor Michael Bloomberg.
Johnson tells Slate's Jacob Weisberg that as mayor of London he faces many of the same challenges that Bloomberg does in New York. And he says understands the impulse behind Bloomberg's recently proposed supersize-soda ban to combat obesity. While Johnson has no plans to follow suit, Bloomberg's soda ban reminds him of his own decision to ban alcohol on the London subway, which he offers as a case where strong government authority brings great results.
You can watch Part 1 of our conversation with Boris Johnson, in which he discusses his passion for bicycles and mass transit. In the days ahead, look for more of the interview, including his take on "posh" and his opinion of the critically dissed Anish Kapoor sculpture erected for the Olympic games.