The Thirsty West: Where's the Snow?
The mild California winter will exacerbate the terrible drought.
And that has consequences. Sure, the snow drought has hit ski towns hard this winter. But snowmelt from the Sequoias also typically provides the bulk of the water for agriculture in the highly productive Central Valley, via the heavily diverted Kern River. This year, farmers are resorting to groundwater pumping (and a lot of it) to make up the difference.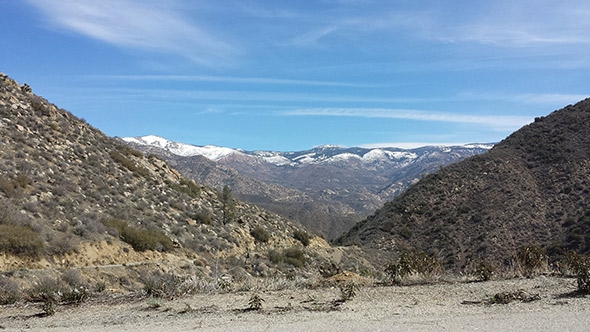 What we're seeing this year is effectively a preview of California's drought-stricken future.
This transition has already begun—most low and middle elevation stations exhibit trends toward more rain and less snow, and snow courses at these elevations are recording lower amounts of water content in the snowpack in relation to the amount of precipitation they have received. In association with these changes, there has been a decline in the proportion of later season runoff; this has important implications because the late spring-summer runoff is vital to ecosystem function, as well as for agriculture and other human consumptions. With substantial, progressive warming projected over the 21st Century, the amount of water stored in the California snowpack in spring will continue to decline. Estimates are for losses of 50 percent to more than 75 percent of the present-day April 1 snow water content by 2100 using recent climate model projections.
It's simple, really. Winters without snow, like this one, are going to become more and more common in the years to come.
Problem is, modern California just wasn't built to handle a world without snow.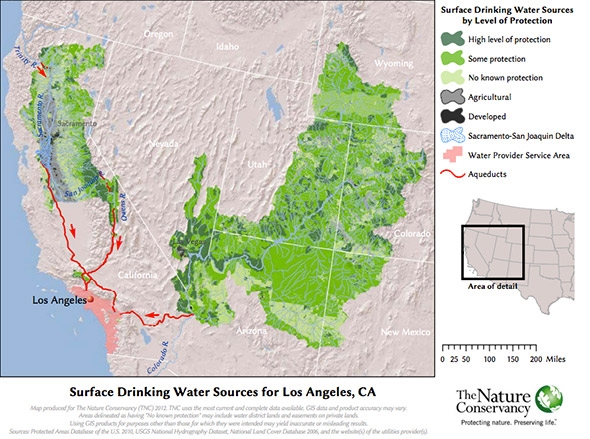 In California, it seems, all water pipes lead to Los Angeles.
These days Los Angeles gets its water from three main sources, and all start predominantly as snow. Predictably, they all have serious issues when you take climate change into account.
The Los Angeles Aqueduct was built more than 100 years ago and has caused environmental degradation near Mono Lake. In a recent settlement, the city agreed to limit water diversions from this sensitive area.
The California Aqueduct is the single largest user of energy in the state, pumping water from Northern California hundreds of miles (and over a mountain range) to homes in Southern California. In total, water pumping statewide makes up a ridiculous 20 percent of California's electricity use.
When you're that reliant on snowpack, you've got to start thinking outside the box.
Southern California expects an additional New York City's worth of water-guzzling people over the next 50 years, growing to 31 million by 2060. Meanwhile, California agriculture supplies a majority of the country's fruits and vegetables, and more than 90 percent of the world's supply of almonds, pistachios, and other specialty products. Clearly, something's gotta give.
Desalinization and water recycling (which I'll explore later in the Thirsty West series) are obvious future sources of water in Southern California. Still, in a state where agriculture uses 80 percent of the water, cities have a point where they ask: Why can't we get some of that? Farmers here have a quick reply: How many meals can you go without?
The bright side of the drought is that, judging from my conversations on this trip, it's increasingly clear that Californians are thinking more seriously about water tradeoffs between competing agricultural and urban interests. As I wrote earlier in this series, in other parts of the Southwest, historically, that's a battle that the cities have won.
For the rest of the Thirsty West series, I'll be digging in to the complex web of water issues beyond parched Southern California. Perhaps nowhere statewide is the issue of water so stark as in the deeply agricultural Central Valley—so that's where I'm headed next.





























1
2
3
4
5
6
7
8
9
10
11
12
Tucson, Ariz.
Tucson, Ariz.
Nogales, Ariz.
Las Vegas, Nev.
Death Valley
Sequoia National Forest
Hanford, Calif.
Denair, Calif.
Tulare, Calif.
Oakland, Calif.
Oakland, Calif.
Sheridan, Ore.
Correction, April 9, 2014: A home page headline for this article originally misstated that California's snowpack this year was 10 percent of the usual amount. It is 25 percent of the usual amount.