The Thirsty West: Can Tucson Survive Climate Change?
The desert city is low on water, with a booming population.
Slate: In Arizona, agriculture has historically competed with urban use for water. Agriculture still uses two-thirds of the water in this state. I know you've done a lot to promote sustainable urban agriculture in Tucson. But you've also prioritized tourism in your Five T's plan for Tucson, which for many visitors still means swimming pools and golf courses. Climate change projections show that even the iconic saguaros—part of what makes this desert unique—may be prone to wildfire soon and be threatened. How do you grapple with meeting the expectations of visitors from out of state while staying true to your plan for a sustainable city?
Rothschild: Golf courses are having trouble surviving economically. A big part is the cost of water. You don't see new golf courses being built. For swimming pools, it's very much the same thing. There was a time when everyone wanted to have a pool in their backyard here. You don't see that anymore.
We're trying to encourage a new type of visitor to Tucson, people who want to go biking and hiking, birding, you know, going out into the desert. We have shifted very much the audience we're trying to draw.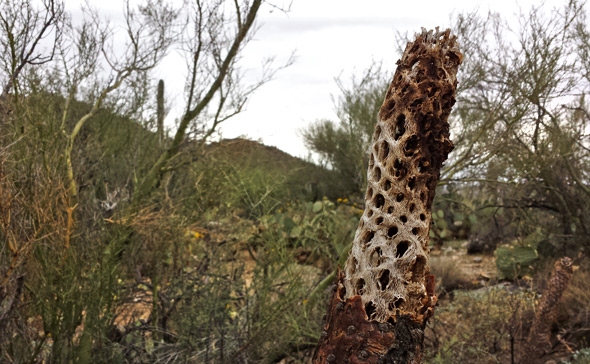 Slate: Tucson has branded itself a leader in sustainable desert living. However, with climate change, it will be an estimated 5-10 degrees Fahrenheit warmer by end of the century with a 20-50 percent reduction in rainfall. You've got a growing population—a million people now, another million by 2050. It seems like there's never been this much pressure on the city from a water point of view. From an outsider's perspective, there seems to be simply no way to just out-efficiency your way out of this problem. Growth in any form is just not sustainable in the desert. What is your vision for Tucson in terms of its water future?
Rothschild: Tucson is not the only place facing these kinds of issues. The southeast part of the United States has huge water issues, as do communities in the Midwest, and all across the globe. Something people rarely acknowledge is that water is pretty much the No. 1 ingredient in manufacturing, no matter what you make.
You hate to think of it this way, but water is a commodity. We've started a water pricing system in the city that encourages responsible use. Basically, if you're not careful, you'll be charged more. Ultimately water will become more costly, not just here but everywhere. You've got to be monitoring it and having an understanding of what your capabilities and capacities are.
We do provide water to some areas outside the city. That was probably a mistake in some regard. Now, we tell developers, "Look, if you want to build a new neighborhood, if there's no new water, there's no new neighborhood." We've made our policy clear. If you want to come into the city, you gotta be part of our water system. No water without annexation.
If water truly becomes as scarce as predictions show, growth will take care of itself. We're in a desert. It gets hotter here. We're aware of that. What concerns me more is there are places that get a lot of rain that are having the same sort of problems.
Slate: Right now, about half of Tucson's water comes from groundwater and about half from the Central Arizona Project. Arguably, both of these sources are unsustainable. Groundwater levels in southern Arizona have declined by more than 500 feet over the last century. Is there any hope of getting the Santa Cruz and Rillito Rivers back to flowing above ground any time soon?
Rothschild: Right now, we're putting more in the ground than we're taking out. We are recharging our local aquifer with water from the Central Arizona Project. We can focus on certain areas and raise the water table to where they become beautiful sites again where birds come and people come. We actually have a rising water table because of that program.
Slate: California has first dibs on water diverted out of the Colorado River. For the first time, the federal Bureau of Reclamation is reducing water levels in Lake Mead and says that starting next year, it could implement water rationing downstream, which would directly affect Tucson. A worst-case scenario shows Arizona losing half of its CAP water in just the next few years. How closely are you following what's going on right now in California?
Rothschild: CAP came about during a time when people in Washington worked in commonality. That's not necessarily the case now. As the CAP becomes a tougher proposition, I think we will see negotiations and litigations of how that water is allocated. Look, you gotta recognize the problem and then take steps to solve the problem. If a shortage occurs, we are going to have to teach engineers how to deal with it.
Slate: What are the biggest challenges in creating a 21st-century water policy in Tucson? Is private industry showing resistance? Could climate change lay your best plans to waste?
Rothschild: I think the two biggest challenges are still education and technology. We're spending $3 million a year in conservation education programs. We've got people in our schools, talking to our elementary kids all the time.
On technology, we won't be able to solve this problem without more work. But what are those technologies going to be? We recently received an IBM Smarter Cities Challenge grant, where they sent eight of their top engineers out here to work with us to help make our city more efficient. Part of their solution was improved meters that can be read in real time and can be monitored in real time. If there's a water leak, you don't have to wait 30 days to catch it when it shows up on your bill. I can't even imagine what the next technologies are going to be. Tucson has the ability to hopefully lead in developing water technologies for people around the world going through the same issues.
On climate change, I mean, look what happened in New Orleans. When you start looking at major weather events and the frequency of occurrence, it's clear we have to prepare. We get it; it's partly our responsibility to help get [other cities] to get it. We will not solve the problem here, but we can certainly help spread the word.
This interview was lightly edited and condensed.
Tucson was recently named one of the top cities in the country for twentysomethings. But the overwhelming feeling my wife and I got from living in Tucson was that most people there were transient. It didn't feel like a permanent place at all, or that it even should​ be a permanent place to live, at least not in its current state. Maybe it was an effect of living in the desert—it's a place you go to visit, not to live.
In the next piece, I'll be traveling down to the U.S.–Mexico border to take a look inside the massive vegetable warehouses there, a quirk of climate and food policy.





























1
2
3
4
5
6
7
8
9
10
11
12
Tucson, Ariz.
Tucson, Ariz.
Nogales, Ariz.
Las Vegas, Nev.
Death Valley
Sequoia National Forest
Hanford, Calif.
Denair, Calif.
Tulare, Calif.
Oakland, Calif.
Oakland, Calif.
Sheridan, Ore.
*Correction, March 11, 2014: This piece originally linked to the Tucson Weekly, but neglected to put the paper's description of of Tucson, Ariz., as "off-the-charts poor" in quotes.