The Thirsty West: What Drought?
Mexico's desert farms are booming.
But everyone is so busy that it was tough even getting interviews this time of year. "This is peak week of peak tomato season," said Javier Badillo, general manager of Delta Fresh Produce, a distributor based in Nogales, as we briefly met in his office.
When we followed up by phone the following week, Badillo explained that this year, the trucks are especially backed up because of the winter weather on the U.S. East Coast—the biggest market for fresh Mexican produce. With ice-covered interstates hampering travel, deliveries have been tricky or even impossible. Supermarkets haven't been able to sell as much, either, with families sticking home, opting for canned goods instead.
As a result, warehouses here at the border are overrun with tomatoes at the moment. But that bottleneck should be temporary, since drought-stricken California fields won't be able to produce as much as normal.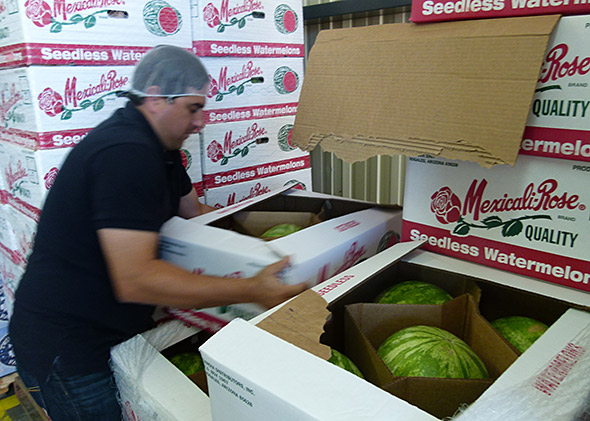 So will Mexico become the long-term source for most of our tomatoes? This year may just be a lucky one for farmers south of the border. After all, there's been extreme weather in the fields of west Mexico, too, in recent years. Farmers have alternately battled frosts and droughts. Last fall, twin tropical storms hit nearly simultaneously from each coast, prompting flooding concerns. "It's like gambling in Las Vegas," said Omar Sanchez, a sales representative for Sandia Distributors, which—as the name implies—deals mostly in watermelons.
As drought deepens across the Southwest United States, the region is facing hard questions about the future viability of agriculture in one of the country's richest growing zones, as I described in my intro to the Thirsty West series.
As the climate continues to shift, the global food system keeps growing in complexity. That's forced massive investment, typically by U.S.-owned companies, in Mexican agriculture. (Companies are also drawn to Mexico because of its relatively lax environmental regulations and better labor supply, says Jungmeyer.)
But drought or no drought, there may not be enough water to go around in the arid growing regions of west Mexico, either. Essentially, the United States is exacerbating Mexico's own H2O issues by importing millions of tons of water from Mexico in vegetable form. It's not just agriculture, either: Other U.S. companies with operations in Mexico—like car factories—require water, and lots of it.
Jungmeyer laments this ongoing battle: "When push comes to shove, ag is always going to get the short end of the stick. There's this perception that 'Oh, you're just growing things in the dirt; what you're doing doesn't matter.' It is a sad state of affairs whether you're on the north or south side of the border."
As water becomes a bigger sticking point, Jungmeyer predicts a continued massive rebalancing of agriculture across North America. The highest value agriculture—nut and fruit trees—will consolidate in California, commodity grains will grow in the flat Midwest, and labor-intensive produce will be grown more often in Mexico. There, agriculture and individuals may clash over water. For decades, the Yaqui people of Sonora in west Mexico have been fighting to preserve their rights to the region's precious water. As domestic wells run dry, water trucks have become an increasingly common sight in Mexican cities.
All told, these water wars suggest that like coffee, tomatoes could increasingly become a luxury item.





























1
2
3
4
5
6
7
8
9
10
11
12
Tucson, Ariz.
Tucson, Ariz.
Nogales, Ariz.
Las Vegas, Nev.
Death Valley
Sequoia National Forest
Hanford, Calif.
Denair, Calif.
Tulare, Calif.
Oakland, Calif.
Oakland, Calif.
Sheridan, Ore.