Lost Viral Hits of the Pre-YouTube Era
Almost-forgotten moments that would have "won the Internet" if they happened today.
6. "All Your Base Are Belong to Us" (1998–2001)
A viral video so old that it's actually a .swf Flash animation rather than a proper video, the "All Your Base Are Belong To Us" craze substantially predates YouTube. It was also remarkably slow-burning by the standards of the modern Web. Way back in 1998, an animated GIF depicting the hilariously poor English in the Sega Mega Drive version of the unremarkable game Zero Wing surfaced on the Internet.* The phrase "all your base are belong to us" caught early broadband adopters' imagination, and people began creating meme images, altering photos to insert it into various scenes. When a compilation of images was edited together with a soundtrack and the original video game scene in 2001, it went viral (or proved to be "a fairly virulent meme" in the argot of the time), spreading rapidly through email, the original social network. The villain of the saga is even named "cats"—and in a sense, all our attention span are belong to his brand of content ever since. —Matthew Yglesias
7. The expansion of the universe is accelerating (1998)
Mind-bending, awe-inspiring, mysteries-of-the-universe stories are some of the greatest hits of social media. Many of our most-shared stories at Slate come from Phil Plait's Bad Astronomy blog; readers generously pass along pieces about the Higgs boson, symmetry, and holographic universes. But the most shocking discovery in modern astrophysics came in 1998, before everybody and their great-uncle were reading blogs and Facebook. Astronomers knew the universe has been expanding since the Big Bang. They figured it would expand for some amount of time and then either slow, stop, or reverse course. Then two independent teams, using different approaches, found that the expansion of the universe is accelerating. The cosmos is blowing up faster and faster and faster (and faster!) all the time. Can you imagine the OMFG-storm on Twitter if the news were released today? Fifteen years and a Nobel Prize later, we're still awestruck. —Laura Helmuth
8. The Apatow-Brazill emails (2001)
9. The Onion's 9/11 issue (2001)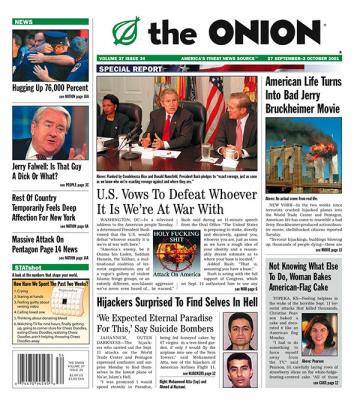 On Sept. 26, 2001, The Onion published its 9/11 issue, with front-page stories such as, "Not Knowing What Else to Do, Woman Bakes American-Flag Cake," "American Life Turns Into Bad Jerry Bruckheimer Movie," and "Hugging Up 76,000 Percent." Onion writer John Krewson later said that "it was the least funny issue we've ever done." But it was funny enough, and more important, it enabled lots of us to exhale, suggesting a way to confront the horror of 9/11 without being psychically paralyzed by it. By far the funniest story in the issue—the one I emailed to my wife and brother—was "Hijackers Surprised to Find Selves in Hell," a grotesque, vicious account of the tortures suffered by the 9/11 attackers. It begins:
JAHANNEM, OUTER DARKNESS—The hijackers who carried out the Sept. 11 attacks on the World Trade Center and Pentagon expressed confusion and surprise Monday to find themselves in the lowest plane of Na'ar, Islam's Hell.
"I was promised I would spend eternity in Paradise, being fed honeyed cakes by 67 virgins in a tree-lined garden, if only I would fly the airplane into one of the Twin Towers," said Mohammed Atta, one of the hijackers of American Airlines Flight 11, between attempts to vomit up the wasps, hornets, and live coals infesting his stomach. "But instead, I am fed the boiling feces of traitors by malicious, laughing Ifrit. Is this to be my reward for destroying the enemies of my faith?"
Good times! This was so previral and presocial that when Onion folks describe the response to the issue, they talk about all the positive comments they received … by fax. —David Plotz
10. Badger Badger Badger Mushroom (2003)
A seminal work of Internet absurdism, the "Badger" Flash animation showed several badgers dancing to electronic music, with regular interjections by a peaceful mushroom or a threatening snake. Why? Nobody cared. It's hard to say whether "Badgers" (created by Flash animator Jonti Picking, a/k/a Weebl) would have prospered in today's oversaturated market of ludicrous Internet ideas. But if it had, Vines of teenagers imitating it in public places around the country would now pervade the Web. —Chris Kirk
11. The end of ze world (2003)
Like "Badger," this Flash animation managed to go viral in a world without YouTube or Facebook by sheer force of infectious ridiculousness. But, while it's no Dr. Strangelove, I'm convinced "The End of the World" also resonated because it tapped into post-9/11 paranoia about pre-emptive strikes and the Bush doctrine.
It was shared by email, by instant message, by college kids running over to the adjacent dorm room, grabbing their neighbors by the arm, and saying, "You have to go on the Internet right now and type in 'www.endofworld.net.' Or wait, was it 'endofworld.com?' " It was actually a bunch of different websites—and as with much of the ephemera that rise to the top of Reddit and BuzzFeed today, no one much cared where it had originally come from or why. According to knowyourmeme.com, it was first uploaded to a site called Albino Blacksheep by a user named fluid. I would try to find out more, but I am le tired. —Will Oremus
Correction, Dec. 30, 2013: This article originally misidentified the source of the "All Your Base Are Belong to Us" meme as a game called Zero Drive. It's from Zero Wing. (Return.)