The entire universe in blog form
Congratulations! It's a Bouncing Baby Neutron Star!
Millennia ago, and 26,000 light years distant in the dim and somewhat unremarkable constellation of Circinus, a monster was born. And when that happened, it gave out a heck of a birth cry.
The baby in this case was a neutron star, and the bawling was the eruption of a supernova, the titanic and ridiculously powerful explosion that results from the death of a massive star.
That star probably started out with about 8 – 20 times the mass of our Sun. It was in a tight orbit around another massive star, the two circling each other every two weeks or so. At its heart, the star was fusing lighter elements into heavier ones; it was a gigantic nuclear furnace.
Eventually, after a few million years, that fuel ran out. The core collapsed, releasing a mind-numbing blast of energy. This blew out the upper layers of the star, ejecting them at a substantial fraction of the speed of light, creating the supernova. The core itself collapsed, forming an über-dense ball of subatomic neutrons few kilometers across. The explosion was probably not symmetric, but was instead slightly off-balance, providing an immense kick to the newly-formed neutron star.
The resulting system staggers the imagination: a white-hot star with the mass of the Sun but the size of a small city on a highly elliptical orbit around a normal (but also massive) star, sitting in the center of a vast cloud of superheated material screaming away at thousands of kilometers per second. Both the hot gas and the baby neutron star are so energetic they blast out X-rays… which is how we figured all this out.
Circinus X-1, as the system is called, is a high-mass X-ray binary, a pair of heavy stars in orbit around each other. We know of quite a few objects like this in the galaxy, but most of them are pretty old. But new observations of Cir X-1 have given astronomers a vital piece of information about it: its age. As the gas from the explosion slams into material around it, it slows down and cools, emitting X-rays. The physics of this is pretty well understood, and by measuring the temperature of the gas from the X-rays, astronomers determined the explosion must have occurred no more than 4600 years ago (and it may be younger still). This makes it by far the youngest high-mass X-ray binary ever found.
That's a huge piece of the puzzle. As these binary systems age, they change. They cool off, they emit X-rays in different ways, the orbits of the stars change. Because this system is so young it's a safe bet that what we see now is pretty much how it was when it formed. That allows astronomers to understand what was going on when the star exploded in the first place. That's critical; imagine trying to understand how a baby human behaves by only studying adults. There's a lot you could figure out, but you really want to be able to study a baby itself to know what's what.
Now we have that baby. An octillion ton superhot baby.
I love the physics and science of this, how the pieces came together to figure it all out — I've spent my share of time studying supernovae. But despite all the technical details, one thing still strikes me…
Something over four millennia ago, humans didn't have telescopes. When the light from the supernova reached Earth, Mesopotamia, Sumeria, and Egypt were flourishing, but the star was too far south for them to see well, or at all. Circinus is best seen from south of the Equator, where most cultures were hunter/gatherers; in South America for example the shift to farming was just getting started.
We know even very ancient civilizations were keen observers of the night sky; the cycles of the Sun throughout the year are tied to the seasons, and to a burgeoning agricultural civilization the import of that is obvious. The constellation of Circinus itself is nothing to notice; the stars in it are faint.
Until one day, one wasn't. We have little or no records of astronomical observations from that part of world from back then. So I wonder, what did these people make of the sudden appearance of a new star in the sky, so bright it could have been the twin of Venus? Did they stand and gape at it, awe-struck, as it brightened over a few days and faded over months? What legends were spawned, what ideas were wrought, what fear or wonder was instigated?
If such an event were to happen now it would be the most significant astronomical event in the past several decades; every telescope on the planet and above it would be trained on the exploding star. We would study it, analyze it, dissect the information pouring in from it across all those thousands of light years. The knowledge we would gain would be unparalleled.
Yet I can also wish that given that chance, I would want to see it myself, to stand under the night sky and let the light that had traveled so far enter my eyes, tickle my brain. I can easily imagine the shiver that would travel down my neck as I soaked in the wonder of what I was seeing, the knowledge of what it truly is.
Perhaps we know more now than our ancestors did, with our basis of understanding through science, and our remarkable tools to investigate nature. But we still have much in common with them, and to stand in awe of the beauty of our surprising Universe is a characteristic I hope we never lose.
Make It So, Make It So, Make It So
Brilliant! And it must have taken a lot of work.
… but the programmer in me has to wonder. If you had a time-tagged script, and all the episodes of a TV show online, you could then write a program that would do this for you. Enter the lyrics for a song, and it will search the script to find spoken dialogue to match the words in the lyrics. When it finds multiple choices for a word (common words will come up many times) it can give you the choice of which one to use. It would then automatically grab the clips from the video using the time tags, string them together, and output a continuous video like the one above. You'd probably have to fiddle with timing before and after each word and phrase, but that's still way easier than doing it all by hand.
Hmmmm. If you actually input the music to the song, the program could even do a frequency analysis and then autotune the dialogue to match the pitch! Then you really would hear Picard singing this song.
Katie Couric Gives Anti-Vaccine Ideas a Shot
On Wednesday, the daytime talk show Katie, hosted by Katie Couric, had a segment on the safety of Gardasil, a vaccine against the human papillomavirus, or HPV. This virus has been directly linked with cervical cancer, which kills 4,000 women in the United States alone every year. I've written about this vaccine many, many times, discussing its safety, and about various anti-vaccination groups that have fought against it. I will be clear from the start: I am highly skeptical, even critical, of these anti-vax claims, as everyone should be. Over a hundred million doses of the vaccine have been administered, and very strong studies have been done that have shown no link to either short- or long-term health problems.
To be even more clear: My wife and I did our research on Gardasil, and decided it was safe enough for our own daughter to get the vaccine.
The segment on Katie was both better and worse than I had hoped; better in that it did have some solid advice and info, and worse in that the program was very sympathetic to the anti-vaccination claims of some of its guests. Just as I did expect, the segment was loaded with anecdotes with no real evidence to support the anti-vaccination claims.
Post Hoc Is NOT Ergo Propter Hoc
It opened well, with Couric saying her daughters were up to date on their vaccines. But things slid downhill quickly thereafter.
Couric's first guest was Emily Tarsell, whose daughter Christina died at the age of 21 after receiving Gardasil. Although Tarsell couldn't give details due to an ongoing lawsuit, she did say Christina suffered a rash, fatigue, and dizziness after the series of shots. Christina died 18 days after her third shot.
As a parent myself, I cannot even begin to comprehend the horror of losing a child, and my heart goes out to Tarsell and anyone who has gone through something like this. But that doesn't change the fact that correlation does not mean causation. Just because Christina had these symptoms after the shots does not mean they were caused by the shots, much less that the shot caused her death. Given how many tests the vaccine underwent before (and after) approval, the burden of proof of harm falls on the people who claim there was harm. This was not established at all during the segment; the claims were all anecdotal.
A very similar situation occurred in 2009, when a girl died shortly after receiving the vaccine, and claims were made the vaccine was the cause of death. However, it was later found the girl died due to a pre-existing cancerous tumor in her chest. The vaccine was not involved at all.
She raised concerns about the efficacy of the vaccine—how effective it is, which is different from how safe it is—and asked parents to weigh the benefit versus "harm." I put that word in quotation marks because doctors I've talked to always say "benefits versus risk," which is very different. There is no proven harm to the Gardasil vaccine, although of course there is always risk to any procedure. However, as I pointed out above, the risk is extremely small.
The Plural of Anecdote Isn't Data
Couric talked to another young woman who claimed to have had an adverse reaction—again, anecdotally. Her mother, Rosemary Mathis, was also on the show, and interestingly she is the director of a group called SaneVax (you can read more about them at Orac's blog). Although they claim to "promote only Safe, Affordable, Necessary & Effective vaccines and vaccination practices," they link to a video interview with Andrew Wakefield, who is essentially the father of the modern anti-vax movement, as well as Robert F. Kennedy, Jr. RFK Jr. wrote an anti-vax article for Salon magazine so laden with errors they eventually pulled it. I also wrote about his anti-vax stance recently, and followed up when my editor talked to him personally after he complained about my article. The fact that SaneVax links to these men in their page about "Vaccine Safety" is clear indicator of their bias on the topic.
A Faint Light at the End of the Tunnel
Another doctor, Mallika Marshall, was also on the show, and this is where things got better. Dr. Marshall gave solid advice about vaccination and HPV, even stating that correlation is not causation. She also made the point that even though some cases of HPV do clear up on their own, it will persist in 10 to 20 percent of people who contract it, putting them at risk for cancer. Given how low the risk is for the vaccine, it is absolutely worthwhile to immunize as many people as possible. As she said, we should do this to "protect society at large," which is really what vaccines are all about.
Finally, Couric chatted briefly with a mother and daughter who had the full course of vaccine with no ill effects at all. That was nice, but after showing very sympathetic interviews with the others, it seemed like an afterthought to the whole segment.
Balance? I Don't Think That Word Means What You Think It Means.
The real problem with this entire segment on the "Katie" show was the false balance: The idea that there are two sides to this story. That is grossly unfair; the evidence is vastly on the side of the vaccine having extremely little risk, and no solid evidence at all that it causes harm. It's not as though the research on this is split. Dedicating most of the segment to the stories of people who claimed it harmed them is not real balance or responsible journalism. Given too that people tend to be more sympathetic to those who have suffered, this segment was incurably biased. People who watch it are, in my opinion, very likely to become scared of a vaccine based on bad evidence. Seth Mnookin, author of the excellent book The Panic Virus (which discusses the rise of the anti-vax movement), calls the segment "fear-mongering." I strongly urge you to read what he wrote about it.
The bottom line about all this, despite the confusion from the Katie show, is clear:
The HPV vaccine has been tested both for effectiveness and safety, and it has been shown to be an effective preventative measure against the virus with extremely small risk. No fatal injury due to the vaccine has ever been proven, and in fact the evidence presented in cases where girls died is anecdotal; no link to the vaccine other than timing (which can be coincidental) has been presented.
Let me put it this way: I'm glad my own daughter got her vaccination against this awful virus, and now, years later, if I had to do it all over again, I would.
[Correction (Dec. 5 at 16:30 UTC): In a paragraph in the original article, Christina Tarsell, the young woman who died, was listed as "Emily", her mother's name. I apologize for this mistake.]
Saturn's Psychedelic Jet Stream
Saturn is a gas giant planet, nine times wider than Earth, and mostly atmosphere. We don't see its surface as such, but the top of its clouds. That means we peer down on a wildly dynamic environment, in some ways like Earth and in others, well, alien.
And sometimes both. Sitting over the planet's north pole is a vast circulation pattern of gas called the north polar vortex: 20,000 kilometers (12,000 miles) across, it forms a surprisingly regular hexagon, with winds and storms churning around inside it.
A new animated image above of the six-sided system was just released by astronomers, and is the first to show the motion of the vortex in color, and is the highest-resolution full view of it so far. We've seen spectacular shots of it before, but never the whole thing like this:
[Photo by NASA/JPL-Caltech/SSI/Hampton]
The images were taken by the Cassini spacecraft, which has been orbiting the ringed planet since 2004. In it you can see difference between the inside and outside of the hexagon; scientists can use these images to understand better what's going on in Saturn's complex atmosphere, including what material is in it, the sizes of the particles, and the temperatures of the gaseous constituents as well.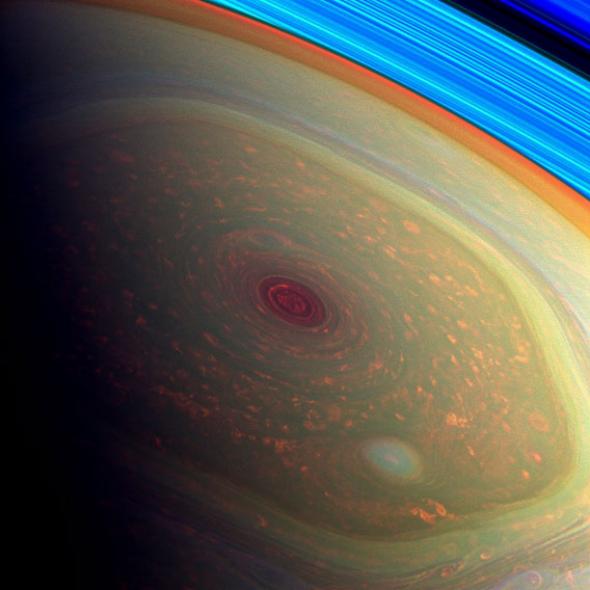 The hexagon looks freaky, but it's actually not that surprising; we see similar things on Earth in our own jet stream (called Rossby waves). What I find most interesting is not that it exists at all but that it's so symmetric and well-defined; on Earth it's sloppier. Saturn spins far faster than Earth does (its day is about 10.5 hours long), so, coupled with its larger size, the Coriolis force is far larger there, helping define the vortex's shape.
Images and animations like this help us understand what's going on in that vast laboratory over a billion kilometers away. I am all for that; knowledge for its own sake is a wonderful thing. But we're also trying better to understand our own planet, and it helps considerably to have something with which to compare and contrast it, even something seemingly so different. Inevitably with space science, looking out is very much the same as looking in. We try to understand the Universe so we can better understand our own environment.
A Volcanic Twofer... FROM SPACE
Regular readers know I love me a volcano picture from space, and today I have two.
The first is from one of my favorite volcanic hunting grounds, the Kamchatka Peninsula in eastern Russia. This forbidding region has several active volcanoes, and when they are covered in snow, they make for an extremely photogenic — if slightly terrifying — setting.
Klyuchevskaya (also spelled Kliuchevskoi) is one of a cluster of volcanoes on Kamchatka, and is pretty active. It's a big one, reaching 4750 meters (15,500 feet) high, and has been continuously active for centuries. On Nov. 16, 2013, the International Space Station was 1500 km (900 miles) to the southwest of the stratovolcano when an astronaut snapped this highly oblique shot of it:
Ooooh, aaaaaah. The plume of ash and steam appears to be blown east by winds immediately after leaving the vent, and by the shadows I'm thinking it was early in the morning. I've written about Klyuchevskaya many times (like here and here and here), and every time it's because of some amazing image of it taken from space. It's truly lovely, if tremendously forbidding.
Note that essentially every large peak you see in that photo is a volcano. Yikes.
Let me now take you from the frozen north to the tropical southeast: Vanuatu, an archipelago of volcanoes east of Australia. Astronaut Mike Hopkins was flying over it in the ISS recently, and tweeted this spectacular photo of one of the islands in the chain:
He doesn't say which one it is, but it didn't take me long to figure out that it's Ambrym, a shield volcano with a caldera about 12 km (8 miles) across — you can see the rim of it circling around to the left in the photo. It was created in a huge explosion around 50 A.D., one of the largest in recorded history. It's still a very active volcano, with two cones in the caldera: Marum (the oval one on the left) and Benbow (right; in the picture north is roughly down). The picture is a little overexposed (you can see it in the plume) but it shows the vegetation and the lack thereof perfectly.
The island is lightly populated, but there have been several deaths due to eruptions in the past; people were killed by lava bombs and overtaken by flowing lava. Still, the location looks lovely, and one day I'd love to visit it. I need someone with more money than sense to fund me for a year to travel the world and visit amazing places; if I ever got to Vanuatu I'd very much like to see Ambrym, as well as Gaua.
What a planet we live on! There are so many places to see, and so many things to learn about them.

"Scientists are…"
A lot of tech is so ubiquitous you don't even notice it anymore; it would be like a fish noticing the water in which it swims.
Google certainly fits that category; it's not very often a company name becomes a verb. It's second nature now to fire up a browser and type in a few words when I need some help pinning down a word or phrase, or to just get more info on a topic.
A while back, Google introduced autocomplete; if you start typing words into the search engine text field, it'll make suggestions for words even before you're done typing. I don't find this feature particularly useful since I generally have a pretty good idea what I'm looking for when I'm searching. But I can certainly see its utility.
It's not hard to imagine a downside to this, though. It can focus searching to a few popular sites, and can reinforce false information, since those pages may not be vetted for accuracy.
The link goes to a screengrab showing Google's suggestions to her. I typed "Scientists are" into Google and got essentially the same results:
Ouch. That doesn't seem to fare well for what people think of scientists.
But the "scientists are stupid" and "scientists are liars" suggestions are troubling. Can it be that most people really think this?
I decided to follow through, and see what pages are actually recommended by Google if you use these suggestions. What I found is that yes, many of the pages linked do make these accusations — and they come from the usual suspects, such as fundamentalist religion sites, or climate change deniers. No surprise there. And some are satirical pages, clearly meant as parody. But it's not hard to find page after page, site after site, sincerely making these claims about scientists.
What do we make of this? Is all hope lost?
This is troubling, to be sure, but I don't know just how bad it is. After all, we don't know why people are using these terms. I search for things I know are wrong all the time, for instance, so I type weird things into Google every day. Of course, I tend to be looking for people making claims that are, um, not as reality-based as they could be, so maybe I'm not the best example.
Scientists need a better rep. Science is everywhere, all around you, all the time. You're soaking in it. I can make all manners of arguments of why it's important philosophically — and I have — but it's also absolutely critical economically; our way of life in the United States, and the world, depends absolutely on scientific achievements. From better agriculture to medicine to communication to mitigating global disasters, science plays a fundamental role in each.
So what to do? In my opinion, there are two things that will help. One is to not let broad and ridiculous accusations about science and scientists go unchecked. I do that here quite often, of course.
The other, though, is if you love science, tell people. Write about it, talk about it, sing about it if you can (and Gawker? You're not helping; we should be encouraging people to look up the definition of "science", not making fun of them).
And if I may, let me suggest simply being a better person. I get this idea from my friend George Hrab, who has a segment on his podcast where he answers questions from listeners. Many times, he is asked by someone who is nonreligious how their reputation can be improved. George tells them to lead by example: be friendly, help out, do charity work. Then, later, if someone finds out you're not a believer, it won't color their opinion as much. In fact, it may change their mind about an entire group of people they otherwise would have written off.
I suspect the same can be done for science. If so many people truly think scientists are liars, scientists are stupid, then we need to show them otherwise. Don't lecture; teach (or better yet, converse). Don't insult or belittle; enlighten. Admit your mistakes, show where you learn from them. Talk about the joy and wonder and awe of truly understanding the Universe as it actually is!
Isn't that why we love science in the first place?
My hope is that we can change Google's algorithm, so that one day it will produce this:
Time-Lapse: The Earth from Orbit
You know the drill: Make it hi-res and full-screen, and thank me later.
The video was created by David Peterson, who also made a similar video called "All Alone at Night". Some of the clips I've seen before, but many are new to me.
At the 29 second mark, I was thrilled to see a glory, a complicated optical phenomenon where light is reflected back from water droplets in the air, creating a circular rainbow beneath the observer. You can see it tracking along with the station as it orbits above the clouds.
At about 1:30, you can see two docked Russian spacecraft (a Soyuz in the foreground and a Progress in the back) with the Earth behind them. To my surprise, you can see the Progress firing its rockets twice, once on each side! The Progress rockets are sometimes used to maintain the ISS attitude (orientation to the Earth) and I had never seen video of them firing before.
[P.S. The music for the video is from the production company "Two Steps From Hell", which makes music for movie trailers; you've probably heard their work many times without even knowing it. I quite enjoy their music, and really like the albums "Invincible" and "Archangel" in particular.]
Three New Baby Planet Pictures
Seeing planets around other stars is hard. Planets are faint, and stars bright: From a distance, for example, the Sun is a billion times brighter than Jupiter. Most times, when we look at other stars, the planets are totally lost on the glare.
Sometimes, though, we can make things easier. Planets are warm, so looking in the infrared helps. Looking at younger planets helps, too, since they still glow with the leftover heat of their formation. Cooler, redder stars are dimmer, making planets around them easier to see as well. Finally, checking out nearby stars is a big plus, since that means we can more easily separate out the planet and its star (like looking at a distant car blurs the headlights into one glow, but when it's closer you can separate them).
But now we have three more exoplanets baby pictures! Here's what we know about them.
FW Tau is perhaps the most interesting of the three systems. The star is actually a binary, two stars orbiting each other. Both stars are cool red dwarfs, about a quarter of the mass of the Sun each, orbiting about 1.6 billion kilometers (one billion miles) apart, roughly the distance of Saturn to the Sun. The stars are a bit less than two million years old, and are 470 light years from Earth.
The planet was first noticed in 2001, but was not confirmed as a planet until recently. This was determined by what's called proper motion: The stars' physical motion through the galaxy can be seen over time, and the planet is clearly moving with them.
The planet, FW Tau b, orbits both stars at a staggering distance of 50 billion kilometers, over 300 times farther away from its stars than Earth is from the Sun. For comparison, Neptune is only 30 times Earth's distance from the Sun, so this new system is ten times wider than our own. From that distance, the two stars combined would only be about as bright as the full Moon as seen from Earth.
The planet has a mass ten times that of Jupiter, and is still hot due to its age, probably around 1700° C (3000° F), so it's not habitable by any means. But it exists, and we have the picture to prove it.
ROXs 42B is also a binary star, with both stars smaller and cooler than the Sun. They're a bit under seven million years old, and 390 light years from Earth. The planet is also about 11 times the mass of Jupiter, but is closer in to its stars, about 22 billion kilometers (14 billion miles) away from them. That's still many times farther out than Neptune is from the Sun.
Like FW Tau b, it's moving through space bound to those two stars, and its that motion which gave it away as a planet orbiting them. It's also quite hot, about 1900°C (3400° F).
The mass is somewhat hard to determine for this object, and may be anywhere from 6 – 15 times the mass of Jupiter. At the lower end it's definitely a planet, but at the higher end it's more like a brown dwarf. Some of this depends on the distance of the star from Earth; if it's farther away, the planet must be more massive to be as bright as it is. The authors of another study of ROXs 42B b (published just two weeks before the other one, thouhg made public in October) are a bit conservative in the planet mass, but it seems to me that it's likely to be part of a known and nearby cluster of young stars, meaning the planet is on the lower end of the mass scale.
ROXs 12 is also a cool red dwarf, and also about the same distance as ROXs 42B is from Earth, 390 light years. The planet is bigger, about 16 ± 4 times the mass of Jupiter. As it happens, anything bigger than about 13 times the mass of Jupiter is more in the brown dwarf category; with the uncertainty in the mass of this object it's not completely clear if it's a planet or not. But it's close, and for now (until better measurements are made) I'll grant it, given the caveat. Either way, it orbits the star at a distance of about 31 billion kilometers (20 billion miles).
Interestingly, both FW Tau b and ROXs 12 b may have a disk of material around them, meaning they are still actively in the process of forming. The observations show they both glow in the light of warm hydrogen — with very young planets, that's generally indicative of a disk. If so, we've caught them in the act of gathering material, building themselves up even more. That's pretty cool (even if it means ROXs 12 b may be pushed out of the planet category as it gains mass).
I'm fascinated by these direct images of planets. For now, given our technology, the ones we see this way are young, hot, and massive. But we're getting better at this. As we make bigger telescopes equipped with better detectors, and use more sophisticated techniques in our observations, more planets will be found. I have no doubt that we're getting closer to being able to physically see a planet like the Earth, orbiting some nearby star. It may yet be several years away, but that time is coming.
I wonder how it will be, to gaze upon the light of a planet like that? To know that from there, our own planet would look much the same?
China (Again) Shoots for the Moon. We Should Join Them.
Over the weekend, the Chinese government did something that has not been attempted in nearly 40 years: Launch a spacecraft for a soft landing to the Moon.
On Dec. 1, 2013, the Chang'e 3 lander and rover launched successfully from the Xichang Satellite Launch Center in Sichuan, China. It's on a direct orbital insertion path, meaning it heads straight from Earth to the Moon (sometimes, long, looping paths are taken to utilize Earth's gravity for maneuvers to save fuel). It should enter lunar orbit on Dec. 6, orbit for a week, then land in an area called Sinus Iridum ("Bay of Rainbows") on Dec. 14.
I have some thoughts on this, but first, there's a launch video that — as is usually the case with launch videos — is very, very cool.
Launch occurs one minute into the video (although I have to say, a few seconds earlier when they cut to the shot of the bottom of the rocket, with the small fins and engines bells sticking out, I had a momentary flashback to watching Gerry Anderson supermarionation TV shows as a kid). Other key moments are at 1:29, when they cut to the external rocketcam, 3:19 when the external boosters cut out and fall away, 3:33 when the second stage ignites after the first falls away, and 6:38 when the third stage booster ignites and the second stage falls away.
The rocket used was the biggest and heaviest of China's Long March boosters, powerful enough to fling the 1200 kilogram (2600 pound) rover and lander to the Moon. Once they land, the rover will deploy and wander the surface to make scientific measurements. The instruments include the usual sorts of things for a rover: cameras, surface probes, mineralogical testing devices, and a far-ultraviolet telescope; UV light is absorbed by Earth's atmosphere, so the airless Moon is a good platform for such an astronomical device.
So what do we make of this?
First, China has been launching rockets since 1970, and has done quite a bit of space exploration. It seems like a straightforward enough assumption that they will continue to aim for the Moon — they've launched two orbiters, Chang'e 1 and 2, already — with an eye toward eventual crewed mission. They've already been building space stations in low Earth orbit (the Tiangong space station in the movie "Gravity"? Yeah that's real), and have invested a lot of cash into space; they have four main launch sites and are clearly serious about this next step in human exploration.
I've written my thoughts about this a few times in the past, usually when China makes progress, or when NASA's future is threatened yet again by Congress, the White House, or its own Administration. The bottom line is this: I want humans to live in and explore space. If those humans are Chinese, or Russians, or what-have-you, then I'm glad, because it significantly improves the long-term survival chances of our species.
But I'm an American, and there's some amount of pride in me. This country has always been a leader in pushing back the boundaries of space, and inspiration is no small part of that. I want to see my own nation continuing that pioneering spirit, but instead I see it all-too-commonly mired in bureaucracy and politics, and stunted by a lack of vision.
I am not interested in another space race. This needs to be articulated clearly: Such things tend to be all flash and no substance. In the 1960s it led to many Soviet and American disasters, and to a too-well-defined and specific goal: Landing humans on the Moon. Once those footprints were there, we turned on backs on the Universe, or at least the human exploration of it. A race has a finish line, and once you cross that line, you're done.
That is precisely the opposite philosophy we should have right now. Exploring space is a long-term goal, one with many paths, many achievements along the way, and not one shining endpoint where, once we get there, we can rest.
What I hope to see from this latest Chinese effort is a rekindled sense of desire in America, a strong sense that once again we should be leaders in this grandest of all adventures. We need to achieve a balance between good-natured national competition and cooperation, so that all humans can benefit as we reach for the sky. And the benefits are many.
My congratulations to the people of China as they strive for the Moon. I hope that in a few years, there will be many others of us joining them.
Remastered Masterpiece
Monoceros is a constellation of faint stars not far from Orion and Sirius, visible in the winter sky. I'd expect it to have a better rep than it does, given the Internet's obsession with what it represents: a unicorn.
Still and all, there's another reason you should know about it. Lurking in its borders is an astronomical mystery, an object of incredible beauty, terrifying power, and bizarre origin. Best of all, it's a puzzle, since we don't really understand what it is or what it's doing.
It goes by the cryptic name V838 Monocerotis (which sounds like a horrible disease). It's been observed by Hubble many times, and those data are available to the public. Telecommunication engineer Roberto Colombari took his hand to those observations, and created the best image of V8238 Mon I've ever seen:
Yegads! How weird, and wonderful.
This is combination of observations taken at three colors, approximately blue, green, and red. Colombari had to do some serious fiddling to get this final image; the camera itself has a gap between the detectors which leaves black lines across the images (you can see it in the inset raw image below). He combined several images in each color, including some rotated by 45° to fill in the gap. In the end, he was able to make a smoother image with a darker background than I have seen of V838, which adds substantially to the beauty.
But what the heck are we seeing?
There are a few things we know for sure. In 2002, the star underwent a truly epic eruption, brightening from obscurity to nearly naked-eye visibility, despite its soul-crushing distance of 20 quadrillion kilometers away. It blasted out radiation at level a million times that of our Sun, and was briefly one of the most luminous stars in our galaxy. The material around it is mostly dust; this stuff heavily reddens light passing through it, and in fact the Hubble images using the blue filter don't even show a hint of the cloud. Not only that, but images taken in the years since the star's outburst show the dust changing considerably.
It turns out though, that the dust cloud isn't physically changing! It's normally dark, and the blast of light from the star is lighting it up. Since light travels at a finite speed, we see some parts of the material being lit before others; this is called a "light echo". So it only looks like the cloud is growing; in reality it's hardly moving at all.
Studies indicate that the dust existed before the eruption, part of a huge star-forming cloud, and is probably only about 3 – 10 million years old; a blink of the cosmic eye. Still, if the star is extremely massive, that's enough time for it to start dying.
That was my first thought when I initially saw this object. Stars live their lives in a delicate balance; heat generated in their cores due to nuclear fusion tries to expand them like hot air balloons, but their immense gravity tries to squeeze their octillions of tons gas into the core. If something happens to that balance, the star can react poorly. For example, it can undergo epic paroxysms, blasting out vast clouds of gas and dust.
A leading idea — and get this — is that the central star is the result of two big stars colliding and merging! That's an extremely rare event, but it would explain a lot of what we see. It would cause a huge blast of energy, for one. It would also produce X-rays, which were seen in other observations. The star would expand a lot, causing it to become very red, which is the obvious color in the Hubble pictures.
That's pretty weird, but we don't see too many stars like V838 Mon, so a rare event may be called for. They may have been two stars in orbit around each other, perhaps on a very long elliptical path, and over time finally merged. It's just good we happened to be looking so we could see the 2002 flare up. Astronomers are still watching the star; if it has another such outburst then we may need to find another explanation; a collision is a singular event and we wouldn't expect a repeat. But nothing on that scale has happened to the star in the past decade.
Before this, I never would have guessed something like this could happen; star collisions really are extraordinarily rare. But the Universe is vast, and time is deep. If you look long enough, you're bound to see exceptional events. And when they are this stunningly beautiful, why, it makes the search that much easier to do.