The entire universe in blog form
Reminder: Finding Asteroids Is Hard
At 11:17 UTC (6:17 a.m. EST) today, the asteroid 2013 XY8 passed the Earth at a distance of just 760,000 kilometers (470,000 miles), less than twice the distance to the Moon. It orbits the Sun every 3.3 years, swinging out about halfway to Jupiter's orbit, and coming in to just inside Earth's orbit. There's no danger from an impact from this space rock this time, and current data show it won't come near the Earth again until 2072.
But XY8 is a good reminder that there are lots of asteroids out there, and we need to find them. And it's also a good reminder that finding them isn't all that easy.
We can judge an asteroid's size from knowing its distance and how bright it appears to be. It also depends on how reflective it is; a shiny asteroid can be smaller and look as bright as one that's darker and bigger. On average, asteroids reflect about 4 percent of the light that hits them; using that number XY8 to calculate its size we get it's 30 – 70 meters across, or about the size of a basketball court on the lower end, and more than half a football field on the higher one.
Were that to hit the Earth — and again, it won't, but just suppose — it would be pretty bad. Remember, the Chelyabinsk asteroid which hit Russia in February 2013 was only 19 meters across! XY8 is 5 to 50 times more massive, so it would make a pretty decent bang.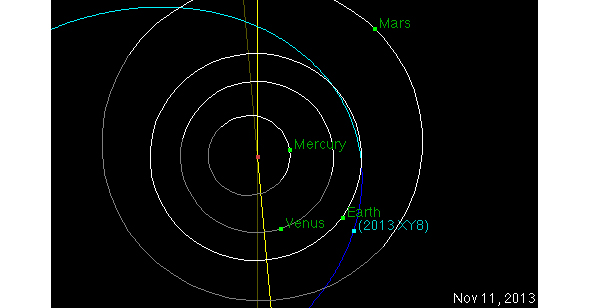 Why was it discovered so late? Because even though it's bigger than a house, it's far away, which makes it very faint. When it passed us at closest approach it peaked at a magnitude of about 14, less than a thousandth as bright as the faintest star you can see with the naked eye. And in asteroid terms, that's when it was pretty close by! It was even fainter when it was discovered by the Catalina Sky Survey.
Of all the things about asteroid impacts to fret over, this is what worries me the most: finding them in the first place. The bigger an asteroid is the bigger the impact, of course, but also the easier it is to find it in the first place. Bigger rocks are brighter, and we can see them more easily. The problem is that there's a size range on the small end where they still do damage when they hit us, but are simply too small to find until they're very close.
There are about a million asteroids of decent size that cross Earth's path, and we've only charted about 10,000. That may sound like a lot, but it's only 1 percent of what's out there.

We need more eyes on the sky! Part of the problem is that the sky is big, so you're looking for a needle in a cosmic haystack. Asteroids are faint, so we need bigger telescopes looking. And we need them in both hemispheres (observatories in the north can't see asteroids coming in from the deep south because the Earth is in the way; the reverse is true for southern observatories), as well as spread out over many longitudes so that we have search programs looking day and night. We also need space-based observatories to look in parts of the sky near the Sun, where ground-based telescopes can't look.
The good news is we're on this. NASA's NEOCam and the B612 Foundation's Sentinel are space-based observatories in the works. Both will look in the infrared where warm space rocks glow more brightly (and, I'll note, B612 has ideas of what to do if we find one headed our way).
The Pan-STARRS observatory is already on the hunt (it's found several asteroids and comets), and the LSST should be online in a few years as well. There are many other observatories looking for asteroids as well, so things aren't too bad.
But we can always use more. Asteroids are forever on the move, and one that is visible now may not be in a week, and won't return for decades. This is ongoing work, and for our own safety it's something that will never end.
Eternal vigilance is the price of freedom from going the way of the dinosaurs.
The Earth and Moon Dance in a Video Taken from Space
As it flew past our planet (much) faster than a speeding bullet, it took a series of images of Earth, which also happened to capture the Moon in its stately orbit around us. The resulting animation is really quite enthralling:
The camera that took the images is low-resolution, and not really designed to do this sort of work. Worse, the entire spacecraft spins twice per minute, meaning it could only snap the pictures to make the animation when the Earth rotated back into view. Even with that going against them, engineers managed to capture images of our planet and create the video.
My favorite part of this is actually the Moon: Note how dark and gray it looks. That's because it is. On average, the Moon reflects about 12 percent of the sunlight that hits it, while the Earth reflects closer to 40 percent. And while our planet is a lovely blue, the Moon is mostly gray rock.
Also, the video starts just when, from Juno's point of view, the Moon happened to be lined up near the Earth. It actually orbits Earth more than 100 times farther away than its own diameter! The Moon is 3474 km (2150 miles) across, and orbits 400,000 km (240,000 miles) away. That distance gets magnified as Juno zooms toward the pair, so the Moon slides off the field of view to the right, not to be seen again.
Juno's mission is to investigate the internal structure of Jupiter, which is difficult to do thanks to the planet's massively thick atmosphere. Juno has a mass of 3600 kilograms, which is too heavy for a rocket to simply fling it to Jupiter, so it had to pass the Earth to gain enough velocity relative to the Sun to boost it out. It will arrive at Jupiter on July 4, 2016.
Dancing at the Science Party
Do you read the Web comic Scenes From a Multiverse? It's kindofa dorky science science-fictiony panel comic, done by Jon Rosenberg.
The Nov. 18 strip, "Science Party," has some familiar characters in it:
(This only shows two of the four panels; click it to see the whole thing.)
It's true, too. I've been clear about that. Heck, I'd be the first politician in the history of the planet to at least be honest about it.
The Heartland Institute and the American Meteorological Society
They're pretty clear about it, too: The very first paragraph of the discussion section of the paper states (emphasis mine):
93% of actively publishing climate scientists indicated they are convinced that humans have contributed to global warming. Our findings also revealed that majorities of experts view human activity as the primary cause of recent climate change: 78% of climate experts actively publishing on climate change, 73% of all people actively publishing on climate change, and 62% of active publishers who mostly do not publish on climate change. These results, together with those of other similar studies, suggest high levels of expert consensus about human-caused climate change.
Yikes. That's pretty cut and dried, isn't it?
Interesting, isn't it? There are two things I'd like to point out:

1) It claims that 52 percent of AMS members believe global warming is real and human-induced, and 48 percent do not. However, not all AMS members study the climate, so they shouldn't necessarily be considered climatology experts. Reread the conclusions of the authors quoted above: The consensus among the experts surveyed is solid.
There's more, but I'll just point you to several other folks who tear apart Heartland's email, including John Abraham and Dana Nuccitelli at the Guardian, Denise Robbins at Media Matters, and Brian Angliss at Scholars and Rogues.
They aren't alone. Keith Seitter, the executive director of the AMS and paper co-author, felt so strongly that the email misrepresented the actual paper results that he issued a statement calling it "disturbing" and says, "The text of the e-mail reports results from the study far differently than I would, leaving an impression that is at odds with how I would characterize those results." In other words, what Heartland says about the survey results is not what the authors of the actual survey say. And remember, that comes from one of the co-authors of the paper.
James Taylor's interpretation of our study is wrong. We found high levels of expert consensus on human-caused climate change.
There's one more aspect about all this I find fascinating.

Science is about evidence, fair skepticism, and honest investigation into claims based on them. If climate science really is in such disarray as the deniers claims, then why do so many resort to misleading tactics so often? Why post misleading graphs, why cherry-pick data, why engage in egregious ad hominems, why send out emails about papers that say the opposite of what the paper actually concludes? If their claims are correct, then why even risk the perception of impropriety?
As AMS executive director Seitter put it,
A difference between the AMS and some organizations is the transparency and scientific integrity with which we operate. This survey was conducted to satisfy scientific curiosity on an important topic and the results are published for all to see. This is the way science is meant to work.
An In–Flight Movie Out an Airplane Window
The photographer, Paul Williams, says on his YouTube page that he was on a flight from London to New York (which swings north across the Atlantic) when he noticed the aurora out his window. He took 770 three-second exposures, for a real-time length of about 38 minutes (I suspect it was actually a bit longer to account for the time between exposures as well). He balanced the camera on a backpack, aimed it out the window, and hoped for the best. I'd say out came out pretty well!
If you're curious about the red and green colors, I've written about them before; they come mostly from molecules and atoms of oxygen as well as nitrogen. The waving sheets are due to fluctuations in the Earth's magnetic field. Aurorae are caused when subatomic particles sleeting from the Sun are funneled by the Earth's magnetic field down into our atmosphere, where they excite the electrons in atoms, causing them to glow. Since the particles flow along the magnetic field lines, they act as tracers for the shapes of those lines.
I fly a bit, and I usually take an aisle seat so I can get up and stretch my legs if I need to. But I'll sometimes grab a window seat if I know we'll be seeing something interesting. I've watched the Sun take over an hour to set as I've flown west, I've seen canyons galore, optical effects, the Moon rapidly rising as the airplane's motion adds to the Earth's rotation.
But I've never seen an aurora. Someday, perhaps, I'll take a transcontinental flight that'll take me far north, and that will finally be my chance to glimpse one. With my luck I'll be on the wrong side of the plane. I'll have to remember to keep a bribe handy if the opportunity ever does come up.
How the Heck Did This Exoplanet Get Where It Is?
The planet is called HD 106906 b, and it's about 11 times the mass of Jupiter. It orbits a star hotter and more massive than the Sun (for the astrogeeks: an F5V star with 1.5 times the mass of the Sun) that's about 300 light years from Earth. As I pointed out in the other article, these planets are easier to find in the infrared when they are young and hot; the star and planet are only about 13 million years old — compare that to the age of the Earth, which is 4.56 billion years — and the planet was seen using the Magellan telescope in Chile, using an infrared detector.

Like the other three recently announced, HD 106906 b was confirmed as a planet because it is moving in the sky along with its parent star. If it were a background star or galaxy, the star would zip past it over the course of several years. Using earlier images from Hubble and the Gemini telescopes, the object was found to keep in step with the star's motion. Therefore it must be a planet bound to the star.
Incredibly, though, it's really far out from the star: 650 times the distance of the Earth to the Sun, or about 100 billion kilometers (60 billion miles). That's an astonishing distance! Even Neptune orbits the Sun at 1/20th of that separation.
That's actually a bit of a problem. We think planets form from a disk of material that swirls around a star as it's born. But those disks don't usually reach out anywhere near that far, leaving us with a mystery. As it happens, many stars form in clusters, collapsing out of knots of gas and dust in much bigger clouds. It's possible this object formed that way along with the star, but it's not clear how something that small could collapse out of the cloud. Usually, collapsing objects grow to much larger size, making star-like brown dwarfs or low-mass red dwarf stars at least.
What this means is that we don't fully understand how stars and planets form. Of course, we know we don't know everything! Objects like HD 106906 b are important, since they test the edges and boundaries of our ideas, which is where new ideas come from.
I want to point out that the astronomers found this planet because they were targeting stars known to have disks of dust around them. In the case of the star HD 106906, the disk wasn't directly seen; the star was putting out more infrared light than it should, indicating the dust was there, glowing by its own warmth. In fact, by carefully analyzing that light the astronomers could infer the disk was actually a ring; it starts over two billion kilometers out from the star and stretches out to about 18 billion kilometers — that's pretty big. The fact that it's a ring means there may be planets orbiting inside it, closer to the star; the gravity from those possible planets sculpts the inner ring edge.
My first thought reading that was maybe the big planet formed closer in (where we know planets are created more easily) and interaction with another planet tossed it out to that huge distance. But it turns out that's unlikely; a gravitational slingshot like that would play havoc with the dust ring, so again it's likely the planet formed where it is, so terribly far removed from its warm host.
And one more thing. I want to highlight the image of the planet by Hubble; it was taken in 2004 (before it could be shown it was a planet and not a background star). The photos of the planet above used some fancy techniques to reduce the glare form the star so the planet could be seen; the Hubble image just shows the star and planet as they are. You may notice the star is, um, somewhat brighter. It's actually millions of times brighter, which is why getting images of the planets themselves is so dang hard.
I've labored over data like this myself, and it's tricky. What the team did here was good work. It's a big step in understanding how planets form. More importantly in the short term, it shows that we can target stars with disks to look for distant planets, making it easier to find them.
For the moment, it's still rare to get a snapshot of a baby planet. But, I hope, it's only rare for the moment.
"Planetary Science Deserves Special Attention Because It Is Special"
You may know Bill Nye as the Science Guy, but he's also a passionate supporter of scientific research and CEO of The Planetary Society, a phenomenal group that advocates for planetary exploration.
For the past couple of years, NASA's budget for planetary mission has been on a bizzare roller coaster of cuts, restoration, political wrangling, and outright byzantine manipulation (see "Related Posts" below for details). In the end, the lion's share of cuts to planetary exploration have come from the White House.
Nye took to YouTube to record an open letter to President Obama, asking him to restore America's role as a global leader of science, specifically solar system science.
As usual, Nye is eloquent and persuasive. The Planetary Society has a page set up to help you contribute to the campaign, either financially or through getting the White House (and other political leaders) to hear your voice. Please go and make yourself heard.
I wholeheartedly (and perhaps more importantly, whole-brainedly) agree with what Nye said:
"Supporting a robust space program raises everyone's expectations of what's possible… it's inherently optimistic. It's part of our national character."
Viral Illusion Will—and Should—Have You Doubting Your Eyes
Have you seen the latest optical illusion that's been going around the Web? You simply won't believe your eyes.
What's the illusion, you ask? Those two vertical lozenge-shapes are the same shade!
Don't believe me? Good! It's always best to check things like this out for yourself. One way is to put your finger across the middle, blocking the part where they meet. When you do that, boom! You can see they're the same shade of gray.
Amazing, isn't it? This is called the Cornsweet Illusion, after experimental psychologist Tom Cornsweet. Basically, it works by contrast: When we look at something, we perceive its color and shading relative to other things in the area and how we perceive it's lit. In the picture here, we perceive the scene as three-dimensional, with the light source to the upper left (note the shadow on the ground). The upper lozenge is shaded so that we see it as tilted away from us at its top (making the bottom look shaded), and the bottom one tilted the opposite way, so its top is lit.
That means our brain sees the upper lozenge as lit, while the bottom one is shadowed. That, coupled with the contrasting shading in between them, messes with how our brains interpret the image, and we think the upper one is darker than the bottom one.
But it isn't. I actually went into Photoshop and selected the color of the top lozenge and created a square using it, then did the same for the bottom:
As you can see, both squares look the same … because they are. For the graphics geeks: They both have RGB values of (123, 124, 126).
This sort of illusion has been around a long time; the most famous version is probably the checkerboard illusion:
There's even a video demonstrating it, which I love.
I have a full explanation of the checkerboard on the blog, but it's the same sort of thing as the one above. Your brain gets bamboozled by the shadow cast by the cylinder, so it thinks the square in the shadow is lighter than the darker squares around it, but in fact it's the same color and shade.
I love stuff like this! First, because it's simply delightful. I think people enjoy seeing things that baffle them; puzzles are very enticing and addictive. But there's another reason I'm so fond of illusions: They show us in no uncertain terms that what we see is not what we get. It's extremely easy to fool our eyes and brain, and we should never simply trust that what we see, what we think is going on, is a fair and accurate representation of reality.
This is why we have science. Richard Feynman called it (with characteristic simplistic brilliance) "a way of not fooling ourselves".
I agree. And it's something to keep in mind when someone claims they saw a UFO, or a ghost, or Bigfoot. Eyewitness reports are notoriously unreliable, even when someone swears up and down "I know what I saw."
They didn't. Just like the illusion above, seeing something is just the beginning of the investigation, not the end.
Still Not Vaccinated? U.S. Measles Cases in 2013 Spike to Three Times Normal
The Centers for Disease Control and Prevention just announced that measles cases in the United States in 2013 tripled over the annual average. There were 175 cases (so far), when usually there are about 60.
In all three of these outbreaks, someone who had not been vaccinated traveled overseas and brought the disease back with them, which then spread due to low vaccination rates in their communities. It's unclear how much religious beliefs themselves were behind the outbreaks in Brooklyn and North Carolina; it may have been due to widespread secular anti-vax beliefs in those tight-knit groups. But either way, a large proportion of the people in those areas were unvaccinated.

By the numbers, those outbreaks alone are responsible for the huge increase in measles cases in the U.S. this past year. And they are all due to people not getting vaccinated.
Before the U.S. vaccination program started in 1963, 400 to 500 people died from measles every year here. Tens of thousands more were made very ill and were hospitalized. Today, that number has dropped to almost—but not quite—zero. And that's because of vaccines.
It's been 50 years since the measles vaccine was approved for use in the U.S. The CDC recently honored Dr. Samuel Katz, who was largely responsible for its development. The vaccine is now used worldwide, and over that time, it has saved millions of lives. Millions.
As Katz put it, "The challenge is not whether we shall see a world without measles, but when."
Congratulations! It's a Bouncing Baby Neutron Star!
Millennia ago, and 26,000 light years distant in the dim and somewhat unremarkable constellation of Circinus, a monster was born. And when that happened, it gave out a heck of a birth cry.
The baby in this case was a neutron star, and the bawling was the eruption of a supernova, the titanic and ridiculously powerful explosion that results from the death of a massive star.
That star probably started out with about 8 – 20 times the mass of our Sun. It was in a tight orbit around another massive star, the two circling each other every two weeks or so. At its heart, the star was fusing lighter elements into heavier ones; it was a gigantic nuclear furnace.
Eventually, after a few million years, that fuel ran out. The core collapsed, releasing a mind-numbing blast of energy. This blew out the upper layers of the star, ejecting them at a substantial fraction of the speed of light, creating the supernova. The core itself collapsed, forming an über-dense ball of subatomic neutrons few kilometers across. The explosion was probably not symmetric, but was instead slightly off-balance, providing an immense kick to the newly-formed neutron star.
The resulting system staggers the imagination: a white-hot star with the mass of the Sun but the size of a small city on a highly elliptical orbit around a normal (but also massive) star, sitting in the center of a vast cloud of superheated material screaming away at thousands of kilometers per second. Both the hot gas and the baby neutron star are so energetic they blast out X-rays… which is how we figured all this out.
Circinus X-1, as the system is called, is a high-mass X-ray binary, a pair of heavy stars in orbit around each other. We know of quite a few objects like this in the galaxy, but most of them are pretty old. But new observations of Cir X-1 have given astronomers a vital piece of information about it: its age. As the gas from the explosion slams into material around it, it slows down and cools, emitting X-rays. The physics of this is pretty well understood, and by measuring the temperature of the gas from the X-rays, astronomers determined the explosion must have occurred no more than 4600 years ago (and it may be younger still). This makes it by far the youngest high-mass X-ray binary ever found.
That's a huge piece of the puzzle. As these binary systems age, they change. They cool off, they emit X-rays in different ways, the orbits of the stars change. Because this system is so young it's a safe bet that what we see now is pretty much how it was when it formed. That allows astronomers to understand what was going on when the star exploded in the first place. That's critical; imagine trying to understand how a baby human behaves by only studying adults. There's a lot you could figure out, but you really want to be able to study a baby itself to know what's what.
Now we have that baby. An octillion ton superhot baby.
I love the physics and science of this, how the pieces came together to figure it all out — I've spent my share of time studying supernovae. But despite all the technical details, one thing still strikes me…
Something over four millennia ago, humans didn't have telescopes. When the light from the supernova reached Earth, Mesopotamia, Sumeria, and Egypt were flourishing, but the star was too far south for them to see well, or at all. Circinus is best seen from south of the Equator, where most cultures were hunter/gatherers; in South America for example the shift to farming was just getting started.
We know even very ancient civilizations were keen observers of the night sky; the cycles of the Sun throughout the year are tied to the seasons, and to a burgeoning agricultural civilization the import of that is obvious. The constellation of Circinus itself is nothing to notice; the stars in it are faint.
Until one day, one wasn't. We have little or no records of astronomical observations from that part of world from back then. So I wonder, what did these people make of the sudden appearance of a new star in the sky, so bright it could have been the twin of Venus? Did they stand and gape at it, awe-struck, as it brightened over a few days and faded over months? What legends were spawned, what ideas were wrought, what fear or wonder was instigated?
If such an event were to happen now it would be the most significant astronomical event in the past several decades; every telescope on the planet and above it would be trained on the exploding star. We would study it, analyze it, dissect the information pouring in from it across all those thousands of light years. The knowledge we would gain would be unparalleled.
Yet I can also wish that given that chance, I would want to see it myself, to stand under the night sky and let the light that had traveled so far enter my eyes, tickle my brain. I can easily imagine the shiver that would travel down my neck as I soaked in the wonder of what I was seeing, the knowledge of what it truly is.
Perhaps we know more now than our ancestors did, with our basis of understanding through science, and our remarkable tools to investigate nature. But we still have much in common with them, and to stand in awe of the beauty of our surprising Universe is a characteristic I hope we never lose.