The entire universe in blog form
Double Rainbow ... With Lightning!
One of the things I love about living in Boulder, Colorado, is that in the summer we tend to get afternoon storms. It's sunny a lot here, which heats the land and evaporates water, forming clouds, and they can get a tremendous amount of energy in them. We get good downpours, and then when the storm is done, it's done.
Because the wind blows predominantly west to east, and the storms are in the afternoon when the Sun is setting, when the clouds clear from the west the Sun shines through. If it's still raining here, we can get extremely bright rainbows.
Advertisement

That weather pattern was common for the first couple of years I lived here, but in recent years it's slacked off. But it's coming back: Yesterday was a textbook case of this, and the rainbow was amazing.
Yeah, double rainbow all the way. The glow around my head's shadow I was describing is called heiligenschein. The other optical effects—the secondary arc, the supernumerary arcs, the bright region in the center and the dark band—I've described recently in a post about red rainbows.
The lightning was amazing. It was so fast I didn't get a good look at it—I was paying attention to the phone screen to make sure the rainbow was visible in it—and for a moment I thought it might have been sunlight reflecting off raindrops. Then a few seconds later the thunder slammed down. It was far louder than it sounds on the video. It took about eight seconds to reach me, so the lightning was less than three kilometers away. Quite the show.

I will never get tired of seeing things like this. Rainbows are almost cliché, but they're one of the most magnificent optical displays nature can provide. The science behind them is really intriguing, and to me, it amplifies their beauty manyfold.
The Slate Plus Doctor Who Inaugural Podcast
Note: Extremely mild spoilers below. I figure I might as well warn you.
As an unapologetic and enthusiastic Doctor Who fanboy, I'm really happy that the new series has started up. We're in Season 8 now, with Peter Capaldi now (metaphorically) filling the Doctor's fez. The first episode just aired, and I thought it was pretty good. I even tweeted it:
I am going to go out on a limb here and say I really liked the new Doctor Who episode.

— Phil Plait (@BadAstronomer) August 25, 2014
Advertisement

The Hive Overmind at Slate asked if I'd like to do a podcast with various Slate-sters discussing the new episodes of Doctor Who as they air. I said yes—duh—and the first one is now online. I spent about an hour talking Whovianicity with Slate's Outward editor and culture critic June Thomas. We talk Clara, Capaldi, robots, Silurians, and why I thought the regeneration was handled pretty well. We also had some fun with a certain locking of lips shown in the episode as well.
Fair warning: The podcast is part of Slate Plus, which is a premium subscription service. It's five bucks a month, and provides all kinds of fun added content; I've written about it before. There's a lot of great stuff there on top of the usual great stuff at Slate, so I heartily recommend signing up.
If you need another reason, we'll have a new Doctor Who podcast every week during the season. So join in and be a part of the fun!

An Island Grows in the Ocean

Back in March I posted a Landsat 8 image of a volcano called Nishinoshima, located in the Pacific Ocean about 1,000 kilometers south of Tokyo. Up until late 2013 it was just a dinky island barely poking above the water's surface. But then a second vent started erupting nearby, rapidly grew in size, and actually engulfed the original volcano.
It's still growing. This new view from Landsat on Aug. 21, 2014, shows it puffing away:
Advertisement

It's interesting comparing it to how it looked a few months ago; it's clearly changed its shape. It's not growing as rapidly as it once was, apparently, but it's still getting bigger.
That whole area is loaded with volcanic islands forming seriously long chains across the ocean:
The pin marks the location of Nishinoshima. Of course, that map is scaled way out, covering thousands of kilometers. The original Landsat image gives you a better sense of how lonely the island is out there: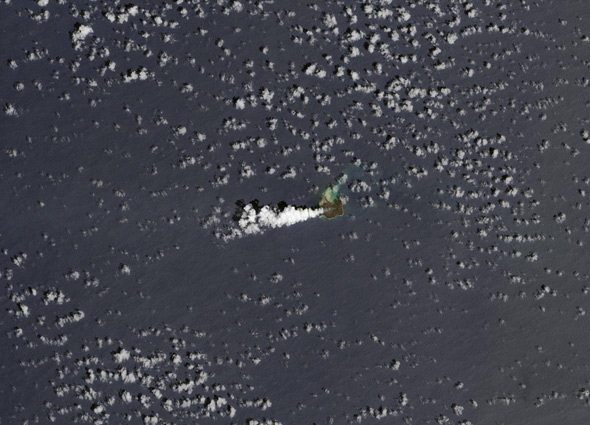 Pretty. And fascinating. It shows that our planet is active, constantly changing, constantly renewing itself. If it didn't, we'd probably look a lot more like Mars. That's a pretty amazing planet too, but given its lack of a thick atmosphere, no water, and chilly room temperature, I'll take Earth every time. I like my environment habitable, even if it means some locally isolated places really aren't.
No, There Still Is No Connection Between Vaccines and Autism
There's a conspiracy theory going around that the CDC covered up a link between autism and vaccines. From what I can tell, this conspiracy theory is on the same level as the one that NASA faked the Moon landings. And you know how I feel about that.

Perhaps you've heard about this CDC theory; it's burning up on Facebook, Twitter, and other social media. The gist of it is that a "whistleblower" at the Centers for Disease Control and Prevention has revealed some hanky-panky done by researchers there to cover up a link between vaccines and autism found in a certain group of babies, and a new analysis supposedly shows this connection.
Advertisement

It'd be a compelling story, if it were true. However, it appears very strongly to be false. Since I am not an expert in the specifics, I direct you to two posts: "Did a high ranking whistleblower really reveal that the CDC covered up proof that vaccines cause autism in African-American boys?" by Dr. David Gorski at Science Based Medicine, and "Andrew Wakefield Tortures History" at Harpocrates Speaks. These, together with links therein, show to my satisfaction why this conspiracy claim is more heat than light. As the first post by Gorski shows, the "new analysis" fails for multiple reasons, including using small numbers for statistics (a big no-no), applying statistics incorrectly, and not even employing an actual statistician for the analysis. There are other very serious problems as well, all of which are laid bare in those posts.
I'll note that the conspiracy theory is endorsed by Andrew Wakefield—called a fraud by the BMJ, guilty of scientific misconduct, and father of the modern anti-vaccine movement. That right there is enough for me to be extremely suspicious of it. Coupled with the evidence outlined above? Done.
Stuff like this used to make me really angry, but now it makes me sad. Diseases like measles, pertussis, chicken pox, and polio are dangerous, and they're making a comeback, in no small part due to misinformation spread by anti-vaxxers.
I know that many of the people making these claims are honest; they're speaking from their heart out of concern for their children. As a parent and a human being, I'm concerned about this as well. And that's precisely why I write about the realities of vaccines: They are extremely effective, and their risk is incredibly small compared with their benefits. Conspiracy theories like this new one have the potential to do a lot of damage. Ironically, by avoiding vaccinations, the people it's likely to hurt are the very ones their parents are trying to protect.
Noctilucent Time-Lapse
Man, that's a weird title.
But it's accurate enough. I've written about noctilucent (literally, "night shining") clouds a few times recently. These weird, high-altitude clouds appear to be more common in recent days, and it's not clear why (global warming is one culprit). But they are visible just after sunset and before sunrise, lit by the Sun that to us on the ground is below the horizon. They take on a shimmering, silvery cast, and are quite stunning.
Advertisement

Neat! You can see lower-altitude (aka "normal") clouds moving in from the east, contrasting with the much higher noctilucent ones.
These are still on my to-do list of must-see clouds, together with roll clouds and a big scary mesocyclone forming over the Midwestern plains. And an aurora, come to think of it. And a total solar eclipse, sure. And finding my own meteorite.
I'm not picky; any order of these will do. As bucket lists go, this seems doable. I have my feet on the ground ... but my head in the clouds.

"Everybody, Remember Where We Parked": Choosing a Landing Site on a Comet
The Rosetta spacecraft successfully rendezvoused with the comet 67/P Churyumov-Gerasimenko in early August, and has been tagging along with the weirdly-shaped double-lobed dirty iceball ever since. It's been taking extraordinary pictures and making lots of other measurements, sending them back to the Earth over 400 million kilometers away.
Scientists are poring over the data; not just to study the comet for science, but also to prepare for the next big step in the mission: Setting the lander Philae down on the surface.
Advertisement

After looking over the images sent back, an initial ten landing potential landing sites have been narrowed down to five. The regions are indicated in the picture at the top of this post (note that the letters are not a ranking; the original ten were just lettered A – J). The OSIRIS camera was used to get better close-ups of the regions for examination. Here's spot A:
This one is on the bigger of the two lobes, and has the advantage of being a good place to observe the smaller lobe, too. This looks like a place where loose material has flowed down, given how smooth it appears. However, there could still be small depressions of other hazards here, so the examination continues.
I'm guessing they won't go with this one; the presence of so many large boulders means landing could be difficult. But the area above the boulder field does look pretty smooth.
These are images taken at one given time, and more are being taken to investigate the areas under different lighting conditions as the comet rotates. That will highlight things like bumps, pits, and so on, as the shadows change.
The decision will have to be made soon; Philae is scheduled to deploy in November. Rosetta is already dropping down toward the comet; the initial 100-km standoff distance has been lowered to 60 km, and it'll get closer yet before sending Philae on its way. I'm getting pretty excited by all this! The images and data we're getting now are already quite amazing, but they'll get far better as the probe nears the surface.
And then, finally, as Philae heads for the comet, we'll see what one of these things looks like up close and very personal.
SpaceX and ESA Suffer Launch Problems
It hasn't been the best week for uncrewed space launches.
On Friday, Aug. 22, 2014, SpaceX was testing a new configuration of its F9R vertical launch and landing rocket—essentially a Falcon 9 first stage booster adapted to land on its tail after launching a payload into space—when something went wrong. It was already a few hundred meters in the air when the software onboard detected the malfunction and aborted the mission by exploding the rocket. This is done to prevent the possibility that an out-of-control rocket might fly off and injure someone.
Advertisement

To be clear: This was an uncrewed rocket, no one was hurt, and it was a test flight to try out some new tech. Footage of the launch and explosion is easy to find online; here's one from BBC Brasil:
I'll note that most of the video I found was copied from other sources, and original footage is difficult to find. Hopefully SpaceX will release better video soon. They did issue a statement:
Earlier today, in McGregor, Texas, SpaceX conducted a test flight of a three engine version of the F9R vehicle (successor to Grasshopper). During the flight, an anomaly was detected in the vehicle and the flight termination system automatically terminated the mission.
Throughout the test and subsequent flight termination, the vehicle remained in the designated flight area. There were no injuries or near injuries. An FAA representative was present at all times.
With research and development projects, detecting vehicle anomalies during the testing is the purpose of the program. Today's test was particularly complex pushing the limits of the vehicle further than any previous test. As is our practice, the company will be reviewing the flight record details to learn more about the performance of the vehicle prior to our next test.
They haven't yet said what exactly went wrong. SpaceX will provide another update when the flight data has been fully analyzed. I have to wonder how certain members of Congress will react when the news is released …
Three engine F9R Dev1 vehicle auto-terminated during test flight. No injuries or near injuries. Rockets are tricky …

— Elon Musk (@elonmusk) August 23, 2014
SpaceX was scheduled to launch AsiaSat 6 into orbit on a Falcon 9 today, but after the test problem this new launch has been pushed back to Wednesday, Aug. 27. The hardware involved is very different, but they want to make sure there's no risk to the AsiaSat 6 mission.
In other news, a European Space Agency launch didn't go according to plan either. The mission was to put the first two Galileo global positioning satellites into orbit, but the rocket put them into the wrong orbit. It's not clear that the satellites' on-board propellant is sufficient to get them into the correct orbit, either, which means they would be "deemed useless."
Galileo is the European version of the American GPS satellites, with 30 satellites set to eventually comprise the entire fleet. This failure to get them into orbit is a serious issue; the same rocket system is planned to launch four more pairs, but that will have to be put on hold until the problem is resolved. A dozen more satellites are planned to be launched by a different rocket sometime later.
So, this has been a rough week for space travel, but these things happen. No one was hurt, which is good, and hopefully the problems will be analyzed, understood, and quickly fixed.
This is, after all, rocket science.
Call of the Universe
When I was wee lad, we had Bugs Bunny, and we liked it (because he's brilliant). But these whippersnappers now have this Animaniacs stuff, with the Yakko and the Wakko and the Dot.
Advertisement

Here's the song. Marian's got a killer voice, and she does the song good. Some of the numbers may sound off to you, but in fact if you think about them you'll figure out why we went the way we did (like the diameter of the solar system; don't forget the Oort Cloud!). As for the number of planets, well, I have my thoughts on that.
Indonesian Volcanoes and Galactic Vistas
I recently got an email from astrophotographer Teoh Hui Chieh, who was sending me several photos and a time-lapse animation she took near the volcano Mount Bromo in Indonesia. The shots are lovely, as you'll see in a moment.
Advertisement

That very same day, about an hour or two later, I got an email from astrophotographer Thierry Legault, who was sending me several photos and a time-lapse animation he took near the volcano Mount Bromo in Indonesia. The shots are lovely, as you'll see in a moment.
Yup. Coincidence. They don't know each other, but they were both in that location around the same time, and shot remarkable images of the land- and skyscape.
There's no losing here; both are gorgeous. I love the shots of the volcano (Mount Semeru) venting steam as the stars whirl above it, and the lights from cars illuminating the fog below. If I saw such a scene in a movie I would have thought it fantasy! But it exists.
The image at the top of this post is from Hui Chieh. I'm so used to seeing star trails in the Northern Hemisphere, it took me a moment to realize that shows the south celestial pole! That's impossible to see north of the equator, but this scene is at a latitude of about -8°, just south of the equator, so the southern sky's pole is just barely above the horizon.
As for the coincidence, well, they happen. It's a big world, with countless things happening all the time. People who say, "I don't believe in coincidences" (usually in the movies, when it so happens that events were not coincidental) in general just don't have a good grasp of large number statistics. Given world enough, and time, unlikely events occur. Like having two world-class photographers send me pictures from the same spot at the same time. I'll take it.
The Ring Nebula, Still Mysterious After All These Years

Of all the planetary nebulae in the sky, none is more celebrated than M57, the Ring Nebula. Lying about 2,400 light years away toward the constellation of Lyra, it's bright enough to be seen in small telescopes, and when long exposures are taken, quite a lot of detail comes out.
Astrophotographer Rob Gendler knows his way around a digital astronomical image. He has been making a habit of creating incredible photographs using multiple observatories, both in space and on the ground, professional and amateur. He took observations from the Hubble Space Telescope, the Large Binocular Telescope, and the monster 8.2-meter Subaru telescope, and combined them to make a stunning image of the Ring. I literally gasped out loud when I saw this:
Advertisement

This extraordinary image combined visible light observations with ones taken in the infrared, well outside what our eyes can detect. Generally speaking the inner regions are emitting in visible, and the outer ones (shown in red) are infrared.
Back in the day, it was thought that the Ring was a simple shell, a thick soap bubble of gas cast off by a dying star, illuminated by the star's fierce ultraviolet emission. Over time, though, we've realized it's more complicated than that. Far more complicated.
Astronomers argue today over the details of the three-dimensional shape of this gas cloud. One group thinks the inner parts are barrel-shaped, and we're looking down the long axis. Another model is that the inner ring is a much squatter, flatter barrel shape, with elliptical lobes of material poking out the ends. Both models argue that the "flower petals" are lobes of material, like balloons, pointing in slightly different directions, and the very outermost ring is a thin spherical shell, probably gas that was originally outside the star that got snowplowed as the gas from the star expanded and slammed into it. If we could see the Ring from the side, it would look very different; more like the Ant Nebula or possibly M2-9.
It was fascinating to read those papers; I studied planetary nebulae for my master's degree (and in a limited extent for my Ph.D. as well). Determining their 3-D structures is maddeningly difficult, because we have limited information with which to figure them out. For example, looking end-on at an American football makes it look like a circle. Without knowing the angle we're viewing it from the real shape may be hard to ascertain. The same sort of thing happens with planetary nebula. You have to really examine subtle details to tease out what the nebula is actually doing.
But I love this! Here is one of the loveliest and best-examined objects in the sky, and yet we're still trying to figure out its exact shape. The thing is: We can. It's possible. We just have to keep using new methods to observe it, use all the tools we have to dissect it, and lay out all these pieces of evidence to reassemble them into a picture we can understand.
Images like Gendler's help this along, giving us a deep overview of the Ring. Over time, we'll get to know this gorgeous example of a dying star even better, and from there gain a better understanding of how stars like our own Sun will die. It's all part of science, and the joy of trying to grasp the Universe.