The entire universe in blog form
The Big Dipper Like You've Never Seen It Before
Rogelio Bernal Andreo is an astrophotographer. But calling him that seriously underplays what he does: He's an artist. His photos of the sky, especially the wide-angle ones covering entire constellations, are incredible. He made a portrait of Orion so magnificent that words fail me, but I did my best when I chose it as the top astronomy photograph of 2010.
Of course, Orion is an amazing target; it's loaded with stars, gas clouds, dark clouds, and other beasties of the night. But it turns out that Andreo is just as talented when it comes to what you might think is a more boring section of the sky: the Big Dipper.
Sure, when you see it here you can pick out the stars of the dipper and not much else. But that's because I had to shrink it a lot to fit the blog. The original full-resolution image is a staggering 7000 x 3074 pixels and is amazing. It's a 24-frame mosaic Andreo took in early summer 2011 in central California, where skies can get very dark.
I'd like to note first that, technically, the dipper isn't a constellation; it's an asterism, a close collection of stars that form a pattern. Constellations are bigger and are official, like the borders of states. The Big Dipper is actually part of Ursa Major, the big bear—the bowl of the dipper is the bear's haunches, and the handle is the tail (which is itself funny: Bears don't have tails). The asterism is near the north pole of the sky, so it's easily seen by anyone north of the Equator.
Interestingly, while the stars in the dipper don't form a proper constellation by themselves, most of them are actually physically associated! Except for Dubhe (at the far end of the bowl) and Alkaid (the tip of the handle), all the stars are part of the same cluster, called the Ursa Major cluster, and are moving through space together. The stars are all about 80 light years away, and are spread out over a trail some 30-light-years long. How about that?
Andreo's photo shows remarkable detail. Of course there are thousands of stars, but I was able to see dozens of galaxies as well. A few of them are quite famous, like the huge and beautiful M101, the Pinwheel Galaxy:
M101 hosted a bright supernova back in 2011, incidentally. Near the galaxy in the sky (though not in reality) is the planetary nebula M97, the Owl Nebula, which you can see to the galaxy's lower left. M101 is 25 million light years away, while the Owl is about 2500. The galaxy 10,000 times farther away!
As an avid sky watcher myself, I knew about those objects (and a few others, like the spiral galaxy M109). What surprised me was on the right, in the bowl of the dipper:
See that glow? That's very faint dust, called galactic cirrus (or less fancifully, an Integrated Flux nebula, which is pretty cool too). It's very common around the north celestial pole, but so dim it's unusual to see. Andreo's mosaic captured it beautifully. I knew the cirrus existed, but it had slipped my mind, so seeing it in the picture was a pleasant and interesting surprise.
And that, I suppose, is my point. I've seen the Big Dipper thousands of times, perused it by eye, with binoculars, and through a telescope. And yet, even in a wide-field picture like this, there are still treasures to be found there. Just because something is familiar doesn't necessarily mean you truly know it.
Tip o' the lens cap to another great astrophotographer, Brad Goldpaint.
How a Canadian River Fueled a Climate Change Denial Meme
Arctic sea ice is like the fabled canary in a coal mine when it comes to global warming. The far north is very sensitive to changes in climate, with temperatures that fluctuate more than the southerly latitudes.
The extent of (that is, area covered by) Arctic sea ice has been declining of late, as has its volume (which includes the thickness). This is true no matter what time of year you look; compare the maximum extent it reaches in winter today with what it was, say, 20 years ago and you can see it's smaller. The same is true for the minimum extent in summer. This steady melting away of ice is a clear indicator of a warming planet.
However, 2012 was an exception ... in that the amount of Arctic ice fairly well plummeted, dropping far below average. Why? Scientists think they've figured that out, at least partially. And not unexpectedly, when the ice shrank away, a denier claim grew.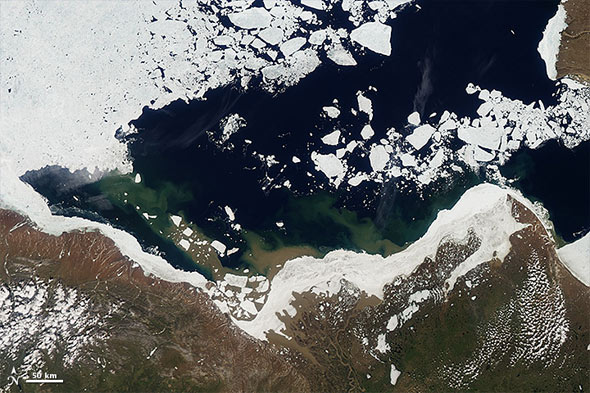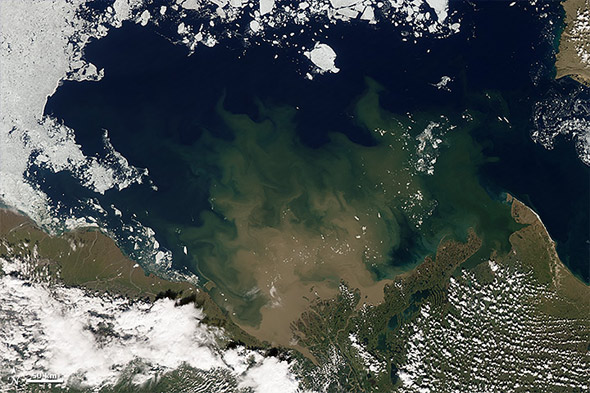 The images above are from NASA's Aqua satellite, and they show natural-color shots of the Mackenzie River in the Canadian Arctic. Flowing north, its delta leads to the Beaufort Sea, which has copious ice floating in it in the winter. The two pictures are shown with a slider bar in between; move it back and forth to see the "before" shot (taken on June 14, 2012) and the "after" shot (taken on July 5, 2012) (Note: If you are using a mobile device you may see the images stacked vertically with no slider. If no images appear at all, click here to see them.)
In the "before" picture (moving the slider all the way to the right), you can see lots of ice in the water. Note, though, the ice piled up along the coastline. You can see the muddy water pooling in fingers stretching toward the water. That ice acted as a dam, holding the water back.
In the "after" picture (slider to the left) the dam is gone, and you can see the river water infiltrating the sea—the brown swirls are sediment washing out into the sea. Sometime in the intervening weeks the warm river water melted the ice dam and broke through, flooding the sea. This sudden infiltration of warm water raised the temperature of the sea considerably, melted the ice floating beyond.
Aqua has detectors that can see in the thermal infrared, which allows the surface temperature of the water to be taken. Here is the same region, this time showing the temperatures before and after the flood.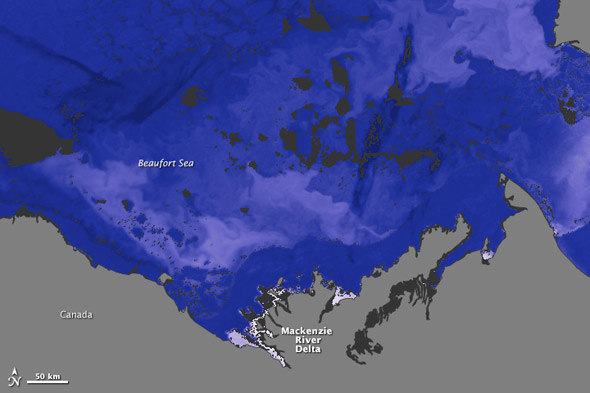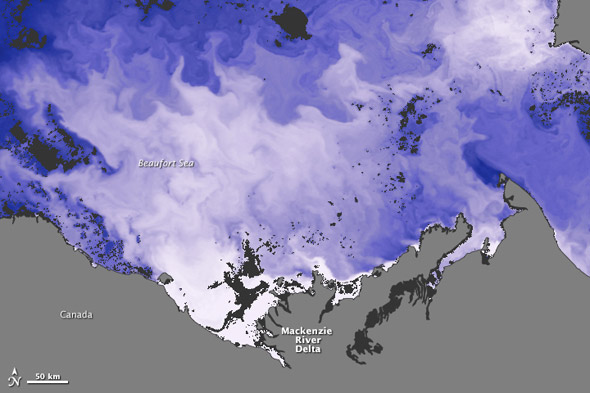 (Click here if you don't see the images.) The darkest blue is cold water/ice at about -2° C, and white/lavender is +15° C. As you can see, in just a few weeks the temperature went up substantially; in some places it went up about 15° Celsius, a huge increase in thermal energy; by my rough calculations it would far, far exceed the energy released by a nuclear weapon.
No wonder that ice melted.
That's why 2012 saw record low ice in the Arctic. The next year, things were more normal, and the ice extent and volume were more like they had been in previous years.
Incidentally, the waters in the Mackenzie (and other Canadian rivers) are warming up due to global warming as well. Coupled with thinning ice also due to warming, this water is breaking up the ice more efficiently than in previous years, which may be the overall reason ice is disappearing from the far north (incidentally, there are no rivers flowing into the Antarctic region, so the ice there is not affected in this way).
Rivers are efficient conveyors of heat, it turns out; just another piece of the huge and complicated puzzle that is global warming. Scientists studying these effects are finding more and more ways these pieces all fit together, which is a good thing. The more we understand how the planet is heating up, the better we'll be at predicting what will happen, and how we'll have to deal with it.
[Correction (Mar. 7, 2014): Due to an error in the original press release, I wrote that the temperatures were measured using microwave detectors. In actuality the maps above were generated using thermal infrared detectors on Aqua.]
Another Year, Another Set of Bizarre Cuts to NASA's Budget
Every year, when NASA releases its White House budget request, I open the report with dread. Will it show that things are roughly the same as last year, or will there be more bad news, with slashes and cuts to vital programs?
And this year, like every other, I read it to find … both.
The Fiscal Year 2015 NASA budgetary request is hammered out by the White House with input from the space agency. It is a request; it's not final. Congress must put together its own budget, and then the two are thrown into a pit to see what can be agreed upon, what can be reconciled, and what compromises can be found. Think of it as a baseline for the actual budget which will hopefully be finalized later this year.
As usual, from what I can see, there's good news and bad news in this. The real bad news is that the good news is only so-so, and the worse news is that the bad news is pretty bad.
In these maddening economic times, small cuts can be considered victories. In 2014 NASA got a total of $17.646 billion. The 2015 request is for $17.460 billion, a reduction of $186 million dollars, or about a 1 percent cut. That could've been worse. As we'll see, though, it's where those cuts are going that are bad.
First, the (for a sufficiently broad definition of "good") Good News
Some areas got more money, like Space Technology. That includes tech that will help the proposed asteroid retrieval mission. I have misgivings about this mission; the goal isn't yet clear, nor the source of the estimated $2.6 billion it will cost in total. The development of the tech needed for it will be useful no matter what, which is fine, but I still fear NASA will have to cut other missions to fund this one.
Commercial Spaceflight will see an increase of more than $150 million to a total of $848 million. That includes buying launches from commercial companies like SpaceX, and I'm all for that. That comes with a $300 million reduction to the Exploration Systems Development, the category that includes developing the Orion crew capsule and the Space Launch System, the next-generation rocket. I am not a big fan of the SLS, since I don't think it pushes boundaries like NASA should be doing; these types of capabilities may be better handled by private companies that can do so more cheaply, motivated by NASA funding (interestingly, former NASA Deputy Administrator Lori Garver has reportedly had similar doubts about SLS). This is a complex political football, though. Still, I have no doubt this will continue to get a large chunk of funding for the next few years.
Other projects got modest increases, including Heliophysics (yay; studying the Sun is important) and a few others. I'm happy to see some funding to look into a new Europa mission as well; we definitely need to go there!
But then there's the bad news.
But the one that really gets me, the one that is appalling, is the cut to Education: It will see a devastating reduction in funding of nearly $28 million, dropping to $89 million if this budget is passed as is. That's nearly a 24 percent drop.
This is madness. I can't brand it any other way. One of NASA's shining triumphs is public advocacy, from creating educational products to garnering public interest in the overall mission of exploring the Universe. This cut seems to align with the bizarre notion of taking the educational efforts away from NASA and giving it to outside museums and the Department of Education. These are excellent groups, to be sure, but there is a wealth of experience in NASA's Education and Public Outreach groups, hard-won over the past decade or so. I was involved with that, so I have first-hand knowledge; mission-specific E/PO with cooperation between those missions was working pretty well. There's no need to change this and to my knowledge no one in NASA asked for it. It was simply decided from above. I think that's a big mistake.
Giving a Hair Cut to a Bald Man
Again, let me remind you that this is a budget request. Congress will have a different budget for NASA, one that will hopefully restore some of the cuts. Congress-critters have wisely fought for more money in planetary exploration (NASA's highest-profile space missions in many ways), so there may be hope yet. Every year, watching this process unfold is like watching a car crash in slow motion.
To give you a sense of scale, take a one dollar bill, and a pair of scissors. They'd better be sharp: Slice off a sliver just 0.7 mm wide off the end—that's about 1/40th of an inch. That's the total amount of NASA's budget compared with what we spend overall. A slice that narrow won't even reach the ink printing on the bill.
That's what we're fighting over here, a razor-thin piece of the budget so small it's dwarfed by the amount of money underreported to the IRS every year (by a LOT). It's like running out of room on your hard drive and spending hours deleting a 4 KB text file, when there's a directory filled with honking big 4 GB movies you'll never watch again eating up space.
And to mix a metaphor, starving space is what we're doing. NASA's budget is so very, very small, and yet what it does with it is amazing. We have spacecraft orbiting Saturn and Mercury and sitting (or roving!) upon the surfaces of the Moon and Mars. We're studying our own planet, finding thousands of others, mapping the Universe to the very edge of what we can see. We're learning about weather systems and our climate, putting humans into orbit to see what we can do there, and exploring everything up, down, and in between. And we get the chance and honor to let people know all about it.
It's a common joke on the 'Net to say we live in the future. But look again at what NASA does, and tell me we don't.
We can have all that, and so much more, for just a small fraction of the edge of the border on the side of a dollar bill. A sliver that buys us the Universe.
Why are we slicing it even more?
The Cycle of Life, From a Caterpillar to a Galaxy
I once saw a caterpillar that looked just like the picture above. And despite the somewhat staggering difference in scale, they have something else in common besides shape: They're both decent metaphors for life cycles.
What you're seeing in that remarkable shot is the galaxy M82, the host of the recent supernova SN 2014J. This picture was taken before that star blew up, though. M82 is a starburst galaxy, undergoing a huge wave of star birth. It's producing something like 10 times the mass of the Sun of stars every year, many times what's happening in our own Milky Way. Astronomers measure star formation rate in terms of the Sun's mass, not number of stars, because the mass is easier to determine; a solar mass of material can create one star like the Sun, or many smaller red dwarf stars that are dim and hard to count (or a fraction of a big, hot star).
The image was taken by the Very Large Array, which detects radio waves, a low energy form of light. It focused on the inner region of M82, about 5'000 light years across (the entire galaxy is about 40,000 light years in diameter). This is where most of the star formation is occurring, and the fierce light of all these stars, born over the past 50 million years, is blasting out gas and dust from the galaxy's core. What you're seeing here is fast-moving gas moving outward, as well as light emitted by electrons spinning madly around the strong magnetic fields of the material there.
It really does look like a wave of material moving outward, which matches the view seen from optical telescopes, like the one here. That's material getting flung away by the activity in the galaxy's heart.
The bright dots in the radio image are a mix of gas clouds furiously forming stars and old supernovae that blew up long ago.
And that's where this galaxy and my caterpillar overlap. In a galaxy like M82 (or ours for that matter), gas clouds form stars. Some of these are high mass, hot stars, which live short lives and explode. In their cores are heavier elements like iron, calcium, oxygen, and more, which get scattered into space by the explosion. This material slams into other gas clouds, which then form more stars, seeded with these heavy elements.
This happened in the Milky Way billions of years ago, and those elements from some long-dead star made their way into you. Your bones, your teeth, your blood, your very DNA have elements in them forged in the heart of a mighty star that violently tore itself to bits so that eventually you may live. It is a transformation on a literally cosmic scale.
I should hope the metaphorical metamorphosis is obvious enough. The only constant in the Universe is change, and much of it is a cycle. Birth, life, death, restructuring, and rebirth. That is also the theme of much of human art, from paintings and movies to myths and great novels.
Some say science is cold, dealing unemotionally with hard data. But that's far from the reality. Humanity and life are reflected in the stars, and the Universe itself is poetry.
Federation Scum Is Attacking Mars!
What's the last thing a Romulan commander sees on their tactical screen before a volley of phasers turns them into space vapor?
That's not a bunch of Federation symbols flying across some alien world. Well, it is an alien world, but it's not in the distant reaches of the Alpha Quadrant: That's Mars, and those are actually sand dunes, seen by the HiRISE camera on board the Mars Reconnaissance Orbiter.
Technically, they're called barchan dunes. They can form when the wind blows predominantly from one direction. If there's an obstacle, like a big rock or small hill, the wind will blow around the obstacle, the same way water flows around a rock. Sand will pile up on the leading edge and also be swept around to the backside. Eddies in the wind create circular currents on the downwind side, building up walls of sand on the sides and creating that horseshoe crab-like appearance.
Eventually, you get a long, shallow slope leading to a crest, a sharp edge, then a steeper slope downwind. The wind supports the sand from rolling back down the upwind side, but downwind the sand is free to roll down, creating a steeper slope. The long arms leading downwind are due to the eddies in the wind behind the obstacle. Once formed, these dunes can actually move as a piece; the sand rolls up the shallow slope and then down the steep one, keeping the overall shape of the dune even though the individual sand grains change. In that way, it's very much like a traffic jam on a highway, which persists and can move even as individual cars enter and leave it.
Time-Lapse Video: Stars That Fell As Snow
I do enjoy watching the odd time-lapse video of the sky or two, and I love sharing them with y'all as well. Many are beautiful, of course, and that's reason enough to spread the word. They encourage people to go outside and look up, and I hope by now you know how I feel about that!
But these highly sped-up animations show us the motions of the sky we miss in our 60-seconds-to-the-minute lives. It's only when the heavens are accelerated that some things pop out, and it's worth noting them.
Lovely, isn't it? You can see halos around the Moon, light pillars, and other beautiful phenomena. (I love the snow on the ground sparkling and twinkling as the flakes reflect the moving moonlight.) But that's not what I want to bring to your attention.
At 1:31, a sequence starts showing Orion sliding past the silhouette of a house. It's very nice, but there are two hidden secrets in it. Did you see them?
Let me help. To the left of Orion and near the top of the frame is the bright star Procyon (the brighter star Sirius is below it—at the top of this post is a picture from the video, and Procyon is the star at the top left). Restart the video at 1:31 and keep your eyes on Procyon as it moves left to right.
Did you see it that time? There is what looks like a star just below Procyon, and it suddenly appears, gets brighter, then fades. Replay it again if you need to. Did you notice anything else odd about it?
The "star" doesn't move with the other stars! It seems to sit tight in the sky. That's because it's not a star, it's a geostationary satellite. These are satellites launched into special orbits that are about 36,000 kilometers (22,000 miles) up. At that height, they orbit the Earth once every 24 hours, the same as the rotation rate of the Earth. Because of that, they appear to stay more or less glued to the sky, while the stars slide past them (from their point of view the Earth looks like it's not spinning below, so they're always over the same spot on our planet, making them useful for weather observations and communications).
I suspect the satellite gets brighter and fades because it's reflecting either sunlight or moonlight off its solar panels, and as the angle changes we see that reflected light pass over us. Usually they're pretty faint and hard to see.
I mentioned there's a second secret: It's a second geostationary satellite! Just before the bright one appears under Procyon, there's another one to the left of it, at the tip of a tree branch. At first I thought it was the branch, maybe reflecting some ambient light. But after watching it a few times I'm pretty sure it's another satellite.
Incidentally, these satellites generally have orbits that are very nearly directly over the Equator. Both of the objects in the video are in fact in the part of the sky corresponding to that position (the "celestial equator") so that adds credence to my hypothesis.
And there you go! Like I said, in a time-lapse video there are things that can appear and make themselves known that you would otherwise be totally in the dark about. Hidden away in the sky, there's knowledge and beauty and science and fun.
But that's redundant, isn't it?
Milky Meteor
Sometimes, you just need a little flash of inspiration to make your day go a bit better. Even if that flash is caused by a chunk of space rock the size of a grape slamming into Earth's atmosphere at 50,000 miles per hour and converting its considerable kinetic energy into light and heat in mere seconds.
Astrophotographer Mark Gee was about 20 minutes outside of Wellington, New Zealand, capturing the Milky Way rising over the ocean when that bit of cosmic debris made its showy demise. Normally, this would have been a lovely shot of the center of our galaxy with Antares glowing orange and various gas clouds dotting the stream of stars. But as chance would have it our planet was in the right place at the right time to intersect that small rock, and Gee was also at the right place and the right time to capture it on his camera.
Found Opportunity
It's actually rather amazing what you can see from orbit. Once you're off the ground, above it, your perspective changes, and you can put things in context. Signs of civilization can shrink down to almost nothing compared with the glory of nature, making them difficult to spot.
For example, peruse this image taken by a satellite:
Can you even see any signs of human activity there on the surface?
Oh, wait a second. My apologies. I forgot to mention: That's not the surface of Earth … it's the surface of Mars. And the signs of humanity you see there are really just a single sign.
Can you spot that blip right in the center? That's the Mars rover Opportunity!
It's only about 2.3 x 1.6 meters (7.5 x 5.2 feet) in size, so it's just a few pixels across as seen by the HiRISE camera on the Mars Reconnaissance Orbiter. If the scientists and engineers programming the probe didn't know exactly where Opportunity was, it would be impossible to find! But we know exactly where all our working hardware is on Mars, and we know exactly where the orbiting cameras point, making it far simpler to get pictures of the land-bound rovers.
Opportunity is seen here at what's called Solander Point, where it found that odd rock nicknamed the "jelly doughnut." The rock suddenly appeared next to the rover, when earlier images taken by Opportunity showed bare ground. That was quite a mystery, but it's now pretty clear that the rock was a piece of a larger one broken off by one of the rover's wheels. Images like this one from HiRISE are pretty useful when things like this happen; it shows no fresh craters nearby, making it unlikely the rock was ejected by a small impact.
But for those of us back home who don't study Mars for a living (and, I'd wager, even for those who do), images like this are still a thrill. As my friend Emily Lakdawalla puts it, "Seeing a spacecraft on the surface of a planet from another spacecraft never gets old."
She's right. It's a great reminder that we humans are amazing when we want to be. We can, in a short time, go from creating myths about lights in the sky to landing on them and discovering their truths for ourselves.
A Monster Star Plows Through the Galaxy? Shocking.
Correction, March 6, 2014: Well, this will take a moment to explain.
In the article below, I wrote that the star Kappa Cas is moving through the galaxy at a stunning 1,100 km/sec. This turns out to be incorrect: The speed of the stellar wind blowing off its surface is that fast, but the star itself is moving far more slowly.
So why is there an arc of material compressed next to it instead of a more spherical shell of dust? The speed of the star is very small compared to the wind speed, so I'm guessing the dusty material the star's wind is ramming is not evenly distributed. Note that the overall shape is more like part of a sphere as opposed to a bow wave, so this seems likely. Funny, too: When I read the press release I looked for journal papers on the star and found none (Pakull did mention one, which has some relevant numbers for the star). That's surprising if it really is a runaway star, so now that anomaly makes more sense. Everything else I wrote below is correct, but note that the parts about it being a runaway are almost certainly incorrect. And also? It's still gorgeous.
When you look up at the sky, you'd be forgiven to think that the stars are motionless, frozen in time, mounted on the velvet vault of the heavens.
But in fact they are in motion, orbiting the center of our galaxy much like the planets orbit the Sun. The Sun itself, for example, is moving along at roughly 200 kilometers per second (450,000 mph). Some orbit a lot faster.
Take Kappa Cassiopeiae, for example. It's what's called a runaway star, screaming through space at a terrifying 1,100 kilometers per second … 2.5 million miles per hour! As it happens, it's also a blue supergiant, a massive, hot star. These kinds of stars tend to blow out a fast wind of subatomic particles, like the solar wind on steroids. As the star plows through space, its wind rams into the material around it, creating a vast shock wave like air off the nose of a supersonic fighter jet. It's invisible to the eye, but when you point an infrared telescope like Spitzer at it, you get stunning beauty:
How about that? Kappa Cas is the blue star in the center, and you can see the material arcing around it, snowplowed by the fierce interaction of the star and its surroundings. This image is infrared, which means the colors aren't "real"; blue is a combination of light at 3.6 and 4.5 microns (five and six times the wavelength of the reddest light the human eye can see), green is from 12 microns, and red is 24 microns. What you see as red is dust that floats between the stars, and green is from complex particles very much like soot (created by stars both when they are born and when they die). In Spitzer images, stars tend to look blue because they give off most of their light toward that end of the spectrum.
The Sun is also moving through interstellar material, but the effect is nowhere near as profound as that from Kappa Cas. But then the wind from Kappa Cas is millions of times more powerful than the Sun's and is blowing outward several times faster. Add that to the already incredible speed of the star, and you get a bow shock that's a mind-crushing four light years ahead of the star: 40 trillion kilometers. That's the same distance as the nearest star from the Sun, so you can see the influence of Kappa Cas extends a long, long way.
This raises the question: Just why is Kappa Cas on the run? There are a few ways stars can get accelerated to such high velocities. One is if they started out life as a binary, two stars locked in a tight orbit. If the other star exploded as a supernova, the two stars lose their grip on each other, and the angular momentum can fling them both away at high speed, just like a slingshot. Another possibility is that Kappa Cas was born in a cluster of a stars, and a close encounter with a pair of stars in the cluster gave it a kick sufficient to fling it out and into interstellar space.
Kappa Cas is actually bright enough to see with the naked eye; it's a fourth magnitude star in the W of Cassiopeia. Better take a look while you can, though; being a blue supergiant, Kappa Cas doesn't have long to live. Even though it has something like 40 times the Sun's mass, it burns through its nuclear fuel at a far faster rate, shortening its lifespan considerably. Someday, perhaps in the next few hundred thousand years or less, it will explode. It's 4,000 light years away, so we're safe, but it'll get really bright when it goes, getting far brighter than Venus in the sky. What a sight that will be!