The entire universe in blog form
Geminid Meteors Peak Tonight!
If you're looking for a way to see an amazing sight while simultaneously freezing your butt off, do I have the meteor shower for you: the Geminids!
This annual shower peaks tonight, when there should be very roughly 100 meteors per hour. However, the Moon doesn't set until after about 3 a.m. local time, so it'll wash out the fainter meteors unless you stay up very late. You probably won't see that many, but certainly a dozen or more an hour isn't too much to hope for.

Watching a shower is pretty easy; all you have to do is go outside, look up, and be patient. Shooting stars are somewhat random, so you might not see any for a few minutes, then you'll see three in a row. The longer you wait, the more you'll see.
But there are some things you should know. I wrote a guide to meteor shower watching, and I've adapted it for the Geminids tonight. If you have clear, open skies, and follow the instructions below you, should have a celestial event to remember!
(Yes, I'm starting with 0, because this one supersedes the others.) The Geminid meteor shower this year peaks around 06:00-07:00 UTC (1 a.m.-2 a.m. EST). You'll see some earlier than that, but not many. In general, meteor showers are best after local midnight (literally, halfway from sunset to sunrise) because that's when the Earth is facing into the oncoming meteors (like seeing more rain hitting your front windshield when you're driving in a storm). Also, the Moon sets later so being out later means darker skies.
This is the biggest consideration. Meteors appear in random spots on the sky and can go from horizon to horizon. The more sky you can see, the more meteors you'll see. Try to avoid nearby buildings, trees, and so on.
If you trace the path of the meteors backward, they will appear to radiate from one point in the sky, located in the constellation Gemini (hence the shower name). This is the same effect as when you're driving a car through a tunnel and the lights on the walls and ceiling appear to come from the point ahead of you. A good view of Gemini will again up the odds of seeing more meteors. If you can find Orion, Gemini is to his upper left (for folks in the northern hemisphere).
No matter what, a big wide view is your best bet.
Meteors are generally not terribly bright. A few can be blazing, but most are about as bright as your average star, so you want to be away from lights. Your backyard might be fine, but make sure street lights are blocked and your house lights are off.
Once you're outside, it takes about 20 minutes for your eyes to get fully adapted to the dark—your pupils dilate, letting in more light, and your eye produces a light-sensitive protein called rhodopsin. Both of these take time to fully kick in. So don't be disappointed if you see very few or no meteors right away. White light will bleach the rhodopsin, by the way, so if you need some light, use a flashlight with red cellophane covering the front. That will preserve your night vision.
You need to be able to see a lot of the sky for minutes or hours, so you want to be comfortable. A chaise lounge or a folding beach recliner is a big plus. You can lie on the ground with a blanket if you want, but comfort is important if you're going to be out for a while. The ground tends to be cold at night and wet too. Which reminds me ...
Hello, it's December, and that means it'll be cold. You won't be moving much, either, so you won't be generating much heat. Also, I strongly recommend ...
You lose a lot of your body heat through your head, so a hat helps a lot. Plus, if you have a nearby street light, you can position your hat to block it. I've done that and it works! If you are hirsutely challenged as I am, this is a must.
I recommend not using a telescope. Why not? Telescopes see only a small part of the sky, and meteors appear in random spots. I guarantee the best meteor of the night will happen while you are stooped over an eyepiece, and you'll miss it. However, Jupiter is well positioned for viewing, so this is as good a chance as any to do some observing, and I hate to tell people to not take advantage of a nice night! But be prepared to hear everyone else gasp and then mock you for missing the best meteor evah.
Binoculars are better. You can scan the sky, look for interesting things, and still be able to look around quickly if a bright meteor appears.
Hey, you're outside! Why not get familiar with the sky? You can find charts at local bookstores and online if you do a little searching. Orion, Gemini, Taurus, the Pleiades ... this is a fine time of year to be out looking for cosmic landmarks.
Oh boy, is this one important. It's after midnight, you're lying down, snuggled in a blanket, it's dark, and your eyes are focused on infinity. You start daydreaming a bit ... and the next thing you know, the Sun is rising and you're covered in frostbite.
Take a nap this afternoon if you want.
10) Friends, Family, Neighbors
Having other folks with you will help you stay awake, and honestly, the joy and beauty of a meteor shower is best shared. One of my favorite times ever with The Little Astronomer was watching the Leonids shower many years ago. She had a blast, and not just because she got to stay up until 3 a.m. with her dad ... but then again, that's a big part of it, too.
11) An Appreciation of What You Are Seeing
Read up on meteor showers, what they are, what we've learned from them. The Geminids are debris from an asteroid called 3200 Phaethon, which sometimes acts a bit like a comet (every other shower comes from debris sloughed off by comets). Asteroids orbit the Sun for billions of years, and you're seeing tiny parts of them—most no bigger than a grain of sand—as they slam into our atmosphere a hundred kilometers above you at speeds of up to 40 kilometers per second. How cool is that?
This may be the best thing to bring, and the easiest. Meteor showers are simply wonderful. It's a cosmic show, and it's free, and it's very, very cool.
Brushstrokes of Impact
Astronomy and art are strongly intertwined.
Perhaps art is just a way we interpret input to our brains; sound as music, light as images, chemistry as taste and smell. I think that may be a bit too reductive, but still, it's difficult to argue that we must separate art and science when you see pictures like this: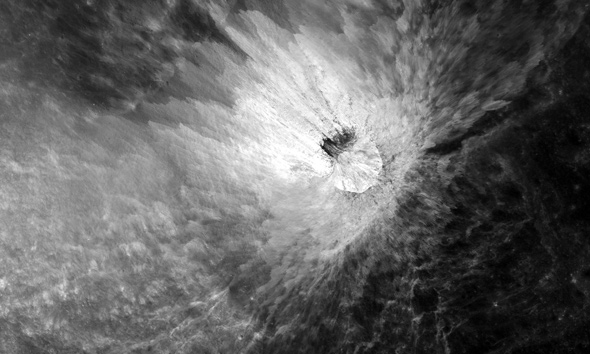 The splashy pattern is, in fact, a splash pattern! When the small asteroid or comet that created this crater slammed into the Moon, a lot of material (called ejecta) was blown out. Material at different depths has different compositions, which is probably why you see the different shades of gray through the ejecta; plumes of material were thrown out and overlaid each other to create that pattern. As formations like this age they change color too (exposure to sunlight and micrometeorite impacts over billions of years can do that), but the crater here is probably young. And by young, I mean tens or hundreds of millions of years old. Things change slowly on the Moon.
Normally, judging from the splash pattern, I'd guess the impactor came in from the lower right. But it turns out this isn't a flat surface: The darker region running diagonally from the bottom center to the upper right of the image is actually where the inner wall of Darwin C flattens out into the crater floor (the wall is on the right, the floor on the left). So the smaller, unnamed crater is actually on the floor of Darwin C but only a few hundred meters from the wall.
That makes it a bit harder to figure out what's what. The impact could have been vertical, but the wall of the bigger crater stopped the material from expanding to the right, so it all blew to the upper left. Note that the smaller crater is asymmetric; the rim is sharp on the right, but crumbly and overrun with debris on the left. I wonder … the left side of the small crater is facing the wall and would have caught the debris reflecting off it like the windshield of a car facing into the rain. The right hand side is tilted so that it would catch less of that debris. That's how it looks to me, at least, and I could be wrong.
I love this sort of thing, the speculating and sleuthing of events from a single picture of an alien world. I'm no expert, but it's fun, and to be honest I could probably sit and listen for hours to someone explaining all this stuff.
And it doesn't hurt at all that the pictures are just so overwhelmingly beautiful. This crater was born in violence and sculpted in chaos, but what has remained for countless eons is frozen beauty.
Europa Erupts! Possible Geyser of Water Seen on Jupiter's Moon
Using the Hubble Space Telescope, astronomers have seen evidence of a massive geyser of water erupting from the surface of Jupiter's icy moon Europa. This plume of water extends as high as 200 kilometers (about 125 miles) above the surface.
This is pretty amazing news. We've known for a while that Europa has liquid water under its surface, but this is the first direct evidence of it. Not only that, it changes how we think the water and surface interact. It's hard to say whether this makes it more likely that there are little Europan fishies swimming around down there, but it does mean it'll be easier to take a look.
(Note: The observations here strongly indicate this geyser exists—it's the best explanation for what's seen—but like everything in science, we can't be 100 percent sure. However, this observation looks pretty good to me. To make it easier to write and understand, from here on out I'll assume the geyser is real, but bear in mind there is some small uncertainty about it.)
First, a bit about the moon itself. Europa's roughly the same size as our own Moon, and very bright (you can see it easily with binoculars). Its surface is very reflective, so we've been pretty sure for some time it's icy. Probes sent to Jupiter (like Voyagers 1 and 2 and Galileo) confirmed this; detailed images of the moon show it has very few craters (indicating it resurfaces itself), there are wide and long cracks extending over its surface, and honestly it just looks like there are ice floes pushing and jostling against each other.
Europa's orbit around Jupiter is slightly elliptical. When it's closer to the gigantic planet, it feels more stress from its gravity, and when it's farther away, that stress is relieved. It also gets strained as the other big moons pass it in their orbits as well. All of this squeezing has heated up the interior of Europa, melting the ice. The surface is actually the top of a shell of ice floating over an undersurface ocean. We don't know how thick that shell is … but we estimate that Europa has more water on it than Earth does in its oceans! And at least some of that water has a means of getting up to the surface.
The geysers were discovered in observations from the Hubble Space Telescope (using, I'll note with pride, the Space Telescope Imaging Spectrograph, a camera I worked on for several years). Looking at ultraviolet light from Europa, a "hot spot" was seen near the moon's south pole. The exact wavelengths (colors) of the light showed that this bright spot was loaded with both hydrogen and oxygen—the constituent atoms in water.
The idea is that water erupting from Europa is exposed to space (Europa has no atmosphere). Jupiter has a ridiculously intense magnetic field, and electrons caught in that field are accelerated to high speed. These electrons slam into the water molecules from Europa, breaking them up into individual atoms of hydrogen and oxygen, which then reveal their presence by glowing in the ultraviolet.
Interestingly, earlier observations showed no trace of this light, and that actually supports the idea that this light is from a geyser. Why? Those older observations were taken when Europa was close to Jupiter, but the new observations were taken when Europa was farther away. This is critical: When the moon is close to Jupiter, the squeezing from the planet's gravity is maximized, and when it's farther away the squeezing is lowered. This means that any deep cracks in the surface are squeezed closed when Europa is near Jupiter and relaxed, opened up, when it's farther away. If water from the subsurface ocean were to escape through cracks, it would be when they're open. So these observations precisely fit the idea that this is what we're seeing.
We need more observations of this to confirm it, but the data taken are extremely compelling, and a geyser of water erupting from the surface is the simplest explanation.
How much water are we talking about here? Given the amount of hydrogen and oxygen seen, the scientists estimate that a staggering 7 tons of water are erupting from this geyser every second. The force behind the eruption is huge: The plume reaches 200 km (about 125 miles) high, with the water screaming out at 700 meters per second—more than 1,500 miles per hour, three times faster than a passenger jet!
As it happens, we know of another moon with geysers: Saturn's moon Enceladus. Europa is much larger than Enceladus (3,100 km versus 500 km) and so has much stronger gravity. That means that for a given speed for the water, the plume won't stretch as high on Europa as it would on Enceladus.
Still, it's worth comparing. On Enceladus, the plumes are higher, reaching 500 km (about 310 miles) off the surface, move more slowly at 300–500 meters per second (700–1,100 mph), and only out pump about 200 kilograms (about 450 pounds) of water per second. Because of Enceladus' lower gravity, some of that material escapes from the moon into space. For Europa, with its stronger gravity, the material falls back to the surface where it freezes.
The geysers on Enceladus are also at the moon's south pole—stress from Saturn's gravity is strongest there, just as stress from Jupiter is strongest at Europa's poles—and dozens have been found along long cracks colloquially called tiger stripes. The Cassini spacecraft has been orbiting Saturn for nearly a decade, and we have fantastic high-resolution images of Enceladus, allowing us to identify the regions in the cracks where the geysers originate.
With Europa, we don't have the same sort of maps. This may be one plume or many close together. We most likely won't know for some time, until we can get more spacecraft orbiting Jupiter once again (like the planned ESA Jupiter Icy Moons Explorer mission).
Be Fruitful, and Multiply
Of course, this naturally brings up the question of life. Water is a great molecule if you want to live: It stays liquid across a broad range of temperatures, lots of things dissolve in it (making it a good vehicle to transport nutrients), it can protect fragile biological molecules from harsh radiation (which is abundant near Jupiter), and more. For life as we know it, water is the elixir needed.
So just the presence of water under Europa's surface is exciting. But life also needs energy, and it needs raw materials. The fact that these geysers exist shows that plenty of energy is being pumped into the moon; it takes substantial power to blast water that high off the surface. It also indicates the surface and the ocean underneath interact with each other, which means raw material for life are available. Jupiter's fierce magnetic field produces radiation, which reacts with molecules on the surface of Europa to create simple organic compounds. We also think such material has been brought to the moon by asteroid and comet impacts over the ages. If this stuff can get to the water underneath, then we have all the necessary ingredients for life to arise.
Also, these geysers have a more direct impact on us as well: This means the water is more easily accessible from the surface. If we want to explore Europa's ocean and look for life, we have to get to that water, which means drilling or melting our way down through what could be a shell of rock-hard ice kilometers thick. But now we know there is a pre-existing path to that ocean. Any probe we send can take advantage of that and save a lot of effort. It could even sample the water that gets to the surface without having to get underneath it at all.
Attempt No Landings There? Sorry, Dave, I'm Afraid I Can't Do That
One of the defining goals of our human curiosity is trying to find out if we are alone. We're just now starting to get a handle on that, finding planets around other stars, understanding the chemistry and conditions needed for life to arise, having the actual ability to go and search the nearby worlds around us. Our endeavors to explore the Universe, find our place in it, and seek out life are among the noblest and most exciting things we humans do.
And now our odds of this have gone up. Slightly, perhaps, but I'll take it. Mars is close by, relatively speaking, and we know it once had liquid water on it. We don't know if it still does, but if life ever existed there, it may have been long ago. Enceladus has liquid water, but it's much farther away. That means it takes longer to get there, and it's harder to launch the heavier equipment needed to analyze it.
Europa is closer. It's not exactly around the corner, but still well within our grasp. If these observations of a geyser on this moon are verified, then we have another juicy target at which we can aim our curiosity. I want to explore all these worlds, our solar system from inside out, but Europa just moved up a notch or two on the list.
Not long ago, a trip to Europa was firmly in the territory of science fiction. In a few years, it may have to transition to the textbooks.
Time-Lapse: Into the Atmosphere
Michael Shainblum is a photographer who makes exceptional time-lapse videos. His video "Existence" was spectacular, mixing the contrasts of urban and natural settings to great effect. Plus he turned me on to Daft Punk's Tron Legacy soundtrack.
I was very excited when my pal (and accomplished photographer himself) Brad Goldpaint posted on Facebook that Shainblum had another video out. Called "Into the Atmosphere", it does not disappoint.
You know the drill. Full screen. High-res. Volume up.
Yegads. The scenery! The colors! I like the music, too.
One of my favorite things to see in these sorts of videos is contrasting motion; the camera moving one way, the stars another. Shainblum uses this beautifully here, including clouds moving in yet another direction to give a dizzying sense of the interwoven motions of nature. When he cuts to different shots he mixes up light and dark, blues and reds, fast and slow apparent motion, and it somehow all comes together into a poem. When, at 2:30, the music swells up again, and he cuts to the Milky Way moving behind a natural stone arch, I actually choked up a bit.
And as satisfying as it is to see this, I have to admit I'm greedy. I already can't wait for what he makes next.
Katie Couric Apologizes for Anti-Vax Episode, but It's Not Enough
I was not alone in my view; all across the Net people criticized Couric for that unfair segment. I'm somewhat happy to now report that, to some extent, Couric listened. She has issued an apology and a follow-up both on the talk-show site and at Huffington Post (of all places!). However, while I'm pleased she listened, I still think she missed the boat.
Last week we devoted several segments on my TV talk show to the issues surrounding the HPV (human papillomavirus) vaccine. Learning about this relatively recent preventive measure is tremendously important, and I felt it was a subject well worth exploring. Following the show, and in fact before it even aired, there was criticism that the program was too anti-vaccine and anti-science, and in retrospect, some of that criticism was valid. We simply spent too much time on the serious adverse events that have been reported in very rare cases following the vaccine.
I have some problems with this. The biggest is simple, and one I said before: There is absolutely no evidence that the reactions reported by the two families had anything to do with the vaccination. So even saying "serious adverse events" links them to the vaccine. I would've been less unhappy if she had used the word "allegedly," but only a bit.
My reaction to her statement is exacerbated when she writes:
That's why we had two mothers on the show who reported adverse reactions after their daughters had been vaccinated for HPV. One could hardly get out of bed for three years, and the other tragically died. There is no definitive proof that these two situations were related to the vaccine.
While this is closer to the mark, it's still the wrong attitude. It's not that there's no definitive proof; there's no evidence at all. As I wrote in my other post on this, what the women experienced happened after they got the vaccines, but that does not tie the experience to the vaccines. The way Couric phrased this, it still seems like the burden of proof is on the people who support the vaccine, not the people who make the claims against it. That's totally backwards.
I'm glad Couric understands that the segment spent far too much time talking about the claims of adverse effects, but I strongly suspect she still hasn't gotten to the core of my own problem with her segment: that she gave any time at all to anti-vaxxers. Given what Seth Mnookin wrote about this—the producers of the show understood the reality and need for vaccinations, and initially claimed they wanted to inform people who still incorrectly think vaccines are linked to autism—the final segment aired is even more troublesome. Even though she did have a doctor taking the side of evidence-based medicine and promoting the vaccine, there was no real counter to the anti-vax ideas being promulgated.
So let me be clear: I'm happy Couric apologized for the segment after listening to the criticism, but given her phrasing, I'm not sure she really understood what some of the criticism meant. And it comes too late anyway; the episode aired and the damage has been done. I'd be much happier if she now moved forward and did another segment about the benefits of vaccination, but judging from the last paragraph of her article on the show site, it doesn't look like she plans to.
That's too bad. She and her producers may have done lasting damage to the health of many people who, after watching her program, will now be frightened into opting out of getting a vaccine that has wonderful benefits and extremely low risk.
Titan Has A Pupik!
When you take a picture of an object, a funny thing happens: The three dimensions of the actual scene are reduced to two, and you lose perspective. Distance is flattened, so for example two things at very different distances can look right on top of each other.
It also makes spheres look like flat circles, which can be confusing. If you want to figure out what's going on, you need to look at clues in the picture itself.
Titan is the largest moon of Saturn, and has a thick nitrogen atmosphere. At Titan's south pole there is what's called a vortex, an oval-shaped stream of air that circulates above the moon's thick, hazy upper atmosphere. The Cassini spacecraft has observed it many times, even allowing the creation of a way-cool animation of it swirling.
But how do we know it sits above the haze, and not right on it? Because of pictures like this:
Cassini was flying over the south pole of Titan when it took this shot on July 14, 2013. You can see the vortex as a crescent, lit from the side, and it's located well into Titan's night side. That means it must be up higher than the surrounding material — it's still illuminated by the Sun, while the lower material isn't. It's like seeing the top of a mountain in the west lit by the rising Sun while the base of the mountain is still shrouded in darkness.
I love pictures like this, which reveal information for free just by thinking about them a little. And besides, who knew Titan had a belly button?
Reminder: Finding Asteroids Is Hard
At 11:17 UTC (6:17 a.m. EST) today, the asteroid 2013 XY8 passed the Earth at a distance of just 760,000 kilometers (470,000 miles), less than twice the distance to the Moon. It orbits the Sun every 3.3 years, swinging out about halfway to Jupiter's orbit, and coming in to just inside Earth's orbit. There's no danger from an impact from this space rock this time, and current data show it won't come near the Earth again until 2072.
But XY8 is a good reminder that there are lots of asteroids out there, and we need to find them. And it's also a good reminder that finding them isn't all that easy.
[UPDATE (Dec 11., 2013 at 15:00 UTC): The Virtual Telescope Project took enough pictures of XY8 as it passed us to create the dizzying video below of the asteroid speeding past us. Keep your eyes on the center of the video and you'll see XY8; the telescope tracked its motion so it looks like the stars are streaking past it.]

We can judge an asteroid's size from knowing its distance and how bright it appears to be. It also depends on how reflective it is; a shiny asteroid can be smaller and look as bright as one that's darker and bigger. On average, asteroids reflect about 4 percent of the light that hits them; using that number XY8 to calculate its size we get it's 30 – 70 meters across, or about the size of a basketball court on the lower end, and more than half a football field on the higher one.
Were that to hit the Earth — and again, it won't, but just suppose — it would be pretty bad. Remember, the Chelyabinsk asteroid which hit Russia in February 2013 was only 19 meters across! XY8 is 5 to 50 times more massive, so it would make a pretty decent bang.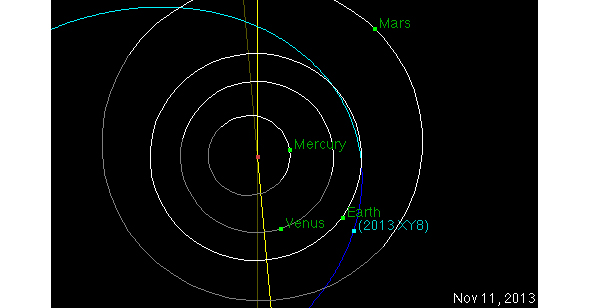 Why was it discovered so late? Because even though it's bigger than a house, it's far away, which makes it very faint. When it passed us at closest approach it peaked at a magnitude of about 14, less than a thousandth as bright as the faintest star you can see with the naked eye. And in asteroid terms, that's when it was pretty close by! It was even fainter when it was discovered by the Catalina Sky Survey.
Of all the things about asteroid impacts to fret over, this is what worries me the most: finding them in the first place. The bigger an asteroid is the bigger the impact, of course, but also the easier it is to find it in the first place. Bigger rocks are brighter, and we can see them more easily. The problem is that there's a size range on the small end where they still do damage when they hit us, but are simply too small to find until they're very close.

There are about a million asteroids of decent size that cross Earth's path, and we've only charted about 10,000. That may sound like a lot, but it's only 1 percent of what's out there.
We need more eyes on the sky! Part of the problem is that the sky is big, so you're looking for a needle in a cosmic haystack. Asteroids are faint, so we need bigger telescopes looking. And we need them in both hemispheres (observatories in the north can't see asteroids coming in from the deep south because the Earth is in the way; the reverse is true for southern observatories), as well as spread out over many longitudes so that we have search programs looking day and night. We also need space-based observatories to look in parts of the sky near the Sun, where ground-based telescopes can't look.
The good news is we're on this. NASA's NEOCam and the B612 Foundation's Sentinel are space-based observatories in the works. Both will look in the infrared where warm space rocks glow more brightly (and, I'll note, B612 has ideas of what to do if we find one headed our way).
The Pan-STARRS observatory is already on the hunt (it's found several asteroids and comets), and the LSST should be online in a few years as well. There are many other observatories looking for asteroids as well, so things aren't too bad.
But we can always use more. Asteroids are forever on the move, and one that is visible now may not be in a week, and won't return for decades. This is ongoing work, and for our own safety it's something that will never end.
Eternal vigilance is the price of freedom from going the way of the dinosaurs.
The Earth and Moon Dance in a Video Taken from Space
As it flew past our planet (much) faster than a speeding bullet, it took a series of images of Earth, which also happened to capture the Moon in its stately orbit around us. The resulting animation is really quite enthralling:
The camera that took the images is low-resolution, and not really designed to do this sort of work. Worse, the entire spacecraft spins twice per minute, meaning it could only snap the pictures to make the animation when the Earth rotated back into view. Even with that going against them, engineers managed to capture images of our planet and create the video.
My favorite part of this is actually the Moon: Note how dark and gray it looks. That's because it is. On average, the Moon reflects about 12 percent of the sunlight that hits it, while the Earth reflects closer to 40 percent. And while our planet is a lovely blue, the Moon is mostly gray rock.
Also, the video starts just when, from Juno's point of view, the Moon happened to be lined up near the Earth. It actually orbits Earth more than 100 times farther away than its own diameter! The Moon is 3474 km (2150 miles) across, and orbits 400,000 km (240,000 miles) away. That distance gets magnified as Juno zooms toward the pair, so the Moon slides off the field of view to the right, not to be seen again.
Juno's mission is to investigate the internal structure of Jupiter, which is difficult to do thanks to the planet's massively thick atmosphere. Juno has a mass of 3600 kilograms, which is too heavy for a rocket to simply fling it to Jupiter, so it had to pass the Earth to gain enough velocity relative to the Sun to boost it out. It will arrive at Jupiter on July 4, 2016.
Dancing at the Science Party
Do you read the Web comic Scenes From a Multiverse? It's kindofa dorky science science-fictiony panel comic, done by Jon Rosenberg.
The Nov. 18 strip, "Science Party," has some familiar characters in it:
(This only shows two of the four panels; click it to see the whole thing.)
It's true, too. I've been clear about that. Heck, I'd be the first politician in the history of the planet to at least be honest about it.
The Heartland Institute and the American Meteorological Society
They're pretty clear about it, too: The very first paragraph of the discussion section of the paper states (emphasis mine):
93% of actively publishing climate scientists indicated they are convinced that humans have contributed to global warming. Our findings also revealed that majorities of experts view human activity as the primary cause of recent climate change: 78% of climate experts actively publishing on climate change, 73% of all people actively publishing on climate change, and 62% of active publishers who mostly do not publish on climate change. These results, together with those of other similar studies, suggest high levels of expert consensus about human-caused climate change.
Yikes. That's pretty cut and dried, isn't it?
Interesting, isn't it? There are two things I'd like to point out:

1) It claims that 52 percent of AMS members believe global warming is real and human-induced, and 48 percent do not. However, not all AMS members study the climate, so they shouldn't necessarily be considered climatology experts. Reread the conclusions of the authors quoted above: The consensus among the experts surveyed is solid.
There's more, but I'll just point you to several other folks who tear apart Heartland's email, including John Abraham and Dana Nuccitelli at the Guardian, Denise Robbins at Media Matters, and Brian Angliss at Scholars and Rogues.
They aren't alone. Keith Seitter, the executive director of the AMS and paper co-author, felt so strongly that the email misrepresented the actual paper results that he issued a statement calling it "disturbing" and says, "The text of the e-mail reports results from the study far differently than I would, leaving an impression that is at odds with how I would characterize those results." In other words, what Heartland says about the survey results is not what the authors of the actual survey say. And remember, that comes from one of the co-authors of the paper.
James Taylor's interpretation of our study is wrong. We found high levels of expert consensus on human-caused climate change.
There's one more aspect about all this I find fascinating.

Science is about evidence, fair skepticism, and honest investigation into claims based on them. If climate science really is in such disarray as the deniers claims, then why do so many resort to misleading tactics so often? Why post misleading graphs, why cherry-pick data, why engage in egregious ad hominems, why send out emails about papers that say the opposite of what the paper actually concludes? If their claims are correct, then why even risk the perception of impropriety?
As AMS executive director Seitter put it,
A difference between the AMS and some organizations is the transparency and scientific integrity with which we operate. This survey was conducted to satisfy scientific curiosity on an important topic and the results are published for all to see. This is the way science is meant to work.