The entire universe in blog form
A Dragon Chases the Space Station
I post a lot of images taken with some pretty nice astronomical gear, from "amateur" telescopes up to multibillion dollar space observatories.
But it doesn't always take a lot of fancy equipment to get great shots. Sometimes it just takes a camera, a tripod, and a little foreknowledge.
Armed with just this, astronomer Bill Longo took the image above from his observatory outside Toronto. It's a stack of eight 30-second exposures for a total of four minutes using a Canon T3 camera and a 6.5mm lens.
It shows the night sky facing west, with the bright winter stars of Auriga and Gemini setting, with the amazingly bright planet Jupiter punctuating the twins' belly. And that bright streak seemingly bisecting Jupiter? Why, that's just the International Space Station moving across the sky, its 100-meter length reflecting sunlight down to Earth.
And if you look very carefully, just under the ISS trail is a much fainter one: That's the SpaceX Dragon capsule chasing down the station. This picture was taken on April 19, 2014, just hours before the private spaceship met up with ISS and was successfully grappled to its berthing point. Longo provides an annotated version of the picture that's helpful:
Imagine! Six astronauts from around the world are in that bright streak, and were about to grapple an American spacecraft using a robotic arm built in Canada, so they could bring aboard a new round of scientific experiments, food, and supplies for their stay on board a working space station that's been in orbit around our fair world for more than 5600 days. And it's bright enough to not only be seen from the ground, but easily seen, and photographed with equipment you can pick up at a local store.
You can keep your flying cars and hoverboards. We live in the future, now, and all you have to do to prove it is go outside look up.
Tip o' the lens cap to Bill Longo for sending me his photo.
Happy Easter SUN Day!
Today is Easter Sunday, a Christian holiday. It actually has a tie-in with astronomy, since it's celebrated on the first Sunday after the first full Moon after the March equinox. The equinox was March 20, and the full Moon was Monday (during the lunar eclipse, not so coincidentally), so here we are.
As is the case with most holidays in America, there's a secular component to it as well. In this case, the Easter Bunny (which originated in Germany, incidentally) started out with religious connotations, but now resembles more of a lagomorphic Santa Claus.
Whatever the origins, and whatever your beliefs, I think we can all agree that it's fun to bite the ears off a chocolate bunny first (and/or perform hideous experiments on Peeps). So with an eye toward the astronomy and a tongue firmly in cheek, I present to you a picture of the Sun taken by astrophotographer Göran Strand:
What you're seeing there is the edge of the Sun to the upper right, and a detached prominence to the lower left. A prominence is a huge blast of solar gas blown off the Sun by intense magnetic fields; usually these are connected to the Sun's surface but sometimes become detached. It's almost as if it…
Also, to give you an idea of its size, Strand included a picture of the Earth … the shape of which he changed to match the theme.
Or maybe Strand is a Heinlein fan. After all, it was he who once wrote, "The Earth is just too small and fragile a basket for the human race to keep all its eggs in it."
That's a fine sentiment for any season.
Note: In the interest of full disclosure, Strand took this photo on Sept. 4, 2013. But how could I resist running it today?
That's No Moon … Well, Actually, Yeah It Is
So there's a picture you don't see every day. Clearly, Vader's forces were not at all happy about the lunar eclipse.
I know, it really does look like the Moon was shooting out a laser at a passing ship, but that's an illusion: In fact, that laser is hitting the Moon, and it was sent from Earth.
Apollo astronauts left a series of retroreflectors there, devices that are designed to reflect light back in exactly the same path it came in. If you shoot a retroreflector with a laser, the beam will come back directly at you. Over the course of 800,000 kilometers (500,000 miles) to the Moon and back the beam spreads out a lot, so a telescope is used to collect the photons from the laser.
Since we know the speed of light very accurately, the time it takes for the beam to hit the Moon and come back tells us its distance. Think of it this way: If you are traveling at exactly 100 kilometers per hour, and you drive for exactly one hour, you know you drove 100 kilometers. Same thing here, but the car is a photon, the speed is the speed of light, and the distance is a wee bit more then you'd go for a family outing.
In this case, the retroreflector was left by the Apollo 15 team. I knew this right away! How? Because this:
Apollo 15 landed on the very eastern edge of Mare Imbrium (the large dark circle; actually a lava plain), near the border with Mare Serenitatis. As you can see, the beam converges right at the Apollo 15 spot. I know it looks like the beam is coming from there, but that's perspective for you! The beam appears to get smaller with distance, and your eye can't tell if it's getting smaller as it heads away, or getting bigger as it comes closer.
Astronomers have been measuring the Moon's distance for many years, and it's from that we've learned the Moon is moving away from the Earth by about 4 centimeters per year due to the complicated interaction with Earth's gravity. But today I learned something about this: During a full Moon, the amount of light reflected back from the Moon drops. This was a mystery for quite some time, but it turns out that's due to the way the mirrors there are set up; the Sun shines down them and heats them up, and they lose their efficiency at reflecting light back to us. During an eclipse, though, the Earth blocks the Sun during the full Moon, so the mirrors don't heat up. They reflect light back to us just fine, proving that solar heating was the problem.
It's funny to think that while I was collecting photons to make photos and video of the Moon, astronomers a thousand kilometers south of me were sending photons to the Moon … and getting them back.
Tip o' the X-Wing to Dan Long for letting me use his photo, and to APOD, where I first saw it. I'll note this is at least the fourth time I've used a variation of this headline, and it's funny every flippin' time.

Correction, April 20, 2014: I had originally attributed the photo incorrectly to Tom Murphy, who works on the ranging experiment.

Incredible: SpaceX Dragon Capsule Video Taken From the Ground!
Update, April 19 at 15:00 UTC: Several people on Twitter have pointed out that what is seen in this video is most likely not the capsule and deployed arrays, but actually the upper stage of the Falcon 9 rocket and the ejected solar panel covers. That does seem likely to me given the scale of the objects, so I have sent Legault an email asking him about it, and I will update this post again when I know more.
Correction, April 19 at 15:15 UTC: Aha! Yes, I do now think what we are seeing here is the upper stage of the Falcon 9, the Dragon capsule, and the two solar panel covers (used to protect the Dragon's panels during launch, and which are ejected before the panels are deployed). What I somehow missed at the end of the video are the silhouettes of trees in the distance. That gives a sense of scale to the video; the Dragon capsule itself plus the solar panels would be far smaller than seen here. Also, around 30 seconds in you can see the stars of the Big Dipper in the background, showing the field of view of this video is far larger than I had originally supposed.
So to be clear, this is NOT just the capsule and solar panels, it is a larger set of objects that are physically separated in space by quite a bit, making it much easier to photograph them. This is still a cool video, but it isn't the technical achievement I first assumed. I have struck through the original text below and added the correct info.
Thierry Legault is a gifted astrophotographer renowned for his footage of the International Space Station and (once upon a time) the Space Shuttle that he takes through his telescope. His ability to capture these rapidly moving objects is nothing short of spectacular, and I always think there's no way he can top what he's already done.
Incredible. This is seriously amazing work; being able to spot the capsule, get it framed up, and then to track it by hand as it glides over France less than a half hour after launch? Holy wow. You can actually just make out the capsule itself, and the extended solar panels on either side (those power the Dragon for the two or so days it takes for it to catch up to the space station). To give you a sense of scale, the capsule is 7.2 meters (24 feet) long and 3.7 meters (12 feet) wide. The panels are about 16.5 meters (55 feet) across. It was roughly 370 km (230 miles) above the Earth's surface when he shot this.
What you're seeing here is wide-angle footage, showing the upper stage of the Falcon 9, the Dragon capsule, and the ejected solar panel covers moving along together in orbit around the Earth. This was taken a few minutes after the capsule separated from the rocket upper stage, so all the individual things you see here were still near each other in space. Over the next two days the capsule itself will "catch up" the space station and be grappled on Sunday.
So yeah Legault is the best. I've written about his work, many, many times; go read it. Trust me here: You'll be astonished at what people can do when they're at the top of their game.
Congrats to Thierry for this achievement, and to SpaceX for another successful launch!

SpaceX Launch Update: Next Attempt Is Today at 19:25 UTC
Update, April 18 at 19:40 UTC: The Falcon 9 lifted off on time at 19:25 UTC, and the launch went perfectly. Just under 11 minutes later the Dragon capsule was deployed into orbit. The solar arrays were deployed, and all looks good. Congrats to SpaceX! Also, if you have clear skies over the next two days, you can look for the capsule catching up to the ISS yourself. I suggest using Heavens-Above (you need to enter your location) to get pass predictions.

Quick update: SpaceX is go today at 19:25 UTC (3:25 p.m. EDT) to launch a Falcon 9 rocket to the International Space Station. The Dragon capsule atop the rocket is loaded with supplies and experiments for the astronauts orbiting the Earth. If it launches on schedule, it will rendezvous with ISS and be grappled on Sunday, April 20 at 11:14 UTC.
A launch attempt on April 14 was aborted due to a helium leak in a valve that is involved with the first stage separation after launch. The valve has been replaced. The big problem now is weather; it's not looking great. If the launch is delayed again, the next attempt will be Saturday, April 19 at 19:02 UTC (for an ISS meetup and grapple on April 22).
An Astronomical Discovery: Earth-Size Planet Found in Its Star's Habitable Zone
I have some cautiously exciting exoplanets news: Astronomers have announced the discovery of a planet that is very nearly the same size as Earth and orbiting its star in the habitable zone—that is, at the right distance from its star to have liquid water on its surface. We don't know how Earth-like it is, but this shows that we're edging closer and closer to finding another Earth, and this one is the best bet we've found so far.
The planet is called Kepler-186f and was discovered using the Kepler Space Telescope, which was designed to look for planets orbiting other stars. Kepler exploits what's called the transit method: It stares at 150,000 stars all the time, looking for dips in the amount of light received from every star. The idea is that if a star has planets, and if we see the orbits edge-on, then every time the planet passes between us and its parent star it'll block an teensy bit of light (usually far less than 1 percent).
This method is extremely powerful—about a thousand planets have been found this way in Kepler data! In fact, most of the planets found this way have been from Kepler. Another cool thing is that if you know how big the star is (and we generally do) then you can also determine the size of the planet by how much light it blocks.
Kepler-186f is one of the big success stories. It's part of a mini-solar system, a five-planet system orbiting a red dwarf: a smaller, cooler star than the Sun. The other four planets (Kepler-186b-e) are all very roughly Earth-size, but orbit far closer to the star, ranging from 5.1 million kilometers (3.2 million miles) to 16.5 million kilometers (10 million miles)—for comparison, Mercury orbits the Sun at a distance of about 50 million kilometers (31 million miles), so this really is a solar system shrunk down. But even though the star is cooler than the Sun, these planets are close enough to it to be pretty hot; even the farthest of the four previously known would be hot enough to boil water on its surface (assuming it has a surface).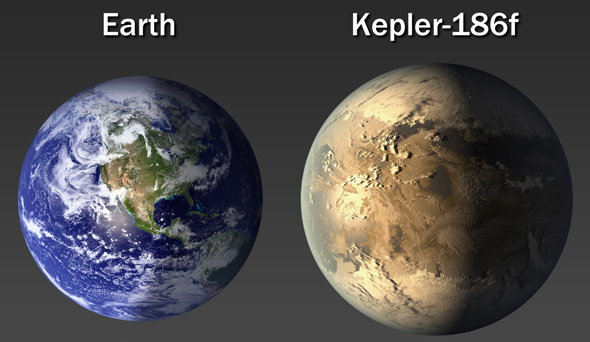 186f is different, though: It orbits farther out, about 53 million kilometers (33 million miles) from the star, where temperatures are more clement. Making some basic assumptions, it lies near the outside edge of the star's "habitable zone," where liquid water can easily exist on the surface of a planet. We know of several dozen planets like that in the galaxy so far, but what makes 186f special is its size: it's only about 1.1 times the size of Earth! Together, these make it potentially the most Earth-like planet we've yet found.
I say potentially because honestly we don't know all that much about it besides its size and distance from its star (and its year—it takes 130 days to orbit the star once). The next things we'd need to know about it are the mass, what its atmosphere is like, and the surface temperature. The gravity of the planet depends on its mass, and in many ways the atmosphere depends on the gravity. Unfortunately, we don't know either, and we're unlikely to. The techniques used to find planet masses aren't up to the task for this planet—the star is too dim to get reliable data. The same is true for any air the planet might have as well. And without that, we don't really know its surface temperature.
So we don't know if this planet is like Earth, or more like Venus (with an incredibly thick, poisonous atmosphere that keeps the surface ridiculously hot), or like Mars (with very little air, making it cold). It could be a barren rock, or a fecund water world, or made entirely of Styrofoam peanuts, or some weird thing we haven't even imagined yet.
Still, our models of how planets form are getting better, and we're getting a handle on how they behave. According to what we know, it's most likely that Kepler-186f is a rocky planet like the Earth, with a similar surface gravity. That in turn implies it could have water. But again, we just don't know, and anything beyond this is speculation; there are a lot of factors in making a planet habitable. As a random one, it may take a magnetic field to make a planet livable. Ours protects us from the constant stream of subatomic particles the Sun emits, which, over several billion years, would have eroded away Earth's atmosphere. That may be what happened to Mars.
To be fair, I'll note that there is one planet found before that's roughly the size of Earth (though bigger than Kepler-186f) and in its star's habitable zone, but in that case the planet orbits at a distance where it receives about as much heat and light from its star as Venus does from the Sun … and look where that got Venus. Kepler-186f is therefore more likely to be Earth-like than that other planet, though again we can't be sure with the information we have now.
Still, this is exciting news—after all, one of the main mission objectives of Kepler was to do just this: find an Earth-sized planet in its star's habitable zone. So, my congrats to the team of astronomers involved: It's very nice indeed to see a spacecraft achieve its goal! And there's still lots and lots of data to go through from Kepler. There could easily be many, many more such worlds hidden in the blips of starlight Kepler has returned to Earth.
We're pretty sure there are billions—billions—of Earth-sized planets in the galaxy. We now know of four that are in their star's habitable zone (if you include Venus and the other planet I mentioned)… and we also know that some worlds are outside the strict definition of the HZ and yet still have liquid water (Jupiter's moon Europa and Saturn's moon Enceladus).
We've only just started looking. Who knows what else is out there?
Tip o' the Lyot stop to Stephen Kane (one of the astronomers who found this planet, for his gracious help with info; go check out his website, Habitable Zone Gallery) and to the lead author Elisa Quintana.
Look! It's a Car on Mars!
Right now, there are five spacecraft at or on Mars (and two more on the way). One of the spacecraft on the surface is of course the rover Curiosity, the plutonium-powered Mini Cooper–size mobile chemistry lab. One in orbit is the Mars Reconnaissance Orbiter, equipped with the fantabulous HiRISE camera, capable of seeing objects a half meter across on the Red Planet.
Hey! Curiosity is bigger than a half meter. A lot bigger. Can MRO see it?
Can you find the rover in the picture? Hint: Follow the wheel tracks, which you can clearly see.
Holy wow. I love pictures like this. And there's great value to them, too. Curiosity has cameras on the surface, several in fact, which map out the area in great detail. But we need an overview as well, just like it helps to have a map when you're out driving. With eyes in the sky and on the ground we get both.
So what was Curiosity seeing at the time this photo was snapped from above? This:
Compare that to the picture above.
Amazing. I've had worse maps with me on trips, and here we are marking the exact location of a rover on another planet.
Science! I love this stuff.
Note: I totally stole the title of this post from Bobak Ferdowsi, who will forgive me or else I will shave the rest of his head.
Watch and/or Hear Me Speak at You About Things
I did a couple of interviews recently that I figured I should let y'all know about.
First, I spoke with my pal Desiree Schell on her Science for the People podcast about the recent BICEP2 news about cosmic inflation, as well as the new Kuiper Belt Object that was found in the outskirts of the solar system (I wrote about both stories: here and here, respectively). Desiree also talked to Paul Bogard and my good friend Nicole Gugliucci about other astronomy things in that same interview.
Second, I was in Australia in 2013 to give lots of talks and soak up Aussie culture (and as many Tim Tams and Minties as I cold get my hands on). The very first thing I did after arriving was talk to astronomers Katie Mack and Alan Duffy for their Pint in the Sky video podcast. They split it in to two parts; here's Part the First:
Basically, I shilled my nerd insult book 27 Nerd Disses: A Significant Quantity of Disrespect (also available on Amazon) that I co-wrote with Zach Weinersmith (and illustrated by Jess Fink) and generally was a smart-ass. But we also talked about other stuff, including how I wended my way down the torturous path to science communication, and what it means to be an astronomer.
These were all fun interviews, so thanks to Katie, Alan, and Desiree for inviting me on!
Also: I'll be in Edmonton, Alberta to give a free public talk about the Mars Curiosity rover called "Where Our Curiosity Has Taken Us" on May 3, sponsored by the Royal Astronomical Society of Canada. So take off to the Great White North, and I hope to see you there!
What Happens When You Throw a Peep Out an Airlock?
Q: What would you hear if you tossed an Easter marshmallow candy out a spaceship's airlock?
Peeps, the wildly popular sugary marshmallow treats, have little nutritional value and take up a lot of space for their mass, so I wouldn't imagine they'd be a staple food for astronauts. But if some future space voyage stocked them for the astronauts, instead of eating them it might be a lot more fun to throw them out the airlock.
Every year, the Texas A&M University throws the Physics and Engineering Festival, a weekendlong event with dozens of science demos, talks, and entertainment. I was invited to speak in the evening at the 2014 event and spent the day wandering the halls and grounds of the Mitchell Physics Building and Institute, enjoying myself immensely. It was so much fun to see students enthusiastically run their demos to the huge crowd of people who came from all over the Lone Star State.
The Peep demo was one of the first I saw, and one that made me laugh the hardest. It's funny, but it's science!
So what did you just see? Peeps are basically spun sugar, starting as a liquid slurry which gets air whipped into it, and then is extruded by a machine into the familiar chick shape. When the sugar solidifies it's full of little holes, like a sponge. It then gets spritzed with coloring to give it that healthy neon yellow (or in this case, blue) sheen.
In the demo the Peep is placed on a rubbery surface, the glass bell jar is put over it, and the air pumped out. Air expands to fill whatever volume it is in, pushing on the walls of its container until the pressure is balanced. When the air outside the Peep is removed, the air in the little spongy holes expands to replace it. Because the Peep is soft, the material around the holes gets pushed by the air and expands as well, inflating the Peep overall. The tension in the material itself provides a force that keeps the air from expanding into the jar, so at some point the expansion stops when the forces balance.
However, that material is made of sugar molecules all stuck together in a crystalline state. When the Peep expands, the crystal structure is partially broken, and it stays expanded only because the air pressure inside the bubbles is holding it up, balanced by the tension in the sugar. Once the air is let back into the bell jar the air inside the bubbles contracts again, and the material collapses. That part made me laugh even more than the expansion.
Although changed physically, nothing chemically has changed in the Peep, so they're still edible. Well, by definition, I suppose. That part of the demo is clear enough, though I wonder how many Peeps physics grad student Leo Alcorn, who ran it, ate over the course of the weekend.
You're welcome, Colorado parents and students who are looking for a last minute science fair idea.
*I know, I held my phone vertically and not horizontally, against the laws of nature and science and the 'Net. However, there were lots of little kids wandering around, and I figured it was better to orient the phone portrait mode so they wouldn't be included. Also: Tip o' the bell jar to Leo Alcorn, who was awesomely cool about all this.

Blood Moon: The Lunar Eclipse of April 2014
Did you watch the total lunar eclipse last night? Judging from my Twitter feed, a lot of people did! Chatter and pictures were flying around the 'Net as the silvery full Moon slowly drifted into the Earth's shadow and turned a lovely shade of orange.
I took the picture above at about 07:21 UTC (01:21 Mountain time, local for me), about 15 minutes after the total phase started. You can see the bright star Spica (the brightest star in the constellation of Virgo) just to the Moon's lower right, and the much fainter star h Virginis just above and to the left of the Moon. It was fun to see fainter and fainter stars pop up as the Moon faded away, its bright glow no longer capable of washing them away.
Over the course of an hour and a half I took some video using my camera (a Canon T41 with a 250 mm lens), so, for your eyes' and brain's pleasure, here it is:
I suggest making it big, if not full screen, and make sure you have the volume up for the first few seconds.
The coyotes really set the mood, didn't they? Even though I was freezing my toes and fingers off, it was truly a wonderful and fun evening. I've seen a dozen or more total lunar eclipses, and I think my favorite part of this one was sharing my photos on Twitter in near real time. People all over the world were excited to see it, and that is a big part of why I do this.
Remember: Look up! There are always amazing things to see.