Meet Wall Street's Secret Weapon
A handful of Congress members who do its bidding.
"You can get a letter done"
Lawmakers often write letters to agencies to amplify banks' messages and exert pressure on regulators. A Freedom of Information Act request yielded 1,820 pages of correspondence between lawmakers and the Consumer Financial Protection Bureau, a new agency created by the Dodd-Frank law and despised by financial institutions, from October 2010 through December 2013. Similar requests yielded hundreds of letters to the Federal Reserve and the Federal Deposit Insurance Corp. The CFTC and the SEC post their letters online. The Treasury Department did not fulfill a FOIA request in time for publication.
"You can't get legislation done, but you can get a letter done," said a longtime financial lobbyist who spoke on condition of anonymity because he was afraid of retaliation by Hensarling's staff. "Any time you can deliver the message, it's just one more tile in the mosaic."
New Jersey's Garrett wrote or signed on to dozens of letters to regulators objecting to proposed Dodd-Frank rules, advocating for changes and most commonly demanding that the agencies perform exhaustive cost-benefit analyses of every new provision. In August 2011, he wrote Fed Chairman Ben Bernanke and five other agencies urging them to eliminate a proposed rule that would delay or cut the profits large banks can earn when they securitize bundles of mortgage loans.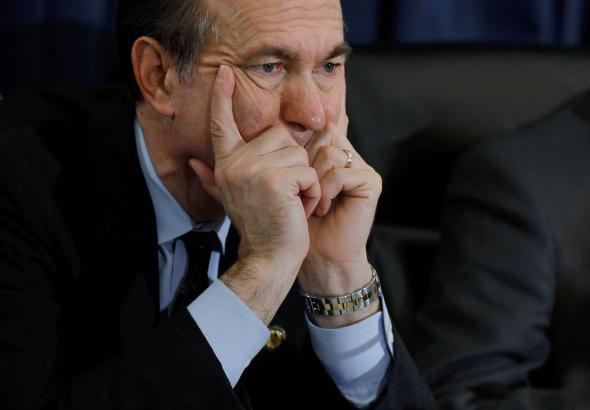 The letters served to amplify the messages regulators were receiving from JP Morgan, Bank of America, the American Bankers Association, and dozens of others asking them to eliminate the so-called premium capture cash reserve accounts, or PCCRAs.
The accounts were part of a proposed mortgage finance regulation to ensure that lenders hold on their books 5 percent of all the risky loans they write. Regulators believed the accounts could prevent banks from manipulating loan terms to make it look like they were holding a 5 percent stake when in fact the stake was lower, said Guy Cecala, the CEO of Inside Mortgage Finance, a newsletter that tracks the industry. The rule would have affected only a small segment of the mortgage market, loans that don't meet the safest underwriting requirements.
"It happens to be a segment of the market that everyone wants to bring back," Cecala said. "Nobody as a regulator wants to take the chance that they'll kill it."
Garrett warned that PCCRAs would reduce the availability of loans to homeowners, referring to the letters from bankers and lobbyists. "It is not surprising that the securitization community has already commented that this ill-conceived provision will greatly reduce or even eliminate the securitization market,'' he said in the letter.
A few months later, a coalition of bankers, mortgage lenders, and securitizers referred back to, and echoed, Garrett's correspondence in their own comments to the Fed asking for the proposal to be killed or delayed while the agencies perform a cost-benefit analysis. Then they questioned whether the bank regulators had the legal authority to mandate the cash reserve accounts, quoting directly from Garrett's letter.
Several weeks later, in March 2012, Garrett wrote another letter reiterating their demands and citing reports by Bank of America and Moody's Analytics that were also cited in at least three bank and trade group comment letters. The Fed and other regulators in August reproposed the rule, this time without the PCCRAs.
Sometimes letters are part of a last-ditch effort to postpone rules, after industry has exhausted every opportunity to water them down. When banks and mortgage firms wanted regulators to delay mortgage lending rules required under Dodd-Frank, they relied on Capito, who drafted a letter to the CFPB but sent it first to the American Bankers Association and Consumer Bankers Association. The ABA, in turn, distributed it to its members in state banking groups and urged them to make sure their representatives signed on. When the letter went out on Nov. 5, two weeks after ABA circulated it, 118 House members had signed. At least one state trade group publicly took credit for getting its representatives on board.
About a month later, Luetkemeyer and Wagner sent the CFPB a letter whose opening sentences were nearly identical to the language in Capito's letter.
"We wanted as many members of Congress involved as possible … and certainly when someone with the stature of the chairwoman expresses interest, we want to help as much as we can," said James Ballentine, ABA's top lobbyist. Ballentine noted that ABA sent a banker from Capito's home state of West Virginia to testify on the issue.
In this way, lawmakers help monied interests harness their networks and resources to create the perception of a popular uprising. The trade groups make it clear to regulators exactly what the industry wants, but the uproar appears to bubble up from below rather than being orchestrated from the top. In effect, Capito helped the ABA create an echo chamber, obscuring the fact that all those voices were coming from the same lobbyists.
In this case, the CFPB refused to delay the rule, noting that Congress had established its effective date in the Dodd-Frank Act. The bureau already had spent a year addressing industry's complaints in a series of official interpretations and amendments and produced videos explaining the rules, Director Richard Cordray wrote in a two-page response to Capito.
But Chilton, the former regulator, notes that lawmakers' requests consume agencies' attention even when regulators decline to comply.
"For me as a public servant, it's an obligation to meet with people and listen to their case," he said.
Payday for payday supporters
Even the most controversial corners of finance have their champions in the banking caucus. Take payday lenders, widely maligned companies that offer small, short-term loans with steep fees that regulators believe can trap borrowers in a cycle of indebtedness. The CFPB was created in part to oversee such lenders.
Facing such federal scrutiny for the first time, payday lenders ramped up their political giving. Donations shot up to $3.3 million in the 2012 election cycle, 11-fold what it had been a decade earlier. Most of the payday industry's top recipients are in the banking caucus identified by the Center for Public Integrity, including Meeks, Stivers, Hensarling, Luetkemeyer, and Wagner. Kansas-based QC Holdings, the biggest political donor in the payday industry this election cycle, has given $33,500 to members of the House committee, including contributions to Wagner, Hensarling, Capito, Garrett, and Stivers.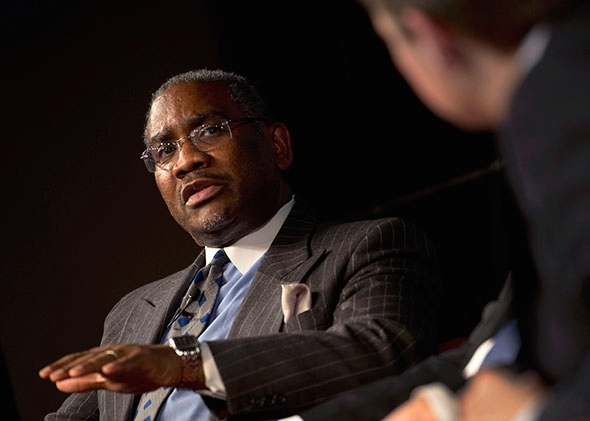 The industry sought shelter from stricter oversight by promoting a bill that would place many payday lenders under the protective umbrella of a federal charter. States with tougher consumer laws would be unable to touch them. Members of the banking caucus have taken up the cause, introducing three versions of the bill even as its original sponsor, former Rep. Joe Baca, left Congress and became CEO of a payday lenders' trade group.
After Luetkemeyer introduced a revised version of the bill in 2012, he praised Baca as "a dedicated leader on this subject." When Luetkemeyer introduced the third version in April 2013, this time focused on online lenders, Meeks was the first cosponsor to sign on. Stivers joined a month later.
Wagner has pushed legislation through the House that would prevent the Labor Department from advancing a rule holding money managers more accountable to clients for the decisions they make about retirement investments. After a sustained outcry from industry, the department agreed in September 2011 to rework the rule and propose it again. It has yet to act, a delay that costs retirement investors billions of dollars a year because of brokers' conflicts of interest, according to research by professors at Indiana University and the University of Texas.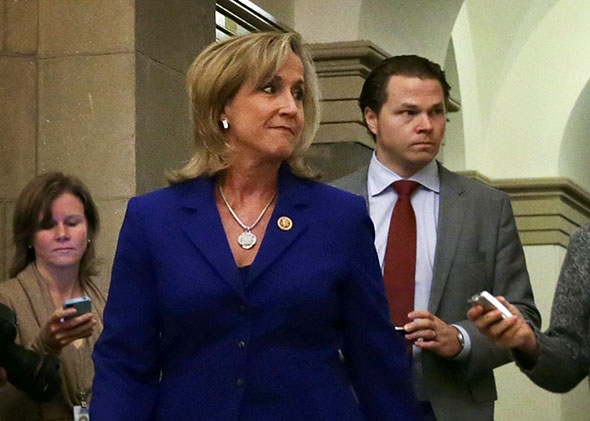 Wagner's been richly rewarded; her strongest financial support has come from two industries that would face major costs because of the change: securities and investment firms and insurance companies. In the process, Wagner has distinguished herself as a fundraiser, raising more than $100,000 for her leadership PAC in her first year in office. Among the major donors: Goldman Sachs, Oppenheimer Funds, and three insurance trade groups.
The CFPB is particularly reviled by banks and other financial firms that deal with the public because it was created with a broad mandate to regulate consumer products that largely escaped oversight before the crisis. That makes it a frequent target for lawmakers.
Duffy of Wisconsin has sponsored at least eight bills to weaken the CFPB since Dodd-Frank established the new consumer agency in 2010. In February, the entire House approved a Duffy bill pushed by bankers that would have made the agency subservient to a council of financial regulators including the Federal Reserve, which historically supported industry's aims.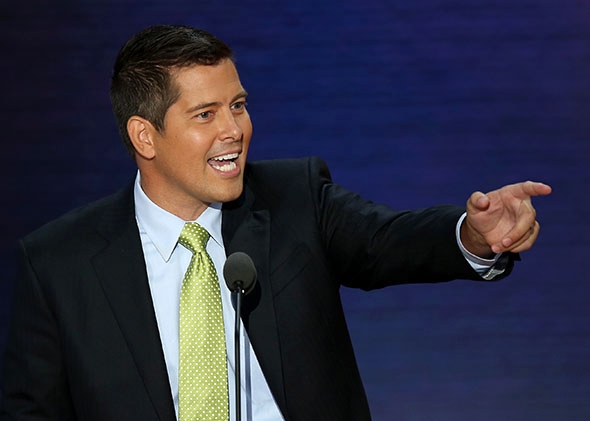 On the House floor, Duffy defended the legislation with a familiar brand of populist, anti-Wall Street rhetoric: He said it would help community banks compete.
"Big banks on Wall Street who created the crisis are given a voice to have rules from the CFPB overturned, but you have left the small banks and credit unions in my district voiceless to say: This rule is going to hurt us," said Duffy, who is vice chairman of Capito's consumer credit subcommittee.
Goldman Sachs has donated more to Duffy's 2014 re-election effort than any other single financial company or group.
None of those bills has become law, but dealing with the animosity has sapped a huge amount of the CFPB's resources. The Financial Services Committee has called CFPB officials to testify 14 times in the past three years, more than any other financial regulator. Overall, agency officials have been called to testify before Congress 46 times in the past three years.
Each appearance requires hours of preparation and meetings with key officials who otherwise would be writing and enforcing rules, according to a bureau official familiar with the process. Just one more way the financial industry is able to affect the regulatory process—part of its smoothly effective, multifront war.