Meet Wall Street's Secret Weapon
A handful of Congress members who do its bidding.
Himes' spokeswoman, Elizabeth Kerr, said her boss is not advocating for the investment industry. "The congressman doesn't advocate for or against an industry. He advocates for the right law or regulation," she said.
The financial sector spent $484.7 million in 2013 lobbying Congress, according to CRP. That includes about $3.6 million spent by groups representing consumer interests. Financial industry lobbyists outnumber those for consumer groups by at least 20 to 1, according to a report by The Nation.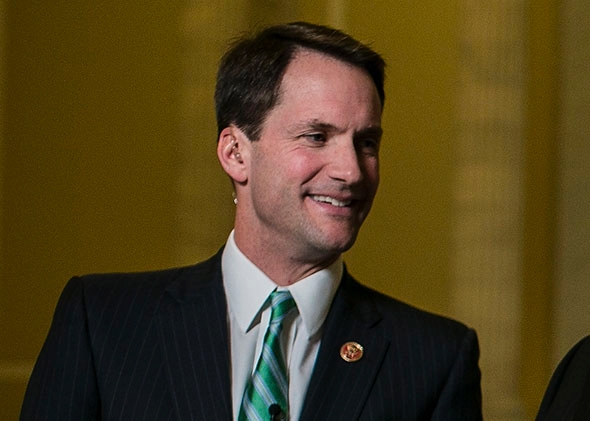 "I used to have 100 meetings with people from the financial sector to every three or four from consumer groups," said Bart Chilton, who until last month was a commissioner at the Commodity Futures Trading Commission, which regulates derivatives.
When Congress and trade groups work together, the united front can overwhelm regulators, who depend on Congress for budget approval and can face embarrassing public excoriation if they defy lawmakers, according to a senior staffer for a financial regulator who has spent years working with Congress.
It was late on a Thursday afternoon in December when Cam Fine opened an email and saw the message: "We may have a problem with Volcker."
Fine is the powerful top lobbyist for community banks, and his regulation experts were warning him about an unexpected threat from the Volcker rule, a provision of Dodd-Frank designed to prevent banks from investing, and risking, money for their own profit. The rule was aimed squarely at banking giants engaged in so-called proprietary trading, the practice of buying and selling of securities for their own profit, unrelated to client business.
To Fine's surprise, the Volcker rule laid out by regulators was about to roil his little-bank world. "We were, like, gobsmacked!" he said. The proposed rule would require community banks to get rid of investments known as trust-preferred collateralized debt obligations. The issue was a technical one, but it would slash the profits of hundreds of community banks and threaten the very survival of a handful.
Fine went to work. He called his bankers, he called the regulators, he called his counterparts at other banking trade groups, he said.
The community banking lobby, by many accounts, is the most powerful in the industry. What the banks lack in size, they make up for in numbers—more than 6,000, at least one in each congressional district. Fine keeps a map on his office wall showing each of his members in every congressional district, a reminder that he can activate locally influential bankers to further his group's message with any congressional office.
Fine and his member bankers started calling up their friends on Capitol Hill, including Capito and Hensarling, who have raised more money from commercial banks than any other House member, including House Speaker John Boehner.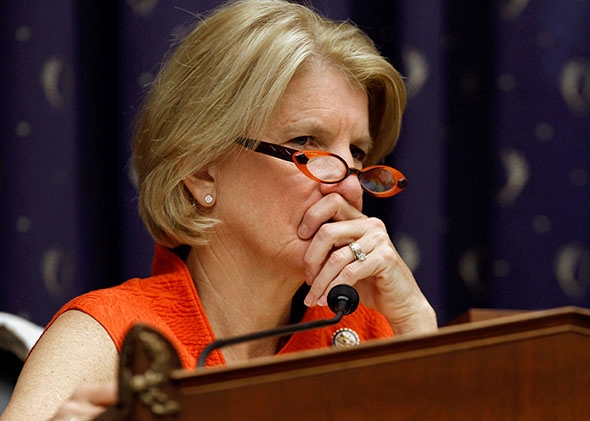 After talking to the bankers and lobbyists, Capito and Hensarling fired off a letter telling a slew of regulators that the rule was supposed to "limit certain activities at large, complex financial institutions," yet this provision would harm "Main Street financial institutions … critical to our economic recovery."
They followed up three weeks later with a proposed legislative change dubbed the "Fairness for Community Job Creators Act."
The five regulatory agencies involved in the rule fell in line. The Federal Reserve, Federal Deposit Insurance Corp., CFTC, Securities and Exchange Commission, and the Office of the Comptroller of the Currency all agreed to allow community banks to keep their CDOs. They made the announcement before Jan. 15, when most banks would have to report their quarterly profits.
Community banks got their fix, as often happens, but lobbyists for the American Bankers Association, which represents the broader banking industry, are still seeking to blunt Volcker's potential effect on big banks.
Lawmakers know their constituents think they're on the side of the angels when they help community banks. Letting them keep their CDOs was a political win-win.
Now the bigger banks wanted a similar carve-out for another kind of investment: so-called collateralized loan obligations, bundles of junk-rated corporate loans that were the subject of competing legislation at last month's committee meeting.
Under Volcker, CLOs—which performed well during the financial crisis—fell into the same category as the mortgage-backed securities and CDOs that roiled the industry after the housing market collapsed. Banks would have to sell off the full range of investments.
As a result, the CLO market nearly froze. Issuance of new CLOs, according to research firm S&P Capital IQ, fell to $2.55 billion in January from $7.05 billion in December, when the Volcker rule was published.
To get what they want, bank lobbyists and lawmakers are resorting, critics charge, to an old rhetorical trick: "They are trying to hide behind community banks, grossly exaggerating if not lying about the facts and claiming the need for a big loophole," said Dennis Kelleher, CEO of Better Markets, a group that advocates stronger market oversight.
Yet the biggest holder of CLOs is JP Morgan, the biggest bank of all, which owns 41 percent of the $70 billion of CLOs held by banks, according to data compiled by Better Markets from the companies' financial filings. Only 21 of the 6,000 community banks in the U.S. own CLOs, according to the Loan Syndication and Trading Association, a trade group. The SEC is investigating whether banks are using CLOs to unlawfully shift assets off their balance sheets, according to the Wall Street Journal.
Rep. Scott of Georgia, at a February Financial Services Committee hearing, urged regulators from five agencies to rethink the treatment of CLOs, saying the securities "provide large amounts of credit to small businesses."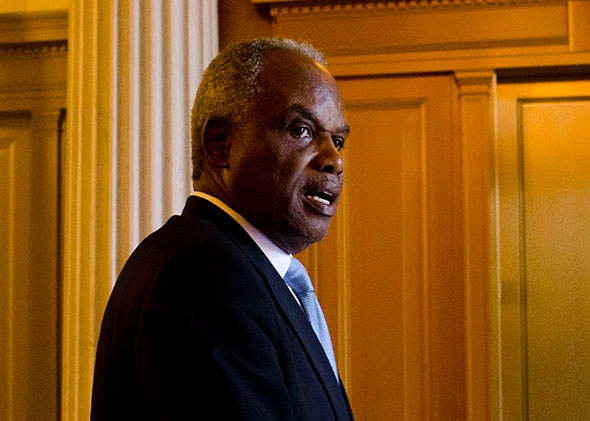 "They are not toxic. They didn't cause the problem," Scott continued, adding that small and regional community banks would be hurt.
A senior official with one of the regulators, who asked not to be named because he was not authorized to speak on the topic, said that Scott's remarks were taken almost word-for-word from a list of suggested questions written by the Securities Industry and Financial Markets Association and passed around to members of the committee. SIFMA—which represents huge investment firms such as Morgan Stanley and Fidelity and spent more than $5.2 million last year on lobbying—declined to comment. Scott's chief of staff, Michael Andel, didn't confirm or deny the allegation. "I can't find anything to match up to this," he said.
None of the other elected officials in this story responded to requests for interviews or comments.
Scott's behavior isn't uncommon, said Miller, who also is a fellow with the Center for American Progress, a left-leaning policy think tank. Elected officials "are very willing to repeat verbatim what lobbyists suggest they say."
The Financial Services Committee eventually approved a bill tweaking Volcker to allow banks to keep investing in most CLOs. While that bill is unlikely to become law, Federal Reserve Gov. Daniel Tarullo on Feb. 5 assured the committee that the CLO issue "is already at the top of the list" of items regulators were planning to address.
Issuance surged back. In March, $10.8 billion in CLOs hit the market.
In April, the Fed said it would give banks an additional two years to comply with the new rules.
"All too often, those in government respond to the squeaky wheel, and they try to address things that maybe ought not to be addressed," said Chilton, the former regulator.