Can This Man Save Pinball?
An arcade entrepreneur has a plan to resuscitate the dying pastime—with a little help from the Wizard of Oz.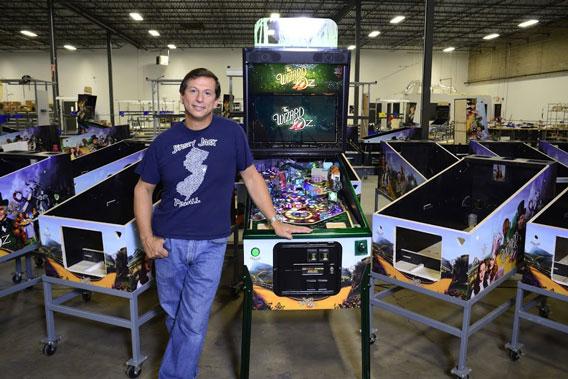 The last guys who tried to save pinball bet all their quarters on a bunch of 3-D aliens. With sales of new machines dwindling in the late 1990s, the top execs at Williams, the company that controlled 80 percent of the worldwide market, called on their designers to reinvent the game. They emerged with an arcade centaur—the head of a video game on the body of a pinball machine—in which pixelated, holographic-looking Martians marauded among the mechanical gewgaws. "Pinball 2000" was a technological marvel. It also nearly killed pinball forever.
In October 1999, not long after Williams introduced Pinball 2000 in a promotional video featuring clips of the moon landing and Martin Luther King Jr.'s "I Have a Dream" speech, the company shuttered its pinball division. As the excellent documentary Tilt: The Battle to Save Pinball explains, Revenge From Mars, the initial Pinball 2000 title, sold well, but a Star Wars Episode I-themed follow-up got less traction with the Jar Jar-hating masses. Rather than prop up its declining pinball operation, Williams chose to focus on a more promising line of business: slot machines.
Thirteen years after this failed holographic experiment, pinball is just barely alive. A single company, Stern Pinball, holds a virtual monopoly on new equipment. What was once a quintessential American pastime has been exiled from its natural habitats—bars, diners, and even arcades.
For Jack Guarnieri, pinball's decline brought on an existential crisis. Guarnieri has held most every job that has to do with flippers: repairman, game operator, reseller, inventor. With his livelihood and life's passion in peril, he figured there was only one thing to do: Create history's greatest pinball machine, one that would introduce a new generation to the pleasures of a well-struck ramp shot. Three-dimensional aliens couldn't save pinball. Can a small-business man in New Jersey?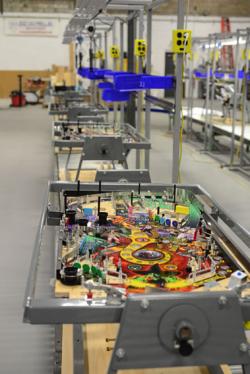 In the Jersey Jack Pinball factory, history is covered in bubble wrap. A handful of simple, gorgeously illustrated 1960s-era games—Flipper Clown, King of Diamonds, Road Race—stand in a back corner, ready to ship to a nostalgia-minded connoisseur. The rest of this workshop in Lakewood, N.J., has been given over to a brand-new game with an old-timey theme, the machine Guarnieri believes will rocket pinball into its next golden age: the Wizard of Oz.
Each Oz pinball machine is the size of a casket built for a member of the Lollipop Guild. On this day in early fall, millions of dollars of parts—LED lights and emerald-green legs and a forest's worth of anthropomorphic plastic trees—are sitting in cardboard boxes, waiting to be fished out by arcade-world craftsmen. On one assembly line, they'll put together the machine's heart, adding rails, rollover buttons, and magnets to the yellow-brick-road-laden playfield. They'll also add the brains, stuffing the PC board, power supply, and other electronics inside the Wizard of Oz's exterior shell.
In addition to the parts and labor, building a new pinball company takes courage, plus a light messianic streak. The 55-year-old Guarnieri, who's got a lot of his native Brooklyn in his tireless voice, is the best kind of salesman. He talks fast but means everything he says, remembers every detail of anything that has to do with arcades, and doesn't take himself too seriously—while still treating the quest for pinball supremacy as a noble, essential mission.
In Guarnieri's view, this humming factory is proof of all you can accomplish when you love what you do. Bean-counter types have "said some shitty things" about his arcade ambitions, he says, telling him he's crazy to throw his money into the shrinking ball-and-flipper market. Perhaps it's true that irrational exuberance can lead you to bankruptcy. But it's also the only way to make something great from absolutely nothing, just as Guarnieri's role models did. "What overcomes doubt," he says, "is the resolve and the passion and determination of people like Steve Jobs and Sam Walton, whether it's going over the hill in Normandy or whether it's building a freaking pinball machine."
Pinball first captivated the spare-change-having masses during the otherwise unamusing Great Depression, then surged again after World War II with the game-changing advent of the flipper. The pinball wizardry chronicled in the Who's Tommy launched a silver-ball renaissance in 1969, and the development of bell-and-whistle-larded computerized machines in the 1970s kept those balls rolling. New York City also ended its three-decade-plus pinball ban in 1976—Mayor Fiorello La Guardia had believed it was "a racket dominated by interests heavily tainted with criminality" that pilfered from the "pockets of schoolchildren in the form of nickels and dimes given them as lunch money"—further clearing the way for the game's cultural ascension.