Can This Man Save Pinball?
An arcade entrepreneur has a plan to resuscitate the dying pastime—with a little help from the Wizard of Oz.
Two years after Jersey Jack Pinball got off the ground, Guarnieri says the Wizard of Oz is almost ready. There are now 15 test machines on location, giving pinball obsessives the chance to ogle and play the long-awaited, still-not-quite-finished game. (A review on the forum Pinside of the game at iPlay America in Freehold, N.J.: "Beautiful pin. Nothing that I've seen in videos online does it justice. The code is bare bones. As long as the game gets programmed well it will be a huge achievement.") Guarnieri, though, is finding out that the last few yellow bricks on the road are the toughest to traverse. He's still waiting for the circuit boards to be finalized, and the programming isn't quite done either, meaning the test machines only show "30 percent of what the game is." Last year, he told the Chicago Reader that the games would be ready by late spring or summer 2012. A few months ago, Guarnieri told me he'd be shipping them in January. Now he says he expects the 1,500 customers who pre-ordered the Wizard of Oz to start getting their machines in mid-March.
Regardless of how many games he sells and when he gets them out the door, Guarnieri has already provided a great service for the pinball world. "I don't care what the industry is, you need at least two manufacturers," says pinball designer and writer Roger Sharpe. Sharpe, who worked at Williams during the Pinball 2000 era and whose testimony secured pinball's legality in New York City, says Guarnieri's company serves as a heartening proof of concept to other potential pinball start-ups (for instance, this one in the United Kingdom).
Gary Stern doesn't buy that argument. "We are the only pinball manufacturer in the world," he says. And though he acknowledges that it "will sound arrogant," he tells me that "pinball will survive if Stern Pinball continues to make pinball machines in a meaningful volume."
Despite Stern's protestations, Pinball News editor Martin Ayub believes the reigning pinball king has been forced to step up his game on account of Jersey Jack. After producing a series of simpler, cheaper-to-produce titles in 2010, Ayub says, Stern has now augmented its lineup with "fuller-featured" premium products at a premium price. In addition to the sub-$5,000 "Pro" model of Stern's Avengers machine, you can get various premium versions with extra ramps, LED lighting, and limited-edition designs for around $7,500, more than the cost of the Wizard of Oz. (At this week's Consumer Electronics Show, Stern also showed off smaller machines designed for the home market that will sell for $2,500.)
For his part, Guarnieri believes two pinball companies are better than one: "I hope [Stern sells] a million games and we sell 10 million games," he says. Even so, he intends to keep pressuring his rival: Jersey Jack's next licensed game, The Hobbit, is scheduled for 2014, to coincide with the final movie in Peter Jackson's trilogy. If increased competition breeds superior machines, collectors and nostalgic nerds like me will rejoice. But to make pinball a mainstream pastime, Guarnieri must appeal to two more-skeptical constituencies: kids with dollar bills and game operators who want to separate those kids from their dollar bills. (Yes, dollar bills—while operators can set the price to 50 cents if they want, it's now typical to spend $1 for a three-ball game.)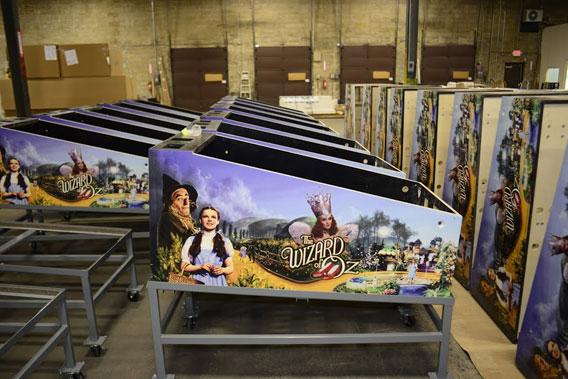 No amount of entrepreneurial enthusiasm or technological sophistication can change the fact that pinball faces the same problems that instigated its post-'70s tailspin. In the age of Doodle Jump and streaming videos of keyboard-playing cats, entertainment options are plentiful and cheap. And compared with most anything else a bar manager, multiplex owner, or arcade operator might choose to plug into the wall, pinball machines tend to earn less money, require more maintenance, and break down more quickly.
This is one thing Gary Stern and Jack Guarnieri can agree on: Pinball will cease to exist as soon as it stops earning money on location. To demonstrate the challenge of keeping pinball commercially viable in 2013, Guarnieri takes me to iPlay America, a 115,000-square-foot amusement center where he's contracted to service the games. This is the ultimate Darwinian arcade environment. There's a go-kart track, a laser-tag arena, a whole bunch of rides, and—in addition to the compulsory fighting and shooting games—skill cranes that dispense iPods and iPads to a lucky few. In the days before the beta version of Wizard of Oz hits the floor, there are just two pinball games on display here: Monopoly and Grand Prix, both Stern titles from the 2000s. Neither one looks like it's been glanced at, let alone played, since before the go-kart-riding kids were born.
The Wizard of Oz, with its big, bright LCD screen and toy-festooned playfield, will certainly draw more eyeballs than an older pinball machine like Grand Prix. But that's not all that relevant when you're battling for the affections of today's overstimulated, under-flippered youth. "Stern is not our competitor," Guarnieri says. "Any other game that goes into an amusement center is our competitor." An entertainment center is "like a kiddie casino—you need to try to draw the players' attention," says Josh Sharpe, the son of Roger Sharpe and the CFO of Raw Thrills, the company that produces games like Big Buck Hunter PRO and Guitar Hero Arcade. "The LCD helps draw the attention [among] a group of pinball machines. Whether it's enough to draw the attention away from the Guitar Hero Arcade machine that has the booming speakers and also has the LCD, time's going to tell."
As a longtime game operator, Guarnieri knows pinball's fate depends on the take in the cash box. In the heyday of arcades, Guarnieri says, a game like Space Invaders would earn back what it cost in as little as a month. Now, according to Josh Sharpe—who in addition to his role as a coin-op exec also serves as the president of the International Flipper Pinball Association—operators are pleased if a coin-op amusement pays for itself in a year. If you want to consider the worst case, Sharpe cites an American Idol karaoke machine that his company developed. The device, which instantly burned a DVD of your performance, was the "slickest thing ever, but it just bombed," he says. "I know that Jack believes [the Wizard of Oz is] going to work, everyone hopes it's going to work, but ... we don't know until we put it on location."
Guarnieri likes his early returns. The games, he claims, have been attracting the rarest breed of pinball player: the human female. And between Dec. 28 and Jan. 3, the Wizard of Oz machine at iPlay America earned $347—a fraction of what the iPad-dispensing skill cranes brought in but a better haul than video games like Big Buck World and Guitar Hero. (For a $7,000 machine to pay for itself in a year, an operator has to earn $135 a week after splitting the game's proceeds with the location owner.) As of now, just 100 of the 1,500 Wizard of Oz games he's sold are destined for retail establishments rather than private homes. But Guarnieri believes if he can deliver this kind of return consistently, there's a "real place again for pinball machines on commercial locations," perhaps even at pinball-averse mega-chains like Chuck E. Cheese's and Dave & Buster's.
Right now, at the moment when his games must prove their worth in the marketplace, Guarnieri is in the same spot where Pinball 2000's creators found themselves 13 years ago. In the end, 3-D pinball was probably too gimmicky to become a go-to American amusement. But Pinball 2000 didn't fail as quickly as it did because those holographic aliens couldn't attract attention—it was because the money men lost faith in the project.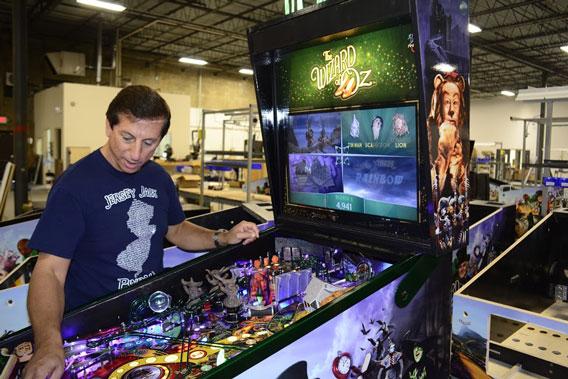 That won't happen with Jersey Jack Pinball. When I step up to play the Wizard of Oz at Guarnieri's factory, he stands watch at the side of the machine. Since this isn't a finished game, there's no protective glass covering the machine. As I miss shot after shot, Guarnieri loses patience and grabs the ball, rolling over various parts of the playfield so I can listen to the speech calls. ("I don't like this forest, it's dark and creepy," says Dorothy, alarmed.) Finally, the ruby-slipper flipper hits the ball just right. "Oh, look, the monkey just took your ball!" Guarnieri says, as if it's the first time the primate has ever done such a thing. As soon as the silver ball rolls free, I'll be off to melt the witch, save Toto, and maybe, if I'm lucky, meet this wonderful wizard that I keep hearing so much about.