Can This Man Save Pinball?
An arcade entrepreneur has a plan to resuscitate the dying pastime—with a little help from the Wizard of Oz.
It was right around that time that Guarnieri got into the business, taking a job as a pinball mechanic after graduating from high school in Brooklyn in the mid-1970s. Soon after, Pac-Man came along and chomped up all the coins. In 1979, pinball manufacturers sold more than 200,000 machines in the United States; three years later, they sold 33,000. During that same period, video games went from collecting around $1 billion per year in quarters to a high of $8 billion, with 1980's Pac-Man reportedly earning more than $1 billion in coins in its first year on the street.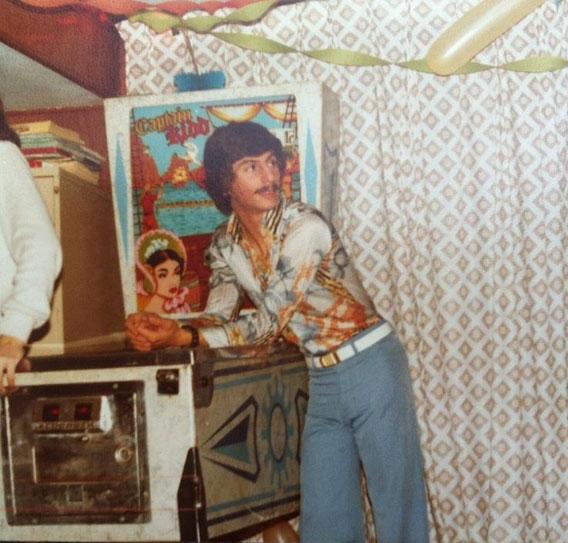 As silver balls lost their capacity to thrill in the 1980s, Guarnieri rode the video game wave. At his peak as an arcade operator and service person, he oversaw 400 video games in and around New York City, in pizzerias and hardware stores and barber shops, as well as the Waldorf-Astoria and the World Trade Center's Skydive Restaurant. For a time, Guarnieri says, the joystick tycoon's biggest concern was excessive profitability—once in a while, a massively popular game like Asteroids would jam up with quarters, rendering it inoperable.
But around 1986, the arcade bubble burst. And though pinball had a brief resurgence a few years later—1992's The Addams Family, the game I played obsessively in my college rec center, sold more than 20,000 units, making it the most-popular machine since the 1930s—that market collapsed again in the mid-1990s, leading the majority of manufacturers to abandon the business for good.
Pinball succumbed to the same forces that killed the video arcade. In the 1970s, arcade games far outclassed the entertainment competition, which consisted primarily of three channels of crappy network television, staring contests, and throwing rocks at cars. But with the spread of home consoles and cable TV (and eventually ubiquitous Web access and smartphones), paying to play video games at some retail establishment felt inconvenient and outdated, like carrying a boombox on your shoulder or using an outhouse.
Pinball in particular became a relic from a pre-modern age. Compared with simple video games, which require little maintenance, pinball machines are loaded with mechanical parts that inevitably break down. Video games also generally take up less space than bulky pinball cabinets, and the advent of multi-joystick (and multi-steering-wheel) play allowed operators to earn more than they ever could from a one-player-at-a-time, flipper-based machine. As pinball lost its cachet, then, arcade owners happily shoved aside the less profitable, more aggravating machines in favor of reliable revenue generators such as driving games and games involving spine ripping.
With pinball largely banished from public spaces (unless you live in a hipster haven like Portland, Ore.), most of today's machines end up in the hands of collectors. Chicago's Stern Pinball—whose website declares it "the only maker of REAL pinball games on the planet!!"—produces three new titles each year, with recent games including Transformers, AC/DC, X-Men, and Avengers. According to company president Gary Stern, his firm sold more than 5,000 games in 2012. Though Stern says business was up last year, those numbers are bracing—that means an entire year's run of today's machines adds up to 25 percent of the sales of a blockbuster like The Addams Family.
A few years ago, Guarnieri—who had started selling new and refurbished pinball machines online in 1999—decided that this direct-to-man-cave fare had gotten stale. At his high water mark, Guarnieri had sold around 1,000 machines annually through his online store PinballSales.com. In 2010, Guarnieri sold less than 50, telling the site Pinball News that "there was no product left for him to sell"—that his customers were yawning at Stern's sparsely adorned, simplistic games. What they longed for, he thought, was something that didn't exist, a modernized game that would kick-start a long-stagnant industry and return pinball to the world beyond rich dudes' basements.
In January 2011, Guarnieri got to work building that game.
The Jersey Jack factory is not a place where the dreams you dare to dream just come true. Here, the dreams get built by hand, one ruby-slipper-shaped flipper at a time.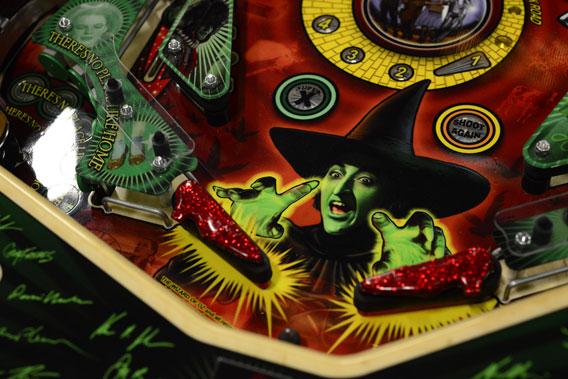 When you're creating a pinball machine from scratch, somebody, somewhere has to craft or acquire every mechanism and fixture. Jersey Jack Pinball licenses its flippers from Planetary Pinball Supply, gets its wiring assemblies from a company in New Jersey, and builds its soundboards in partnership with Massachusetts' Pinnovators. A woodworking firm in Illinois fashions the Wizard of Oz cabinets and playfields, then sends them to another company that adds the game's specially designed artwork using a $300,000 inkjet printer. Jersey Jack tested more than 10 different playfield finishes, rolling and shooting hundreds of thousands of balls before determining which one worked best. A pinball-crazy sculptor designed the plastic trees and munchkin huts.
In aggregate, these decisions reveal Jersey Jack Pinball's grand plan: In every way that matters, the Wizard of Oz is a refutation of how modern pinball machines are designed and built. Rather than choose a bro-friendly theme centered on robots and/or guitars, Guarnieri acquired the pinball-ization rights to Dorothy, Toto, et al. Instead of the standard static back-glass art and dot matrix display, Jersey Jack's machine is topped by a 26-inch widescreen monitor that displays full-color, cinema-grade animations. The game has no conventional, burn-out-able light bulbs—it's illuminated by RGB LED lights that can generate any hue. And perhaps most significantly, the Wizard of Oz is the first "widebody" game since the mid-1990s. The fatter-than-usual apparatus means there's room for an oversize load of eye-catching doohickeys: a spinning house, a winged monkey, a melting witch, and a video-displaying crystal ball that Guarnieri sees as his coup de grâce. "When you look into the crystal ball and see a moving image," he explains, "you say, Holy shit, how much more could you put into this game?"
All of this stuff has something in common: It's expensive. In comparison with the cost containment that's characterized the last two decades in pinball manufacturing, Guarnieri has spent money like a Russian oligarch who's just bought himself an English soccer squad. First, he assembled a team of underemployed pinball-industry stars like designer Joe Balcer and programmer Keith Johnson. Then, Guarnieri gave them the latitude to build whatever they wanted. "I just said, 'I want you guys to do the best thing you can.' The danger in that is that it almost never ends and you don't know what it's going to cost," he says. The game's higher costs have been passed along to collectors and operators. While the cheapest full-size Stern pinball machine will cost you a little less than $5,000, the Wizard of Oz retails for $7,000.