Does Oprah Get Thanked More Than God?

No, but Meryl does! Crunching the numbers on 10 years of Oscar acceptance speeches.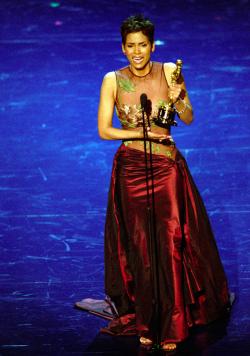 Dan Kois, Troy Patterson, and Dana Stevens will be on Slate's Facebook page at 11 a.m. on Monday to chat with readers about Sunday's Oscar ceremony.
This Sunday, four more actors will win Oscars, justly or unjustly going down in history as some of the great performers of all time. But each winner will have one more great performance required of him or her: the speech. Over the past 10 years, 39 actors have given acceptance speeches during the Oscar ceremony (Heath Ledger, of course, could not), ranging from Morgan Freeman's 32-second moment of grace to Halle Berry's four-and-a-half-minute aria of gratitude. I watched and catalogued each one to see what patterns emerged.
With all the heightened emotion an Oscar win brings, how do the stars ever remember whom to thank? The Academy urges winners not to read speeches, knowing that it's bad television. (And really, should any Oscar-winning actor claim not to be able to remember lines?) It's my firm belief that what comes out in the moment—or doesn't—is a true reflection of feeling, whether the speech feels rehearsed and polished or immediate and spazzy. And in Hollywood—and what's more Hollywood than the Oscars?—billing matters.
First is best, of course. Agents may battle for top billing on their clients' behalf, but they rarely get it themselves on Oscar night—just one acting-Oscar winner in the past 10 years, Tilda Swinton, thanked an agent before thanking anyone else. Last in the speech is also special; if you can't get top billing make sure you get the "And …" spot that in a film's credits might be reserved for the biggest star of all. Most winners end with a loved one, usually a spouse or child—even an unborn child. Catherine Zeta-Jones was very pregnant when she won for Chicago at the 75th Oscars ("My hormones are just too way out of control!") and ended by mentioning that she'd share the Oscar with her impending arrival.
The tool below allows you to see who was thanked in each actor's speech, and when: first, second, third, in the rabble in the middle, or in that glorious final position.
Certainly it's better to come last than to be forgotten entirely. It's perhaps ungenerous to remind them but here goes: Best actress and Million Dollar Baby Hilary Swank attempted to apologize to her husband Chad Lowe at the 77th Oscars for forgetting to thank him the first time she won, but she couldn't help but congratulate herself in the process: "I'm going to start by thanking my husband, because I'd like to think I learn from past mistakes." They were divorced two years later. Sean Penn thanked Robin Wright the first time he won for Mystic River at the 2003 Oscars but forgot her when he took home his second for Milk. They divorced a year later.