How Many Oscars Should Meryl Streep Have?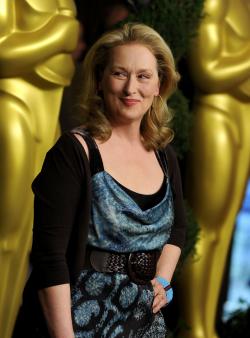 In his review of Julie & Julia, A.O. Scott asserted that Meryl Streep "has exhausted every superlative that exists." And yet when it comes to the Academy Awards, Streep has not usually been granted the top spot: She's been nominated 14 times for best actress, but has won the award just once, giving her the lowest winning percentage for any actor ever so honored. (She has been nominated three times for best supporting actress as well, also winning once, for Kramer vs. Kramer.)
Should the oft-hailed World's Greatest Actress have won a few of the many times she was passed over? Oscar observers have begun to marvel at Streep's long victory drought—it's been 30 years since she was recognized for Sophie's Choice. So Slate tried to determine what Streep's winning percentage would be in a more just universe.
In the slide show below, we go through each of her nominations, looking at who won instead and considering the fairness of that verdict.
Our conclusion? Meryl Streep should have three best actress Oscars, not one.
Still, there are no travesties among her losses: Her lone victory, for Sophie's Choice, is really the only slam-dunk, clear-cut winner among her 14 nominated performances. Even in years when she was more deserving than the actual winner, another snubbed actress arguably had an even stronger case. (See, e.g., 1990 and 1998.)
Streep seems likely to be passed over again—and justly—this year, but her partisans can take at least some measure of comfort from the precedent set by Katharine Hepburn. Hepburn is Streep's closest equal among actresses in terms of Oscar wins and nominations, and she went 34 years between wins. She then went on to collect three of her four best actress statuettes.