Hollywood's New Beefcakes
If hunky actors were literally slabs of beef.
Hollywood always likes to keep a few beefcakes around for use in its big action pictures and romances. The previous generation of studs included the well-defined physiques of Mark Wahlberg, Hugh Jackman, and Matthew McConaughey—all of whom are still strutting around sets. But a new stable of steers has begun to emerge. February saw the release of The Vow, starring Channing Tatum, and This Means War, starring Chris Pine and Tom Hardy. Tatum could also be found alongside Michael Fassbender in January's Haywire. Fassbender had a huge year: He steamed up the cineplex in Shame and offered up suave and studly performances in X-Men: First Class, A Dangerous Method, and Jane Eyre. Other notable abdominals brandished in 2011 include those of Ryan Gosling (Drive, Crazy Stupid Love), Chris Hemsworth (Thor), Joel Edgerton (Warrior), Ryan Reynolds (The Green Lantern), and Chris Evans (Captain America). Together, these actors represent Hollywood's new line of fresh meat.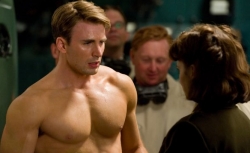 With so many beefcakes sizzling on the screen, it can be difficult to separate the choice cuts—some of these newcomers, particularly Tom Hardy and Michael Fassbender, have already joined the ranks of our finest actors—from the flabbier talents. Often the similarities run deeper than the definition of their abs, making it hard to tell one dreamboat from the next. Among the new beefcakes are three blondes named Chris, two more blondes named Ryan, and two stubbled Aussies named Worthington and Edgerton.

To help both Seventeen readers and dramaturgical connoisseurs keep these he-men straight, we've prepared the diagram above. Hover your cursor over each stud muffin's well-trimmed scruff to learn more about his cut, his USDA grade, and for some notes on how best to serve each piece of meat. We hope this information will help you sort the blue-ribbon megastars from the mangy stock soon be put out to pasture.