The Girl Choking a Guy to Death With Her Thighs Experience
Steven Soderbergh's Haywire, reviewed.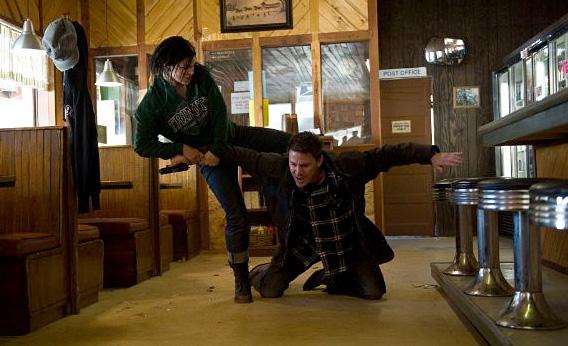 Click on the audio player below to listen to Slate's Spoiler Special podcast on Haywire after you've seen the movie.
Graham, the soft-spoken, emotionally chilly voyeur played by James Spader in Steven Soderbergh's 1989 debut Sex, Lies and Videotape, got off on filming women as they revealed their most intimate stories. Over the course of his long, prolific, stylistically diverse career, Soderbergh himself has been known to train a Graham-like gaze on his female subjects, most notably in The Girlfriend Experience (2009), which featured the thinking man's porn star Sasha Grey as a high-end Manhattan prostitute. For his most recent film, the curiously unengaging action thriller Haywire (Relativity Media), Soderbergh has shifted his focus to the pretty, immobile face of Gina Carano, a mixed martial arts champion making her acting debut as the inscrutable black-ops ninja Mallory Kane.
Carano's impassive visage and uninflected voice may not express much, but her big, beautiful, powerfully athletic body gets the message across: This is not a woman whose wrong side it behooves you to get on. Before the movie's first scene is over, her fellow operative Aaron (Channing Tatum) has learned that lesson the hard way, as Mallory breaks his arm in a nasty hand-to-hand battle in an upstate New York diner.

After dispatching with this nuisance, Mallory takes another diner customer hostage and, in the course of the multipart police chase that follows, fills him in on the back story: She and Aaron worked together on a job in Barcelona, rescuing a Chinese dissident (Anthony Brandon Wong) at the behest of a shady client (Antonio Banderas). Both Mallory's boss, Kenneth (Ewan MacGregor) and her U.S. government contact, Coblenz (Michael Douglas) seem to share a secret about the true nature of the Barcelona operation (one that the audience won't understand until the film's final moments, if then.) So when she's paired with an Irish superspy (Michael Fassbender in a disappointingly brief appearance) for a second overseas mission, Mallory can't shake the sense that something fishy is afoot.
Much of this spy-on-spy double-crossing is hard to follow (the screenplay is by Lem Dobbs, who also wrote Soderbergh's satisfying revenge thriller The Limey). But Haywire's real raison d'être isn't skullduggery but skullcrackery. The spy story is a flimsy pretext for watching Gina Carano kick, punch, and choke the living daylights out of every guy on the premises—and unlike many "girls kick ass" movies, this time it's the actress's sturdy real-life legs that are delivering the painful-looking kicks, rather than those of a stunt double. The no-holds-barred woman-on-man fight scenes are exhilarating at first, especially an extended hotel-room brawl between Carano and Fassbender that playfully illustrates the similarities between a good fight and a good roll in the hay. (Even the strung-out sex addict Fassbender played in Shame never had to contend with being asphyxiated by a pair of female thighs.)

But an hour in, still with little grasp of either what Mallory's mission was or why she was so driven to fulfill it, I started to lose patience with Soderbergh's apparent certainty that no audience could get enough of watching Carano's motionless face in close-up. The steely-eyed super-assassin is a character type that works only when played by an actor with the depth to suggest a complex play of emotion behind those eyes. Though Carano isn't without a certain glowering charisma, her flat line readings and apparent discomfort with dialogue-heavy exchanges make her seem like a refugee from a different, schlockier movie, the kind of low-budget, straight-to-video MMA rock-'em-sock-'em that might pop up on late-night basic cable and charm you with its rough-hewn amateurism and animal high spirits. As Haywire's long-seeming 92 minutes limped by, I found myself wishing I was watching that movie instead.