The Overlooked Books of 2013
Slate Book Review critics suggest 19 great books you never heard about—but should've.
I've never been to the U.K. and, frankly, it's not high on my list of places to go birding. But thanks to Crossley's innovative system of presenting species on a background of their favorite habitats, I feel I know the countryside pretty well. Grouse stomp along on foggy moors, bullfinches flit in shady gardens, gulls squat among pasty beachgoers on holiday—it fills in the landscapes left out in Monty Python's Flying Circus and The Office. I've not only learned the birdlife of the U.K. and Ireland, I've taken a vacation there—without having to eat any of the food.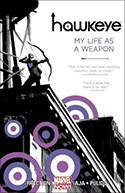 Matt Fraction's superb Hawkeye series imagines what sharpshooter Clint Barton (aka Hawkeye) does when he's not saving the world with the Avengers. Unlike his superpowered counterparts, Barton is a regular guy with one super skill (and a lot of poor ones, like relationship and people skills) who struggles to figure out what it means to be an ordinary good guy. Fraction's smart writing comes to life in stunning art and innovative panel layouts, making Hawkeye deeply entertainingly and moving. Hawkeye nabbed an Eisner award nomination this year and is lauded among comics readers, but it deserves a wider audience—especially among readers skeptical about what superhero comics have to offer.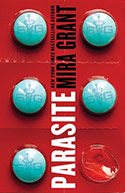 Would you allow a 2-pound parasite to be implanted in your body? What if it ended a deadly allergy? Or controlled your diabetes without insulin? Or provided free birth control? In Grant's near future, millions of people have decided their innate disgust for parasites should be set aside for the countless benefits of the Intestinal Bodyguard, a genetically manipulated worm capable of curing countless human afflictions with seemingly no side effects. Sally Mitchell owes her life to such an implant after a terrible accident; her miraculous recovery brings her into the gaze of the powerful pharmaceutical company SymboGen, which manufactures the worms. Don't worry about figuring out the "plot twist" very early on (it's served up on a silver platter); the goal here is not a gotcha ending but a window into the evolution of our limited narrator's understanding of the grotesque implications of these medical advances. In a year where debates over the uses and abuses of health care has loomed large, Grant, despite a few stumbles, delivers a claustrophobic, squirm-inducing tale that manages not to get bogged down in polemics. Also, zombies.
"It was the weirdest thing./ God got all religious/ on Herself." This collection of poems is what children's librarians call a "special book." The audience is unclear. It's quiet and quirky, contemplative and charming. It's the kind of book you would recommend to daydreaming kids and the whimsy-prone adults they grow up to be. In her verses, Newbery Medal winner Rylant imagines what would happen if God were a regular Joe or Jane just like the rest of us. Her God goes to beauty school, makes spaghetti, adopts a dog, finds happiness in simple things, watches TV, and doesn't like eating alone. Frazee's pencil and gouache illustrations are warm, whimsical, and filled with wonder.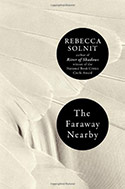 Bruised by years of emotionally exhausting and factually dubious memoirs, some of us have developed burnout. With The Faraway Nearby, Rebecca Solnit brings a welcome coolness and control to the form, blending in literary analysis and nature writing as she goes. By close-reading a range of stories, from the Brothers Grimm to Frankenstein and The Motorcycle Diaries, and examining a confined set of contrasting images—mostly a vast pile of rotting apricots she receives from a brother and the enveloping snow and ice of the Arctic—she manages, circumspectly, to evoke several seasons' worth of tumult in her life as she confronts her changed relationship with a difficult mother as well as her own mortality. Images of spinning and weaving also run through the book, underlining Solnit's ideas about how and why we make stories of our lives, and her unshaken belief in human connectedness.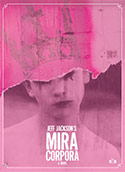 Jackson's debut novel is a piercing howl of a book. Based on journals the author kept while growing up, Mira Corpora chronicles the wayward existence of Jeff, an adolescent who leaves his abusive mother only to find a different caliber of savagery on the road. Why more critics haven't fallen for Jackson's slyly seductive and utterly gripping voice is a mystery to me—his prose practically crackles and sparks. Like his journey, the narrative is fragmented, a bit fuzzy, and runs on full-throttle the entire time. This punk coming-of-age story smolders long after the book is through.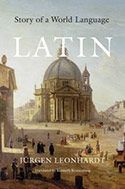 Given that the newly mitred Pope Francis is a freak for Latin, and that the Vatican's two most recent Latin czars have been clerics from the American Midwest, stateside Catholics and Latin nerds alike should be frothy-mouthed at the new, significantly expanded edition of Jürgen Leonhardt's Latin: Story of a World Language, translated with elegance by Kenneth Kronenberg. Yes, I have extolled the virtues of spoken Latin in this very publication and cannot therefore claim impartiality on the subject. Nevertheless, please believe that Leonhardt's tour through Latin's post-Roman afterlives, and his own experience speaking the language, galvanize a very neat argument that blends a linguistic approach (which has pronounced Latin dead) with a cultural-historical approach (by which standard Latin is merely decrepit!). Learned and accessible, the book is stuffed with funny little anecdotes, from early Arab scholars grappling with the language to Angelina Jolie getting quod me nutrit me destruit tattooed on her lower abdomen.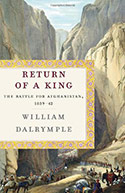 Like most general readers, I imagine, I was drawn to Return of a King by the parallels between this 19th-century conflict and the ongoing war in Afghanistan. They're there, and they're unbelievably depressing, but the book has so much more to offer. It's a model of scholarship—Dalrymple drew on on sources found in Russia, India, Pakistan, and Afghanistan, many of which had never before been translated into English—but it's also great popular history. Many of the players—from a British regiment that brought its foxhounds to the battlefield to a bevy of shockingly incompetent officers—are larger-than-life characters who could have been ripped from a George MacDonald Fraser adventure story.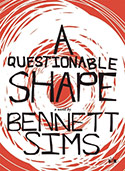 In a decade where hyper-literary, self-aware genre fiction is gnashing its blood-foamed teeth with relish—Zone One by Colson Whitehead, Red Moon by Benjamin Percy—it's curious that Bennett Simms' understated novel of yearning and malaise in the aftermath of a zombie apocalypse didn't garner more attention.* Equal parts David Foster Wallace and Richard Matheson, Simms' novel follows its narrator on an existential quest to find his friend's father through a suburban Baton Rouge decimated by hordes of maundering undead, who bear a disquieting resemblance to the wages of Hurricane Katrina. Meanwhile, whatever footnoted observations that the narrator deems apropos "dig graves in the text … disturbing it from beneath, such that if the text were ever infected, they are the words that would guide it." A Questionable Shape is certainly the first Proustian zombie novel, but hopefully not the last horror novel of ideas.
Correction, Dec. 3, 2013: This article originally misstated the title of Colson Whitehead's novel Zone One.
Correction, Dec. 4, 2013: This article originally misspelled Azareen Van der Vliet Oloomi's first name.