California Governor Bravely Vetoes Bill to Ban Drones From Interfering With Firefighters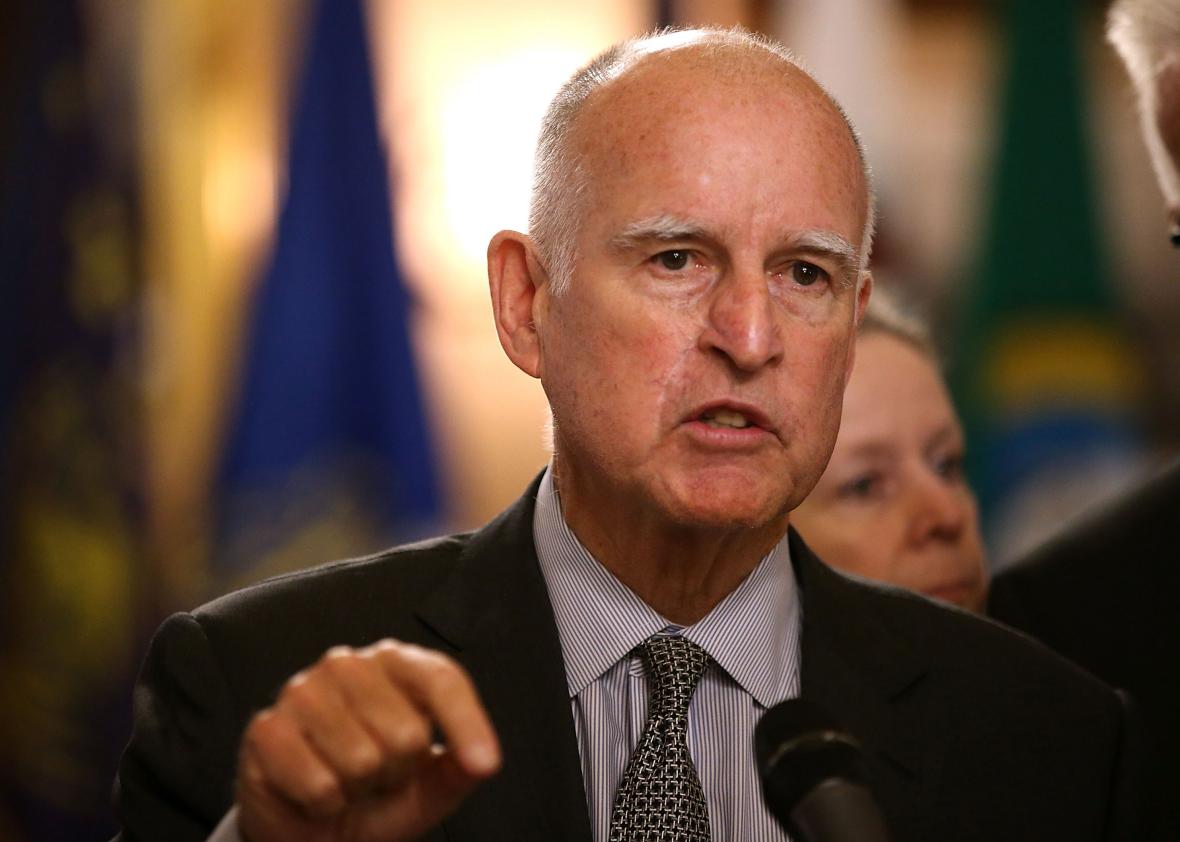 If you're like me, you've been reading the news out of California this summer and fall, as the state has been ablaze with wildfires, and asking yourself: "When will someone stand up for obnoxious hobbyists who interfere with emergency rescue operations by flying their drones over active wildfires?" Well, friends, our hero has finally come along, and he's California Gov. Jerry Brown. This weekend, Brown took me by surprise by vetoing a bill that would have made it unlawful to operate a drone "in a manner that prevents or delays the extinguishment of a fire, or in any way interferes with the efforts of firefighters to control, contain, or extinguish a fire." Obviously someone has never heard the old political adage "Voters hate unextinguished fires."
The vetoed measure, SB 168, came into being this summer, after several drone hobbyists made news by getting in the way of rescue operations. SB 168 seemed about as uncontroversial as a bill can get, catering as it did to the public's reflexive dislike for both wildfires and drone hobbyists. But Brown, who has consistently opposed intrusive drone regulations, vetoed it anyway. Over the weekend, he also vetoed two other drone-control bills, which would have made it a misdemeanor to operate drones in or over state jails and prisons and to operate drones without permission at low altitudes on public-school grounds, respectively. In September, he vetoed a bill that would have required drone pilots to obtain permission before flying their devices over private property at low altitudes. It's probably not coincidental that California is the capital of the drone industry in the United States and that drones stand to add a lot of money to the state economy if the sector is allowed to flourish.
But there's more going on here than just good old laissez-faire capitalism. In his veto message to the California state Senate, Brown said that each of the three vetoed drone bills, along with six other bills that he declined to sign, "creates a new crime—usually by finding a novel way to characterize and criminalize conduct that is already proscribed. This multiplication and particularization of criminal behavior creates increasing complexity without commensurate benefit." Though improper drone usage presents a public menace, a greater menace, Brown apparently believes, is a cumbersome code of laws that makes it far too easy for the state to turn citizens into prisoners. I'm sympathetic to Brown's logic.
If I'm reading them correctly, each of the three vetoed drone-control bills sought to criminalize behavior that was already broadly prohibited. In the state of California, it is already a misdemeanor to "engage in disorderly conduct that delays or prevents a fire from being timely extinguished" or to prevent emergency responders from discharging their duties. The state already prohibits people from sneaking contraband into prisons or attempting unauthorized communication with prisoners; the state already prohibits uninvited visitors from disrupting school activities.
Legislators' attempts to get specific are a function of frustration, both with drone operators whose actions too often defy common sense and with a federal government that is taking its sweet time to come up with comprehensive regulations for an industry that desperately needs them. The point of explicitly stating "No drones allowed" is to remove any doubt that drone-related misconduct is prohibited; to make things clearer for cops and prosecutors who might not immediately know what to charge when some jerk accidentally crashes his drone into a busy schoolyard or into a rescue helicopter. These won't be the last drone-control bills that Jerry Brown will have to consider, and while I appreciate his big-picture approach to drone regulations, it'll only take one big drone-related tragedy for the governor to get burned.
This article is part of a Future Tense series on the future of drones and is part of a larger project, supported by a grant from Omidyar Network and Humanity United, that includes a drone primer from New America.
Future Tense is a partnership of Slate, New America, and Arizona State University.