California Governor Vetoes Bill to Stop Drones From Flying Over Private Property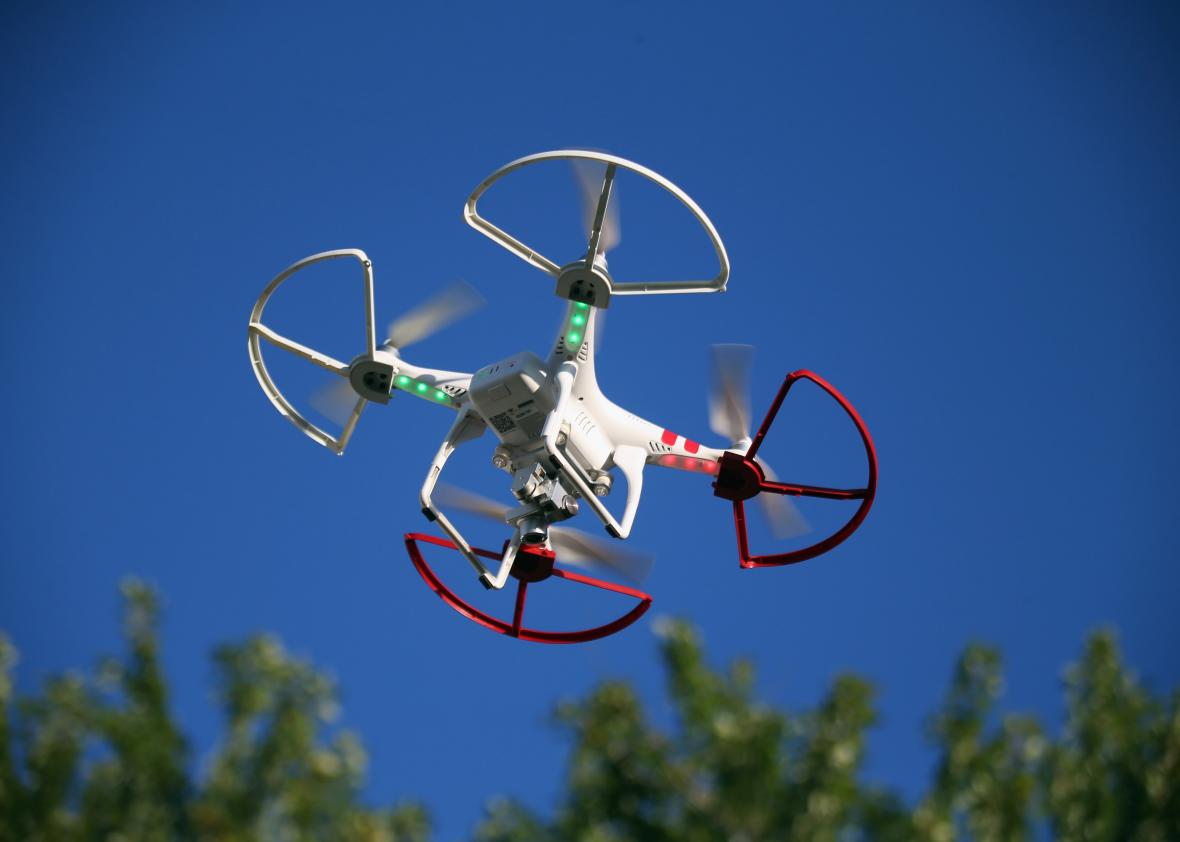 On Wednesday, California Gov. Jerry Brown vetoed a drone-regulation bill that, according to many tech company lobbyists, would have had a ruinous effect on the state's burgeoning mini-robot-spyplane industry. The bill, which passed the state Assembly by a vote of 56-13 and the state Senate by a vote of 21-12, would have banned low-flying drones from traversing private property without consent of the landowner. "Drone technology certainly raises novel issues that merit careful examination," wrote Brown in his official veto message. "This bill, however, while well-intentioned, could expose the occasional hobbyist and the FAA-approved commercial user alike to burdensome litigation and new causes of action. Before we go down that path, let's look at this more carefully."
It's hard to read Brown's veto as anything but a huge victory for the drone industry in California. Tech groups lobbied hard against this bill, claiming that it would stifle innovation and cost California money. And the vetoed bill, though indeed well-intentioned, was certainly flawed. It would have prohibited drones from flying over private property at altitudes lower than 350 feet. The trouble is that the FAA currently limits drones from flying at altitudes higher than 400 feet. If the California bill had been signed into law, it would have limited many drone flights to a thin swath of sky, an outcome that seems both weird and potentially dangerous. It's also probably worth noting that just because you can't see a drone doesn't mean that the drone can't see you; even at 350 feet overhead, a drone camera equipped with a zoom lens can get pretty close to the ground.
But the California bill, as I suggested last week, was less about neutering all drones than about appeasing the people who hate them. As far as I can tell, there are two main camps when it comes to drones: those who think drones are invasive and annoying and those who see them as the foundation of a new economy, in which tireless airborne robots will supplant costly human labor in fields ranging from package delivery to safety inspections. The "invasive and annoying" camp is a sizeable one: A January survey by the research firm Ipsos found that 64 percent of respondents "wouldn't want my next-door neighbor to have a drone," while 71 percent thought that drones should not be "allowed to operate over other people's private property." Many of these NOMBYs (NOMBY = Not Over My Backyard) are reacting to the heedless behavior of the many drone operators who don't seem to realize that one man's cool flying gadget is another man's "What's that thing up there? Oh, crap, is that a bomb?"
UAS, or unmanned aerial systems, advocates tend to mistake drones not for bombs but for little flying bags of money. Many drone entrepreneurs have gathered in Las Vegas this week for the first-ever InterDrone conference. "We're in a frothy phase of the market," the conference organizer informed ZDNet, in which new ideas and business plans are bubbling to the surface all the time. The froth is thickest in California; the research firm CB Insights has reported that six of the 10 biggest dronemakers, as measured by venture-capital funding, are headquartered in the Golden State. Google has shown some interest in getting into the drone business. Amazon is betting on drones as the future of package delivery. As I wrote last week, two industry groups that opposed the California drone-privacy bill have claimed that drone-related businesses will bring California "roughly 18,000 new jobs and more than $14 billion in economic impact in the first decade once federal guidelines are implemented."
Well, maybe. But the truth is that no one is really sure how drones will affect the economy. The entrepreneurial enthusiasm on display in California and Las Vegas is the product of a federal regulatory void. Though the FAA has promised that it will soon issue a set of guidelines that will govern the use of drones for commercial purposes, no comprehensive regulations of that sort currently exist. This lacuna makes almost any commercial drone initiative seem possible because very few initiatives have been declared impossible.
Since the federal government has checked out of the drone debate for the time being, the UAS fans and foes are facing off in state legislatures. The vetoed California measure is one of several recent state and local attempts to regulate drones and, more importantly, to placate the many people who hate drones so much that they're willing to try to shoot them down with guns and lasers. The defeated California bill, flawed though it was, would have been popular with voters—and that's why Brown's veto is important, and perhaps predictive, too. "It's clear we need to change public perception and advocate on behalf of the industry," a drone bigwig told the InterDrone gathering the other day, according to the Las Vegas Review-Journal. "The laws and regulations that are being passed by city councils and state legislators will slow the development of the technology and set us back even further behind the rest of the world." It isn't hard to break this code: Dronemakers are prepared to spend lots of money to convince local, state, and federal lawmakers that drones will be great for the people—no matter what the people themselves say.
This post is part of a Future Tense series on the future of drones and is part of a larger project, supported by a grant from Omidyar Network and Humanity United, that includes a drone primer from New America.
Future Tense is a partnership of Slate, New America, and Arizona State University.