Goat Parkour Is the Best Evidence Yet That Goats Are the New Cats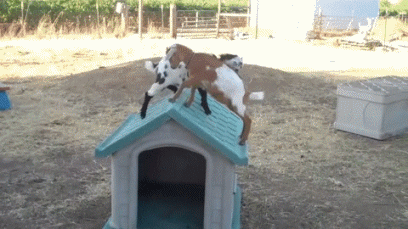 Their Internet fame has been mounting for a while now, like a dexterous ungulate scaling a craggy peak. It started with lolgoats, a blatant ripoff of lolcats that frankly did little to hint at the enormous latent potential for goat-centric Internet humor. Fortunately, things picked up a bit with goat editions of famous pop songs. Then came goats yelling like humans, and all bets were off.
That may all just be prelude to the latest sensation that's about to sweep the Web: goat parkour. Some of the finest examples are already being collected on a Reddit sub aptly titled r/goatparkour, which was brought to our attention by the vigilant journalists at the Daily Dot. "Don't Kid Yourself: Goat Parkour Is the Best Thing Online," the Dot's Greg Seals bleated.
Here are just a few of our favorite clips and gifs of goats freestyle walking and bouncing off of things, including each other. For more, goat on ahead and hoof it over to r/goatparkour.
Future Tense is a partnership of Slate, New America, and Arizona State University.