Former NSA Chief on Latest Leaked Dragnet Spy Program: It's Real, and It's Spectacular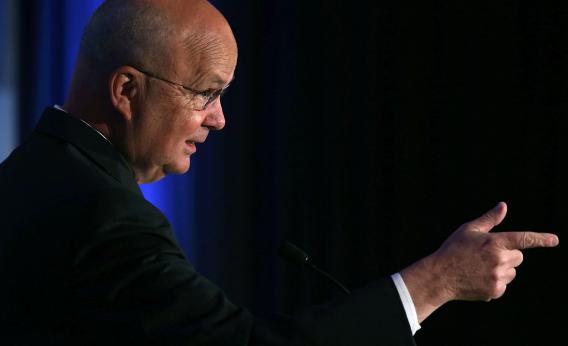 Does the NSA really operate a vast database that allows its analysts to sift through millions of records showing nearly everything a user does on the Internet, as was recently reported? Yes, and people should stop worrying and learn to love it, according former NSA chief Gen. Michael Hayden.
Last week, the Guardian published a series of leaked documents revealing new details about an NSA surveillance program called XKEYSCORE. The newspaper said that the program enabled the agency to "search with no prior authorization through vast databases containing emails, online chats and the browsing histories of millions of individuals," and secret slides dated 2008 showed how people could be deemed a target for searching the Web for "suspicious stuff" or by using encryption.
Following the disclosures, Hayden appeared on CNN to discuss the agency's surveillance programs. The general, who directed the NSA from 1999 through 2005, was remarkably candid in his responses to Erin Burnett's questions about the Guardian's XKEYSCORE report. Was there any truth to claims that the NSA is sifting through millions of browsing histories and able to collect virtually everything users do on the Internet? "Yeah," Hayden said. "And it's really good news."
Not only that, Hayden went further. He revealed that the XKEYSCORE was "a tool that's been developed over the years, and lord knows we were trying to develop similar tools when I was at the National Security Agency." The XKEYSCORE system, Hayden said, allows analysts to enter a "straight-forward question" into a computer and sift through the "oceans of data" that have been collected as part of foreign intelligence gathering efforts.
How this process works was illustrated in the Guardian's report. Analysts can enter search terms to sift through data and select from a drop-down menu a target's "foreignness factor," which is intended to minimize the warrantless surveillance of Americans. However, operating a vast electronic dragnet such as this is far from an exact science, and the NSA's system of sifting data from the backbone of international Internet networks likely sometimes involves gobbling up information on Americans' communications and online activity—whether it is done wittingly or not. Indeed, the NSA reportedly only needs to have 51 percent certainty that it is targeting a foreigner. And as leaked secret rules for the surveillance have shown, even if the NSA does "inadvertently" gather Americans' communications, it can hold on to them if they are deemed valuable for vague "foreign intelligence" purposes or if the communications show evidence of a crime that has occurred or may occur in the future.
In the CNN interview, Hayden described XKEYSCORE as "really quite an achievement" and said that it enabled NSA spies to find the needle in the haystack. But his ardent defense of the system is unlikely to reassure civil liberties advocates. Having Hayden's support is a rather dubious stamp of approval, particularly because he was responsible for leading the NSA's illegal warrantless wiretapping program, which was initiated post-9/11 and exposed by the New York Times in 2005. Hayden later went on to lead the CIA from 2006 through 2009, where he oversaw the use of the waterboarding torture technique and the operation of a controversial black-site prison program that was eventually dismantled by President Obama. The former NSA chief retired in 2009, but he has since become a regular media commentator, using a recent column at CNN to blast Snowden for leaking the secret NSA documents and implying that he'd like to see the Guardian journalist Glenn Greenwald prosecuted as a "co-conspirator" for his role reporting the surveillance scoops.
Future Tense is a partnership of Slate, New America, and Arizona State University.