Play Wes Anderson Bingo, Special Grand Budapest Hotel Edition!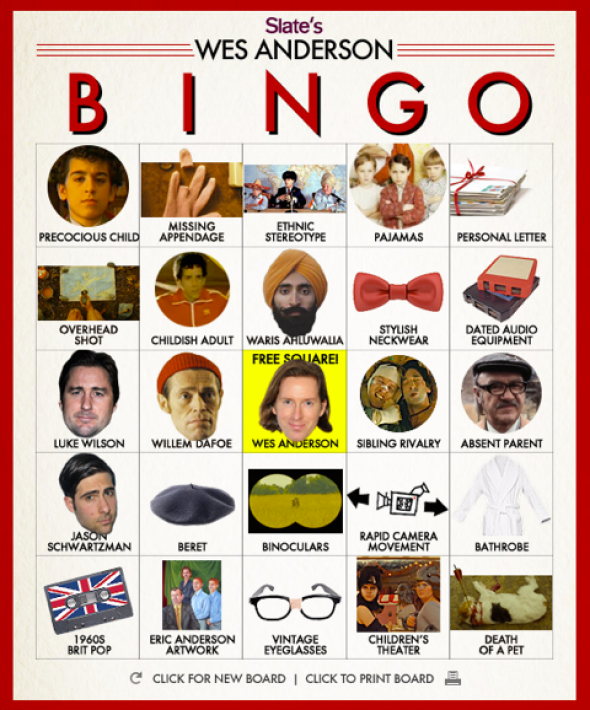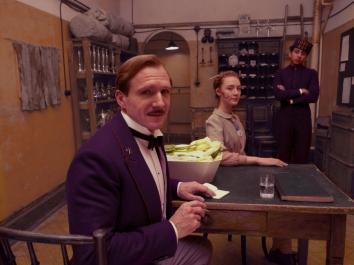 Wes Anderson's style continues to evolve, and so must Wes Anderson Bingo. With The Grand Budapest Hotel out this week, it's time for a revised and expanded edition of the Wes Anderson Bingo board, with several new squares—for a total of more than 40 possible squares—representing the latest elements of Anderson's style.

What are the new elements? For starters, stop-motion animation, which Anderson began using in The Life Aquatic and which has since appeared in Moonrise Kingdom, Fantastic Mr. Fox, and The Grand Budapest Hotel. Budapest also has Anderson killing off yet another character's beloved pet, a feline who follows in the bloody paw-prints of poor Buckley (Royal Tenenbaums) and Snoopy (Moonrise Kingdom), R.I.P. And speaking of Snoopy, we've added a square for Anderson's tributes to Charlie Brown cartoons. We've also beefed up the board's roster of actors, to reflect the growing cast of regulars who appear in at least three of Anderson's films.
BINGO!
You've won! Click here to play again.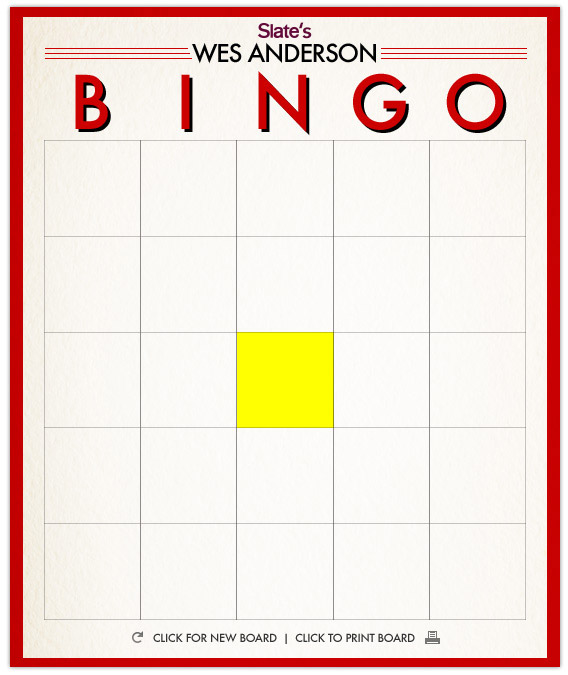 How do you play? As before, it's as simple as Whack-Bat. Just watch any Wes Anderson movie, and whenever you spot one of Anderson's trademarks, click that square to place a special Wes Anderson chip. (You can also print out a set of boards and chips to play offline.) Be the first to get five in a row and shout out "Bingo!" (or, if you prefer, "Hotbox!") and you've won. You can even click at the bottom of the board to shuffle the squares and generate multiple boards to play against your friends. (We've tried it out, and it really works—though Slate does not recommend shouting "Bingo!" in a crowded theater.) Each element we selected appears in at least three of his movies, and some elements appear in all of them, so any board could be a winner.

How does Budapest stack up against the Wes Andersoniness of other Wes Anderson movies? Well, even using just the trailer and Wes Anderson Bingo Classic™, I scored a bingo in just 1 minute 51 seconds. But the new movie is also a highly self-aware defense of Anderson's joy in these details. For Anderson the auteur, each of these squares represents another spritz of L'Air de Panache.

Read the rest of Slate's very comprehensive Wes Anderson coverage.