How Much Lying Is OK on Late Night?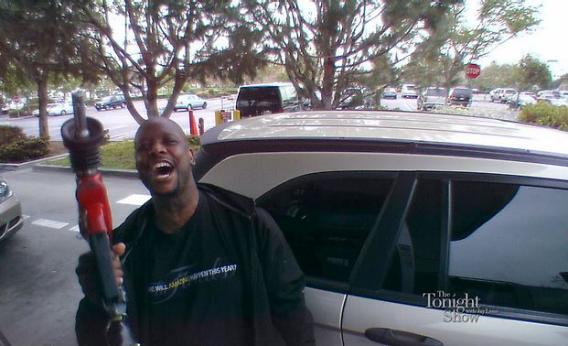 Last week, an installment of the occasional Tonight Show segment "Pumpcast News" went viral on YouTube. In the bit, a fake newscaster appears on a video screen installed above a gas pump, then starts speaking directly to a gas station customer. In this particular installment, the customer is surprisingly game to sing for free gas, and busts out a more than passable "Livin' on a Prayer," honed, he says, by many nights of karaoke. His wife stays in the car, seemingly embarrassed. But then she's coaxed out as well, and launches into a very tuneful rendition of "Sweet Dreams (Are Made of This)," with the husband harmonizing.
Leno liked them so much he had them on the show and they sat in with the band.
But The Smoking Gun has revealed that the couple, Will and Monifa Sims—identified on The Tonight Show as a bartender and a fitness instructor, respectively—are trained actors who moved to L.A. to get into show business, and that Monifa has been on a "Pumpcast News" segment before. After The Smoking Gun posted its discovery, someone at the site spoke to Monifa Sims, who said that "it was just a fluke," adding, "When it happened again, I said 'I cannot believe it!' "
Many others cannot believe it either. Gawker picked up the Smoking Gun story and connected it to their own slightly facetious exposé from last week, about the apparent fakery in Jimmy Kimmel's very popular "Celebrities Read Mean Tweets" segments. Several of the tweets appear to have been written by the show for the express purpose of using them for the bit, though there is no definitive proof of this.
And there's no proof that the Sims' appearance on "Pumpcast News" was planned. But we already know from an interview in the Sun-Times that the show chose to identify the couple by their occasional day jobs—rather than as the actors they are—because, as Will says, the producers "didn't want [people] to think we were actors and it was a 'plant.'" Similarly, Monifa told The Smoking Gun that her previous appearance on "Pumpcast News" was not mentioned because the producers "don't want people to think that they planned this thing." "We have been honest with them the whole time," she added.
Even assuming that this is the whole story, is such fakery OK? A year ago, after Mike Daisey's fabrications in a This American Life story about Apple factories in China came to light, we examined how much lying people are generally willing to accept from various kinds of storytellers. (See the resulting infographic below.) Two things we learned would seem to apply here. First, when humor's involved, people grant a lot more latitude. David Foster Wallace's unacknowledged use of composite characters in his very funny pieces for Harper's and elsewhere disappointed some people, but it has not really besmirched his reputation. David Sedaris fictionalizes his "nonfiction" considerably, and yet when this is pointed out, most people shrug.
The second relevant lesson is that people seem to hold writing to a higher standard than storytelling on screen or on a stage. Comedians say that things happened to them just the other day that have never happened to anyone on any day. Nobody minds. Movies can depart from true stories extensively without raising too many eyebrows.
So if Monifa Sims' account of what happened is accurate, this is probably where the story ends. If there's more to it, maybe the Tonight Show will apologize for misleading people, but I suspect that even then no one would be fired. Of course, it does make the video a little less fun to watch—and there's a separate lesson there. Leno's Tonight Show has always relied considerably on "found" humor: stupid headlines, man-on-the-street interviews, and so on. Kimmel's dipped into this well quite a bit, too. These things are often funny only because they are, supposedly, true.
It's more impressive—and more satisfying, if you ask me—when comedians and humor writers are capable of being funny without the crutch of this-really-happened-ness. (Conan's fake headlines were nearly always funnier than Leno's real ones.) It's one of the reasons I'm hoping Fallon steers clear of this sort of material when he takes over The Tonight Show next year.
CAN I MAKE STUFF UP?
Journalist
If you make stuff up as a journalist, you will be considered such a liar that the state of California won't let you become a lawyer.
Memoirist
If you make stuff up as a memoirist, Oprah will excoriate you on the air, and your publisher will refund duped readers the cost of your book, but you may have a lucrative second career employing young writers to pump out popular fiction.
Columnist
If you make stuff up as a columnist, you will get suspended. Then you can write your column again.
Monologist
If you make stuff up as a monologist, Ira Glass will be very disappointed in you, but lots of people will defend the "greater truth" of your story.
Nonfiction Novelist
If you make stuff up as a "nonfiction novelist," people will call you out on it eventually, but you'll still go down as a great writer (especially if you die prematurely).
Humorous Journalist
If you make stuff up as a humorous journalist, the editor-in-chief of The New Yorker will be heartbroken.
Biopic Director
If you make a movie "based on a true story" that includes made-up stuff, journalists will write articles pointing out where you were wrong, but you might win an Oscar anyway.
Historical Novelist
If you make stuff up as a historical novelist, people will point out on Wikipedia that you were wrong and evaluate your claims on TV, but you can still make the bestseller list.
Period-Piece Showrunner
If you make stuff up for your mostly historically accurate TV show, linguists will scrutinize your every misstep and magazine journalists will compare your show to their memories, but you'll still be a critical darling.
Humorist
If you make stuff up as a humorist, The New Republic will fact-check the dickens out of you, but most people will say your lies are OK, especially if they're just about your personal life.
Stand-Up Comedian
If you make stuff up as a stand-up comedian, no one will care (unless you lie about where your jokes came from.)
Songwriter
If you say you had a "good day," bloggers will fact-check you twenty years after the fact. But they will still love the song, even if it wasn't exactly true.
Science Fiction Writer
If you make stuff up as a science fiction writer, you will be honored as a visionary. (Unless you convince millions that your stories are true and found a church, in which case you will be derided as a nut.)
Fantasy Writer
If you make stuff up as a fantasy writer, you will earn a place in the hearts of children everywhere. But some fundamentalist Christians might burn your books.