The Embers of Desire Gabfest
Listen to Slate's live show about the GOP race, the possibility of a third-party presidential candidate, and Stephen Glass' fight to join the California bar.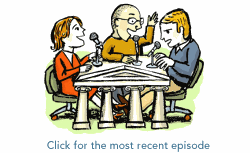 Become a fan of the Political Gabfest on Facebook. We post to the Facebook page throughout the week, so keep the conversation going by joining us there.
To listen to the discussion, use the player below:
This week's Slate Political Gabfest was recorded live at 92Y Tribeca in New York. On this week's show, Emily Bazelon, John Dickerson, and David Plotz discuss the state of the GOP race, the possibility of a third-party presidential candidate, and Stephen Glass' application to the bar. They also take questions from the audience.
Here are some of the links and references mentioned during this week's show:
The Pew poll showing Santorum ahead of Romney nationally—and Obama ahead of both of them.
An ARG poll showing Santorum ahead in Michigan.
John's Slate piece on Romney's unsuccessful attempts to convince voters he is conservative.
The CBS News poll finding that at least 50 percent of voters think Santorum is "very different" from Obama, while only 36 percent think Romney is.
Nate Silver's New York Times Magazine article from November that stated the odds were not in favor of Obama's reelection.
Nate Silver's forthcoming New York Times Magazine article finding much stronger support for Obama.
Clint Eastwood's "Halftime in America" Super Bowl ad for Chrysler.
Tom Friedman's column praising Americans Elect.
The 2003 film about Stephen Glass, Shattered Glass.
Stephen Glass' Slate article on Amazon from 1997.
Stephen Glass' novel, The Fabulist.
John chatters about Rebecca Rosen's Atlantic article about the invention of Morse code and its inspiration of religious response.
David chattered about analyses done by two political science professors, Scott Minkoff and Steven Green, who found a strong correlation between religiosity and large families.
The e-mail address for the Political Gabfest is gabfest@slate.com. (E-mail may be quoted by name unless the writer stipulates otherwise.)
Podcast production by Andrew Bouvé and Dale Willman. Links compiled by Aviva Shen.