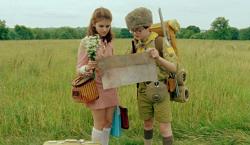 We give you Wes Anderson Bingo. How do you play? It's simpler than Whack-Bat. Just watch any Wes Anderson movie, and whenever you spot one of the Anderson trademarks listed on your board, click that square to place a special Wes Anderson chip. (You can also print out a set of boards and chips to play offline.) Be the first to get five in a row and shout out "Bingo!" (or, if you prefer, "Hotbox!") and you've won.
Each board features 24 out of a possible 32 signature Anderson elements. (Click at the bottom of the board to shuffle the elements and generate multiple boards to play against your friends.) Each element we selected appears in at least three of his movies, and some elements appear in all of them, so any board could be a winner. Play a few games, and you'll see just how detailed is the personal stamp Anderson leaves on all his movies. Whether or not that's a good thing is up to you.
BINGO!
You've won! Click here to play again.